Blackmon flashes #ASGWorthy power vs. Phils
Outfielder homers twice in game, among league leaders in RBIs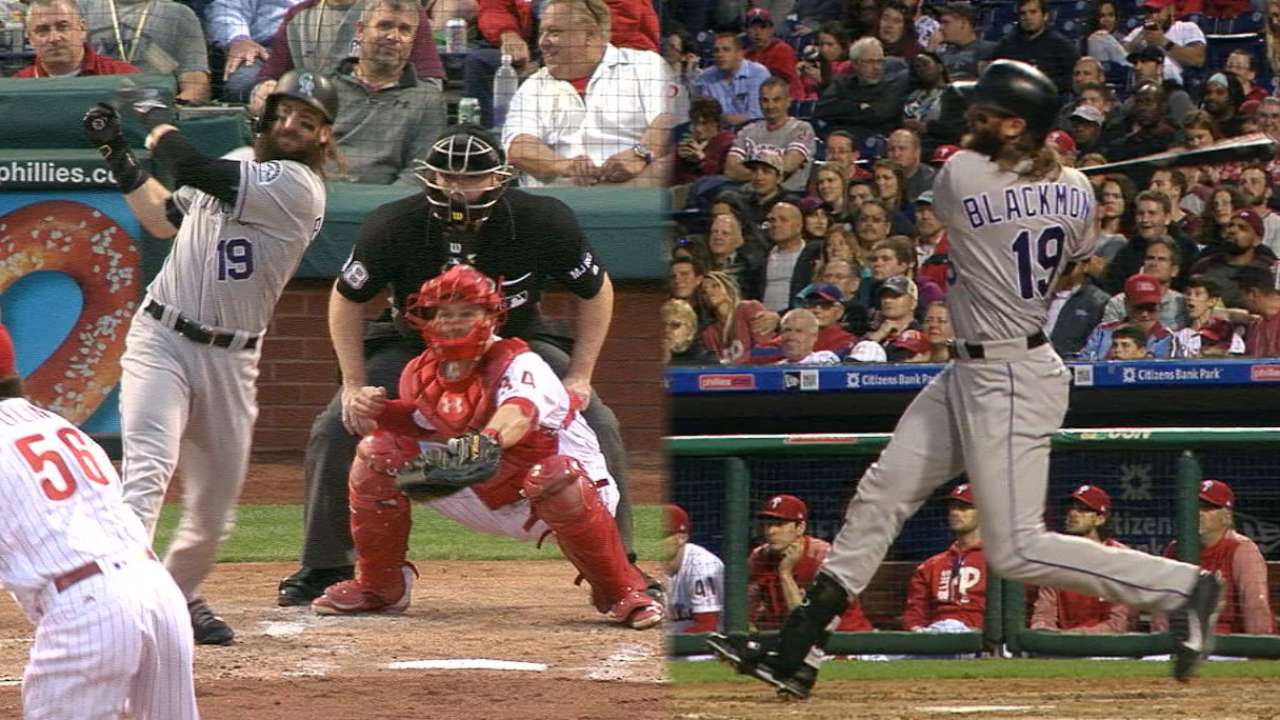 Go ahead and get excited, Rockies fans, about Charlie Blackmon's productivity in Philadelphia.
Two homers in Tuesday night's 8-2 victory over the Phillies gives him seven in his last five at Citizens Bank Park.
"I just see the ball good, I like playing here … I don't really have any more answers than that," Blackmon said. "If I knew I'd try to make it happen everywhere."
• Cast your Esurance All-Star ballot for Chuck Nasty and other #ASGWorthy players
Actually, one reason the Rockies are the first National League team to 30 wins is the #ASGWorthy Blackmon leaves a trail of hits wherever the Rockies go.
His 11 leadoff homers are tied for the lead in the Majors -- interestingly with ex-teammate Corey Dickerson, who was part of the trade with the Rays that brought the Rockies their winning pitcher Tuesday, German Marquez. The Rockies went to 6-2 with two games left on their road trip -- a tour that has seen Blackmon (2-for-4 with four RBIs Tuesday) go 14-for-36 (.389) with three homers and 13 RBIs.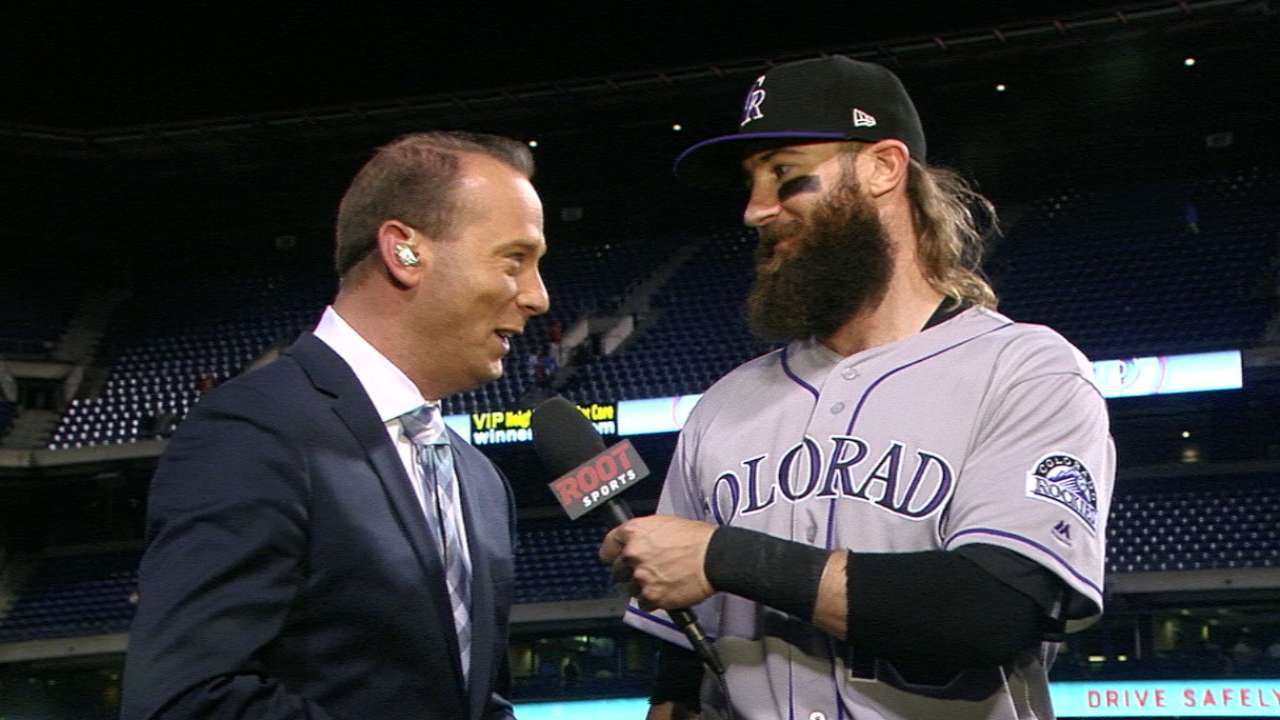 Tuesday's homers, two-run shots in the third and fourth innings, came on pitches left over the plate by Phillies starter Zach Eflin. But Blackmon's overall work -- .325 with a .361 on-base percentage and .618 slugging percentage -- is a testament to a controlled swing that handles tough pitches.
"I've been getting a lot of hits lately on really tough pitches, that's why I'm hitting cue jobs and spinners," Blackmon said. "I feel like I've been getting pitched pretty good but I got a couple mistakes today."
The first homer has become a familiar occurrence -- a curveball from Eflin. Eight of Blackmon's 11 homers have come on offspeed pitches. Tuesday's was his second on a curveball. He's had four on sliders and two on changeups.
"I wasn't looking for a curveball when I hit that today, no," Blackmon said. "Sometimes I might, but I might not. Might have given you too much information there."
Blackmon's four RBIs increased his total to 40. Teammate Mark Reynolds entered the night leading the National League with 39, and he did not appear Tuesday. The total is impressive considering he is a leadoff man in the National League, where most games the hitter before him is the pitcher.
It's where manager Bud Black notes Blackmon is receiving the most help.
"For Charlie to get the RBIs, guys at the bottom have to be on base," Black said. "You include the pitcher getting some bunts down along the way here that's been critical. If you look back at that, that's all part of it."
And he has two more games at Citizens Bank Park for more production.
"I know that it's a place that I like to hit, you can't assume that you're going to do well," Blackmon said. "It's a place that I enjoy going on the road as opposed to lots of other places I could name that I don't like to play, but I enjoy this."
Thomas Harding has covered the Rockies since 2000, and for MLB.com since 2002. Follow him on Twitter @harding_at_mlb and like his Facebook page. This story was not subject to the approval of Major League Baseball or its clubs.