Dombrowski: Slow start not Farrell's fault
Red Sox president says it's tough to evaluate club at quarter pole
BOSTON -- Though the Red Sox have performed below expectations through the first quarter of the season, president of baseball operations Dave Dombrowski doesn't think manager John Farrell is the reason.
"Well we won a divisional crown last year. He managed very well for us at the time," Dombrowski told Tom Caron on the NESN pregame show shortly before the Red Sox beat the Rangers, 11-6. "I think that John as well as everybody else is frustrated by our performance and that we haven't taken off, but we're not buried, either. I mean, we're [3 1/2] games out of first place and we really haven't been in a flow."
The Red Sox are 23-21, 3 1/2 games behind the first-place Yankees.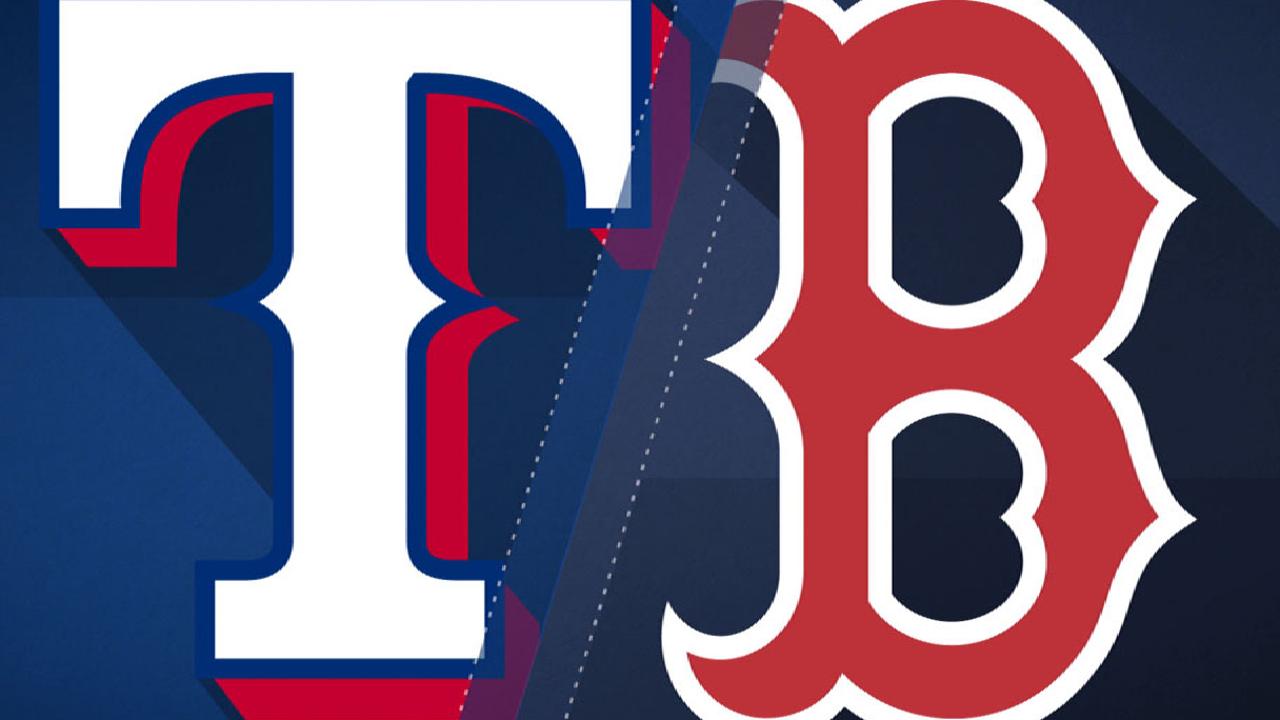 Dombrowski's backing of the manager comes on the heels of MLB Network contributor Ken Rosenthal speculating in a column on FOXsports.com that Farrell's job security could become an issue if the Red Sox don't start playing better soon.
The Red Sox lost the first three games of a four-game series in Oakland over the weekend before salvaging Sunday afternoon's finale and cooling off the red-hot Rangers on Tuesday.
"And when you look at it, it's like, 'OK, last week we won two great games in St. Louis,'" said Dombrowski. "I looked at the matchup on Thursday [in Oakland], and I'm thinking, well if [Sonny] Gray throws like he's capable, I'm not sure what we're going to get out of [Hector] Velazquez at that particular time.
"And of course, Velazquez didn't have a very good outing. So you lose that ballgame. Is that John's fault? I can't put that on John. Friday night, you have Chris Sale, he threw the ball very well. Well the play that Trevor Plouffe made on Hanley Ramirez, I don't know if he's made a play like that all year long.
"I think we're in a position where he's managed well, he's managed divisional champions. I think we're in a position, we have a good club. We just need to get in a better flow of things."
During Monday's off-day, Dombrowski huddled with Farrell and his two assistant general managers, Eddie Romero and Brian O'Halloran, as well as vice present of baseball and research development Zack Scott. The purpose of the meeting was simple -- to figure out how the Red Sox can get more out of their roster.
"I think there were just some internal discussions on our roster, where we stand today, how we can improve, what internal options are available to us, how do we address certain guys on our roster currently to make some necessary adjustments to try to get some consistent production," said Farrell after Tuesday's win. "But to also re-emphasize the things that are going well here and not just to pick out all that is wrong, because there's a number of things that are going right and some of those things were on display here tonight."
At the Winter Meetings last December, the Red Sox exercised Farrell's option for the 2018 season.
The Red Sox have been without David Price thus far. The lefty should return next week from a left elbow strain.
Third baseman Pablo Sandoval has also missed the last month with a right knee sprain.
Dombrowski admits it's hard to have a true evaluation of his team at this point.
"Well, probably not as much as you normally would in most seasons. Because the reality is when you look at our ballclub, it really hasn't been together at all at any point during the year for me," Dombrowski said. "So I think when you look at it, you say, 'OK, well we need to improve our fourth and fifth starters.' Well, David Price comes back next week -- we think he'll be back next week. So that's a pretty big addition, that's like making a major trade.
"I still think Drew Pomeranz, although he has scuffled at times, should be a fourth-, fifth-type starter on a good club. We need to straighten him out. I think he's capable of doing that. When you talk about bullpen, our bullpen's been good, but I still think we're going to get Carson Smith in a short time period, so that's another addition that we have.
"Normally at this time of year, I think you have a better pulse. But I think we need a little bit more time. We just really haven't flowed as a club. We haven't played as well as I think we're capable of and I think we need to give ourselves that opportunity."
Ian Browne has covered the Red Sox for MLB.com since 2002. Follow him on Twitter @IanMBrowne and Facebook. This story was not subject to the approval of Major League Baseball or its clubs.