Hurdle ejected for second straight game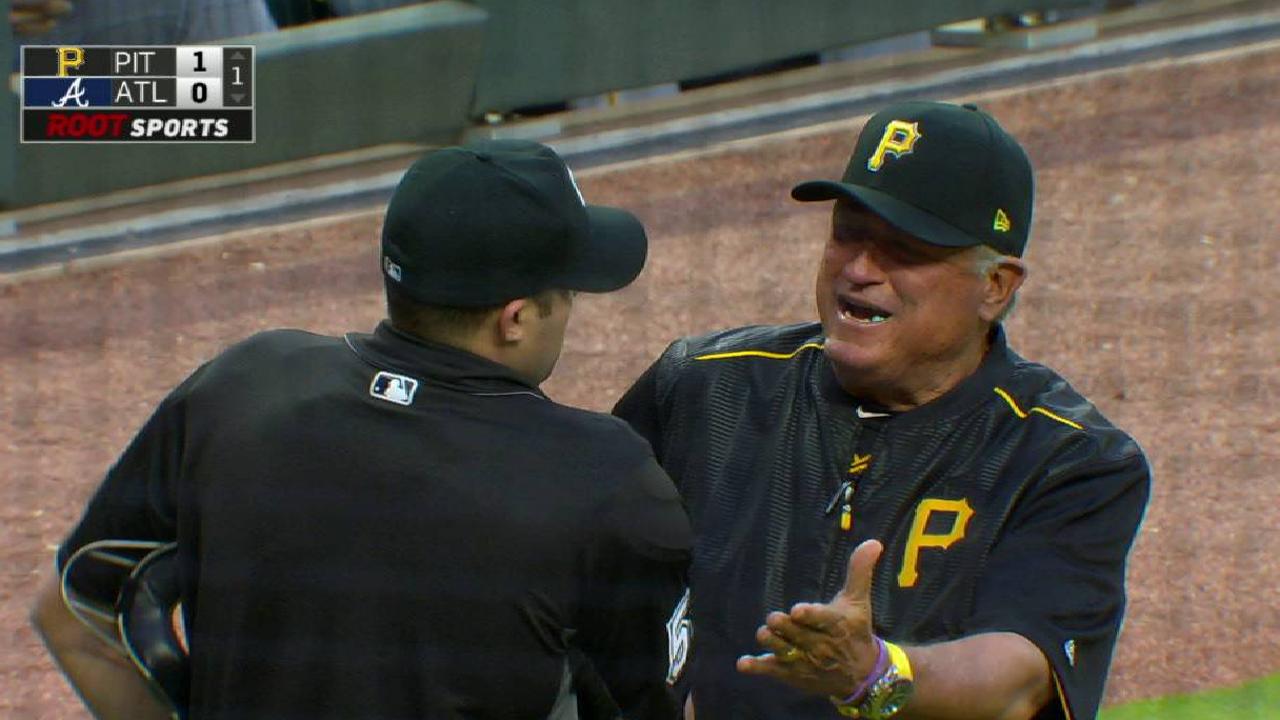 ATLANTA -- For the second time in as many games, Pirates manager Clint Hurdle was ejected Tuesday night at SunTrust Park.
Hurdle was tossed by home-plate umpire Phil Cuzzi during the fourth inning of Monday's loss to the Braves after defending infielder David Freese, who was ejected for arguing a called third strike. Hurdle didn't even make it that far in the Pirates' 6-5 loss to the Braves, as he was sent to the dugout in the top of the first inning following an argument with home-plate umpire Nic Lentz.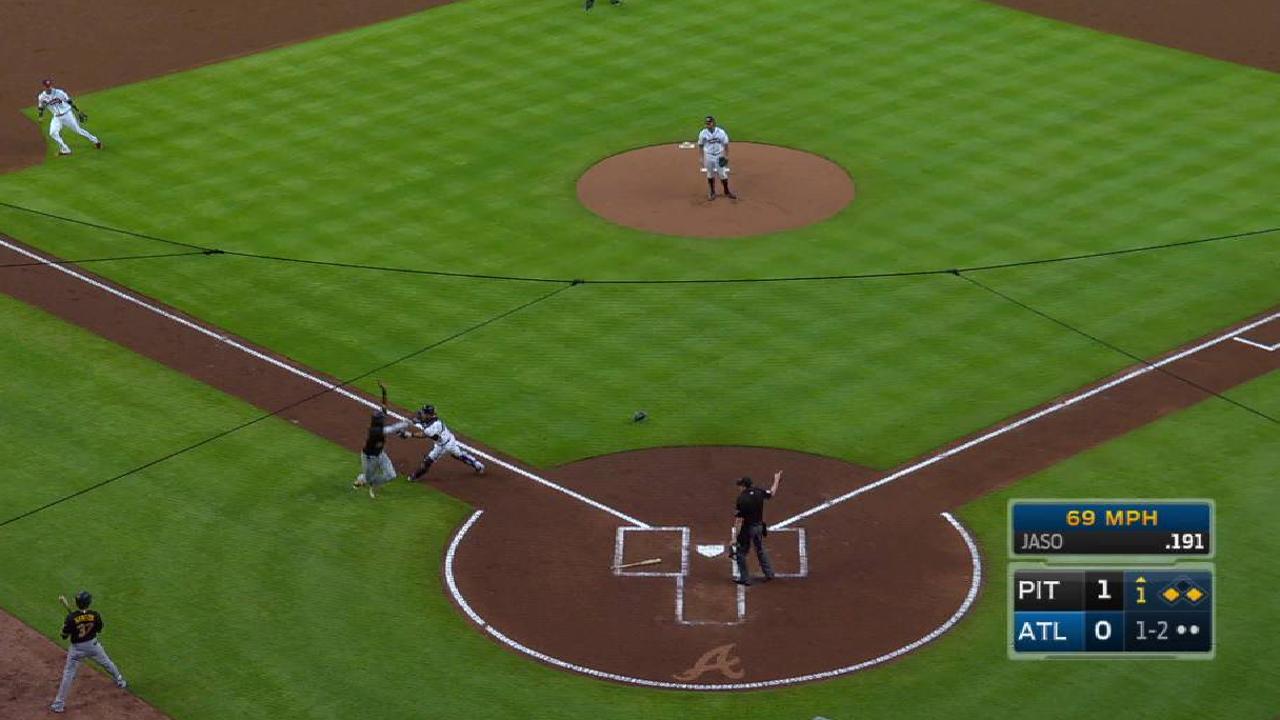 After the Pirates took a 1-0 lead on Josh Bell's double to left field, Bell moved to third base on a single by Francisco Cervelli. John Jaso then tried to check his swing but tapped an R.A. Dickey knuckleball into play just in front of the plate. Catcher Kurt Suzuki fielded the ball as Bell barreled toward home plate.
Lentz ruled that Bell veered out of the baseline to avoid Suzuki and called him out. According to MLB Rule 7.08, a baserunner is out when he "runs more than three feet away from his base path to avoid being tagged unless his action is to avoid interference with a fielder fielding a batted ball. A runner's base path is established when the tag attempt occurs and is a straight line from the runner to the base he is attempting to reach safely."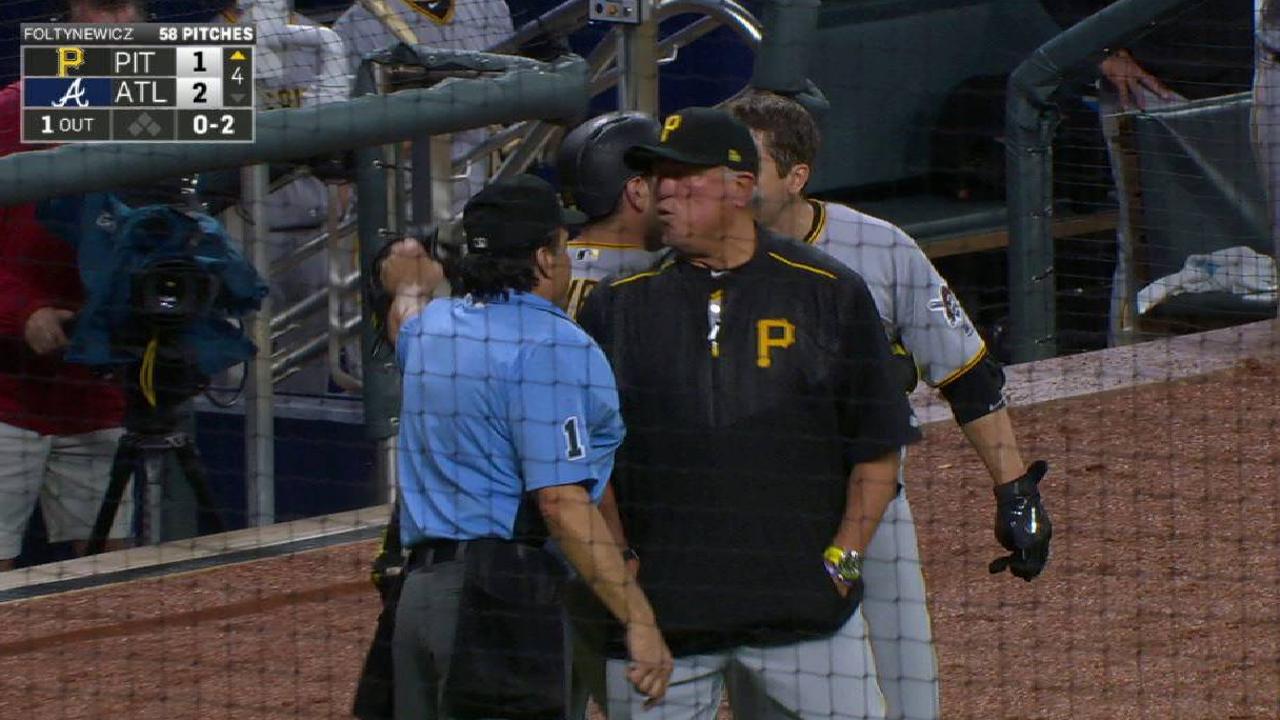 Hurdle disputed the call with Lentz and eventually walked back to the dugout, still clearly unhappy with the ruling. Hurdle then turned around and continued to jaw at Lentz before being ejected. With Hurdle out, bench coach Tom Prince again assumed in-game managerial duties.
"We had a disagreement on the baseline that he had established. He had it in a place I didn't have it," Hurdle said. "Unfortunately for them, they haven't seen Josh Harrison get out of pickles. I've been amazed at some of the parameters that I've seen him be able to pull off on establishing a baseline, moves that can be made. I really had a problem understanding that one."
Hurdle's short night turned out to be a long one for the Pirates. About two hours after Hurdle was ejected, the game entered a three-hour, 12-minute rain delay. The game wouldn't end until 1:52 a.m. ET, roughly six hours after Hurdle left the dugout. He passed the time by chatting with traveling quantitative analyst Bob Cook, general manager Neal Huntington and his father, Clint Sr., in town for the Pirates' annual dads' trip.
"You watch the game," Hurdle said. "Had some company. You pull for the guys, root for the guys. It's kind of what you do."
Adam Berry has covered the Pirates for MLB.com since 2015. Follow him on Twitter and Facebook, read his blog and listen to his podcast. This story was not subject to the approval of Major League Baseball or its clubs.