Sanchez can only wait for blood blister to heal
Blue Jays right-hander was put on DL for third time this season Saturday
MILWAUKEE -- The only thing Blue Jays starter Aaron Sanchez can do to nurse the blood blister on his right middle finger is wait.
Sanchez, who was sent to the 10-day disabled list for the third time this season on Saturday, said he does not have a timetable for his return. The 24-year-old first suffered a blister, followed by a split nail on his right middle finger and a now re-opened blister, forcing another extended absence.
"I think what happened was is when that split came, there was a blood blister that formed underneath, and as that nail was growing out, so was the blister underneath," Sanchez said. "Every time I pitched, right there, it rubs the tip of my finger. We try to maintain it as much as we can, but it's just not getting any better."
Sanchez said he can't pitch or play catch and will have to wait until the blister fully heals to start rehabbing again.
"It kind of sucks not being able to play catch," Sanchez said. "When I play catch, it's the last thing that hits my finger, so every single time I'm throwing the ball, it's getting hurt and hurt, and every time something happens, that's what it's hitting. It's frustrating."
Sanchez tried to pitch through the injury in his last two starts against the Orioles on Friday, giving up three earned runs on six hits and two walks over six innings, and against the Mariners on May 14, giving up five hits and a run over five innings.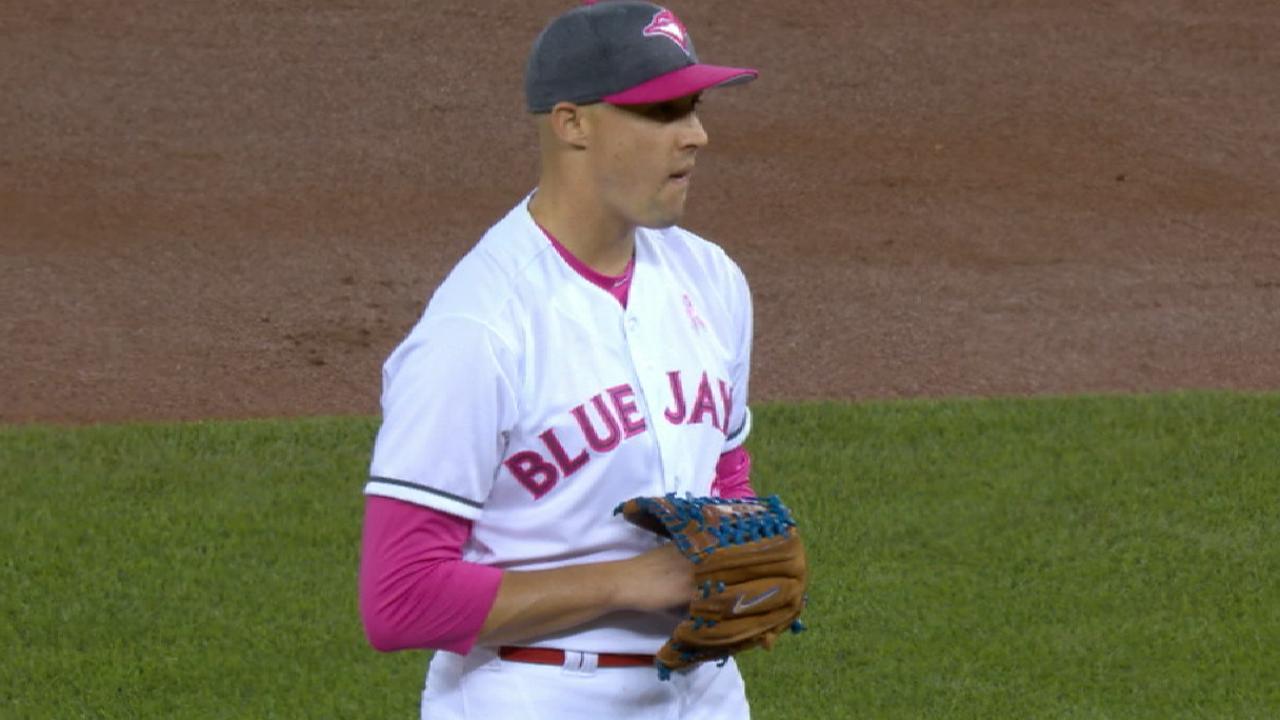 "I can't keep having this issue every inning and checking on it. Like I said, this game is already hard enough to compete," Sanchez said. "I don't want to mess myself and go out there and try to keep pitching through it. It's not doing me any good. It's not doing the team any good. Hopefully, this is the last of it."
Blue Jays manager John Gibbons saw the stint as an opportunity to knock out the rehab process, because he saw it as a lingering injury otherwise.
"You go back two starts ago, when he started at home for five innings, you can tell it's still bothering him," Gibbons said. "He pitched through it, did OK. Then, that start in Baltimore, it was just tender. I thought maybe it was time to just knock it out, because if you don't, he's just going to have to battle it. It was still raw every inning he pitched."
Worth noting
• Francisco Liriano is scheduled to begin a rehab assignment Sunday after throwing live batting practice Tuesday. Everything went well, according to Gibbons. Liriano is on the 10-day DL with left shoulder inflammation.
• Troy Tulowitzki and Josh Donaldson are likely to return from the 10-day DL this weekend, Gibbons said. The two are on rehab assignments at Class A Advanced Dunedin. Tulowitzki went 0-for-2 with a walk in his fourth rehab start on Monday night, while Donaldson went 0-for-2 with a hit-by-pitch.
Carson Mason is a reporter for MLB.com based in Milwaukee. This story was not subject to the approval of Major League Baseball or its clubs.