Crew trio becomes brewers during off-day
Guerra positioned to return Friday; Thames makes plan to preserve legs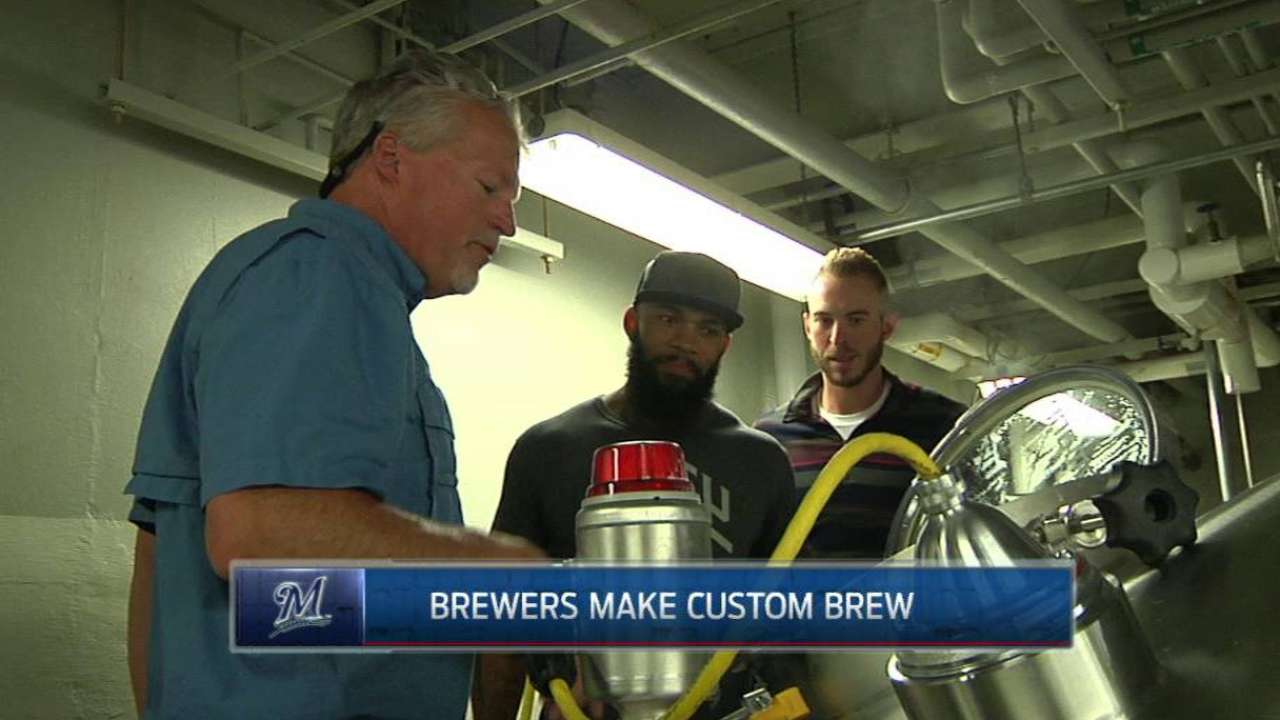 MILWAUKEE -- They were brewers one day, Brewers the next. Eric Thames, Corey Knebel and Oliver Drake resumed their day jobs Tuesday after spending part of the team's off-day at MillerCoors, working on a limited edition beer coming to Miller Park later this summer.
The trio settled on an IPA -- Thames' favorite -- based on a wish list the slugger submitted ahead of time for taste, appearance and aroma. They chose two kinds of hops, one with tropical notes for brewing and another with a lemony aroma for dry-hopping.
"We didn't want to go too crazy," said Thames. "We kind of followed the brewmaster's [Greg Walter] advice a little bit so it would be tasty, and not way too overpowering. We didn't want to see our bottles poured out on the concourse."
The beer's name will be announced at a later date, and fans will get to sample it as part of a special ticket package.
The three players approached the endeavor from different places. Thames was the hophead, most familiar with the particular style they opted to brew. Knebel was the amateur brewmaster, a home brewer who took up the hobby several years ago and was particularly proud of the German pilsner he brewed with his father last winter. Drake was the rookie, eager to expand his palate beyond his current favorites -- Miller Lite and Coors Light.
"I knew the right people, apparently," Drake said.
"I have a feeling it's going to be great," Knebel said. "We got to add some experimental hops, so it's definitely going to be one of a kind."
Guerra nears rotation return
After navigating a pair of Minor League rehab starts without any flare-ups of his right calf, Opening Day starter Junior Guerra is positioned to rejoin Milwaukee's rotation on Friday night against the D-backs at Miller Park.
That assignment is tentative, manager Craig Counsell said, an indication that the Brewers could turn to Guerra earlier in an emergency.
"I feel really good right now," said Guerra, who was injured running to first base in the third inning of the Brewers' Opening Day loss to the Rockies. "It feels good to be back with the team."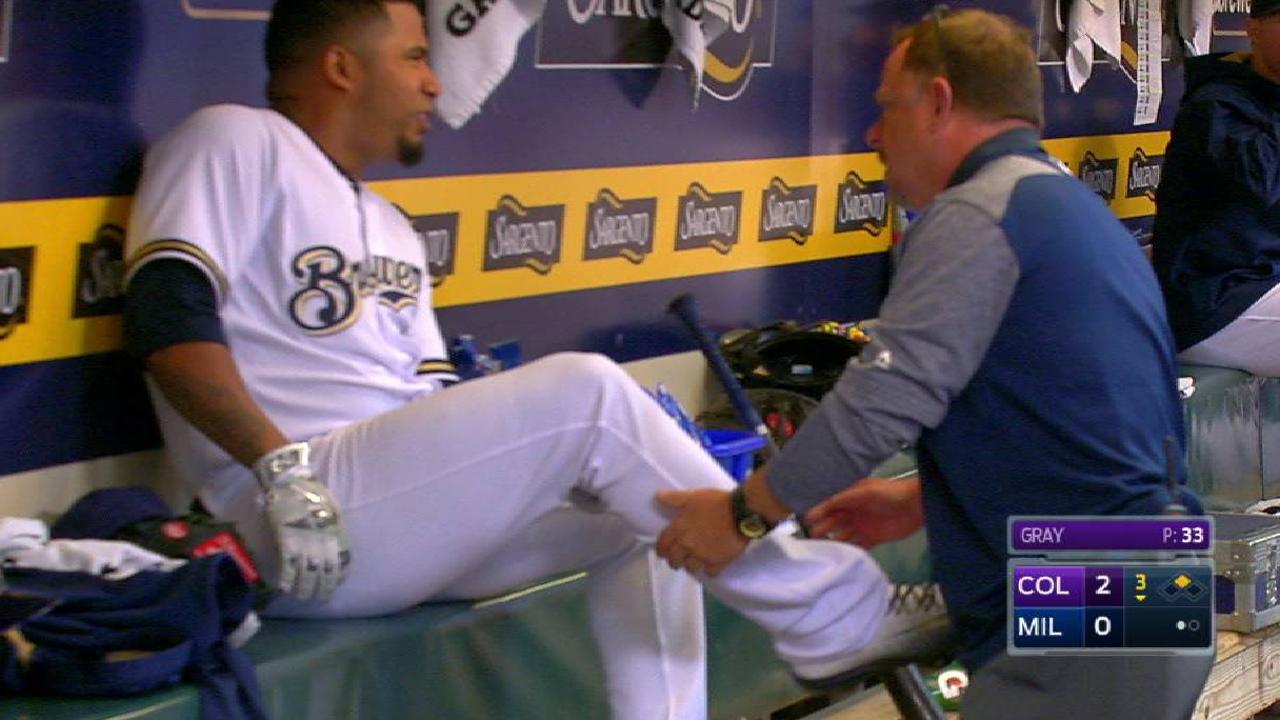 Last call
• Two days after expressing frustration to MLB.com about his persistent leg problems, Thames indicated he had come up with some new ideas about what he termed "prehab" to stay healthy this season.
"I have to start kicking my body up again. My body started to get slower," Thames said. "I have to keep doing my sprints, swinging harder, getting my body used to going at full speed so when it comes to game time, I can just react at full speed."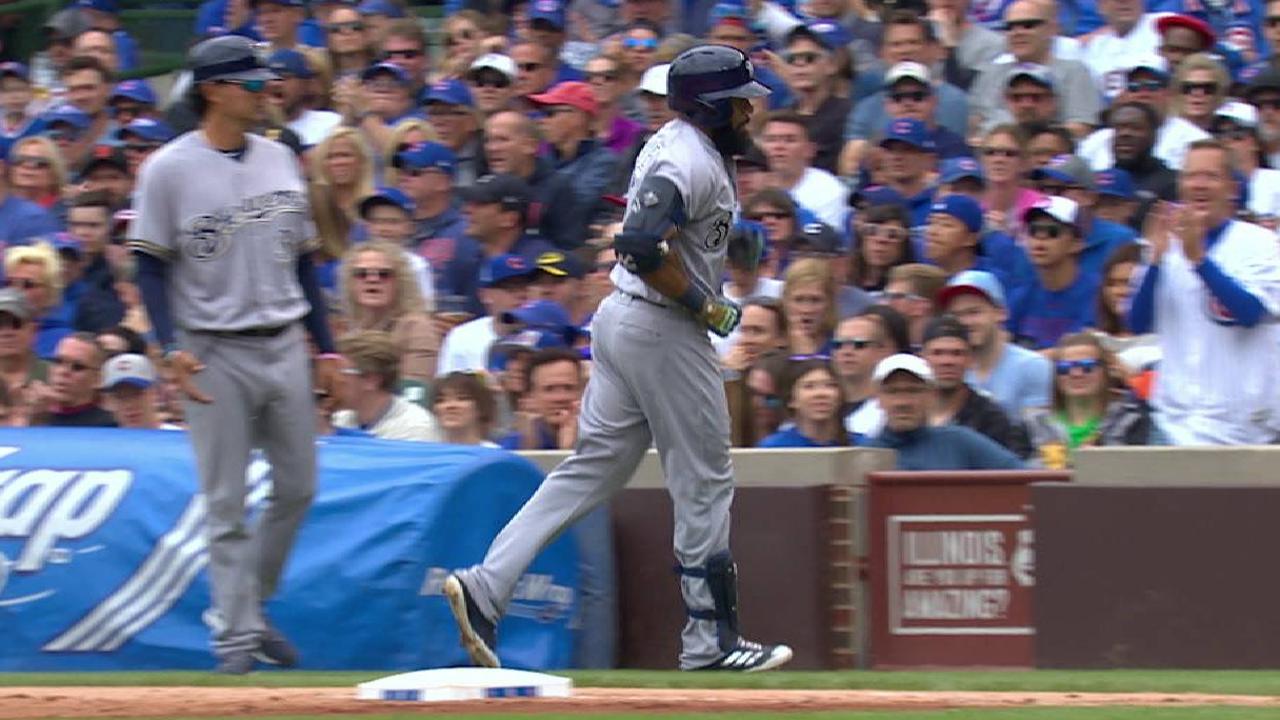 • The Brewers and Orioles will start an hour earlier than originally scheduled on July 5 at Miller Park -- 6:10 p.m. CT instead of 7:10 -- the day before the Brewers make a quick stop at Wrigley Field for a 1:20 p.m. CT make-up of Saturday's rainout against the Cubs.
• Counsell said Ryan Braun experienced nothing beyond the expected soreness after returning from a 10-day stint on the disabled list for Sunday's loss to the Cubs. Braun was back in action Tuesday.
Adam McCalvy has covered the Brewers for MLB.com since 2001. Follow him on Twitter @AdamMcCalvy, like him on Facebook and listen to his podcast. This story was not subject to the approval of Major League Baseball or its clubs.