Franco sits as Phillies tinker with lineup
Third baseman is slashing just .221/.281/.377 this season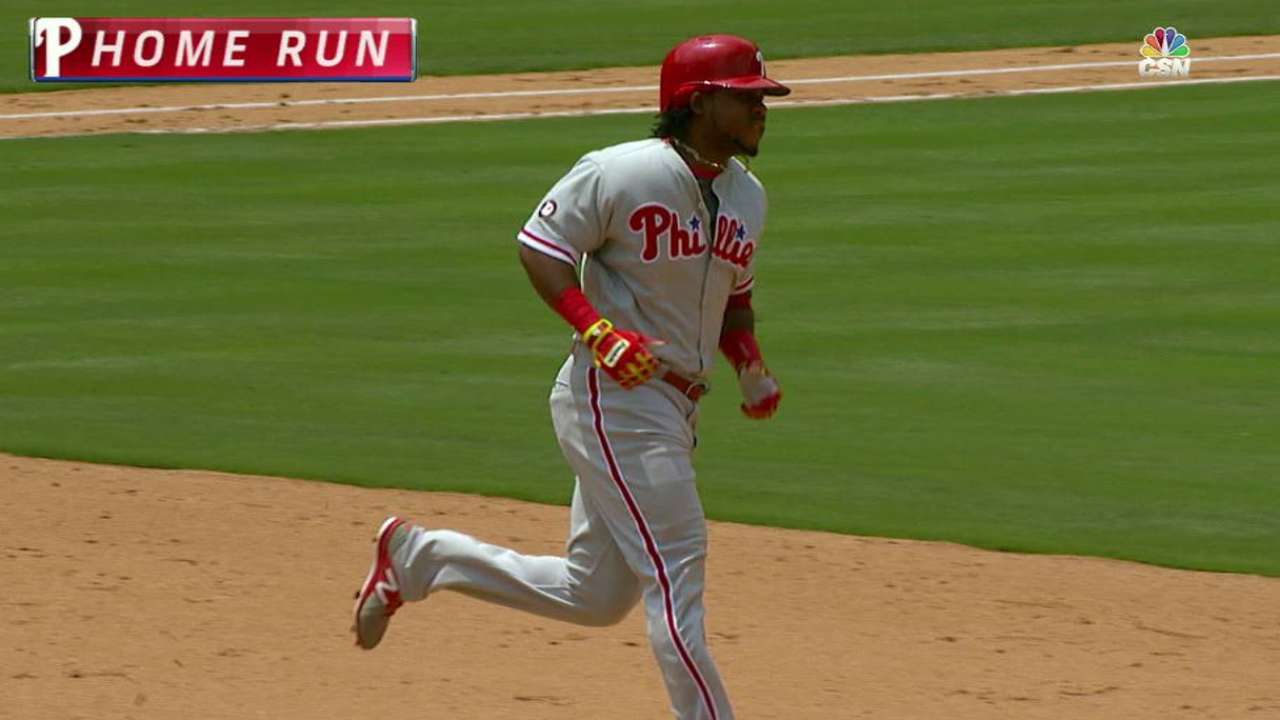 PHILADELPHIA -- Pete Mackanin is hoping Maikel Franco will be helped by some time off. The Phillies manager is just not sure how long that time will last.
Franco was held out of the Phillies' starting lineup on Tuesday night against the Rockies, and could be benched for multiple games as he tries to shake a slow start to the 2017 season.
"Befuddled is a good word," Mackanin said when describing the first quarter of Franco's season. "As much as he works in the cage and on the field in BP, he gets on the field and that head is still flying, the bat is coming out of the zone."
In his first 154 at-bats, Franco has a slash line of .221/.281/.377. He went 0-for-3 with two strikeouts on Monday night in an 8-1 loss. Tuesday, Franco started on the bench for only the third time in 43 games.
The 24-year-old could be back in the order on Wednesday night, but a candid Mackanin said he didn't know his plans for Franco beyond Tuesday.
"I'm winging it right now. I'm seeing what happens today," Mackanin said. "I feel like I have to do something to get some offense in the lineup. There comes a point in time where you try different things. …I'm not going to tip my hand because I don't know what my hand is yet."
The Phillies tried moving Franco down in the order to sixth from his usual cleanup spot earlier in the season, but it didn't make much of a difference.
Mackanin is trying the same thing with center fielder Odubel Herrera. The Phillies' usual No. 3 hitter and lone All-Star from last season, Herrera was penciled sixth in the order for the second consecutive night Tuesday. Herrera was hitting .140 with one extra-base hit, 12 strikeouts and no walks in his last 43 at-bats entering the game.
"I believe Herrera is going to start hitting, and Franco is going to figure it out -- whether I sit him for a day or a week," Mackanin said, searching for answers for a team averaging 3.2 runs per game in its last 10 contests.
"It's a conundrum. This isn't fun. This isn't fun for any of us."
Stephen Pianovich is a contributor to MLB.com based in Philadelphia. This story was not subject to the approval of Major League Baseball or its clubs.