Braves show resiliency in Freeman's absence
Recently acquired Adams helps club with boost at first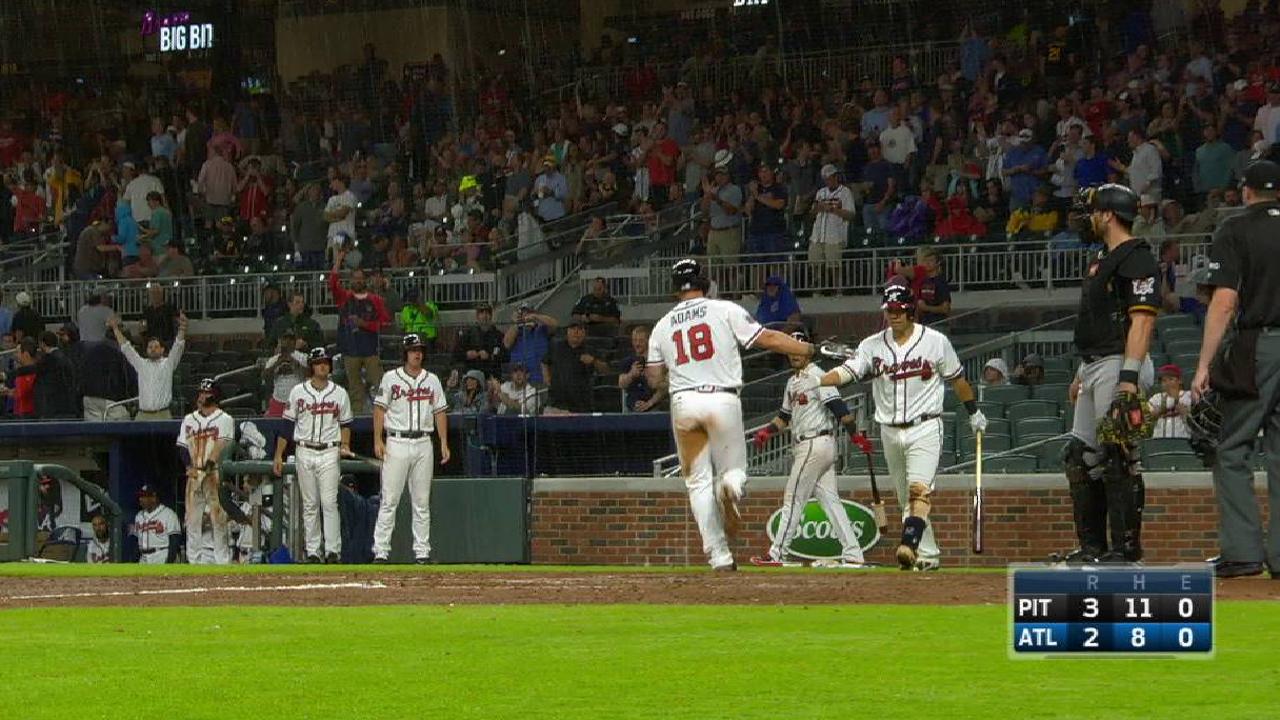 ATLANTA -- Instead of allowing themselves to languish in the reality that they will spend the next two months without Freddie Freeman, the Braves have benefited from the addition of Matt Adams and shown a sense of resiliency that manifested itself yet again during the wee hours of Wednesday morning, when a pair of two-out, ninth-inning hits equated to a 6-5 walk-off win over the Pirates.
"The guys have actually gone the opposite way [since Freeman was lost]," Braves manager Brian Snitker said. "They've kind of stepped up. You can feel sorry for yourself, but nobody else will. We've just been playing. It's been cool to watch."
When Freeman fractured his left wrist last week and learned he would be sidelined at least 10 weeks, the Braves had won five of their past six games. Obviously, the assumption was that they could not extend this success without their veteran first baseman, who stands as one of the game's elite offensive threats.
But this pessimistic and maybe somewhat realistic assumption has faded as the Braves have actually rallied around Freeman's absence and won four of the six games played since he was lost. They've done so with the help of Adams, who has flourished since being acquired from the Cardinals on Saturday to fill the void created at first base and the middle of the lineup. He has thus far met expectations as he's recorded five hits, including two home runs, through his first 13 at-bats with Atlanta.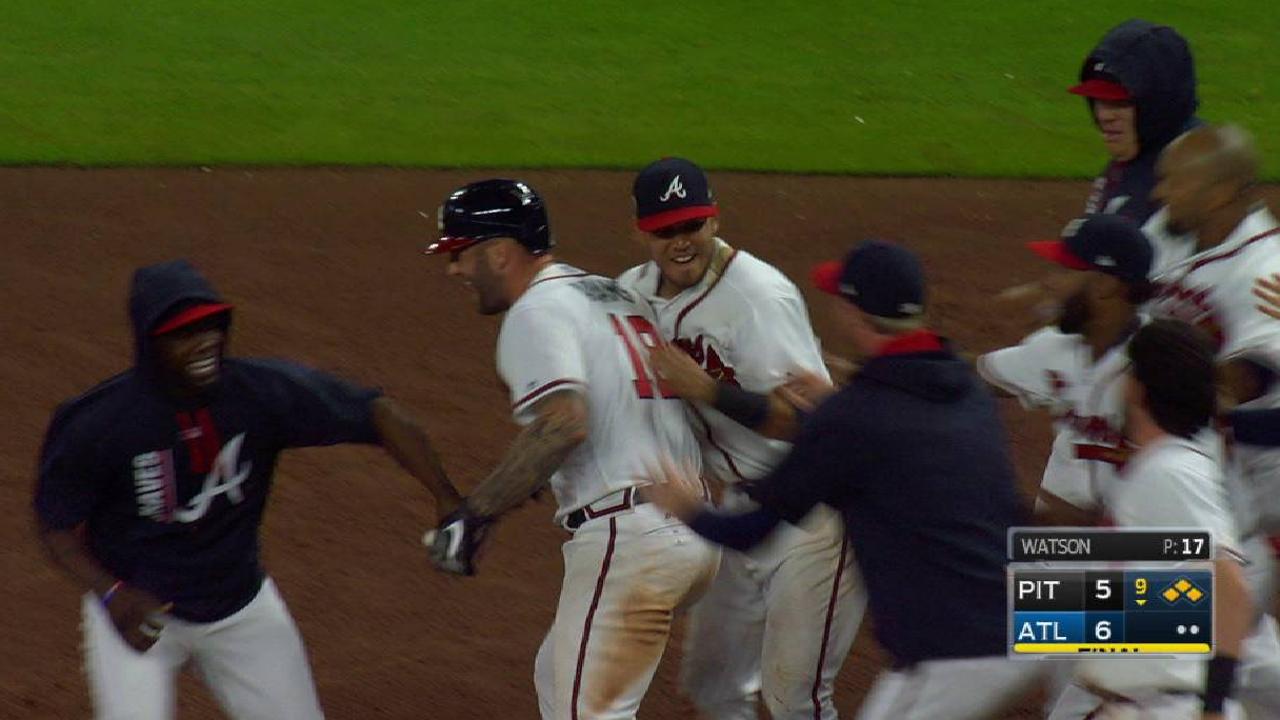 Adams further endeared himself to his new club when he capped the dramatic rally that followed the three-hour, 12-minute rain delay the Braves and Pirates endured before resuming play at 12:51 a.m. ET on Wednesday. Atlanta gained a one-run advantage with a pair of runs in the seventh inning and held the lead until Jordy Mercer delivered a two-out, two-run single off Jim Johnson in the top of the ninth.
After seeing their bullpen's scoreless streak snapped at 23 innings, the Braves manufactured their own ninth-inning rally which was extended by Nick Markakis' two-out, game-tying double off Tony Watson. Matt Kemp was then intentionally walked to set the stage for Adams, who delivered an opposite-field walk-off single at 1:52 a.m. ET.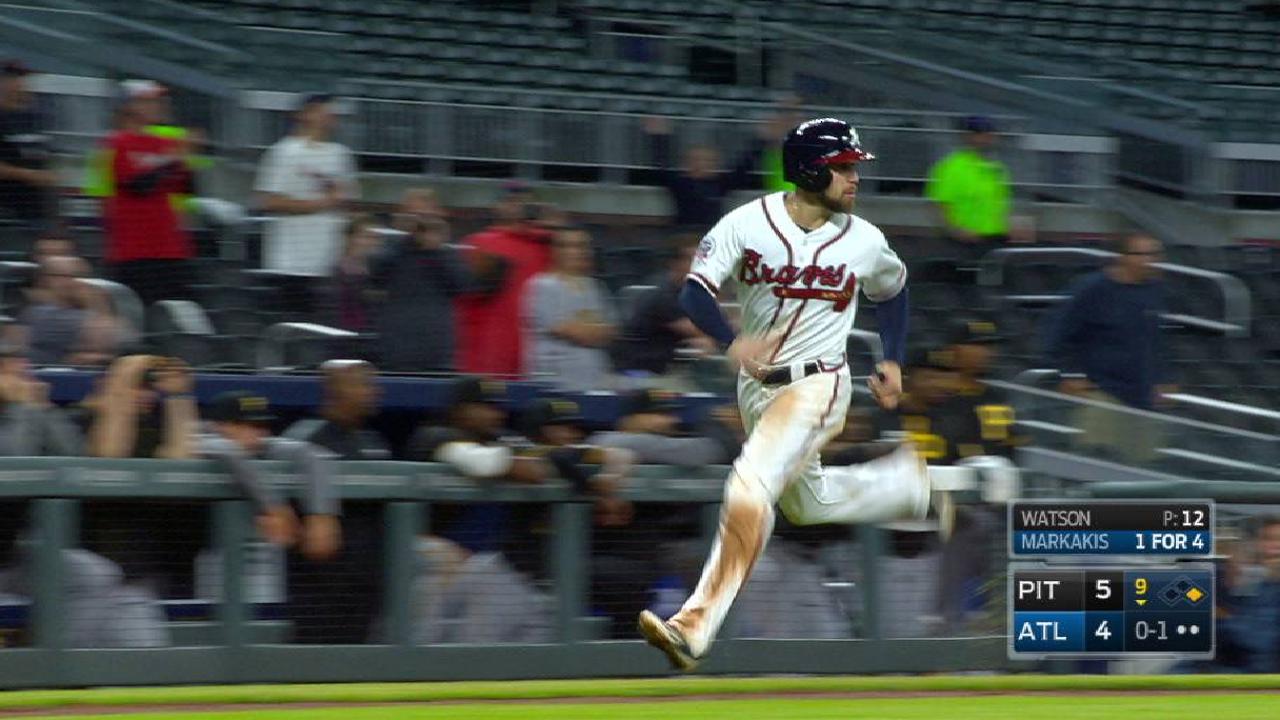 "They have welcomed me with open arms, the coaching staff and the players," Adams said. "It kind of made me feel at home right from the first day and I think that has helped me settle in. I am just going out there, having fun and playing the game again."
Like there might have been reason for the Braves to feel like they were doomed once Freeman was lost, they could have also folded once Johnson blew the ninth-inning lead during this long contest against the Pirates.
But the Braves have repeatedly shown a sense of resiliency over the past week and shown they are determined to persevere in Freeman's absence.
"I feel that we are here as a team and a unit to go out here trying to win it for the city," Phillips said. "I think we are starting to get along with each other and we are starting to know what certain guys can really do. Everybody is stepping their game up and it's a lot of fun. I know you guys are enjoying it, too. All I can say is that I am happy we got this [win]."
Mark Bowman has covered the Braves for MLB.com since 2001. This story was not subject to the approval of Major League Baseball or its clubs.