Yankees confident Judge can handle hype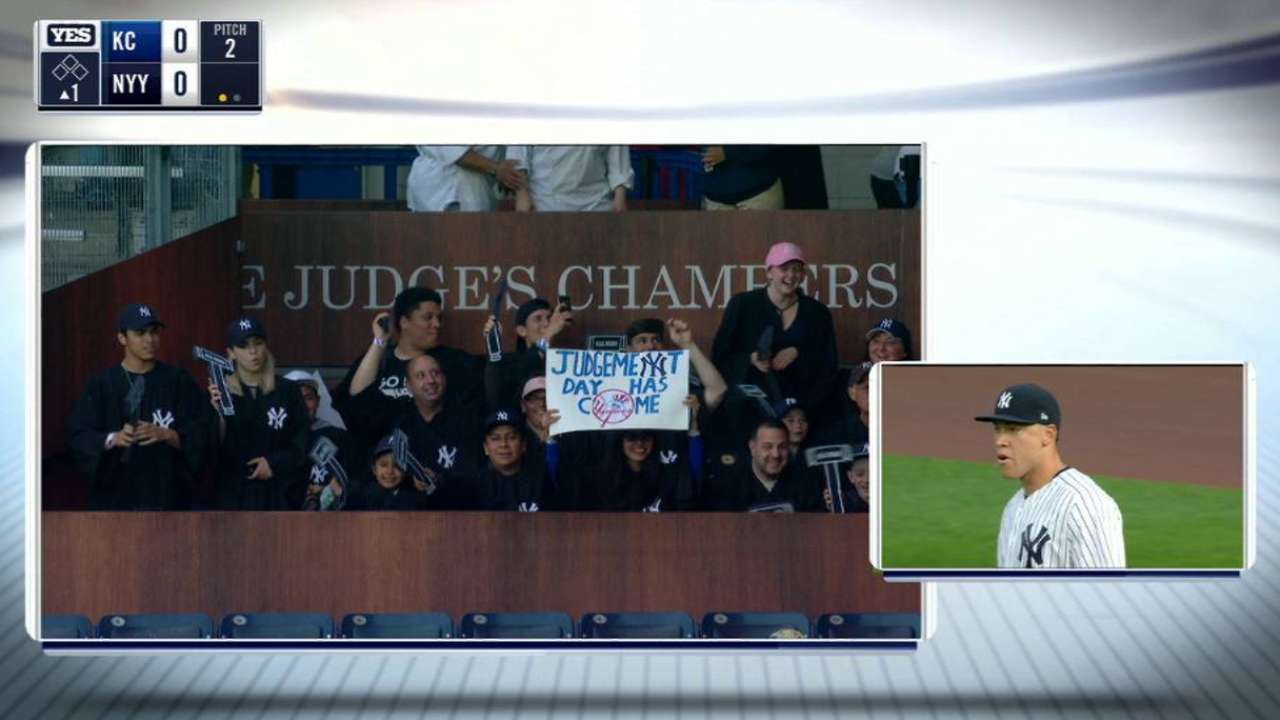 NEW YORK -- With just 67 big league games under his belt, Aaron Judge has already become a permanent fixture at Yankee Stadium, with the Yanks unveiling a unique "Judge's Chambers" cheering section behind the right fielder for this homestand.
Judge entered play on Tuesday leading the Majors in homers (15) and pacing the American League in runs scored (36), and his on-field success has led to appearances on the cover of Sports Illustrated and on "The Tonight Show Starring Jimmy Fallon."
For some newcomers, this might represent a case of too much, too soon, but the Yankees believe that the 25-year-old is equipped to handle the attention.
• Yankees debut Judge's Chambers at the Stadium
"You think that he's going to stay grounded. He's a kid that's really grounded, and that's the important thing," Yankees manager Joe Girardi said. "Those are the things that you worry about when so much success comes a player's way very quickly. You worry about the demands on his time and people pulling on him, but he's a really grounded young man."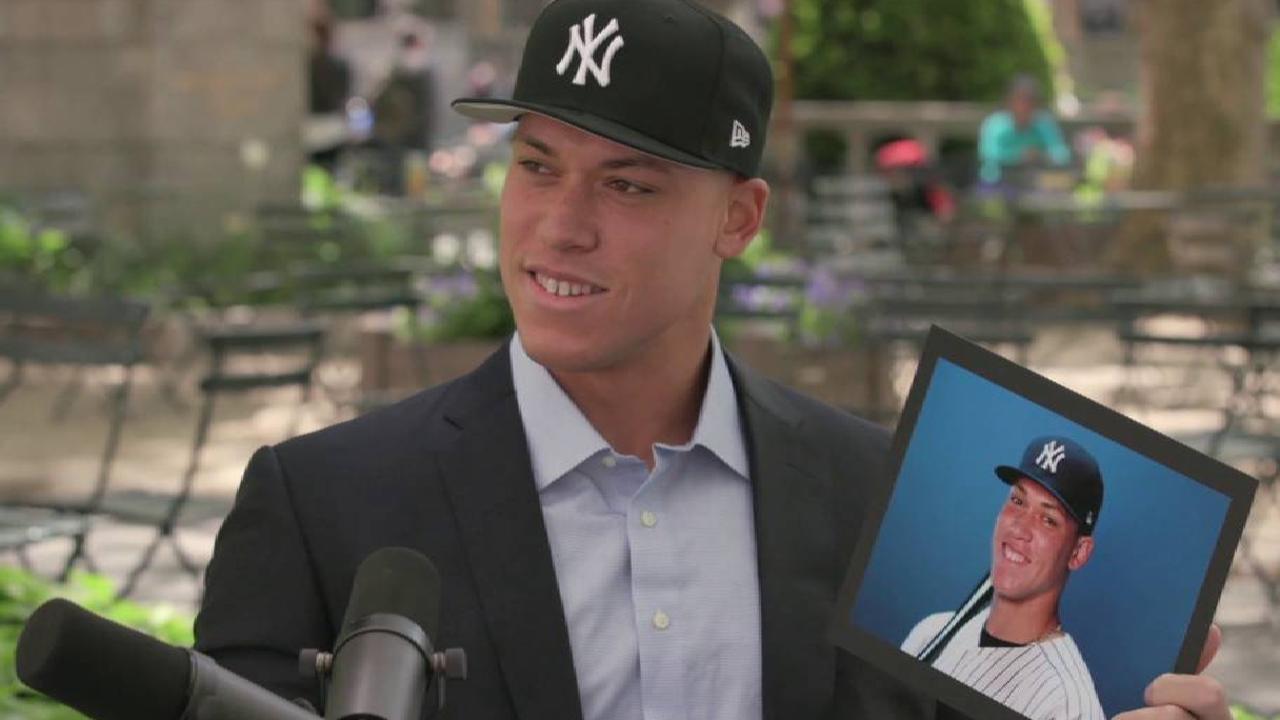 Judge said that he was excited when the Yankees approached him with the idea for the "Chambers." The structure consists of three rows in Section 105 enclosed by wood paneling, evoking the image of a courtroom.
"They just brought it up to me and said, 'Hey, this is what we're going to do,'" Judge said. "They're going to put out a section and call it Judge's Chambers and give them little judge outfits, and we'll see what happens. I think it turned out great."
Guests are randomly selected for the section, where they can wear black robes with Judge's No. 99 on the back and swing foam gavels that read, "All Rise!"
"The fans are into it," Girardi said. "I think before we left, there were a couple of fans that were dressed up in the white wigs and robes. It's kind of taken on a fun time for the fans in right field. We're just trying to make the experience better."
Outfielder Brett Gardner said that the team's veterans have been keeping a close watch to make sure that Judge does not get overwhelmed.
"He's the same guy every day, and I think that's important," Gardner said. "It's such a long season and you've got to keep things in perspective. You can never get too high or too low because the game will just chew you up and spit you out."
One eye on Gleyber
The Yankees' organization will be paying close attention when Gleyber Torres, who is ranked as the club's No. 1 prospect by MLBPipeline.com, makes his Triple-A debut on Tuesday. Torres is wearing No. 7 and starting at third base for the Scranton/Wilkes-Barre RailRiders at Columbus.
"As I tell these young kids all the time, I know sometimes it feels like you're a long ways away, but things can happen really quickly in this game," Girardi said. "Guys have went from A-ball to the big leagues in one year. It happens. We're paying attention."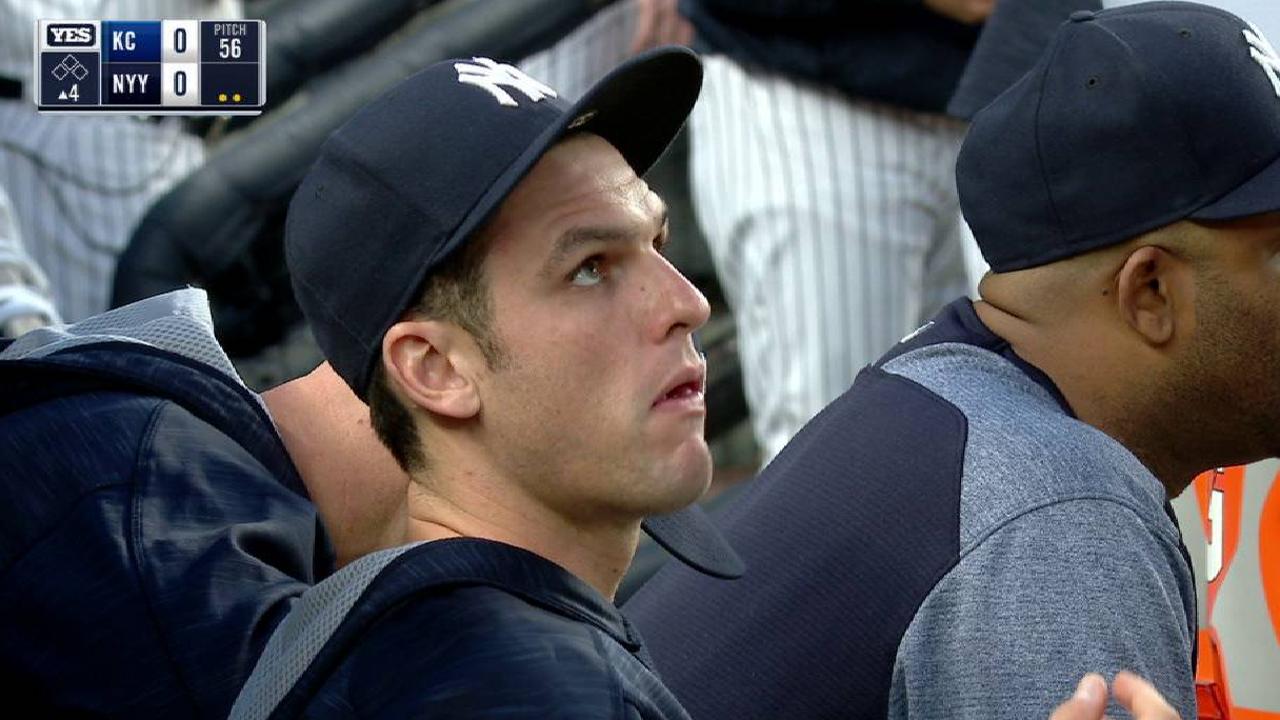 If at first
Greg Bird (right ankle bruise) hit off a tee and toss, threw, ran and took ground balls at first base on Tuesday as he continues to report positive progress. Bird is scheduled to hit in the cage on Wednesday and Thursday, then could advance to on-field batting practice.
"I felt like I was running pretty full speed," Bird said. "I felt good running. Really good."
Bryan Hoch has covered the Yankees for MLB.com since 2007. Follow him on Twitter @bryanhoch and on Facebook. This story was not subject to the approval of Major League Baseball or its clubs.