Dodgers get 'huge lift' with Forsythe off DL
Infielder to play mix of second, third base with Turner out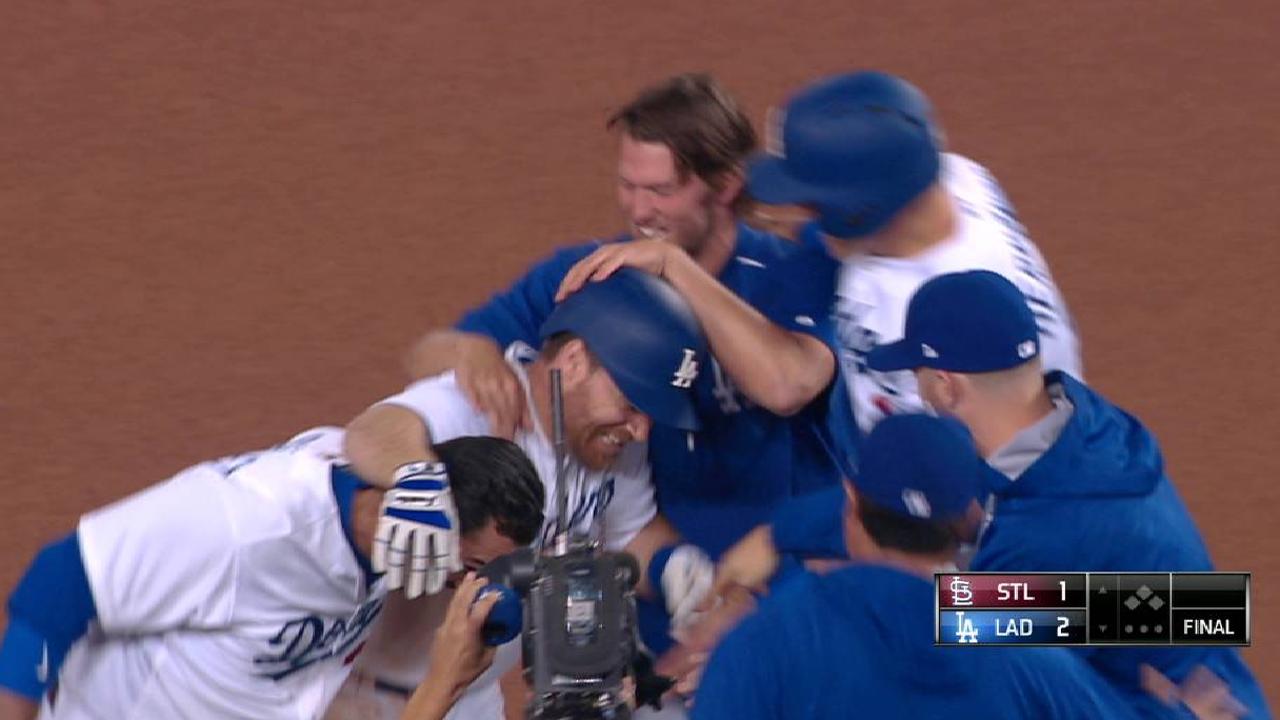 LOS ANGELES -- Dodgers manager Dave Roberts welcomed Logan Forsythe back to the club on Tuesday, saying Forsythe, Chris Taylor and Chase Utley will form a rotation of sorts to play second base and third base until the return of injured third baseman Justin Turner.
"I'm just happy to be back," said Forsythe, who hit a walk-off double in the 13th inning of the Dodgers' 2-1 win over the Cardinals.
Forsythe was activated off the disabled list on Tuesday, when he started at third base and hit leadoff against the Cardinals. Utley started at second base and Taylor did not start.
"It's a huge lift," Roberts said of Forsythe's return. "When you lose a guy like J.T., but then to finally get Logan back and have that blue-collar, grinder at-bat and in the field, I know he's thrilled to be back. He was just getting going with the bat."
But Roberts said all three will get playing time in the coming weeks while Turner recovers from a strained right hamstring. Forsythe had been on the disabled list since April 18 with a broken right big toe and hamstring tightness. He went 3-for-14 in six rehab games. To make room for him, reliever Josh Ravin was optioned to Triple-A Oklahoma City.
"For the short term, it's going to be a three-way rotation," said Roberts. "Logan, we've got to ease him back. Chase, I want to give opportunities, and with Chris, I want to keep him current."
Utley will only play second base against right-handed pitching, while Forsythe and Taylor will play both positions. Roberts also said he is close to playing Taylor in the outfield. Taylor played some outfield during Spring Training and was rough in the transition, but he has continued to take fly balls and Roberts said, "The training wheels, I think, are coming off."
Ken Gurnick has covered the Dodgers for MLB.com since 2001. This story was not subject to the approval of Major League Baseball or its clubs.