Ross has career night, familiar help in return
In 1st start back from Minors, righty goes 8 strong, sets record for run support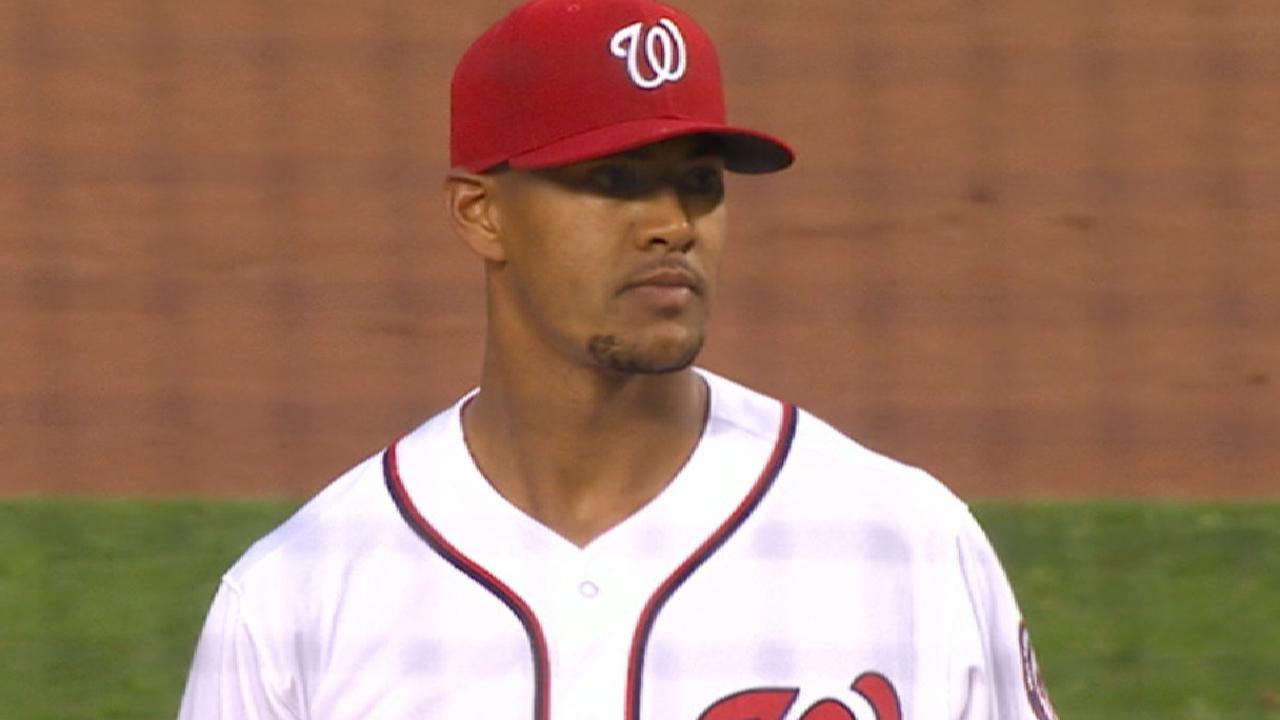 WASHINGTON -- The Nationals weren't certain what Joe Ross would give them Tuesday night.
After an inconsistent start to the season, when Ross recorded a 7.47 ERA through his first three outings, the Nationals sent the right-hander down to Triple-A Syracuse to improve his velocity and arm slot.
Washington recalled Ross after he spent about three weeks in the Minors, and he displayed his improved mechanics in his start against the Mariners at Nationals Park. Ross allowed just one run and matched a career-high eight innings in the Nationals' 10-1 victory.
"I was just happy to be back, first of all," Ross said. "Coming back and kind of getting a big start for myself after going down to Syracuse for a little bit. I felt good out there."
Last season, Ross notched a 3.43 ERA, but after surrendering five runs and failing to complete five innings in two of his first three starts this year, the Nationals sent him down at the beginning of May. They also noticed his arm slot dropped.
Ross followed a throwing program made by pitching coach Mike Maddux to recover his mechanics. After allowing seven runs in five innings of his first start at Triple-A, Ross gave up four runs in 13 innings during his final two appearances.
The 6-foot-4, 225-pound hurler said he was working on his arm slot every day, focusing on slowing down his throwing routine so he had enough time to move his arm in the correct position.
In Ross' absence, right-hander Jacob Turner served as the Nats' No. 5 starter on May 17, allowing three runs in 5 1/3 innings in a 6-1 loss to the Pirates. But Nationals manager Dusty Baker said he prefers Turner bolster the bullpen, which entered Tuesday with the second-worst ERA in the Majors. Ross seems likely to maintain his role after Tuesday.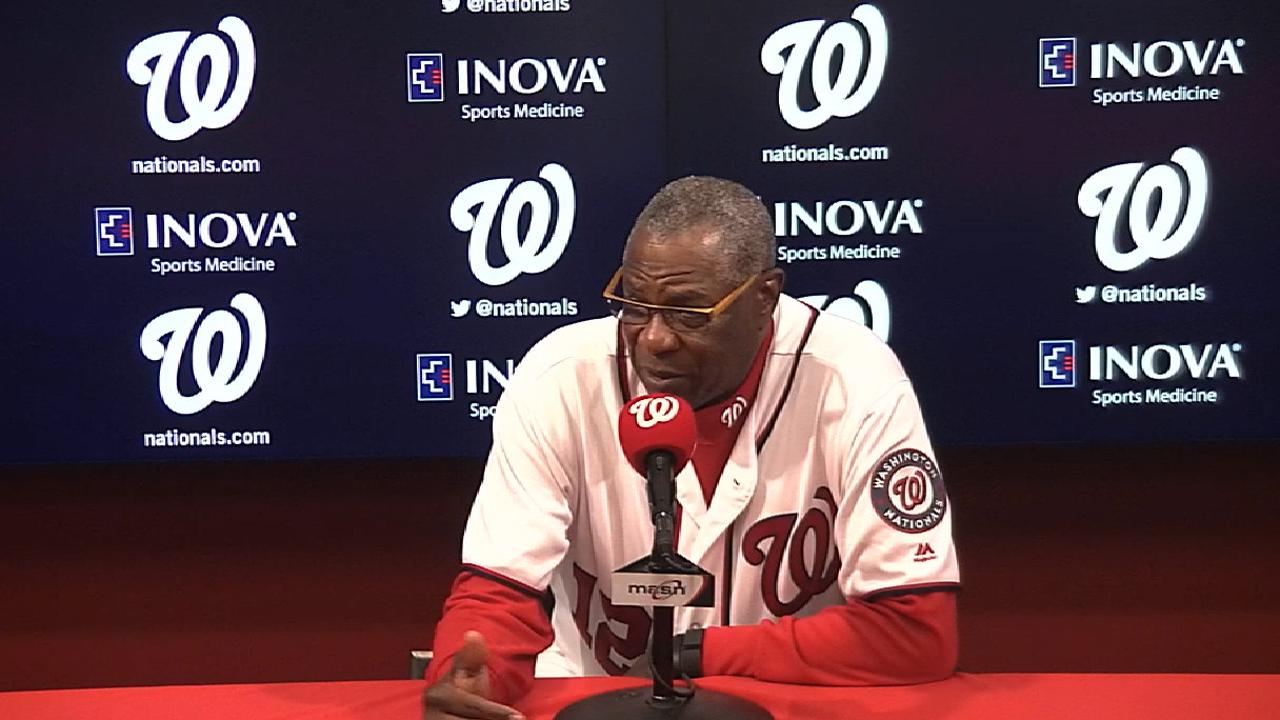 "He deserved that," Anthony Rendon said. "He's been working hard all season. He caught some bad breaks. He's been struggling a little bit. It was awesome to see him to go out there and do what he's capable of doing."
After allowing a leadoff single vs. Seattle, Ross didn't surrender another hit until the fifth inning. He displayed his arsenal of pitches with a fastball touching the mid-90s, finishing with six strikeouts. But in the sixth, he gave up his lone run when Mike Zunino homered.
The Nationals scored eight runs in the fourth inning on nine hits, and Ross said it was a challenge to stay loose while he watched from the dugout. In the sixth, Ross' velocity decreased as his pitches dipped into the 80s. Baker said the wet mound on a rainy night affected Ross' footing, and the pitcher said it was a bad day to wear worn-down cleats.
But Maddux encouraged Ross after the sixth to stay on top of the ball and slow his routine. Ross regained his form and finished the eighth with three strikeouts before Matt Grace pitched the ninth.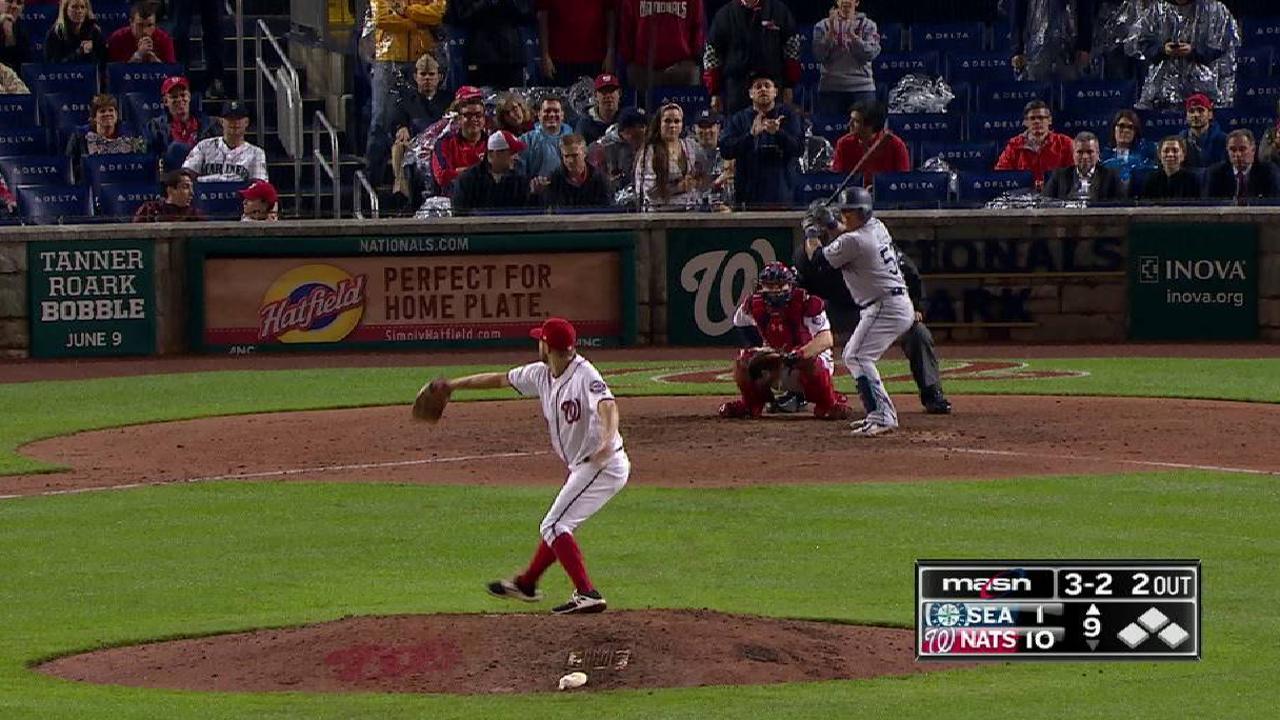 A strong offense continued to bolster Ross. In Ross' four MLB starts this season, the Nationals have scored 62 runs, which is a Major League record in a pitcher's first four starts of a season, according to the Elias Sports Bureau. Even with strong run support, though, Washington's bullpen has struggled with close leads this season, but Ross ensured that wouldn't come into play.
"That's the guy that we know," Baker said. "Joe was pitching with confidence and conviction, and those runs didn't hurt."
Kyle Melnick is a reporter for MLB.com based in Washington. This story was not subject to the approval of Major League Baseball or its clubs.