d'Arnaud expected to be 'active' in SD infield
Where and how much will utility man play?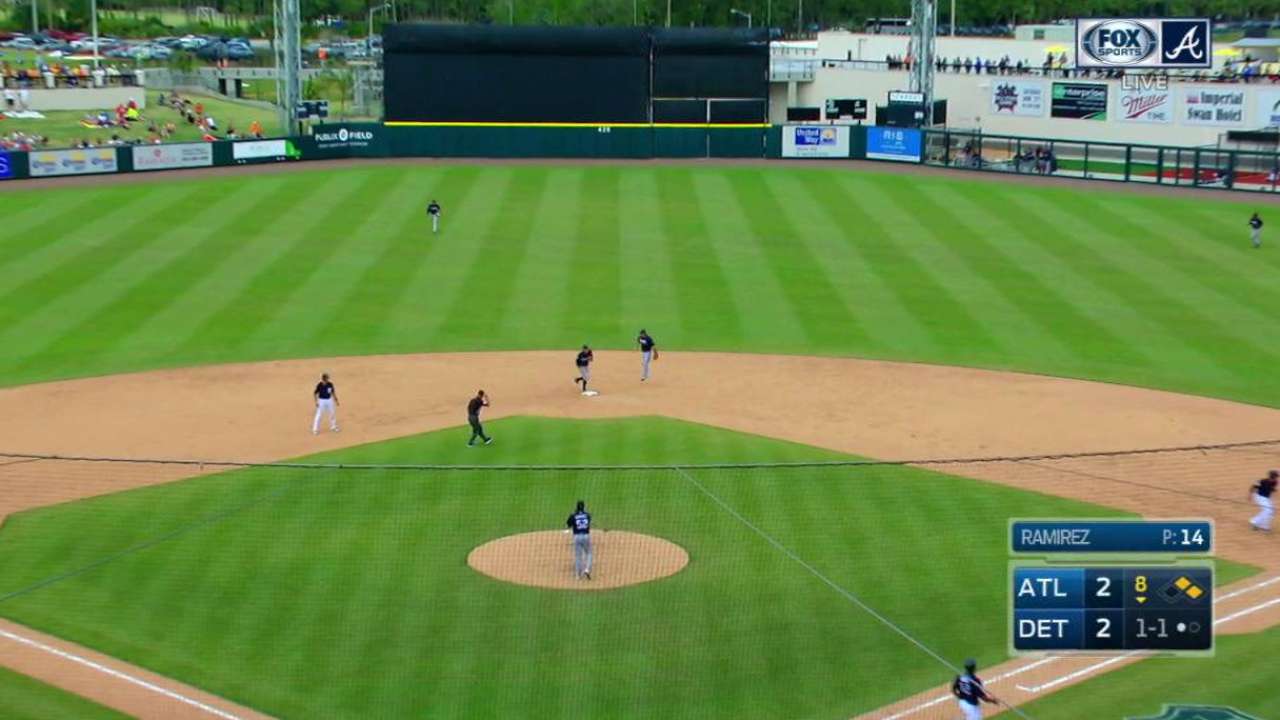 Bill Center, longtime sportswriter for U-T San Diego, is an employee of the Padres.
As manager Andy Green talked during his daily media session Sunday morning, you could almost anticipate a change coming in the Padres' defense, even though the acquisition of infielder Chase d'Arnaud hadn't yet been announced.
"Defense for us is active bodies, active minds all the time," said Green. "I don't think we've been a great defensive team by any metric at this point in time. Plus defense for [Manuel] Margot. Wil [Myers] has bounced back at first.
"We see flashes of good defense. But we're not blessed with unlimited range in the infield. That makes positioning and anticipation very important. We've had a run of bad luck on the shifts. When you shift, you are playing a percentage game. If it works out 75 percent of the time, you do it. If you look at our defensive metric for the first of the year, we were right at the top of the list."
Recently, however, the infield defense hasn't been what it was. Hits have rolled past infielders who either didn't get a good jump or were not playing the pitch. More than once recently, Green has mentioned the lack of range and mobility in San Diego's infield.
"You have to have active bodies, active minds, active anticipation," Green said. "Pre-pitch, where are guys moving? That's the stuff you have to do. You have to get to active bodies, minds and feet."
Moments after Green wrapped up his session, the Padres announced that they had claimed the 30-year-old d'Arnaud -- a .233 career hitter with one homer in 409 at-bats -- off waivers from the Red Sox.
Green called d'Arnaud "a spray hitter," and only one Padres infielder (other than Myers) is hitting better than .233.
Defensively, d'Arnaud is considered above average, with more than half of his Major League appearances at shortstop.
"d'Arnaud's athletic ... he's going to play," Green said after Sunday's 5-1 win over Arizona.
d'Arnaud has already replaced one infielder. Luis Sardiñas, 23, was designated for assignment Sunday to open a spot on the 25-man roster.
Sardiñas was in the running to be the Padres' regular shortstop in Spring Training, but he lost the job to Erick Aybar. Sardiñas was batting .163, and Aybar is batting .211. Third baseman Ryan Schimpf is batting .165, although he does have 10 homers and 20 RBIs.
Worth noting
• Two Padres Minor Leaguers were named the Players of the Week last week. Fernando Tatis Jr. was honored by the Class A Midwest League and Christian Villanueva was recognized by the Triple-A Pacific Coast League. Tatis, rated the Padres' No. 6 prospect by MLB Pipeline, went 12-for-26 (.462) last week with three doubles, a triple, three home runs and six RBIs for Fort Wayne. He had a .533 on-base percentage with a 1.000 slugging percentage and a 1.533 OPS.
Villanueva, 25, signed with the Padres as a Minor League free agent last winter. The native of Guadalajara, Mexico, hit .500 (12-for-24) last week with three homers, seven RBIs and eight runs scored for El Paso.
• Second baseman Yangervis Solarte is in a prolonged slump. After hitting .286 with 15 homers and 71 RBIs in 405 at-bats last season, the 29-year-old switch-hitter is batting .226 with three homers and 21 RBIs after 159 at-bats this year. Since May 5, when he was hitting .282, Solarte has gone 6-for-49 with two doubles, four walks, two runs and one RBI. That's a .122 average and a .189 on-base percentage.
• Rule 5 infielder-outfielder Allen Córdoba is 4-for-8 in a three-game hitting streak 11-for-29 (.379) since May 9, with a triple, a homer, three RBIs and three runs scored. He raised his batting average from .222 to .292.
• Myers drew two walks Sunday, but he is 0-for-12 since his 18-game on-base streak ended. The streak was the second longest of Myers' career.