Story returns from DL; Rockies option Hoffman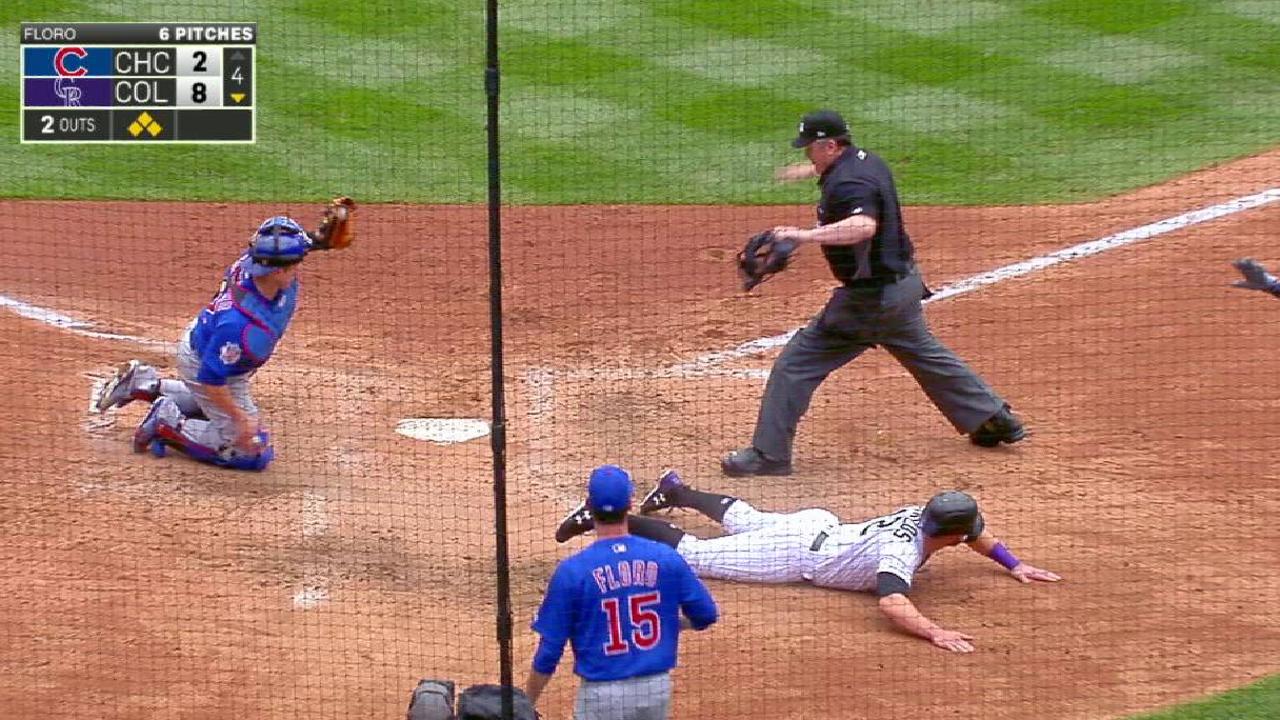 Shortstop Trevor Story returned to the Rockies with a healthy shoulder and a clear mind.
Story, who missed 12 games with a left shoulder strain, was reinstated from the 10-day disabled list for Tuesday night's game against the Phillies at Citizens Bank Park.
"Sometimes, you need a little break -- you step back and look at things and clear your mind a little bit," said Story, who was listed as a reserve Tuesday night. "That's kind of what I did. But yeah, I feel good about it."
Story, 24, went on the DL on May 11. After setting a National League rookie shortstop record with 27 home runs last season, he has struggled -- batting .180 with 48 strikeouts in 111 at-bats -- but he has made hard contact with six home runs and six doubles. Story also has drawn 17 walks.
Story went 3-for-11 with a homer and two RBIs during his injury rehab assignment at Triple-A Albuquerque.
"Just getting back into game action and seeing how my shoulder reacted to that because prior to that it felt good," Story said. "It felt good, I had some check swings and some weird situations happen in the game and it reacted well so I was happy with that."
Story said the rehab assignment was a matter of "just slowing it down really and slowing my body down. That's really what it comes down to for me."
Worth noting
• To clear room on the 25-man roster, Colorado optioned right-handed pitcher Jeff Hoffman to Albuquerque one day after he struck out seven in seven innings in an 8-1 victory over Philadelphia. It's the second time this month that Hoffman (2-0) has been called up and performed well. He threw 5 1/3 innings with eight strikeouts in a May 11 win over the Dodgers.
Rockies manager Bud Black said Hoffman was sent to the Minors before the season for "not only mechanics and fundamentals, pitching principles, but there were some things mentally we needed him to take care of -- and he's done those things."
Now it's just a matter of opportunity.
"As you know, the odds of any team going through the rest of a season with the five guys they have on May 23 is rare," Black said. "We're one of those teams, but it's good to have a guy like Jeff Hoffman there in Triple-A doing good work, hopefully he continues that in Triple-A and pitches well.
"That's another directive, go pitch well in Triple-A, keep doing it. If he gets called back up, we'll feel good about it because he's proven he can do it."
• Righty Jon Gray (left foot navicular stress fracture) is up to about five hours a day out of his walking boot, and every third day he throws a side session in the boot. The plan is to have him as close to ready as possible to be cleared for full baseball activity.
• Outfielder David Dahl (stress reaction in sixth rib) and catcher Tom Murphy (hairline fractures in right forearm and wrist) took batting practice at Citizens Bank Park on Tuesday. Dahl also took fly balls in left field, and Murphy threw to second and third base.
Thomas Harding has covered the Rockies since 2000, and for MLB.com since 2002. Follow him on Twitter @harding_at_mlb and like his Facebook page.

Ben Harris contributed to this story.

This story was not subject to the approval of Major League Baseball or its clubs.