Statcast of the Day: Almora's 4-star catch
Cubs center fielder overcomes wind to rob extra-base hit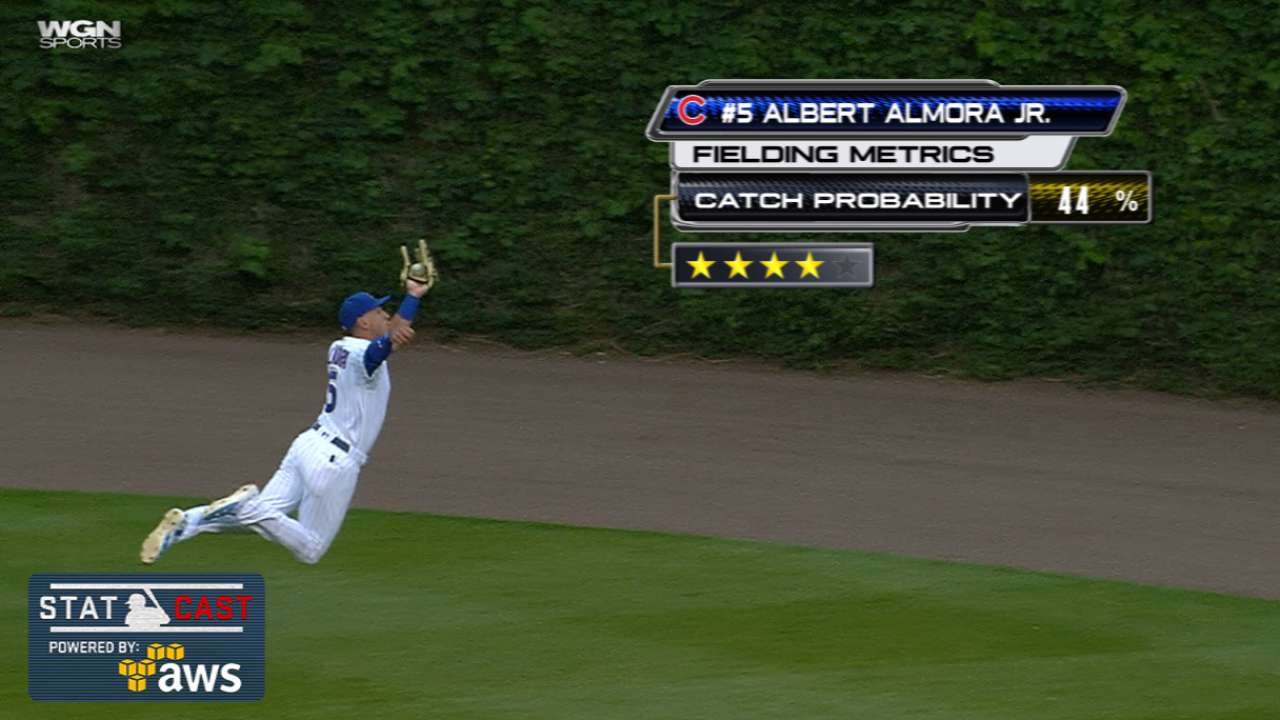 CHICAGO -- Joe Maddon wanted Albert Almora Jr. in the lineup Monday night because of his defense to back up John Lackey, and the Cubs center fielder proved his manager's call correct in the first inning with a stellar catch.
The Giants' Joe Panik led off the game with a home run, but Cubs shortstop Addison Russell made a great stop on Christian Arroyo's hard-hit ball and got him in time. Almora then topped Russell with a beautiful grab of Brandon Belt's fly ball in center, snaring the ball while fully extended in the air.
Statcast™ gave Almora a four-star catch, saying the catch probability was 44 percent. He needed to cover 89 feet and actually covered 90 feet, running a perfect route.
"Fabulous," Maddon said of the catch, which was Almora's first four-star catch of the season.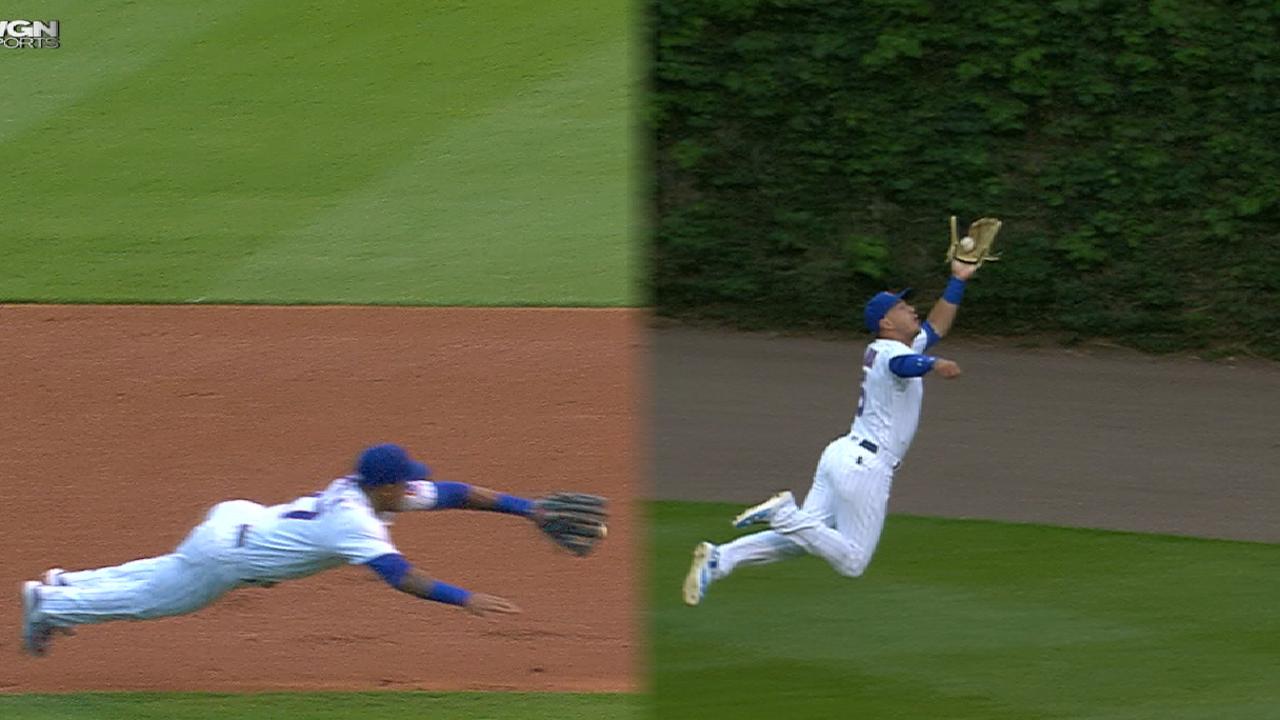 "Today was a tough day because of the wind out there again," Cubs right fielder Jason Heyward said. "Today was kind of in between. The ball was supposed to be shorter, more routine, and it was going to the track. That's a great play [by Almora] -- he stayed with it. He's confident in his ability and his judgment."
Almora had another chance in the fourth inning when Justin Ruggiano hit a ball into the gap in right-center. There was a 24 percent catch probability on that play, and Almora didn't get to the ball in time, with it dropping for a double.
"He just missed the [Ruggiano] one, had to run a long way for that," Maddon said of Almora. "They were covering some ground."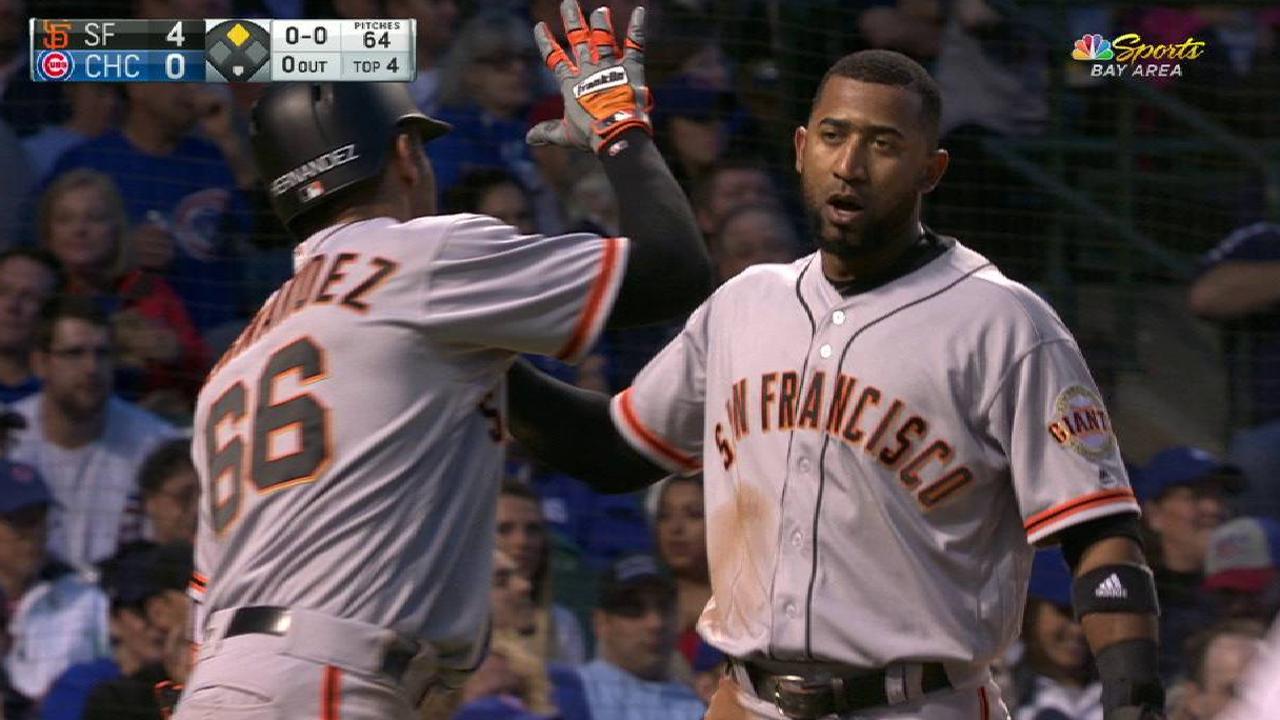 In 2016, Almora didn't get any five-star opportunities but converted all three of his four-star chances. This season, the Cubs were a combined 6-for-45 on four- and five-star opportunities, with their conversion rate of 13 percent ranking 16th in the Major Leagues, well behind the first-place Twins (42 percent).
Maddon has been looking for sharper defense, and Monday was a good first step. The Cubs nearly pulled off a late-inning rally, scoring four runs in the eighth on a pair of two-run homers by Javier Baez and Ben Zobrist in a 6-4 loss to the Giants.
"If we keep playing that game, it'll make me a happy person," Maddon said. "We had really good at-bats, played our defense. That's what I'm looking for, more of that. When you lose a game like that, my thought has been, if we keep playing like that, we'll win plenty.
"That's what we're supposed to look like, and again, we didn't quit. I have nothing to complain about. I shall sleep well. That's the game we're looking for."
Carrie Muskat has covered the Cubs since 1987, and for MLB.com since 2001. She writes a blog, Muskat Ramblings. You can follow her on Twitter @CarrieMuskat and listen to her podcast. This story was not subject to the approval of Major League Baseball or its clubs.