Pirates' Freese, Hurdle ejected in Atlanta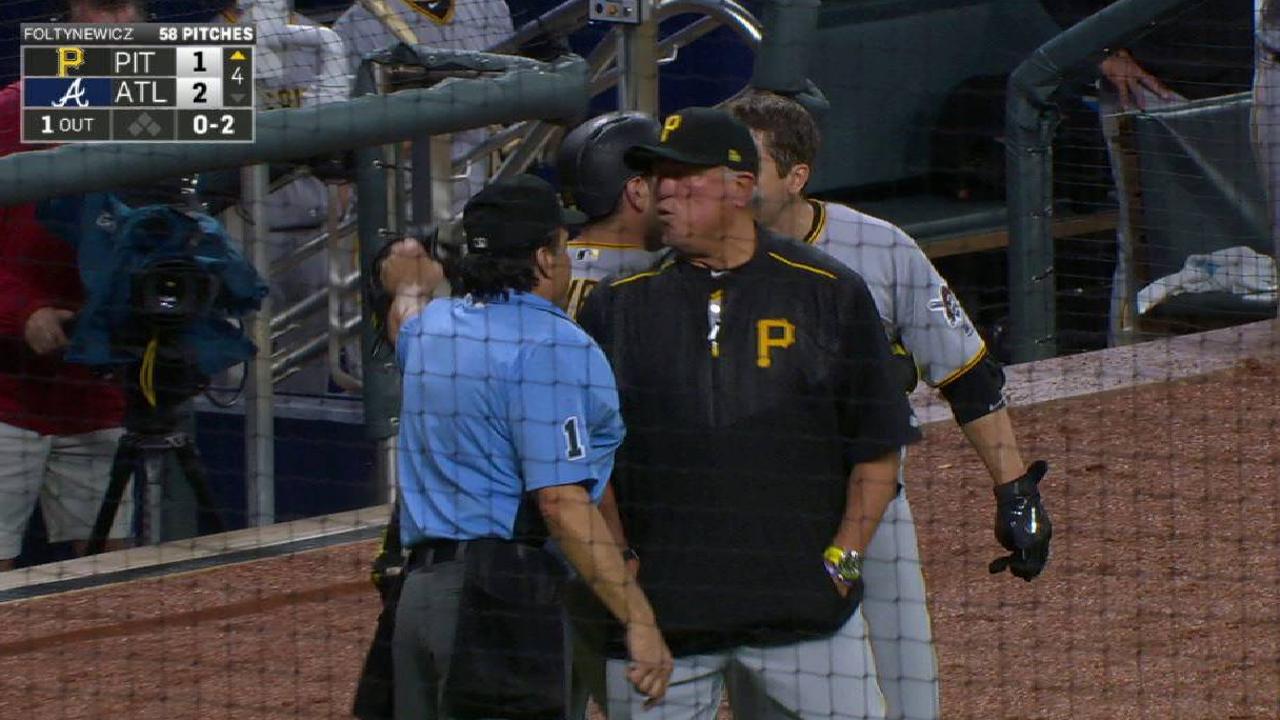 ATLANTA -- Third baseman David Freese and manager Clint Hurdle were ejected during the fourth inning of the Pirates' 5-2 loss to the Braves on Monday night at SunTrust Park.
Freese was ejected for arguing balls and strikes with home-plate umpire Phil Cuzzi, who promptly tossed Hurdle as he attempted to defend Freese.
"I don't think you can ring me up for what I said. Me and Phil have a good relationship, and I'm not a rookie," Freese said. "I think I deserve a little warning or something. Bad call. I yelled. I got tossed. I'm glad Clint stood up for the situation, though."
Leading off the fourth against Braves right-hander Mike Foltynewicz, Freese struck out looking on a low, 96.8-mph fastball that appeared to be outside the strike zone. As he turned to leave the batter's box, Freese said he asked Cuzzi, "You really got that there?" Cuzzi confirmed he saw the pitch as a strike.
After John Jaso, the next batter, fouled off an 0-2 pitch from Foltynewicz, Freese could be heard shouting toward Cuzzi that the called third strike was "not even close." Cuzzi then ejected Freese.
"I went and looked. I felt like it was off far enough to come back out and let him know," Freese said. "I thought the hook was quick, and I didn't appreciate it."
The veteran third baseman calmly defended himself after the game.
"The ejection was just unnecessary, I thought," Freese said. "I understand not arguing balls and strikes, but it's early in the game, and you've got to get back on the plate. I went back and looked at it. It was way off."
Television cameras captured Cuzzi telling Freese, "You know better than that." That drew Hurdle out of the dugout. At one point, Hurdle stood between the veteran infielder and Cuzzi and repeatedly asked, "So what?"
"You probably can catch video from the game. You might even be able to get some audio," Hurdle said afterward. "Draw your own conclusions."
Following the Pirates' first ejections of the season, Josh Harrison moved from second to third base, and Alen Hanson entered to play second base. With Hurdle relegated to the clubhouse, bench coach Tom Prince took over in-game managing duties.
Adam Berry has covered the Pirates for MLB.com since 2015. Follow him on Twitter and Facebook, read his blog and listen to his podcast. This story was not subject to the approval of Major League Baseball or its clubs.