Richard steps up when Padres need leader
Two pitching prospects promoted to Class A Fort Wayne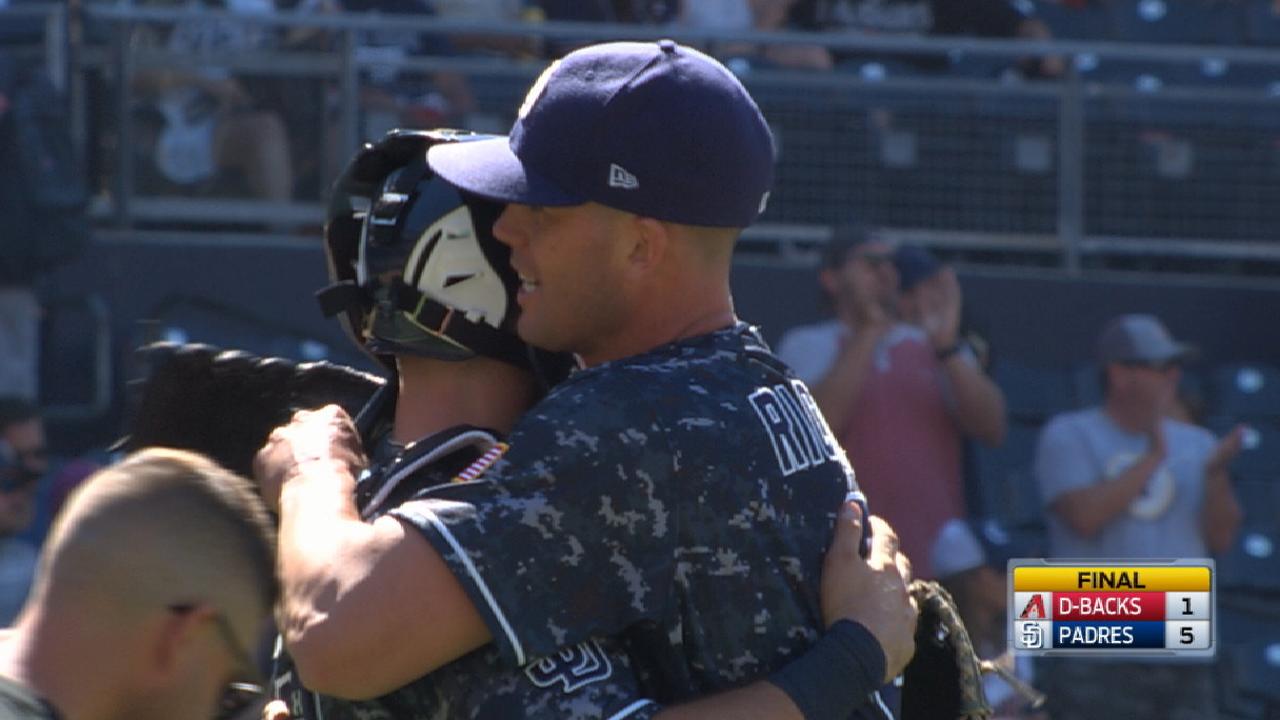 Bill Center, longtime sportswriter for U-T San Diego, is an employee of the Padres.
In the service, they call it "command presence."
It is a key element of leadership: How you come across to people around you, how you carry yourself, how you react in times of stress and how you make decisions when one needs to be made. Crowded rooms usually turn toward those with command presence.
I've seen command presence. I served some really good leaders. And I've worked for some people who had no idea what leadership was, although they thought they did.
Clayton Richard has command presence.
He had it back on Aug. 2, 2009, the day after he joined the Padres in a trade that sent former Cy Young Award winner Jake Peavy to the White Sox.
Richard was the only one of the four pitchers facing questions from the San Diego media. As he spoke, several new teammates walked by. If he saw a new face, Richard said, "Excuse me," to the media and shook hands with a player or coach he was meeting for the first time. Then he returned to answering questions.
The room was watching Richard, and he won the room. Richard has been winning over rooms, and the people who fill them, ever since.
As Padres manager Andy Green said recently, "Clayton Richard is the recognized leader in our clubhouse."
You could see that Sunday afternoon when Richard threw a complete-game five-hitter to stop a five-game losing streak and prevent the Padres' bullpen from being further abused.
Richard delivered exactly what the Padres needed at the perfect time. And he took the mound with exactly that in mind. He knew the Padres were reeling. He knew he had to go deep in the game. And he did it.
"I wanted to be out there for as long as I could," Richard said. Short and sweet. And as Richard spoke, you could see eyes from around the room fixed on the 6-foot-5 left-hander.
Command presence.
No other Padre can top Richard's training regimen or stature. No one sees the big picture better. No one speaks more eloquently about the circumstances.
Personally, I was happy when the Padres re-signed Richard. He is the man who can teach the club's younger players about being a Major Leaguer, on and off the field.
Did Sunday's events surprise me? A little bit. But it was Richard. I expect him to step forward when no one else is prepared to go there.
Richard's complete game Sunday was the Padres' first of the season and the his first since 2012. Coincidence given their plight entering the game?
I don't think so.
Worth noting
• The Padres top high school pitching prospects from last June's Draft were promoted from extended spring training to Class A Fort Wayne on Monday morning. Right-hander Mason Thompson is already ranked the Padres' No. 21 prospect by MLBPipeline.com. Right-hander Reggie Lawson, 19, was the Padres' 71st pick in last year's Draft and is ranked No. 30. Thompson, 19, was the Padres' third-round pick out of Round Rock High (Texas) with the 85th pick.
• Catcher Hector Sanchez suffered a hamstring injury Sunday while on a rehab assignment for Triple-A El Paso. He is not expected to come off the disabled list this week as was previously expected.
• Right fielder Hunter Renfroe was 3-for-4 with a double, a RBI and a run scored Sunday to snap out of 1-for-14 slide after he reached base in a career-best nine straight. Since May 10, Renfroe has an OPS of 1.008 with a .408 on-base percentage, four doubles, three homers, nine RBIs and nine runs scored.