NLDS rematch: Cueto, Lester on MLB.TV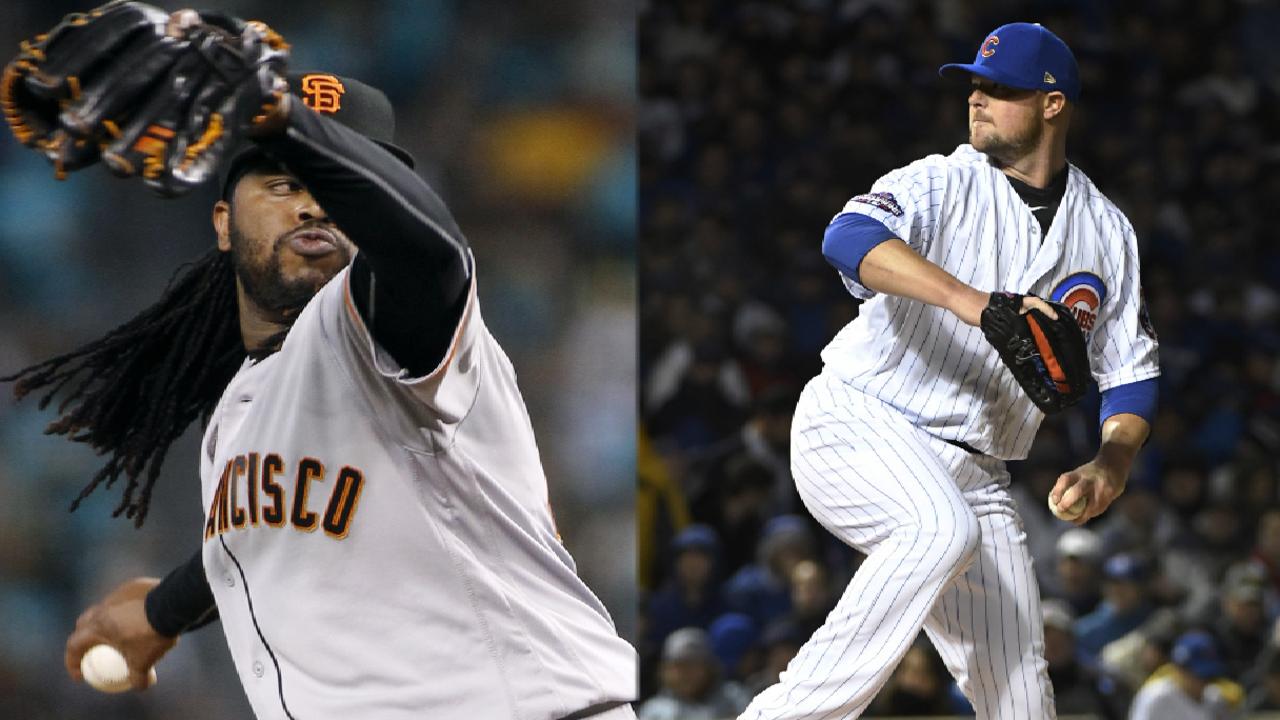 The National League Division Series rematch between the Cubs and Giants continues tonight with a premier pitching matchup, adding intrigue to what was already the highlight of a jammed-packed Major League schedule.
The last time Johnny Cueto and Jon Lester matched up was Game 1 of last year's NLDS, an instant classic during which the two aces went pitch-for-pitch. Cueto and Lester square off again Tuesday, and if the game is anything like that one, we're in for quite a duel.
Remember, Cueto allowed just three hits and struck out 10 Cubs over eight brilliant innings in that first game of last year's NLDS. The only run he allowed was a towering solo homer to Javier Baez that just cleared the baskets at Wrigley Field and sent the Cubs to a win. Lester allowed just five hits over eight shutout innings to best Cueto, but he did so just barely.
Neither the Cubs nor Giants would make the postseason if the 2017 season ended today, with the Giants struggling and the Cubs jammed within a crowded NL Central. But the lineups Lester and Cueto will face will heavily resemble the ones from last October, and the pitching matchup will be the same. That's more than enough reason to tune in.
MLB.TV Premium is available for $112.99 yearly or $24.99 monthly, with nearly two dozen features for subscribers to access and interact with live out-of-market Major League Baseball games at 60 frames per second on any of the more than 400 supported devices. MLB.TV single team subscriptions are also available at $87.49 yearly.
Here's what else to watch for throughout the night (all times ET):
Ohio Cup Runneth Over: CLE@CIN, 7:10 p.m.
Between Francisco Lindor and Zack Cozart, Ohio seems to be shortstop country these days. This season, both have been #ASGWorthy, to say the least. Cozart leads MLB shortstops in nearly every offensive category, while Lindor leads American League shortstops in doubles, homers and slugging. Both appear poised to represent their leagues this July in the All-Star Game presented by MasterCard. As for Tuesday, the second of a two-game series at Great American Ball Park (the Ohio Cup will move to Cleveland for two more games afterwards), Carlos Carrasco (4-2, 2.60 ERA) opposes Amir Garrett (3-3, 5.18 ERA) on the mound.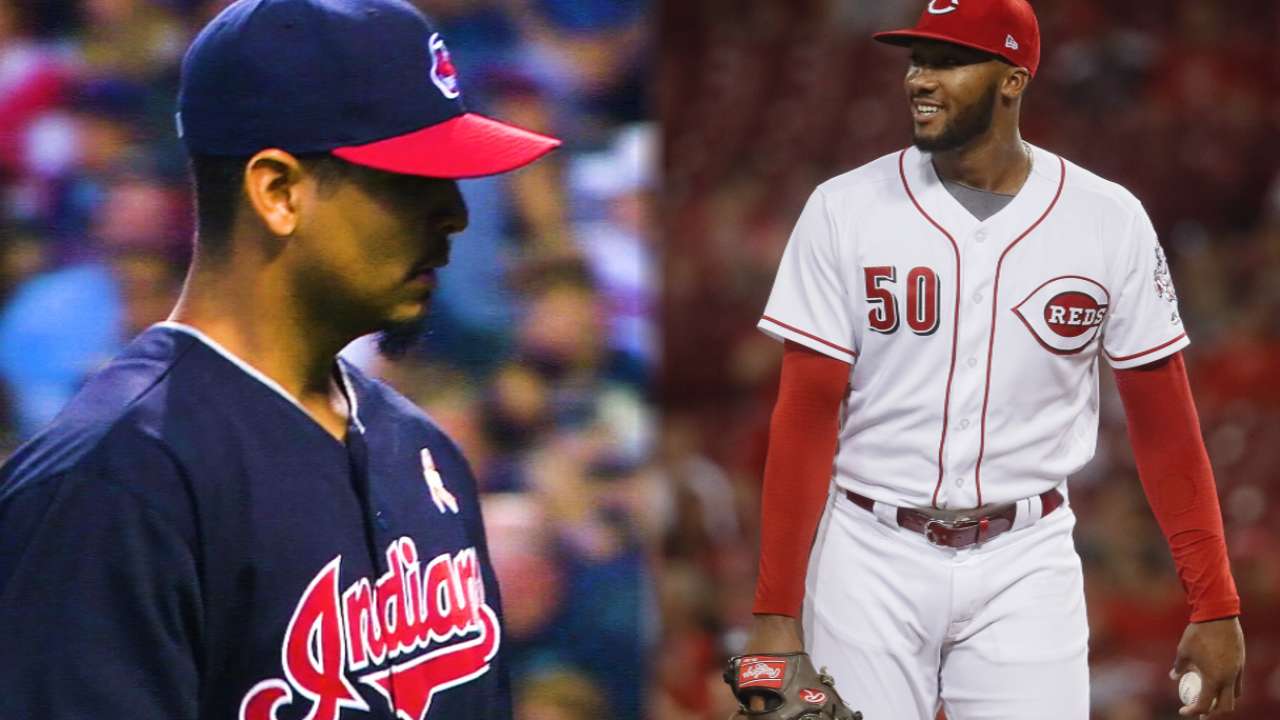 October feels: SFG@CHC 7:05 p.m.
The Cubs went 4-3 against the Giants last season, but beat them three times in early September before winning the NLDS, three games to one. All the games in the September series were decided by one run, as were three of the four postseason games.
Summer sluggers: DET@HOU 8:10 p.m.
Jordan Zimmermann and Lance McCullers Jr. line up against one another in the second game of this four-game set between two of the AL's most star-studded clubs. McCullers will have to navigate a lineup with Miguel Cabrera, Ian Kinsler, reigning AL Player of the Week J.D. Martinez and a rejuvenated Alex Avila, while Zimmermann will test his luck against Jose Altuve, Carlos Correa, George Springer and the rest of Houston's high-powered offense. The Tigers won four of six games against Houston last season.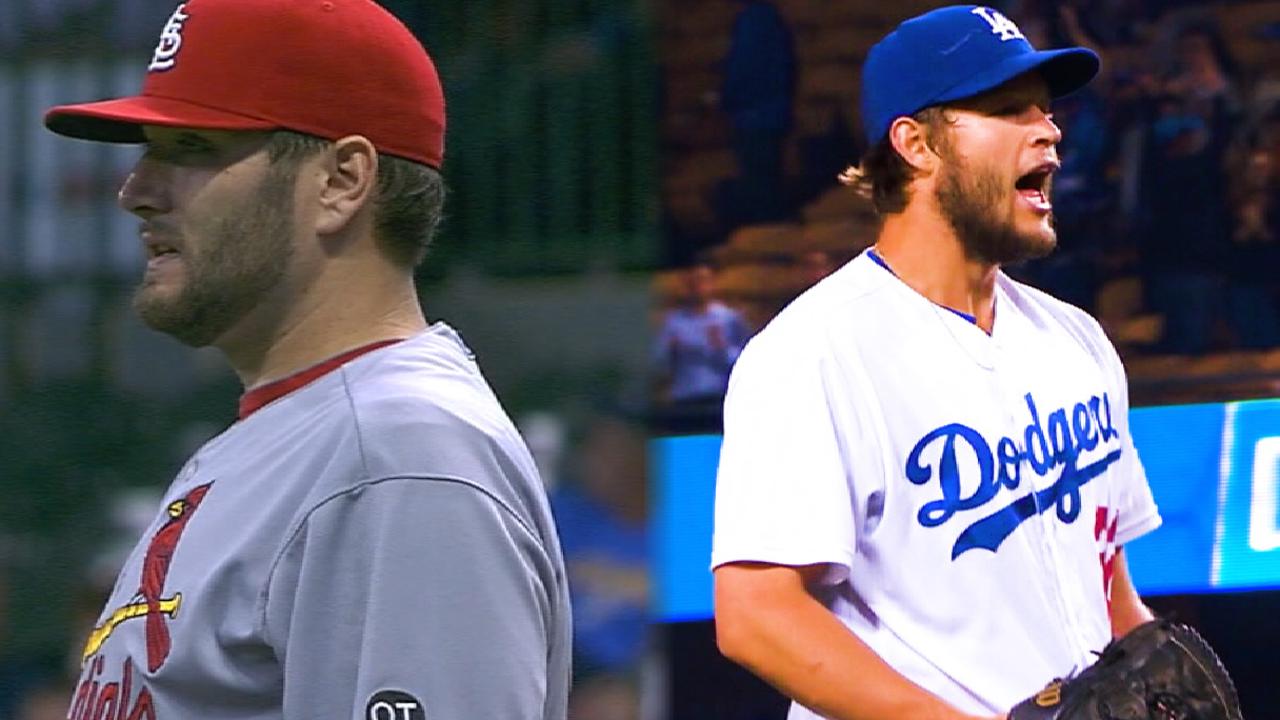 Kershaw karma?: STL@LAD 10:10 p.m.
The best pitcher in the world made his first Major League start against the Cardinals, all the way back in 2008, and guess what? The Dodgers won. He's been generally good against St. Louis ever since -- if not his usual dominant self -- at least during the regular season.
But no team has had Clayton Kershaw's postseason number quite like the Cardinals, who sent him to four consecutive playoff losses from 2013-14. Kershaw's career postseason ERA against the Cardinals is 7.15, compared to 3.18 against them in the regular season and his stellar 2.36 career mark.
Only three hitters remain on the Cardinals' roster from the last time they defeated Kershaw in October, and the lefty dominated St. Louis, throwing eight shutout innings, the last time he faced the Cardinals. That was all the way back in 2015. In June.
It'll be more than interesting to see how Kershaw, who already has seven wins this season, fares Tuesday. St. Louis counters with Lance Lynn (4-2, 2.78 ERA)
Joe Trezza is a reporter for MLB.com based in New York. Follow him on Twitter at @joetrezz. This story was not subject to the approval of Major League Baseball or its clubs.