Sanchez accepts assignment to Triple-A
Tigers righty will start for Toledo, look to regain form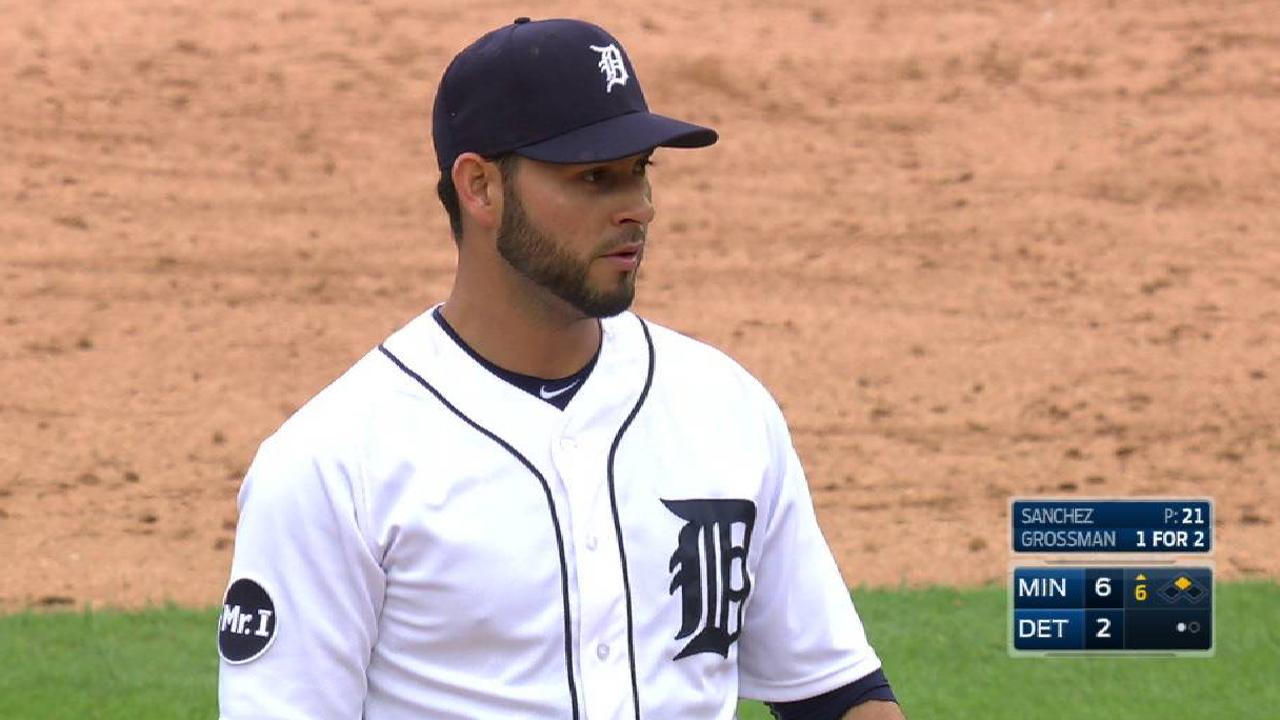 HOUSTON -- Anibal Sanchez is a starting pitcher again, but now for Triple-A Toledo. The struggling Tigers right-hander accepted an optional assignment to the Mud Hens on Monday, the latest step to try to rekindle the career of the former American League ERA champion.
Sanchez will start for Toledo on Tuesday, and pitch out of their rotation. He takes the rotation spot of Warwick Saupold, who was called up to pitch out of the Tigers' bullpen on Monday.
As a 12-year Major League veteran, Sanchez had to approve the move. But after seven weeks as a long reliever in the Tigers' bullpen yielded no improvements in his pitching, the 33-year-old was ready to try something different.
"It's something that he wanted to do, in terms of stretching his arm back out, getting his pitch count back up, getting into more of a routine as a starter," manager Brad Ausmus said. "So after discussing it with him over the last 48 hours, he decided to accept it, and take that route to see if he can get back to being, hopefully, a starting pitcher again."
Sanchez is in the final season of a five-year, $80 million contract he signed after helping the Tigers reach the World Series in 2012. Still, his 7-13 record and 5.87 ERA last year put his future in Detroit in serious question. He had a strong second half of Spring Training, before losing out to Matthew Boyd for a rotation spot. The Tigers kept him on the Opening Day roster as a long reliever, hoping to keep him as depth in case they needed another starter.
Sanchez's performance out of the bullpen was a regression to past struggles. He allowed 21 earned runs on 34 hits over 21 innings, including nine home runs. Though he racked up 22 strikeouts, the damage on contact generally limited his appearances to either big leads or blowouts.
"It's tough to get any pitcher in that role a steady diet of innings, because it's so reliant on how your starters are pitching," Ausmus said. "His entire career, he's been pitching as a starter, which is very routine-based. And I'll say this: Not one time has Sanchie complained, or made excuses, for any of his performances. He has never complained about his usage or his role. He has always come to the ballpark in a good mood. He always gets his workouts in. So, he's been a model citizen in that sense."
Sanchez enjoyed one of his better outings Friday night against the Rangers, tossing 2 1/3 scoreless innings on one hit with two strikeouts. It was his first appearance in a week, and just his third appearance since May 2. Tigers officials, including general manager Al Avila, approached him afterward with the idea of a starting assignment in Toledo.
"It was a conversation over the last few days," Ausmus said. "We want to get the most out of Anibal Sanchez, and he wants to get the most out of himself. This was an idea that was brought up and discussed between the organization and Sanchie, and we decided to do it. He liked the idea and accepted the option. …
"I think it's admirable in a day and age where a lot of players wouldn't do that. He's willing to go to the Minor Leagues for the betterment of himself and the team. That's very unselfish of him. I don't think you see that very often these days."
Tigers officials and Sanchez's agent, Gene Mato, spent Monday negotiating the terms of the assignment. Sanchez traveled with the Tigers to Houston early Monday morning, then cleared out his locker and left, after they were in agreement.
The assignment is not indefinite; once Sanchez is stretched out as a starter, likely past 100 pitches, the Tigers will have to make another decision on him. Still, it gives both sides another chance to see if he can get back to a better form.
"I don't know what the endgame is, because we don't know what's going to happen," Ausmus said. "It depends on how he does, and how our starters do here. There's nothing etched in stone. We're just going to see if this is a route that gets him back to being a starting pitcher."
Jason Beck has covered the Tigers for MLB.com since 2002. Read Beck's Blog, follow him on Twitter @beckjason and Facebook. This story was not subject to the approval of Major League Baseball or its clubs.