Tanaka healthy, focused on shaking slump
Girardi IDs collision as key moment for Gardner; Bird progressing in rehab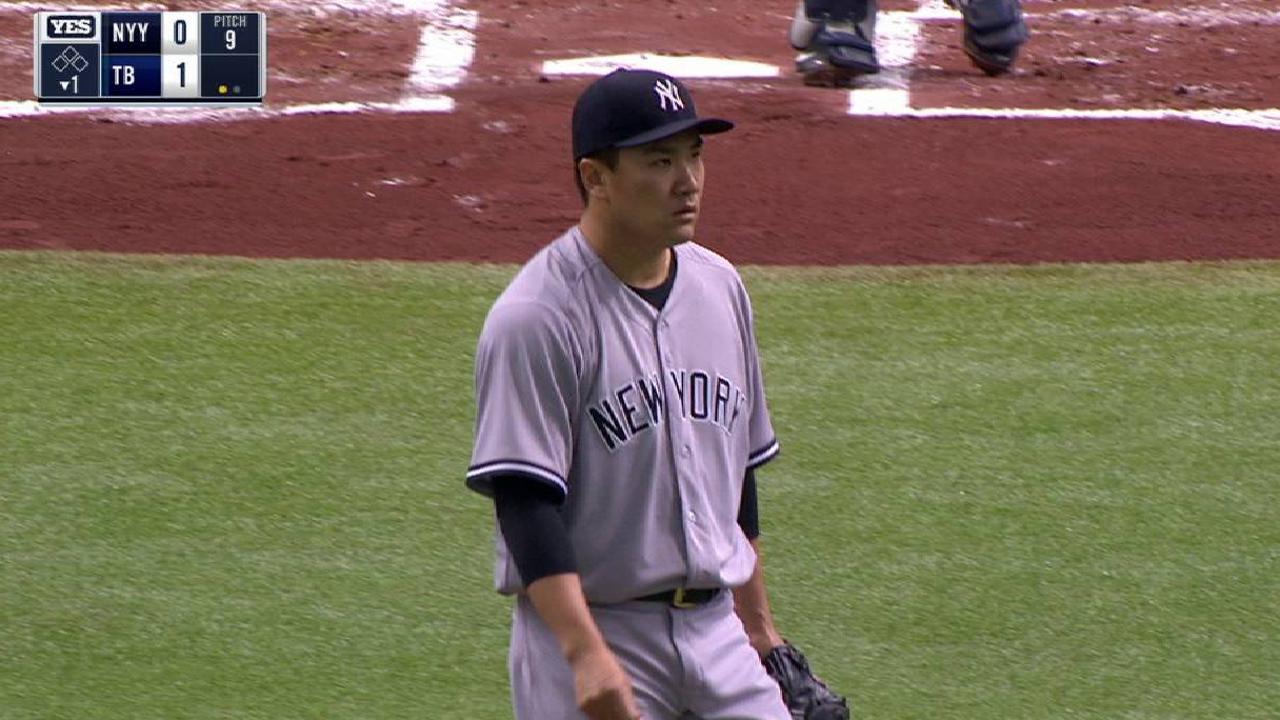 NEW YORK -- Masahiro Tanaka said that his last two starts qualify as one of the worst slumps of his career, but the Yankees right-hander maintains that he is healthy and will spend the next few days focusing on how to produce better results against the Royals on Thursday.
"I feel like I'm in sort of a deep hole, but I just can't put my head down," Tanaka said through an interpreter. "I have to lift my head up and work on the things that I need to work on, and try to fix what I need to fix and move forward. It's definitely a grind and it's frustrating, but I'm trying to get it right."
In Tanaka's last two starts against the Astros and Rays, he has permitted 14 earned runs and 16 hits -- including seven homers -- while completing just 4 2/3 innings. He had gone 5-0 with a 2.78 ERA in his previous five outings, so the Yankees have a hard time believing that Tanaka could lose both his splitter and slider so quickly.
"We know that he has to make adjustments, and that's where our focus is," Yankees manager Joe Girardi said. "This guy's got a really good track record. He's had a lot of success here, so it's not like he's just coming over from Japan and struggling. He's in a rut now, and we think we've discovered a few things that will help him and will continue to help him."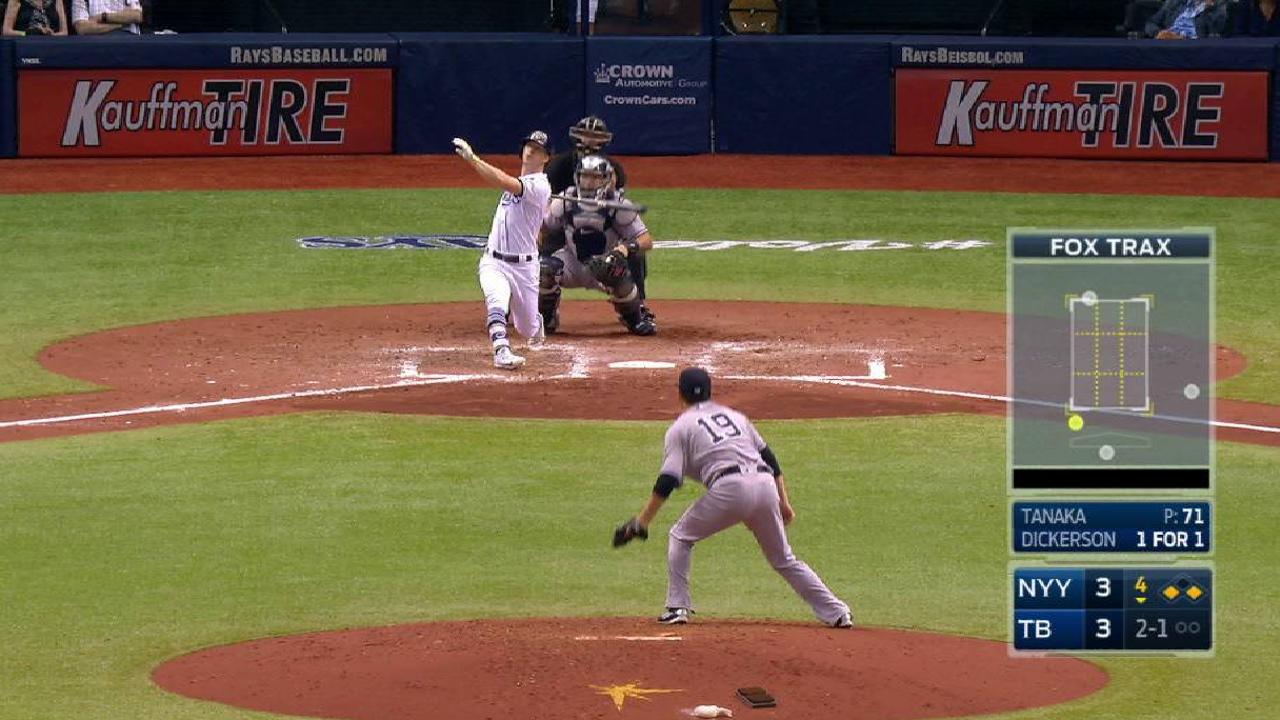 Pitching coach Larry Rothschild has talked about going "back to basics" with Tanaka, who is 5-3 with a 6.56 ERA in nine starts. Tanaka said that he understands that to mean focusing on fastball command and better sequences of his pitches.
"I can't really go too much into detail of what's going on, but yes, I was able to check to see some of the things I'm doing wrong," Tanaka said. "I have this time in between the starts to work on that. I'll try to get it corrected and hopefully it will come out right."
The constant Gardner
In searching for an explanation to Brett Gardner's recent power surge following his struggles at the plate, Girardi has settled upon the outfielder's April 12 collision with Rays first baseman Rickie Weeks Jr. as a key moment. Gardner sustained a bruised neck and jaw in the crash, then went into a 4-for-33 (.121) skid.
"I'm going to blame [his slump] on the collision because I can't really put my finger on anything else," Girardi said. "Gardy's one of those guys that is going to play beat up and is not going to really tell you how he feels. Maybe that had something to do with it."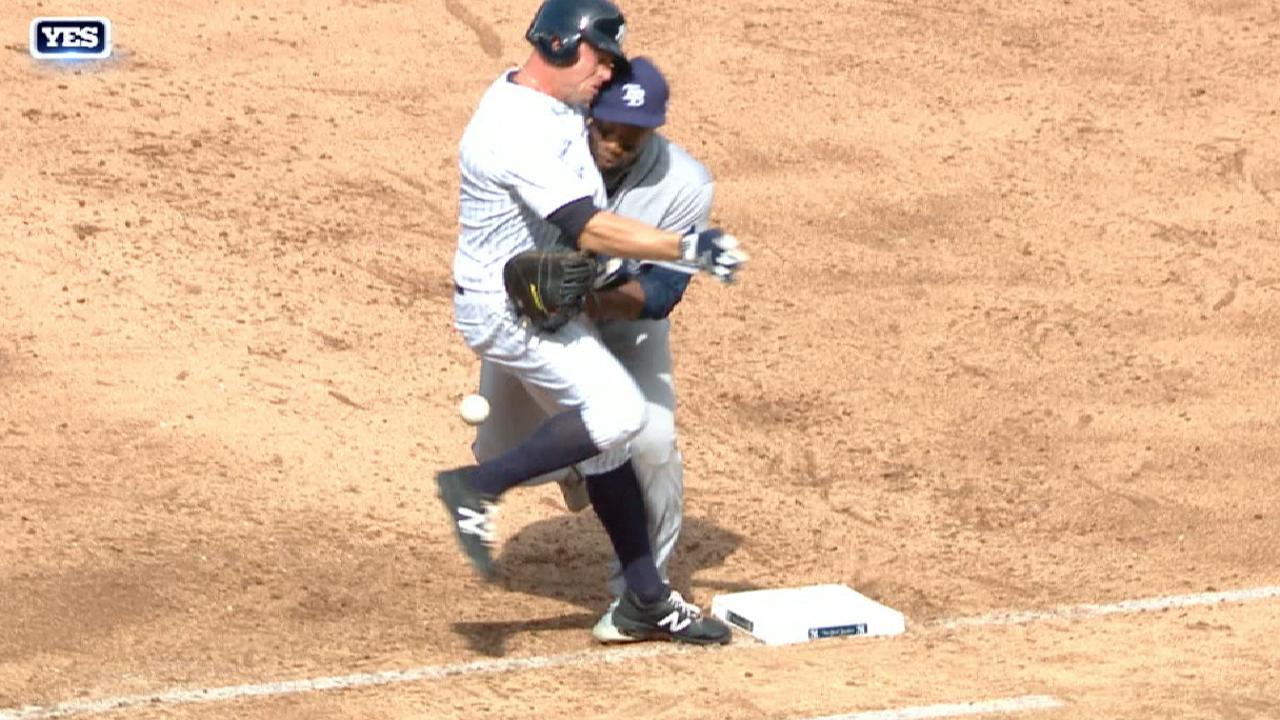 In 20 games since April 29, however, Gardner is hitting .359/.427/.744 (28-for-78) with eight homers -- exceeding his 2016 total.
"I'm just trying to put together good at-bats and drive the ball," Gardner said. "I stayed in my legs, try to take my A swing and stay aggressive. I've hit some balls over the fence, but it's not necessarily what I'm trying to do. You just have good at-bats and it works out that way."
Bird's word
Yankees first baseman Greg Bird (right ankle bruise) took dry swings (no ball) on Monday at Yankee Stadium, reporting no discomfort. He is scheduled to hit tee and toss and in the cage this week, and could travel to the Yankees' player development complex in Tampa, Fla., by the end of the weekend, with a Minor League rehab stint to follow.
"I just want to be back and feel good sooner than later," Bird said. "Whatever I have to do, exactly where, I don't know. Still kind of up in the air."
Bryan Hoch has covered the Yankees for MLB.com since 2007. Follow him on Twitter @bryanhoch and on Facebook. This story was not subject to the approval of Major League Baseball or its clubs.