Inbox: Can Schimpf cut down on strikeouts?
Beat reporter AJ Cassavell answers questions from fans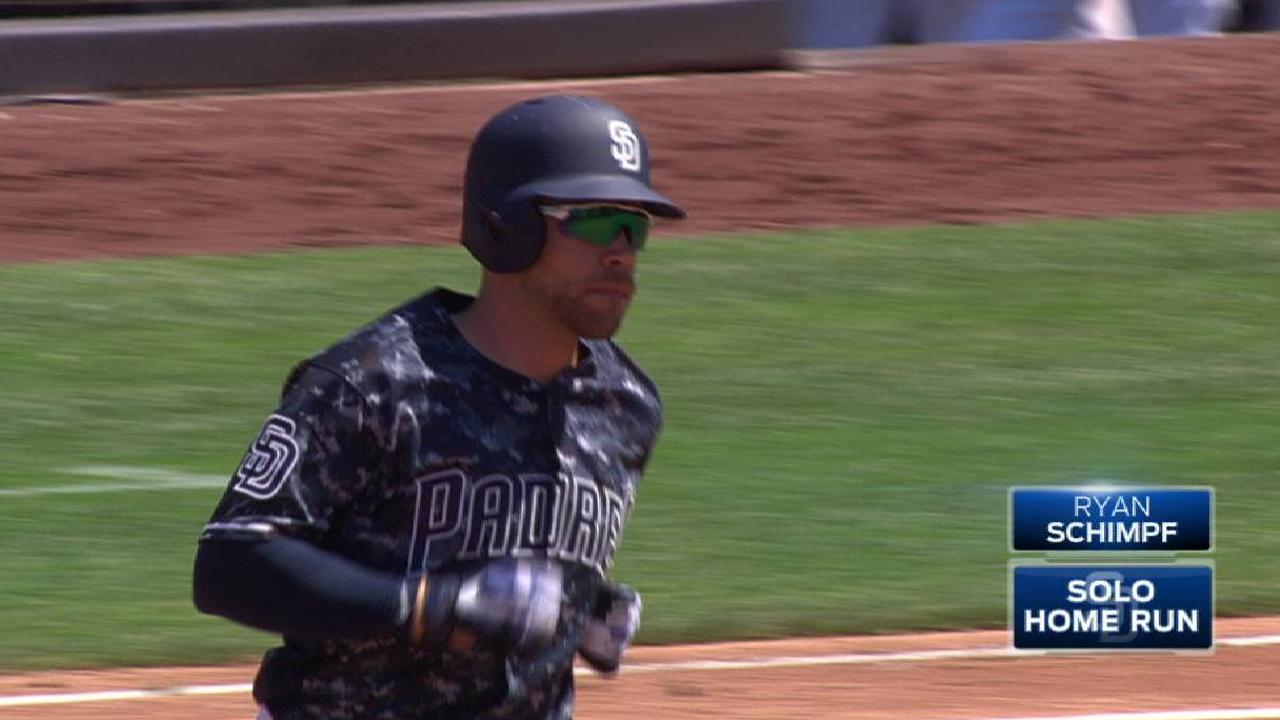 SAN DIEGO -- Monday marks the Padres' first scheduled off-day since May 1 and only their third of the season.
The day off affords us some time to reflect on a few of the more pressing questions surrounding the club this month. Namely: What's next for Allen Cordoba? Does something need to be done about Ryan Schimpf's strikeouts?
MLB.com answers those questions and more in the latest Padres Inbox.
Is there concern that Schimpf has become too strikeout prone? Will the Padres stick with him or find other alternatives?
-- Lance F., Las Vegas
Quick, what's an ideal Schimpf season look like in your eyes? For the Padres, they'd be perfectly content with a .210 average, so long as he's reaching base at around a league-average clip and hitting 25-30 homers.
If you look at Schimpf that way, the strikeouts aren't as big a problem as they appear to be on the surface. He's hitting .165/.303/.417 with 10 homers this season and a 33 percent strikeout rate -- only one percentage point above last season, when he was one of San Diego's best offensive producers.
Are the whiffs a problem? Absolutely. So is Schimpf's dip in average exit velocity. But given his penchant for patience and easy power, I don't see the Padres exploring alternatives any time soon.
• Submit a question to the Padres Inbox
Who is the next prospect to pitch for the Padres?
-- Hayden F.
This is a particularly pertinent question, because it could happen as soon as this weekend. With Jered Weaver and Trevor Cahill on the disabled list, the Padres will likely need to dip into their pool of Minor League pitchers by Saturday.
So who gets the ball at Nationals Park? I'm inclined to lean toward Walker Lockett over Dinelson Lamet, despite the fact that Lamet has been more impressive with Triple-A El Paso this season. Lockett is already on the 40-man roster, and he proved he could get big league hitters out with an impressive spring. (Sure, it's only Spring Training, but in the same situations, Lamet struggled.)
In any case, we'll likely know more by Tuesday, when Lamet, who is ranked the club's No. 10 prospect by MLBPipeline.com, is scheduled to make his next start.
At what point does Cordoba get the chance at playing shortstop every day this season to see what he's got?
-- Aaron K., Costa Mesa, Calif.
A lot of fans are very excited about Cordoba, and justifiably so. The Rule 5 Draft rookie has exceeded everyone's expectations at the plate this season by hitting .292 with an .814 OPS in 65 at-bats. (This for a player who had never taken one swing above rookie ball before Opening Day.)
That said, don't expect the Padres to hand him the keys to shortstop any time soon. After catcher, it's arguably the trickiest position on the diamond, and there's a major gulf between playing the position in rookie ball and in the Majors. Cordoba will continue to get sporadic playing time there. But the Padres feel that putting him in an everyday role would simply be too much, too soon.
When is Carter Capps going to join the big league club? We need a closer.
-- Sean C., [No hometown given]
The important thing worth remembering with Capps is that he is still only 14 months removed from Tommy John surgery -- an operation that generally takes 14-18 months to recover from. There was optimism at the beginning of spring that Capps could be ready by Opening Day, but that obviously didn't come to fruition.
In any case, Capps is currently at the team's complex in Peoria, Ariz., after struggling mightily with his command during a recent rehab stint. Remember, his quirky mechanics probably take a little longer to fine tune than others after a major surgery. The Padres are hopeful he could go back out on another rehab assignment in a week or two.
In that case, Capps might be ready for a return at some point in June. But even then, don't expect him to be thrust straight into the closer's role. He'll have to earn it.
Any chances the Padres will trade some prospects for a shortstop who could upgrade the infield for the next two or three years, until Luis Urias, who is their No. 2 prospect, or Javier Guerra are ready?
-- Manuel H., Mexicali
The Padres aren't in the business of trading prospects right now. They're stockpiling as much young talent as they can, and if that means going a couple years with a subpar stopgap at shortstop, so be it.
I'd expect Erick Aybar to continue to get the bulk of the playing time at shortstop this season. The Padres will re-evaluate during the offseason and will likely be in the market for a new shortstop then. But they still wouldn't be willing to trade any of their top young talent to acquire one.
AJ Cassavell covers the Padres for MLB.com. Follow him on Twitter @ajcassavell. This story was not subject to the approval of Major League Baseball or its clubs.