Adams already fitting in with new club
Slugging first baseman hits homer in Braves' opener vs. Pirates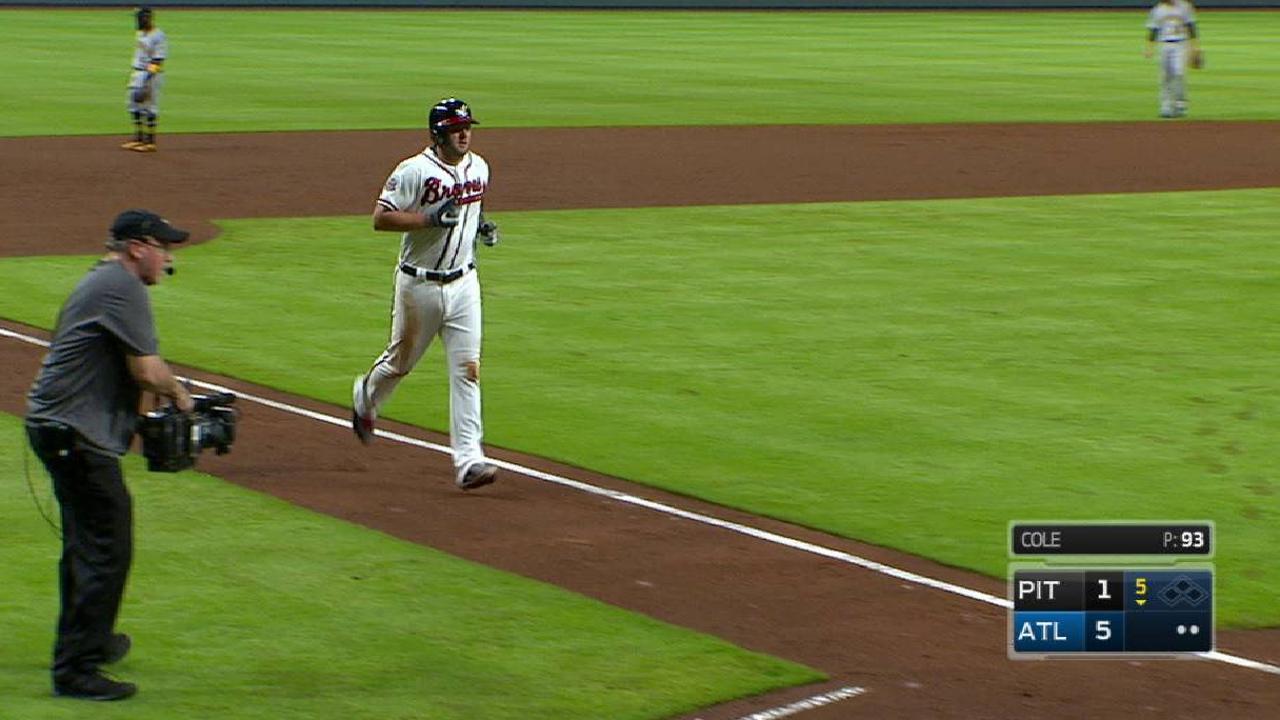 ATLANTA -- Given a chance to digest the significant change he experienced this past weekend and unwind after having Stephen Strasburg serve as his first challenge in Atlanta, a refreshed Matt Adams returned to SunTrust Park on Monday and gave the Braves further reason to believe they were quite fortunate to find him as a temporary replacement for Freddie Freeman.
Playing just his second game since seeing his long tenure with the Cardinals end with Saturday's unexpected trade, Adams further endeared himself to his new teammates and hometown fans when he drilled his first home run for the Braves during the fifth inning of Monday's 5-2 win over the Pirates.
"That's why we wanted to get that guy," Braves manager Brian Snitker said. "It's a great acquisition by our front office. I've been around him for two days. What a wonderful guy he is, and pleasant to be around."
Providing a glimpse of the power potential, the left-handed slugger stayed back on Gerrit Cole's 82-mph knuckle curve and sent it deep over the right-field wall into a throng of fans enjoying their libations of choice within the Chop House. The two-run shot traveled a projected 390 feet with a 104-mph exit velocity, per Statcast™.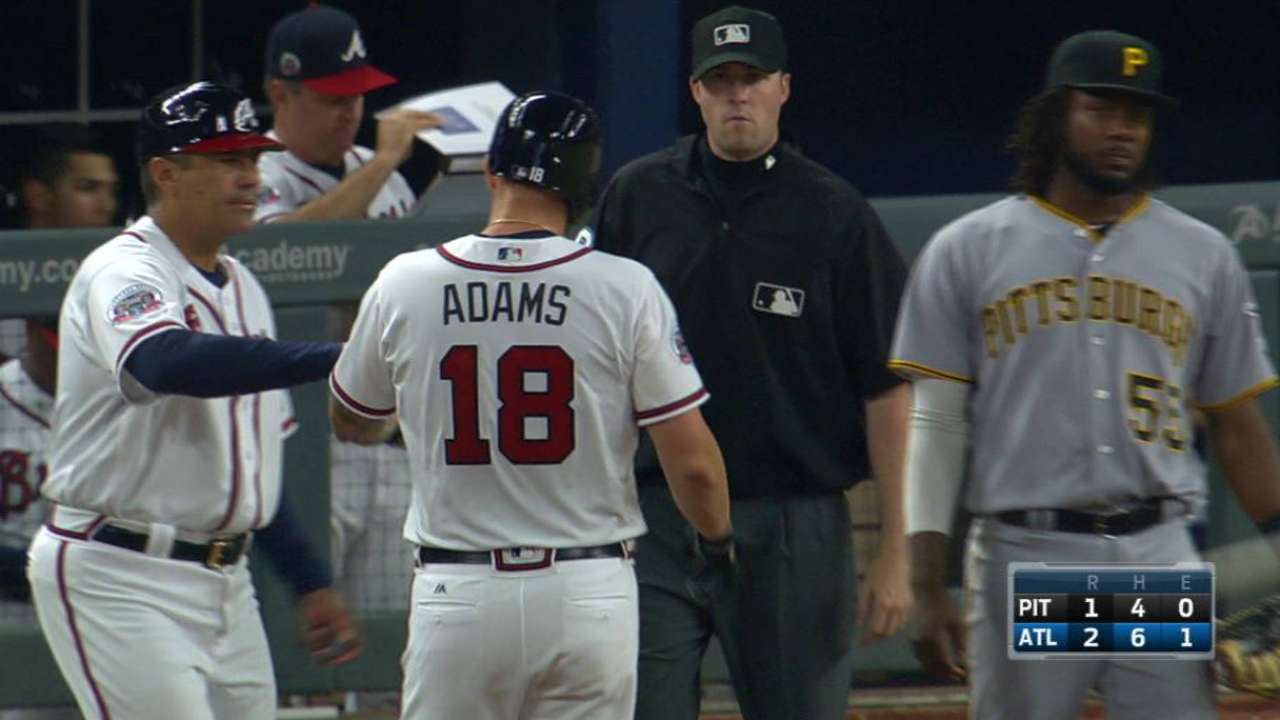 The landing spot of this home run was not too far away from the only other home run Adams hit this year, and it was at this same park, a 401-foot homer with a 107.2-mph exit velocity off Braves right-hander Julio Teheran during a May 6 Cardinals win.
"I think that's Freddie's spot, so I'm going to leave that to him," Adams said, when asked if he's going to claim the Chop House as his landing spot for home runs.
Nobody expects Adams to compensate for the absence of Freeman, who was leading the Majors in home runs and ranked second in OPS last week when he suffered a fractured wrist. The injury will sideline him for at least 10 weeks.
But at the same time, there wasn't necessarily an expectation that the Braves would be able to fill this void with a player as talented as Adams, who was acquired in exchange for Juan Yepez, a Class A middle infielder whose name was seldom included within any discussion about Braves prospects.
"He's an awesome guy, and he's fit right in," Braves shortstop Dansby Swanson said. "He had a good vibe coming in here, knowing he didn't have to be Freddie, he just had to be himself. He's always smiling, and you can just tell that's how he is."
Adams homered once every 17.4 at-bats for the 2013 Cardinals and showed similar power as he produced a 18.7 at-bat/home run ratio while tallying 16 homers last year. But his struggles against lefties combined with the fact that there wasn't room in the St. Louis lineup with Matt Carpenter now manning first base, provided the Braves the opportunity to fill Freeman's void with a capable bat.
"I feel like I'm a guy who gets along with everybody," Adams said. "This clubhouse is full of great guys. They've done a great job the past couple days making me feel welcome here."
Mark Bowman has covered the Braves for MLB.com since 2001. This story was not subject to the approval of Major League Baseball or its clubs.