Inbox: Can Zunino provide boost to offense?
Beat reporter Greg Johns answers questions from Mariners fans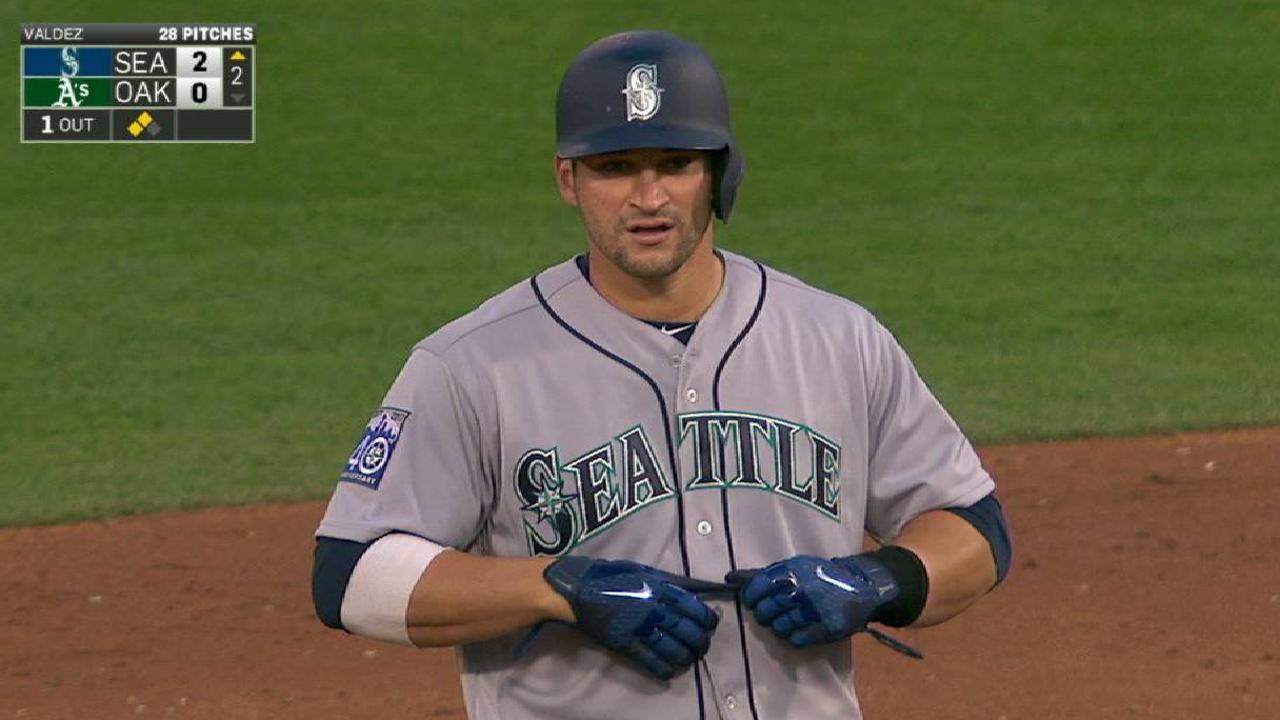 When will the Mariners recall Mike Zunino? Also, is he out of options and does he have to make the team next spring or go through waivers?
-- Gil P., Spokane, Wash.
Zunino was recalled Monday and will join the team in Washington, D.C., for the start of the upcoming road trip on Tuesday against the Nationals. After batting .293 in 12 games for Triple-A Tacoma and hitting three homers in their last two games in Iowa, that's enough of what the Mariners wanted to see to bring Zunino back, particularly with Carlos Ruiz and Tuffy Gosewisch combining to bat .110 (8-for-73).
And, yes, Zunino is out of options now. He can go up and down as often as needed this year, but next season he'll have to be exposed to waivers before being sent to the Minors.
• Submit a question to the Mariners Inbox
With all the pitching injuries and callups, why haven't the Mariners brought up Andrew Moore and Max Povse, two of their top prospects?
-- Philip L., Yakima, Wash.
Moore was promoted to Tacoma two weeks ago and has made three starts (1-0, 4.34 ERA). I suspect we might see the 22-year-old from Oregon State before long, but the Mariners would like to give him a little more time at Triple-A and not rush the process. Povse is still at Double-A Arkansas (3-2, 3.79 ERA) and is dealing with a lingering hamstring issue that knocked him out again after just one out in his last start on Saturday.
Who do you think will be the odd man out when Mitch Haniger returns?
-- Allen, Spanaway, Wash.
Roster-wise, I'm sure Boog Powell will go back to Tacoma when Haniger returns. But as far as playing time, I think Haniger will resume right-field duties and Ben Gamel will split time with Guillermo Heredia in left. We'll likely also see Heredia play more center field -- particularly against left-handed starters -- to keep Jarrod Dyson away from southpaws.
Gamel filled in well for Haniger, but he's cooled down some (.211/.295/.289) over the last 11 games. And Dyson is batting just .125 against lefties. So Haniger's return will allow manager Scott Servais to rotate Gamel, Heredia and Dyson in the other two spots and find the best matchups against opposing pitchers.
Do you think the Mariners have some bad training practices? Our pitchers are injured and now Taijuan Walker is hurt with the D-backs. Are we are doing something wrong?
-- Tim M., Seattle
It's been a crazy rash of injuries, but it's hard to blame one thing -- particularly since it's not all confined to the Mariners and they aren't all the same issue. Walker went on the DL in Arizona with a blister, so that's certainly not related to any training regimen from his past. And look around baseball: Corey Kluber, Dallas Keuchel, David Price, Noah Syndergaard, Madison Bumgarner, Cole Hamels, Kenta Maeda, J.A. Happ, Trevor Cahill, Steven Matz, Carlos Rodon, Jameson Taillon, Francisco Liriano, Jeremy Hellickson, Garrett Richards, Tyler Skaggs, Junior Guerra, Brandon Finnegan, James Shields, Jon Gray, Aaron Sanchez, Tyson Ross, Wei-Yin Chen, Scott Kazmir, Collin McHugh, David Phelps, Anthony DeSclafani -- all these starters are currently on the DL with various injuries, and that's a pretty amazing collection of talent, along with Seattle's Felix Hernandez, James Paxton, Hisashi Iwakuma and Drew Smyly.
Some of those are due to MLB's new 10-day DL rule, which makes it easier to put pitchers on the injured list with minor problems. But as with the Mariners, most of those pitchers are missing more than 10 days. Throwing a baseball is hard on the arm. That's not new, but there does seem to be an increased number of injuries in the early going this season.
How long will Leonys Martin be in Tacoma?
-- Brayden H., Benton City, Wash.
That's a tough one. Martin has been hitting very well of late and his line in Tacoma is up to .298/.365/.498 in 24 games. But unlike with Zunino, the Mariners don't have a spot or a need for Martin with their outfield depth at the moment -- particularly with Haniger due back shortly. So it depends largely on circumstances and how healthy and productive the current group of outfielders remains.
I saw that general manager Jerry Dipoto said the we aren't really looking outside of the organization for pitching, even though we are clearly hurting there. Do you think he is looking, but just doesn't see a fit? Or maybe we just don't have the right trade chips?
-- Nic S., Redmond, Wash.
It's very difficult to trade for pitching at this point of the season, and the cost would be extremely high to pry away a quality arm, particularly when so many teams are having their own injury issues. Nobody wants to give up pitching if they have any hope of contending, which almost every team still does in mid-May. The Mariners felt they had added a lot of pitching depth in the offseason; they just never expected the number of injuries that have hit them all at once.
Greg Johns has covered the Mariners since 1997, and for MLB.com since 2011. Follow him on Twitter @GregJohnsMLB. This story was not subject to the approval of Major League Baseball or its clubs.