Cron optioned to Triple-A; Fontana recalled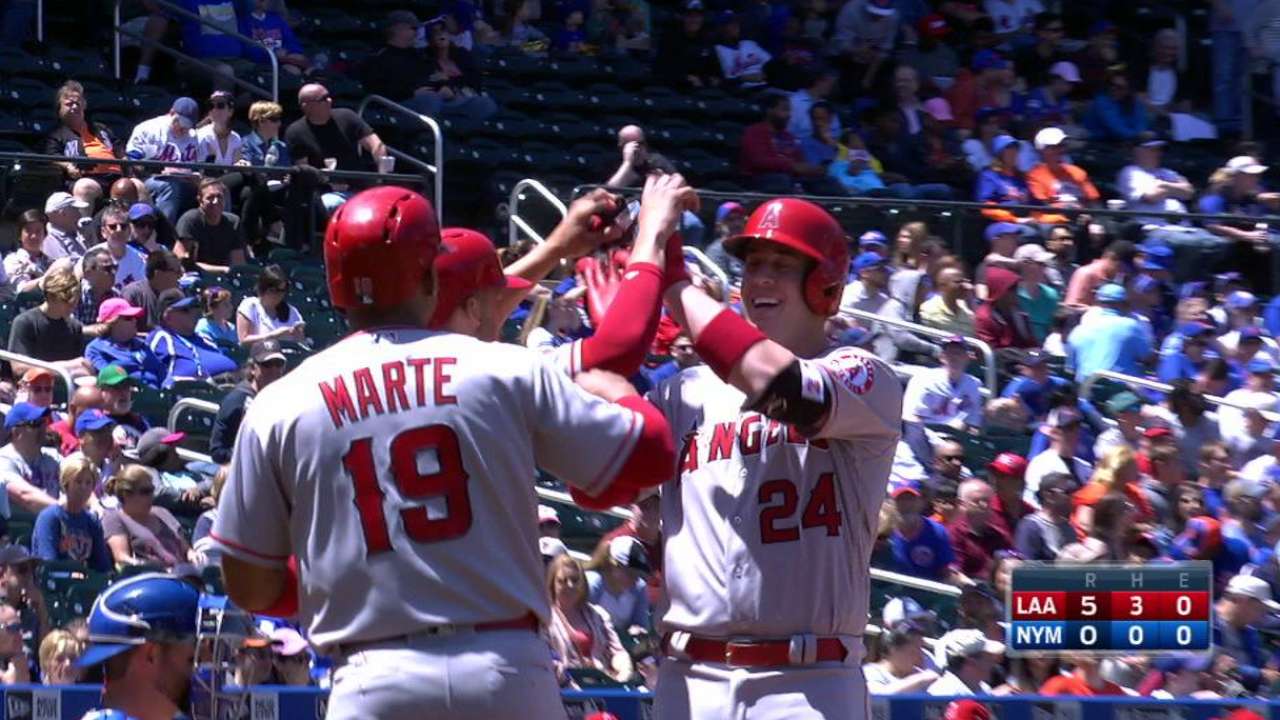 ST. PETERSBURG -- One day after hitting his first home run of the season -- a first-inning grand slam against the Mets -- Angels first baseman C.J. Cron was optioned to Triple-A Salt Lake.
Cron's big hit was not enough to mask what has been an underwhelming season for the 27-year-old slugger, who hit just .232 with a .281 on-base percentage through 24 games this season. In a corresponding roster move, the Halos recalled infielder Nolan Fontana, who they hope will be able to take some pressure off struggling second baseman Danny Espinosa.
"I think with C.J., the biggest part of this right now is for him to get some at-bats to find his timing," manager Mike Scioscia said Monday, before the Angels' series opener against the Rays. "He's had some flashes here in the first 100 at-bats, but he's not where we know he can be. I think by him kind of exhaling a bit and getting down there, hopefully it'll be what he needs to find that swing, and find his timing, and get to be that beast in the batter's box we know he can be."
Fontana, a native of Winter Garden, Fla., made his Major League debut on Monday night, starting at second base and batting ninth for the Angels. The 25-year-old is a natural shortstop, but he can also play second and third, increasing the Halos' positional versatility following the injury to starting third baseman Yunel Escobar. A left-handed hitter, Fontana hit .265 with a .374 on-base percentage and five home runs in 38 games at Triple-A Salt Lake.
Fontana, who grew up about 100 miles from St. Petersburg and attended the University of Florida, admitted he was surprised by the callup.
'It's not anything I ever think about," Fontana said. "I just go out there to do my job every day. I know that I can contribute here, and I'm excited to be here."
The switch-hitting Espinosa entered Monday batting just .152 with a .242 on-base percentage, but he's had slightly more success from the right side (.162) than the left (.147). Scioscia said he hopes Fontana will be able to help the Angels generate more offense against right-handed starters. Reserve infielder Cliff Pennington will also factor into the mix at second, but Scioscia said "he's a guy you certainly don't want to wear down by playing him every day."
"We're just trying to get a little more offense in there," Scioscia said. "We talk about Espi from the right side, he's very comfortable and he'll certainly get looks there. He's not going to be totally platooned, but it's going to take a little pressure off of him when there's a right-handed pitcher to go out there and keep grinding. As a team, we need to try to get some on-base percentage in there any way we can.
"[Fontana's] bringing some potential on-base percentage, which obviously can help," Scioscia added. "From everything we were hearing down below, [general manager] Billy [Eppler] felt he was the best option right now to come up and bring some versatility to our club."
Worth noting
• Right-hander Doug Fister, who agreed to a one-year contract with the Angels on Saturday, reported to Arizona on Monday to begin a long-toss program. Fister will reportedly earn a prorated $1.75-million base salary if he reaches the Majors.
• Escobar (left hamstring strain) has begun hitting off a tee and running on an anti-gravity treadmill.
Maria Guardado covers the Angels for MLB.com. This story was not subject to the approval of Major League Baseball or its clubs.