MLB.com Columnist
Jonathan Mayo
Cubs' Caratini, D-backs' Reed repeat on Prospect Team of the Week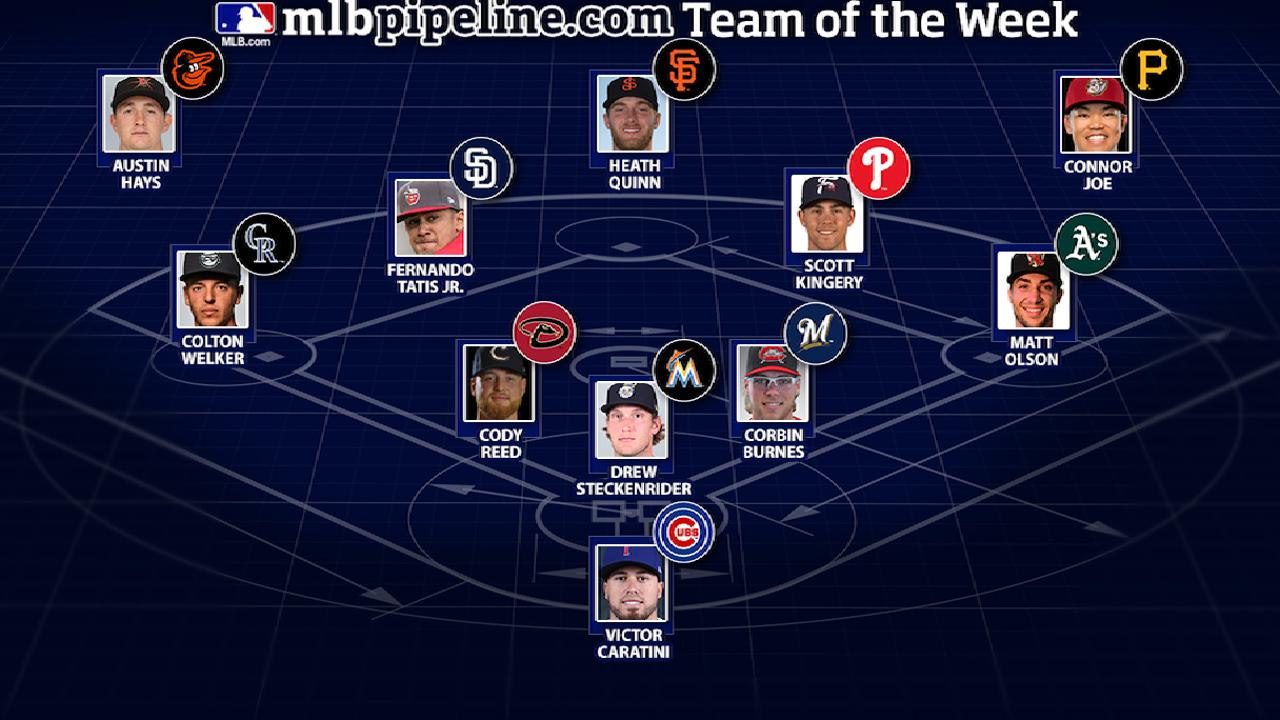 MLBPipeline.com's Prospect Team of the Week honors the best performances in the Minor Leagues from the previous seven days. Any player on an organization Top 30 Prospects list on our Prospect Watch is eligible.
This week's Prospect Team of the Week features our first two repeat performers, an organization hitting the list for the first time and the youngest player to make the team so far this year.
Cubs catcher Victor Caratini makes the squad for the second week in a row as he shows that Ian Happ isn't the only Cubs prospect hitting well these days. Joining him on PTOW for a second time is Cody Reed of the D-backs, who was our left-handed starter back in Week 3.
With Matt Olson making it as the first baseman, the A's are on the board. That leaves six organizations -- the Angels, Mets, Mariners, Rays, Blue Jays and Nationals -- without a PTOW rep thus far.
And San Diego's Fernando Tatis Jr. becomes the youngest player to earn Team of the Week honors so far this year, as the 18-year-old is starting to show why the White Sox thought he was worth $700,000 and why the Padres coveted him in the James Shields deal.
This week's PTOW, covering games May 15-21, is also the first without a single member of the Top 100 Prospects list.
C: Victor Caratini, Iowa Cubs (Triple-A)
Cubs' No. 12 prospect
7 G, .407/.414/.630, 6 R, 3 2B, 1 HR, 7 RBI, 1 BB, 3 SO
Caratini keeps on swinging a hot bat, with four multihit games for the week. He now tops the Cubs' system in batting average, hits and RBIs while standing third in slugging and fifth in on-base percentage. Caratini's back-to-back PTOW appearances add up to a .408/.434/.648 May as he continues to see time behind the plate and at first base.
1B: Matt Olson, Nashville Sounds (Triple-A)
A's No. 15 prospect
6 G, .370/.414/.852, 5 R, 4 2B, 3 HR, 9 RBI, 2 BB, 7 SO
Olson's power bat has really heated up of late and he carries a six-game hitting streak into this week. He finished off last week with a 4-for-4 performance that included a homer and three RBIs, and he now tops the A's system in slugging and is second in home runs.
2B: Scott Kingery, Reading Fightin Phils (Double-A)
Phillies' No. 11 prospect
6 G, .300/.344/.833, 9 R, 1 2B, 5 HR, 6 RBI, 1 BB, 2 SO, 1 SB
Kingery hit five homers in his first full season in 2016, mostly in Clearwater, though he got bumped up for 37 games in Reading. Now back in the Eastern League, he leads it with 13 bombs, including five this past week. Kingery had a pair of two-homer games over the weekend, and it should be noted that he's slugging .643 on the road for the season, so it's not just because Reading is a hitter-friendly ballpark.
3B: Colton Welker, Asheville Tourists (Class A)
Rockies' No. 13 prospect
6 G, .478/.458/.957, 6 R, 5 2B, 2 HR, 9 RBI, 2 SO
The 2016 fourth-round pick is enjoying his first full season of pro ball. Welker has an active nine-game hitting streak going and began last week with consecutive three-hit, one-homer games. He's currently third in the organization in batting average, fourth in slugging and fifth in OBP.
SS: Fernando Tatis Jr., Fort Wayne TinCaps (Class A)
Padres' No. 6 prospect
7 G, .462/.533/1.000, 9 R, 3 2B, 1 3B, 3 HR, 6 RBI, 3 BB, 7 SO, 1 SB
Tatis Jr. just had a 15-game hitting streak snapped on Sunday, but that does little to diminish what he's been doing at the plate of late. The 18-year-old had four multihit games to continue his scorching May, with a .352/.432/.648 line this month to help erase the sluggish opening month (.230/.313/.345) of his full-season debut.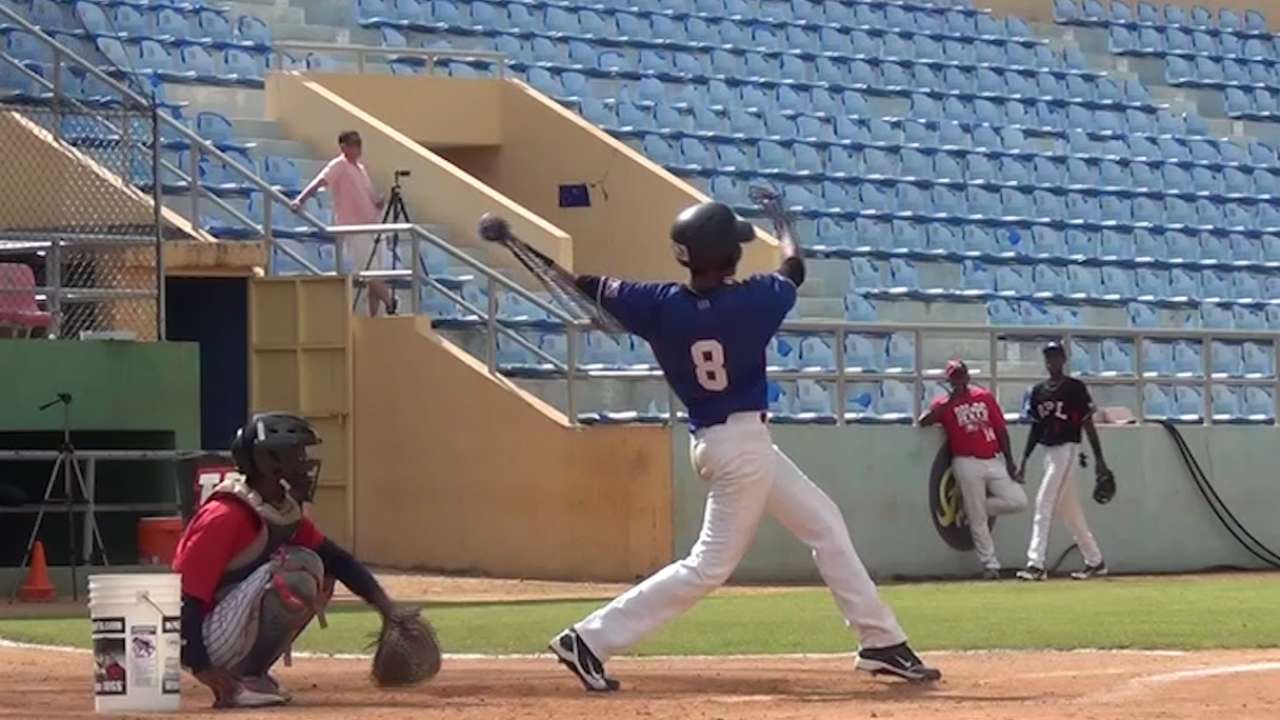 OF: Austin Hays, Frederick Keys (Class A Advanced)
Orioles' No. 7 prospect
7 G, .438/.471/.813, 6 R, 6 2B, 2 HR, 6 RBI, 2 BB, 3 SO
The Orioles' third-round pick in 2016 had five straight multihit games to start the week, homering Tuesday and Wednesday and turning in a four-hit, three-RBI game on Thursday. In Hays' first full season, the Jacksonville, Fla., product is fifth in the Carolina League in batting average and 10th in both slugging and OPS.
OF: Heath Quinn, San Jose Giants (Class A Advanced)
Giants' No. 7 prospect
6 G, .364/.462/.773, 4 R, 3 2B, 2 HR, 3 RBI, 3 BB, 4 SO
Quinn made his 2017 debut this past week after working his way back from a hamate injury, and he certainly didn't look rusty. The 2016 third-round pick picked up where he left off in his strong summer debut, continuing to show good extra-base pop and even hitting two homers despite the usual expectation that power takes time after a hamate issue. Quinn finished the week with a 3-for-3 performance that also included a home run, two RBIs and a pair of walks.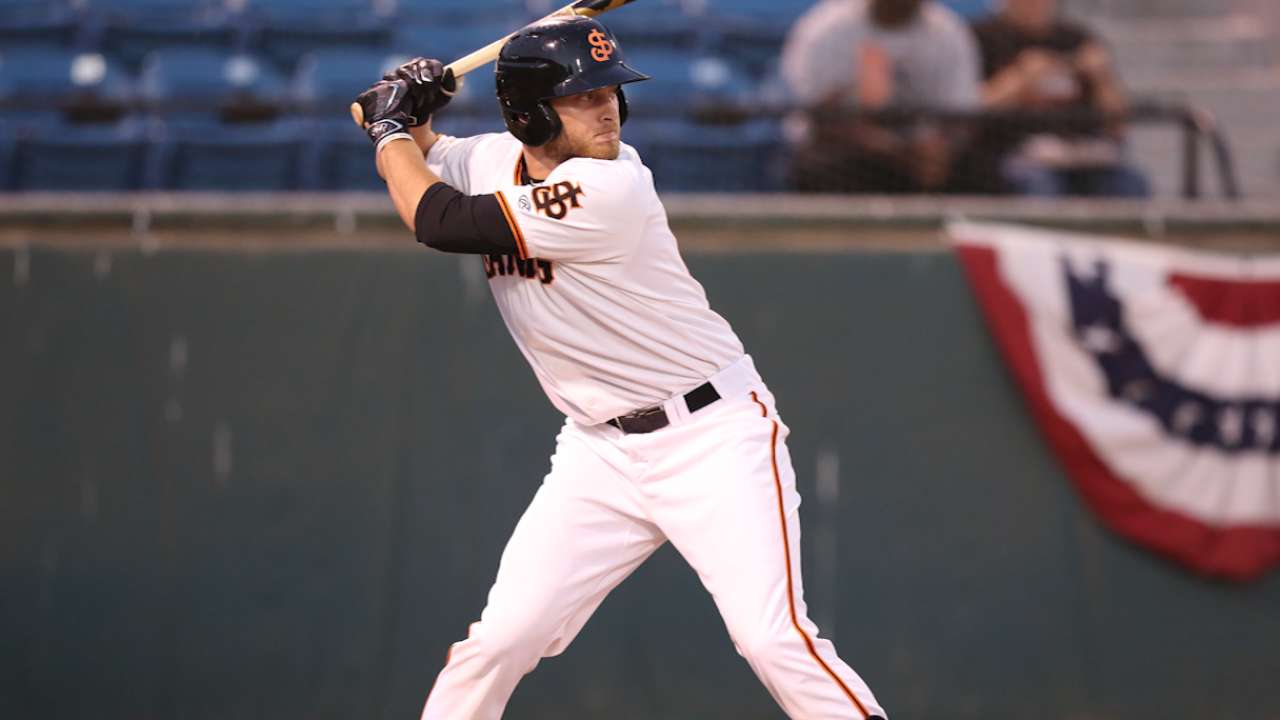 OF: Connor Joe, Altoona Curve (Double-A)
Pirates' No. 29 prospect
6 G, .450/.476/.850, 5 R, 4 2B, 2 3B, 4 RBI, 1 SO
Joe had fallen off of prospect maps, but he continues to hit his way back onto the radar. In Double-A for the first time, he continues to hit for average and show advanced on-base skills. Joe had three multihit games last week, including a 4-for-4 game on Saturday. He's now hitting .340/.435/.585 this month.
LHP: Cody Reed, Kane County Cougars (Class A)
D-backs' No. 19 prospect
1-0, 0.00 ERA, 1 GS, 9 IP, 3 H, 0 R, 0 ER, 1 BB, 9 SO, 0.440 WHIP
Reed makes the PTOW for the second time this season thanks to a complete-game three-hit shutout on Thursday. He now has put up 17 consecutive scoreless innings over his last two starts, walking just two and striking out 12. Reed's 1.08 ERA is second in the organization, behind only teammate Jon Duplantier. He's right behind Duplantier in WHIP and batting average against as well.
RHP: Corbin Burnes, Carolina Mudcats (Class A Advanced)
Brewers' No. 20 prospect
1-0, 0.64 ERA, 2 GS, 14 IP, 10 H, 2 R, 1 ER, 2 BB, 15 SO, 0.86 WHIP
Burnes' steller two-start week seems to be par for the course for the 2016 fourth-round pick. He went seven innings in each outing, striking out 10 in his start on Sunday. Burnes leads the Carolina League with his 1.00 ERA and has given up more that one earned run just once in nine starts during his full-season debut.
RP: Drew Steckenrider, New Orleans Baby Cakes (Triple-A)
Marlins' No. 9 prospect
0-0, 0.00 ERA, 3 G, 4 2/3 IP, 0 H, 0 R, 0 ER, 2 BB, 8 SO, 0.43 WHIP
Steckenrider made it to Triple-A last year, but he gave up seven earned runs in 11 2/3 innings. He's yielded just three over 21 2/3 innings out of New Orleans' bullpen this season on nine hits (.125 BAA) and eight walks while striking out 26. Last week, the right-hander was literally unhittable, not allowing a base hit in any of his three appearances.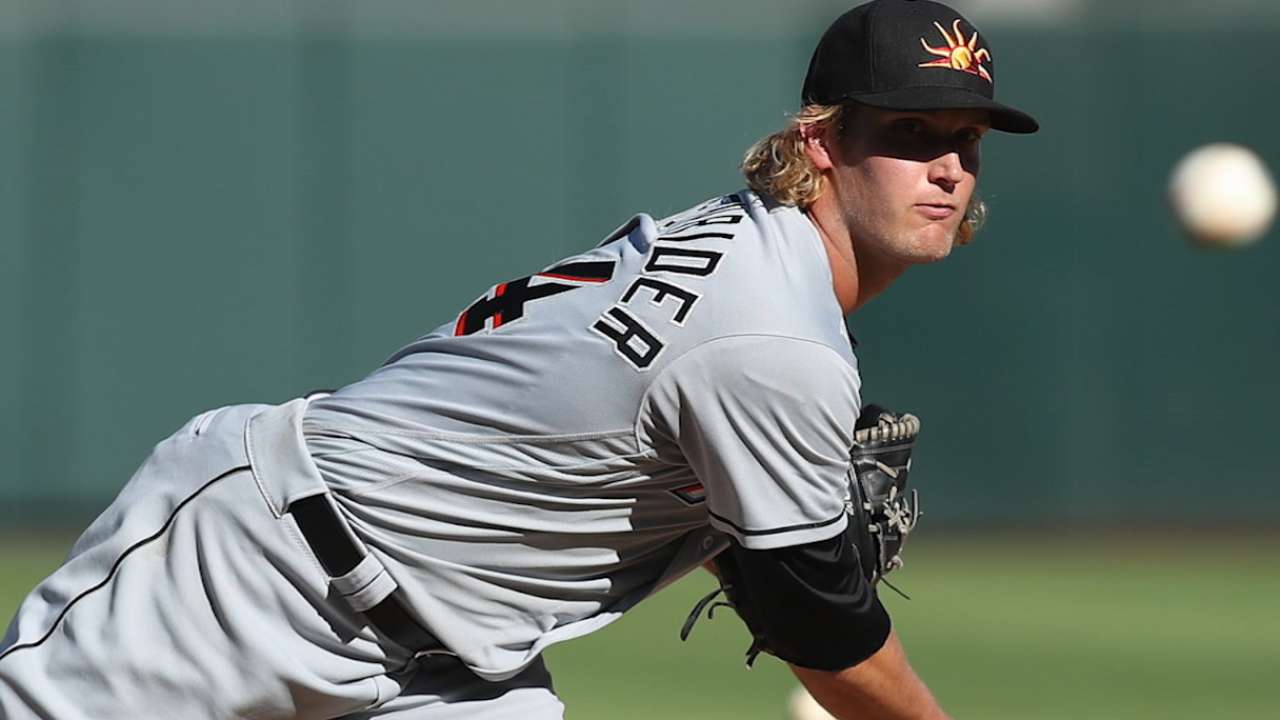 Jonathan Mayo is a reporter for MLBPipeline.com. Follow him on Twitter @JonathanMayo and Facebook, and listen to him on the weekly Pipeline Podcast. This story was not subject to the approval of Major League Baseball or its clubs.