Inbox: Who might Miami try to deal at Deadline?
Beat reporter Joe Frisaro fields Marlins fans' questions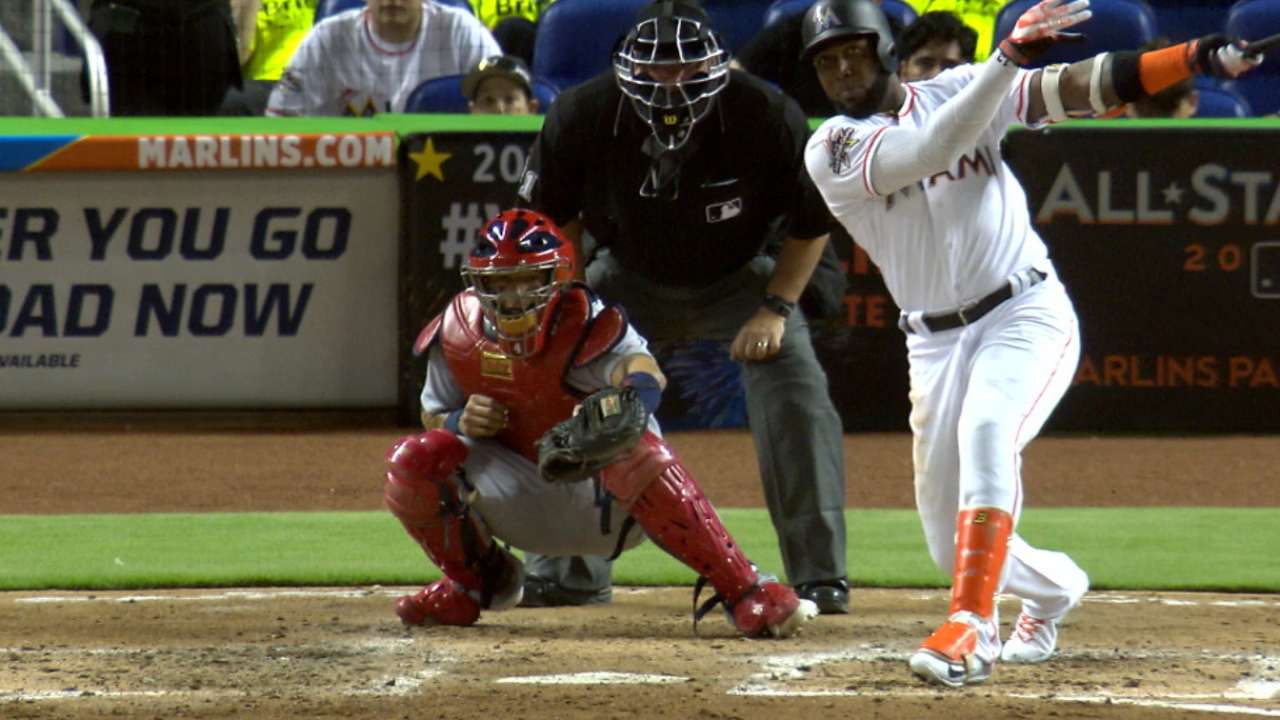 If the Marlins become sellers at the July 31 non-waiver Trade Deadline this year, who would be most likely to be traded? Who would be considered untouchable?
-- @josi_elder
The uncertainty of the ownership situation has created plenty of speculation. My read is, if a sale is imminent (say, within a few weeks), then significant core players are more likely to be held off the market. If not, and a potential sale is months from being finalized (which appears likely), then I anticipate the front office conducting business as usual. No matter who owns the team, the farm system needs to be restocked.
So unless there is a dramatic turnaround before the end of July, deals could be made by the non-waiver Trade Deadline. If that happens, then it will be a retooling with an eye on the future. So who could be traded? The players who would bring the most return. You'll hear names like Marcell Ozuna, Adeiny Hechavarria, A.J. Ramos, David Phelps and others rumored. The untouchables I see are Christian Yelich and J.T. Realmuto.
Do the Marlins have any prospects that are Major League ready and may be called up this season?
-- @stixmer
• Submit a question to the Marlins Inbox
A fractured left thumb has sidelined Double-A Jacksonville standout Dillon Peters, MLBPipeline.com's No. 5-ranked Marlins prospect, for several months. It's a tough break, because the lefty may have already been called up if not for the injury. The Marlins won't rush Peters back, and he may be an option for late in the season. Right-handed reliever Drew Steckenrider, ranked ninth in the system, is at Triple-A New Orleans and could be called up at any time.
A number of the most promising prospects are at Class A Greensboro and are a couple of years away. That's where lefty Braxton Garrett, the organization's top prospect, is starting off. Down the road, fans should also keep an eye on third baseman James Nelson, who is also at Greensboro. He's ranked 10th by MLBPipeline, and he might be the top position player in the system right now.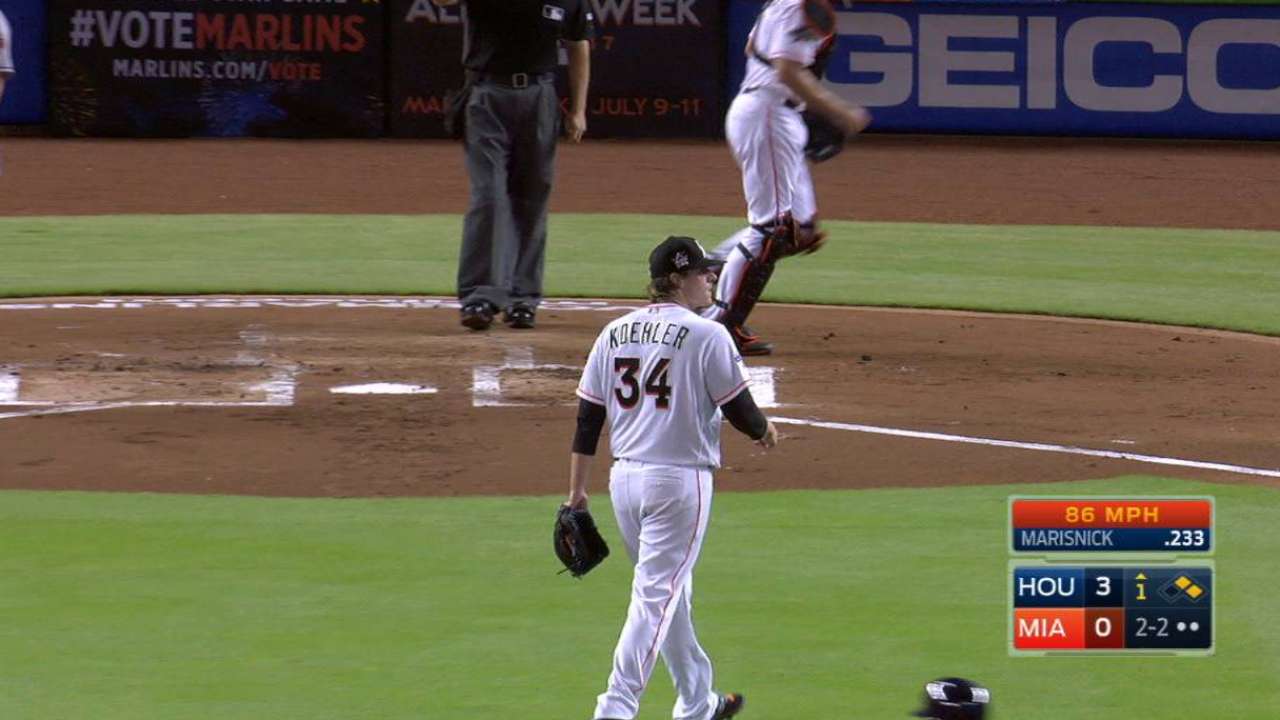 Tom Koehler and Junichi Tazawa are both on the disabled list. Will they be back or is the beginning of the end for both?
-- @thememanxx
With injuries, you don't know how quickly they will recover. Righty Koehler initially was optioned to Triple-A, but his status was revoked due to his shoulder issue. Before he returns to the big leagues, he would have to get healthy, and then likely go on rehab assignment or serve a Minor League stint. Of course, Koehler could return to the Marlins. He also could be a trade candidate. Tazawa has a rib injury, and I'd expect him back in a few weeks.
What is the estimated time of arrival for Jeff Locke? I sense he may do some good with the pitching rotation, hopefully.
-- @Manjetenshii
Locke threw a rehab assignment at Double-A Jacksonville on Friday, and he is basically ready whenever the club needs him. He's been out all season with left shoulder tendinitis.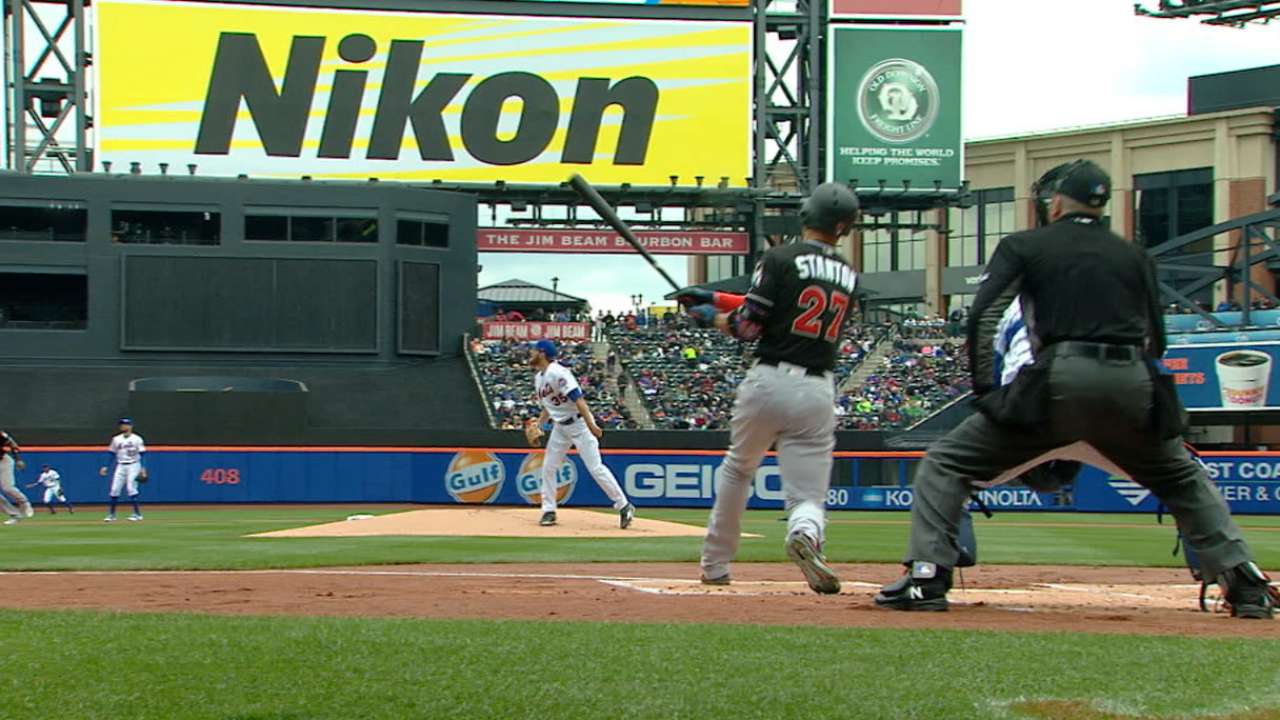 Do you think Justin Nicolino and Jose Urena will remain in the starting rotation? Them, with Dan Straily, seem to be the only ones keeping the team in games.
-- @CoolKidJoeXBL
Urena, for sure. Nicolino could stick, either in the rotation or perhaps in a long-relief role. Urena has really stepped up since moving from the bullpen to the rotation. He provides a power right-handed arm. For him to have long-term success as a starter, he will have to be more consistent with his slider and command his fastball to both sides of the plate.
Is it time to trade Giancarlo Stanton to rebuild our farm system with pitching prospects as well as some infield prospects?
-- @AsherWildMan6
Stanton can opt out of his contract in 2020, and he has a full no-trade clause. His salary also jumps to $25 million in 2018, which makes trade speculation likely either in the upcoming months or in the offseason. If the club goes into a rebuilding mode, you'd wonder if Stanton will be part of the future. To move Stanton, he would first need to agree to any potential move.
Joe Frisaro has covered the Marlins for MLB.com since 2002. Follow him on Twitter @JoeFrisaro and listen to his podcast. This story was not subject to the approval of Major League Baseball or its clubs.