Inbox: How will Mets handle busy outfield?
Beat reporter Anthony DiComo answers questions from fans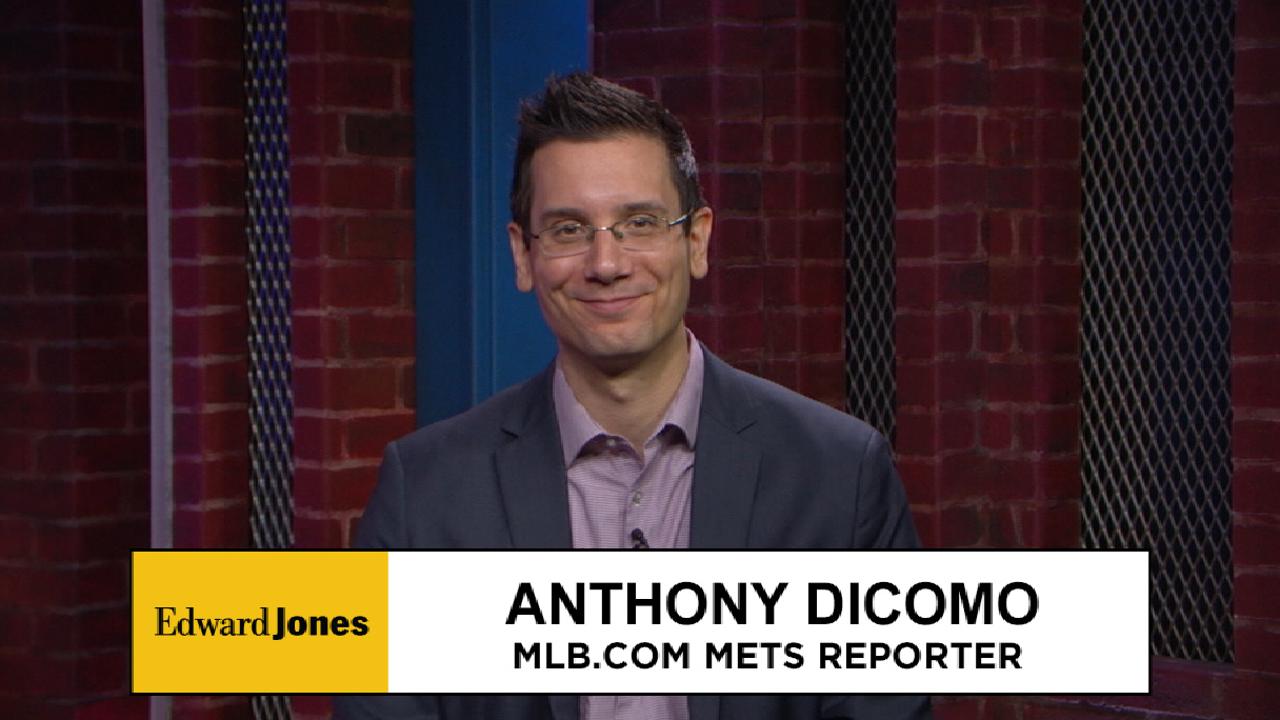 What's the move with Curtis Granderson when Yoenis Cespedes gets back, since Terry Collins is not going to move Michael Conforto?
-- @hesmets via Twitter
You're right that Conforto is here to stay -- the Mets simply cannot afford to take his All-Star-caliber bat out of the lineup. That leaves, Cespedes, Granderson and Jay Bruce for two spots, and obviously Cespedes is playing.
• Submit a question to the Mets Inbox
Talking with Mets decision makers over the past week, it seems likely that the team will bench Granderson, understanding how much more valuable Bruce has been over the season's first two months. But Granderson is doing his best to make the decision difficult, coming alive with four extra-base hits -- including two homers -- over his past five games. The 36-year-old outfielder is currently riding his best stretch of the season.
An alternative option would be for the Mets to bench first baseman Lucas Duda and shift Bruce to first to open spots for all three of the other outfielders. But the Mets remain hopeful that Duda will turn around his early-season struggles, and they would like to avoid playing Bruce out of position if possible. I'd be surprised if the Mets go that route right now.
That brings us back to Granderson, a 14-year veteran and a consummate professional over four seasons with the Mets. Assuming Granderson does go to the bench, it will be a difficult conversation for Collins to have. And it will be up to Granderson to take it in stride.
In any event, the new arrangement isn't likely to last long -- that's just reality. The odds of Cespedes, Granderson, Bruce and Conforto all staying healthy for four consecutive months are slim. These situations tend to work themselves out in unexpected ways.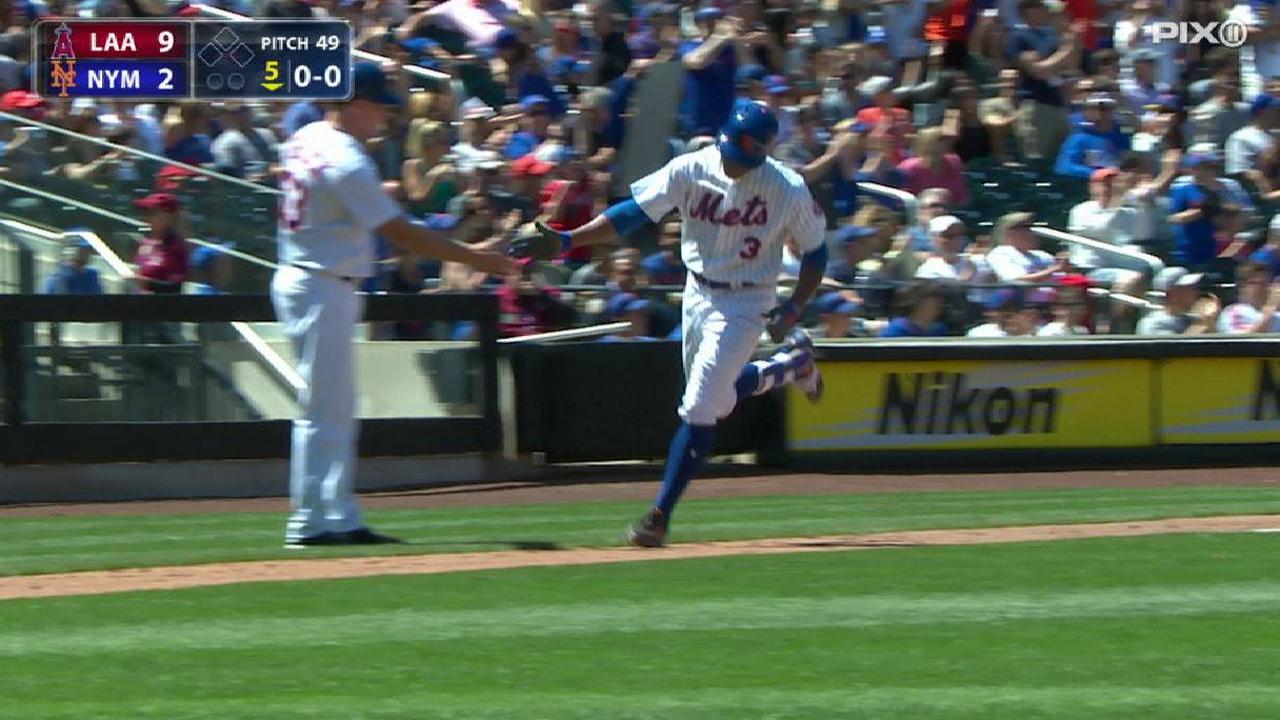 What happens to red-hot Rene Rivera when Travis d'Arnaud, who's raking during his rehab assignment, gets back?
-- @a_bookbinder via Twitter
Both catchers are likely to log significant playing time, much as they did early this season. While scouts largely consider Rivera's hot hitting a mirage, the veteran backstop has proven invaluable to the Mets for his receiving abilities. He's a better defender than d'Arnaud, and he will see regular playing time because of it.
But d'Arnaud is the superior hitter regardless of what Rivera has done in May, and he will earn his share of time based on that. Don't expect either catcher to sit more than two or three games in a row.
As bad as it's been, the National League is very weak; we're three more solid series away from the thick of the Wild Card race. Are we buyers or sellers this year?
-- @CleaveTV via Twitter
Almost certainly buyers, barring a (continued) meltdown over the next six weeks. The Mets entered this season believing they could contend for a World Series title. And while they have struggled throughout April and May, they understand the same thing you do: a good two-week stretch is all they need to bounce back into contention. Two years ago, the Mets cruised to a division title after losing seven straight games -- remember Panic City? -- during one early-season tumble. Last year, they made the NL Wild Card Game despite falling two games under .500 in mid-August.
So it would take a massive collapse in May and June for the Mets to consider selling. Certainly, selling is a tempting idea, considering the expiring contracts the team possesses in Bruce, Jose Reyes, Neil Walker and others. But the Mets think the roster they have right now is good enough to compete for a playoff spot, particularly if they shore up their bullpen at the non-waiver Trade Deadline. History shows they may be right.
How many more bad plays does Wilmer Flores have to have at third base before Collins and the front office finally realize he can't play third base?
-- @capnsammy via Twitter
The front office is well aware of Flores' deficiencies on the left side of the infield, which included six errors and -9 defensive runs saved at third base last season. They just don't have many other options right now, with David Wright and Asdrubal Cabrera both injured. Reyes is playing shortstop every day for the Mets, leaving Flores and T.J. Rivera to split time at third. And Rivera, like Flores, is a better defender on the right side of the infield.
As for those who believe Rivera should be playing every day, consider that Flores has been a significantly more productive hitter in May, with a .366 average and a .918 OPS.
Ultimately, this issue is temporary. As soon as Cabrera returns, Flores will cease seeing regular time at third base. And once top prospect Amed Rosario comes up from the Minors, the Mets will boast even more infield depth. Speaking of which ...
What does Rosario have to do to finally get called up?
-- @capnsammy via Twitter
Wait, plain and simple. Executives around baseball widely believe this year's Super Two cutoff will fall around the first week of June, giving the Mets significant financial incentive to wait until that time. Calling Rosario up after the cutoff would ensure that he is only eligible for arbitration three times in his career, not four, potentially saving the Mets millions of dollars. It's not a cheapskate move; it's common sense, practiced by just about every team in baseball.
And frankly speaking, offense isn't the Mets' problem right now. The team can afford to let the Super Two cutoff pass.
Will David Wright come back? I miss him. Also, do you think he'll become the Mets' manager or have a front-office position?
-- @17Riegel via Twitter
While I do think Wright will make it back to the field at some point, it's difficult to envision him playing a significant role for the Mets again. Twice this year, Wright has attempted to start a throwing program, only to shut it down due to lingering discomfort. Until he demonstrates he can throw without pain, he won't come close to a return. Even if he does, Wright will battle back issues for the rest of his life, limiting the amount of time he can play.
Knowing Wright, I don't envision him wanting to deal with the daily grind of professional baseball once he retires, though I imagine he'll stay involved with the organization in some capacity -- think along the lines of Mike Piazza, who visits Spring Training once a year to work with players. For now though, the Mets still consider Wright an active player, and they are rooting for his return. He remains a beloved figure within the walls of Citi Field.
Anthony DiComo has covered the Mets for MLB.com since 2008. Follow him on Twitter @AnthonyDiComo and Facebook, and listen to his podcast. This story was not subject to the approval of Major League Baseball or its clubs.