Tigers miss chances to damage Darvish early
Rangers' ace improves to 7-0 all time against Tigers
DETROIT -- The Tigers had to feel pretty good about their start against Texas ace Yu Darvish on Sunday night, plating a pair of runs in the first two innings. After the 5-2 loss to the Rangers, however, it's clear they missed their chance to break the game open.
"We did have a shot in the first," Detroit manager Brad Ausmus said. "That's why [Darvish] is a good pitcher because he's able to get out of those types of situations."
Darvish, who'd allowed just three earned runs in the first two innings of his previous nine starts (1.50 ERA), allowed a leadoff home run by Ian Kinsler. Then he dealt a walk to Alex Avila and a single to Miguel Cabrera, which brought J.D. Martinez, batting .478 with six home runs in eight games this year, to the plate.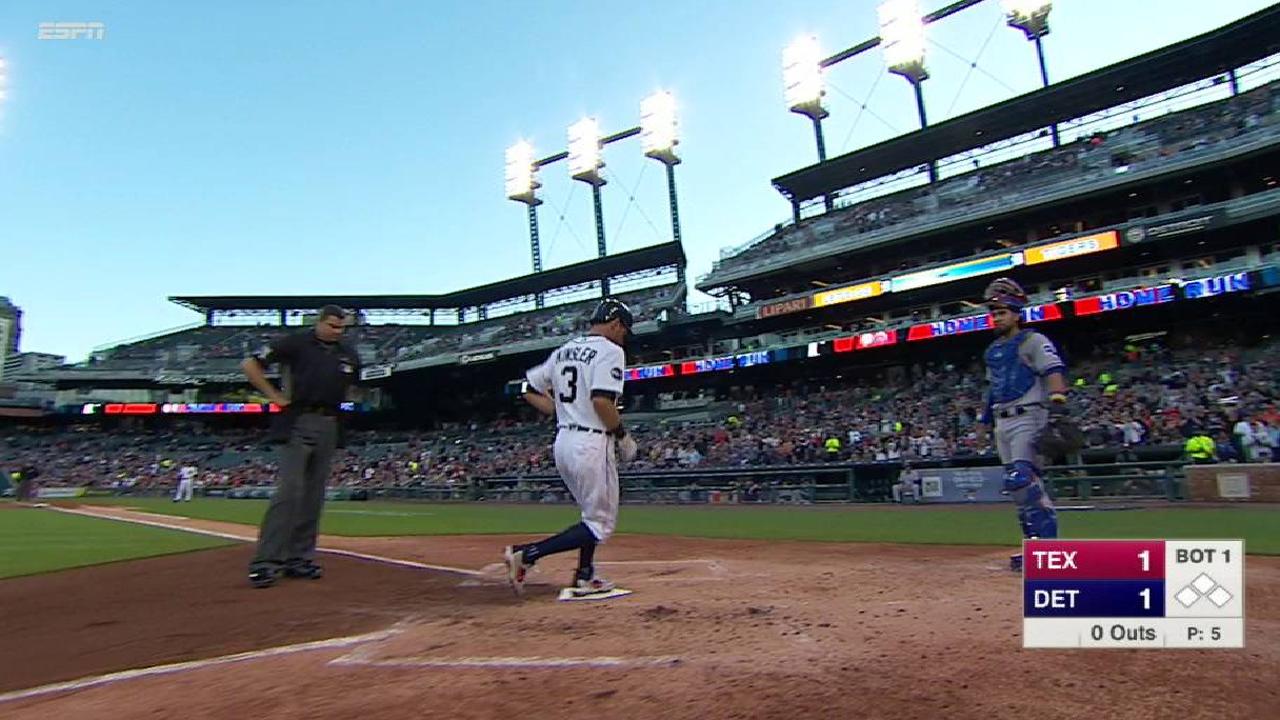 But Martinez struck out on one of several devastating sliders Darvish would throw over his five innings. Justin Upton walked on five pitches to put the pressure on Darvish again.
A well-placed slider forced Nicholas Castellanos to hit a slow roller back to the mound so Darvish could get a forceout at home. One more slider, which Tyler Collins hit for a flyout to right field, ended the threat.
"After that first inning, we had people on here and there, but we didn't really do much against (Darvish)," Ausmus said. "He was never really in danger other than the first inning."
Detroit added another run in the second, on a two-out single by Cabrera to score Andrew Romine, but the offense quieted quickly after that. Only four hitters reached base the final seven innings, while eight struck out.
At the time, in a 2-2 game through two innings, the Tigers were in a strong position. They'd worked Darvish for four walks and shot his pitch count up to 56, suggesting more offensive production was on the way.
"Problem was, even though we got his pitch count up, at times we did have opportunities and we weren't able to get that one hit to kind of put the separation as far as the runs," said Avila, who had two seven-pitch walks and a single in the first four innings but struck out to end the game, putting Detroit at 0-7 all time against Darvish.
The chance to pounce on Darvish came and passed. He tossed a 1-2-3 third inning on 11 pitches. Even in the fourth, with two on and two out for Cabrera, all it took was another sharp slider to get an inning-ending groundout to second base.
While the early innings served a purpose of chasing Darvish - he was out after five innings, having thrown 105 pitches - the greater purpose of capitalizing on the scoreboard passed Detroit by.
The Tigers had one-out chances in the sixth and seventh with runners on second and finished the game 1-for-10 with runners in scoring position. Ausmus didn't chalk up that stat to lack of effort by his players, though.
"Well it might be that the guys pitching are pretty good," he said. "Hitting's not easy."
Jordan Horrobin is a reporter for MLB.com based in Detroit. This story was not subject to the approval of Major League Baseball or its clubs.