Mejia 'extra' good in earning 1st MLB victory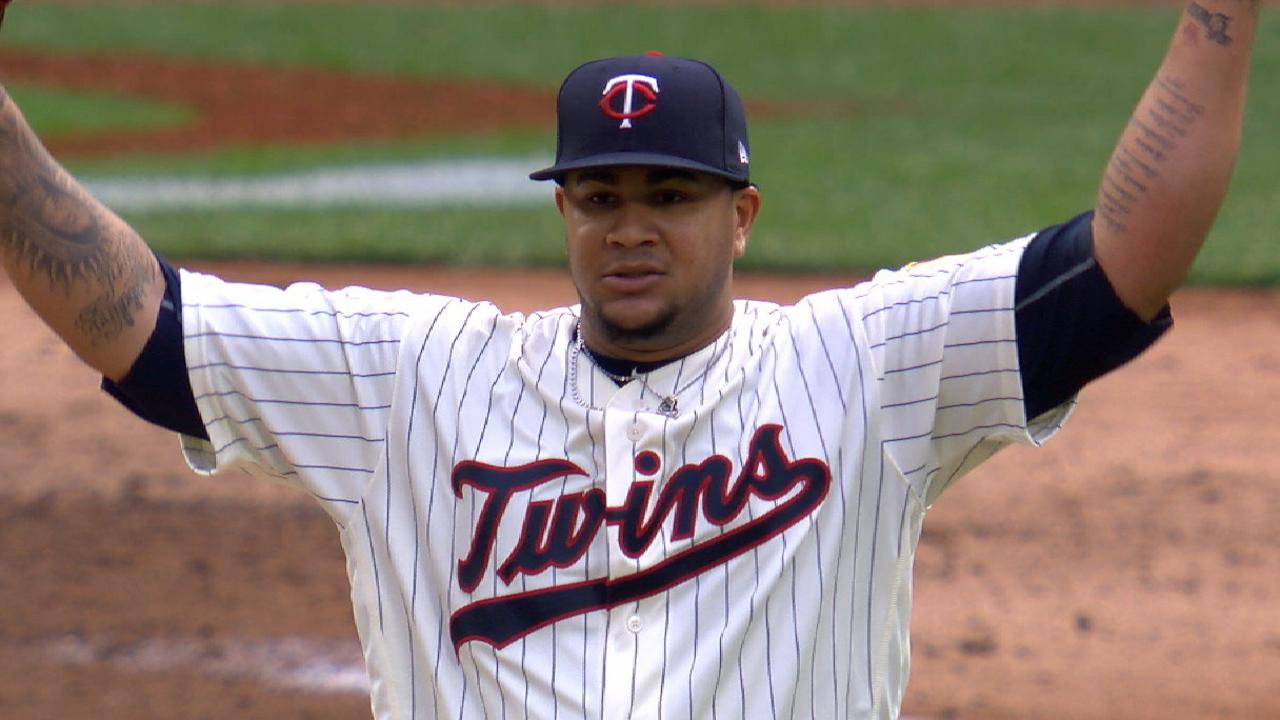 MINNEAPOLIS -- Being the Twins' 26th man for Sunday's doubleheader, Adalberto Mejia's stay in the Majors was a short one.
But the rookie left-hander was solid in an 8-4 win over the Royals in the nightcap at Target Field, and he could rejoin the rotation as early as Friday, since the rule that requires 10 days in the Minors after being sent down doesn't apply to the 26th man.
Mejia shook off a two-run homer by Salvador Perez in the first to record a career-best seven innings, allowing three runs on five hits and two walks in picking up his first career win. The other run came on a solo homer by Perez in the fourth. Mejia's effort also helped the bullpen after Phil Hughes went just four frames in Game 1's 6-4 loss, and went to the 10-day disabled list with shoulder discomfort.
"[Mejia] got his first big league win so it was a big day," manager Paul Molitor said. "We tried to acknowledge that for him in front of his teammates. You take Perez out of the lineup and it's a really good day."
Mejia looked much better than his first three starts with the Twins that saw him post a 5.79 ERA before being optioned to Triple-A Rochester on April 22. Mejia attacked the zone, throwing 67.6 percent of his pitches for strikes after logging 60.6 percent of his pitches for strikes in his first three outings.
"I thought he was aggressive and threw it over," Molitor said. "He might've overthrown it a few times, but overall, you have to be pleased with seven innings."
Mejia attributed it to being more comfortable this time around, as he was admittedly nervous in his first three Major League starts. He also cited better mechanics as a reason for his better showing.
"Last time, I was more amped for my starts because it was my first starts in the big leagues," Mejia said. "This time, it's different."
It impressed Molitor enough that Mejia could rejoin the rotation as early as Friday. It could be as simple as optioning right-hander Kyle Gibson after his start on Monday to make room for Mejia to start later in the week, as the Twins have an off-day on Thursday that could allow them to stick with four starters in the short term.
"We're still working that out," Molitor said. "He's going to go back down there to get his work in. He pitched well enough to get another shot. We just have to map it out."
Rhett Bollinger has covered the Twins for MLB.com since 2011. Follow him on Twitter @RhettBollinger and listen to his podcast. This story was not subject to the approval of Major League Baseball or its clubs.