Bullpen of the Week: Astros
Sipp solid in sub; Giles, Devenski, Peacock, Harris also stellar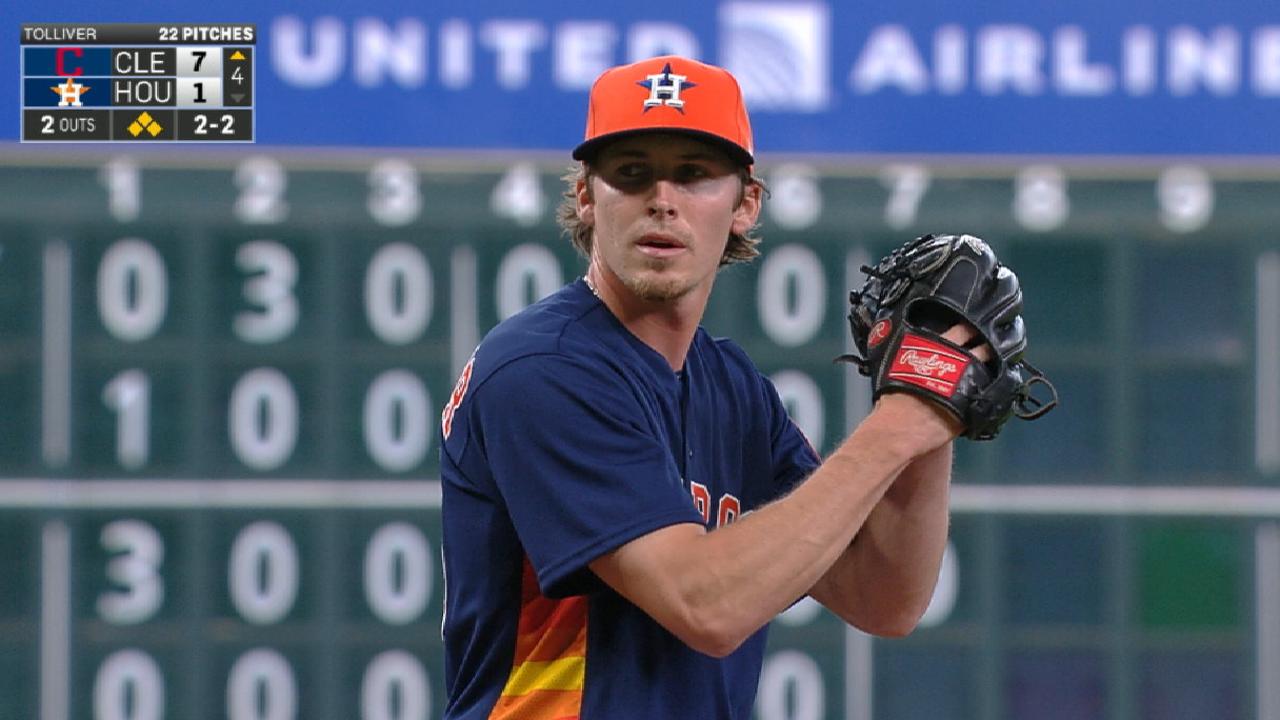 So far this season, the Houston Astros are the best team in baseball. Despite a loss to the Indians on Sunday, Houston retains the best record in the Major Leagues at 29-15. The Astros are comfortably ahead in the American League West. And one good reason for that success is their relief pitching.
The Astros went 3-3 during a week that saw them experience some adversity in the form of staff ace Dallas Keuchel going on the 10-day disabled list with a pinched nerve in his neck, but the relievers helped keep them afloat with stellar work. As a result, they have won the honor of "MLB Bullpen of the Week presented by The Hartford."
As part of the MLB Prevailing Moments program, each Monday throughout the 2017 season, MLB.com is honoring the "Bullpen of the Week presented by The Hartford." An industry-wide panel of MLB experts, including legendary stats guru Bill James, constructed a metric based on James' widely renowned game-score formula, to provide a weekly measurement of team-bullpen performance.
BULLPEN OF THE WEEK WINNERS
Here's how the Bullpen Rating System is compiled for each week. For reference, a weekly score of 100 is considered outstanding:
• Add 1.5 points for each out recorded
• Add 1.5 points for each strikeout
• Add 5 points for a save
• Subtract 2 points for each hit allowed
• Subtract 4 points for each earned run allowed
• Subtract 2 points for each unearned run allowed
• Subtract 1 point for each walk
• Subtract 5 points for a blown save
The Astros bullpen scored a rating of 106 points by allowing only four earned runs and nine hits in 23 innings. Relievers struck out 27 batters against nine walks, and they earned one save.
Left-hander Tony Sipp had a great week, pitching five perfect innings and striking out four batters in three games. Closer Ken Giles struck out three batters in two scoreless innings in two games, and Chris Devenski (one inning), Brad Peacock (two innings) and Will Harris (one inning) also held opponents scoreless.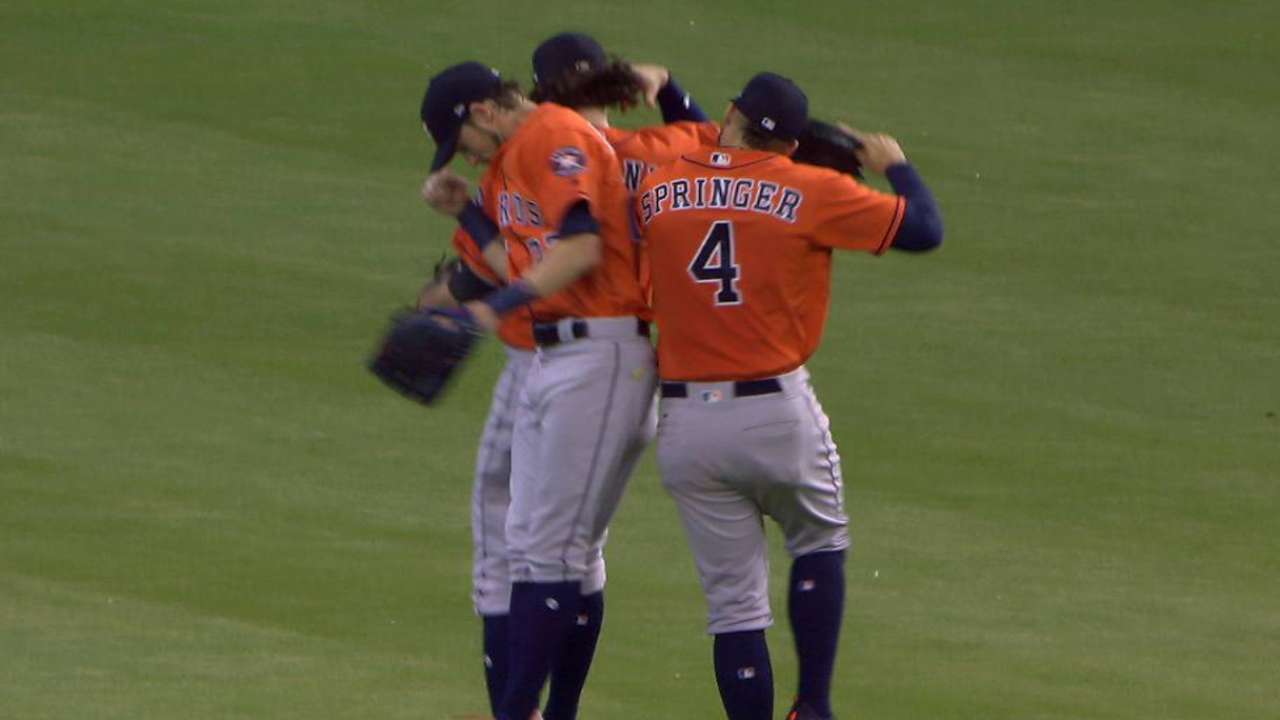 The unexpected: Ashur Tolliver was recalled from Triple-A Fresno on Saturday when Keuchel went on the DL, and Sunday, the left-handed Tolliver had an immediate impact in his first appearance as an Astro.
How they prevailed: Tolliver, claimed off waivers by Houston over the winter, came in to relieve starter Joe Musgrove, who gave up seven runs in three innings. Tolliver's task was to help out his 'pen mates by going as long as he could, and he delivered, pitching four innings of two-hit ball. He gave up one run and struck out five to get his team into the eighth inning. Tolliver was optioned to Triple-A Fresno after the game.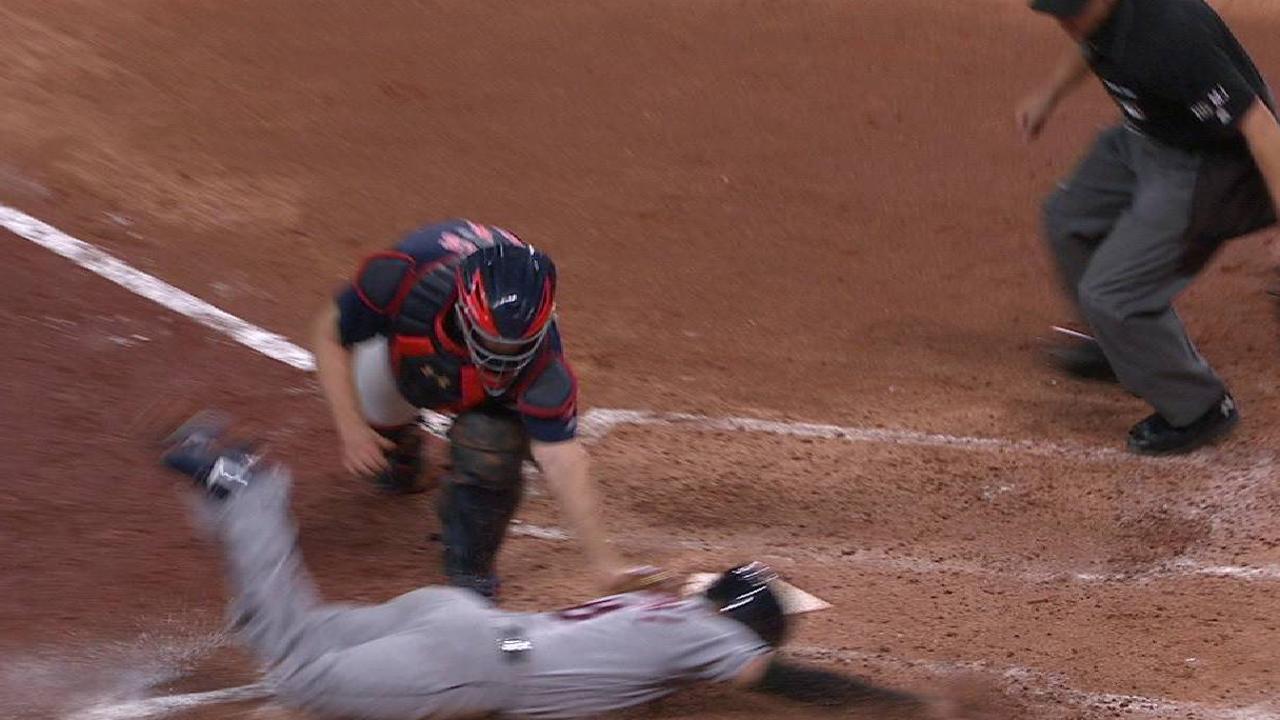 The Astros' week was enough to outpace the excellent relief job done by the Atlanta Braves, whose bullpen finished second with a rating of 100.5, and the Indians, who finished with a 95 rating for the last seven days.
Doug Miller is a reporter for MLB.com. Follow him on Twitter @DougMillerMLB. This story was not subject to the approval of Major League Baseball or its clubs.