Arroyo seeks answers after rough outing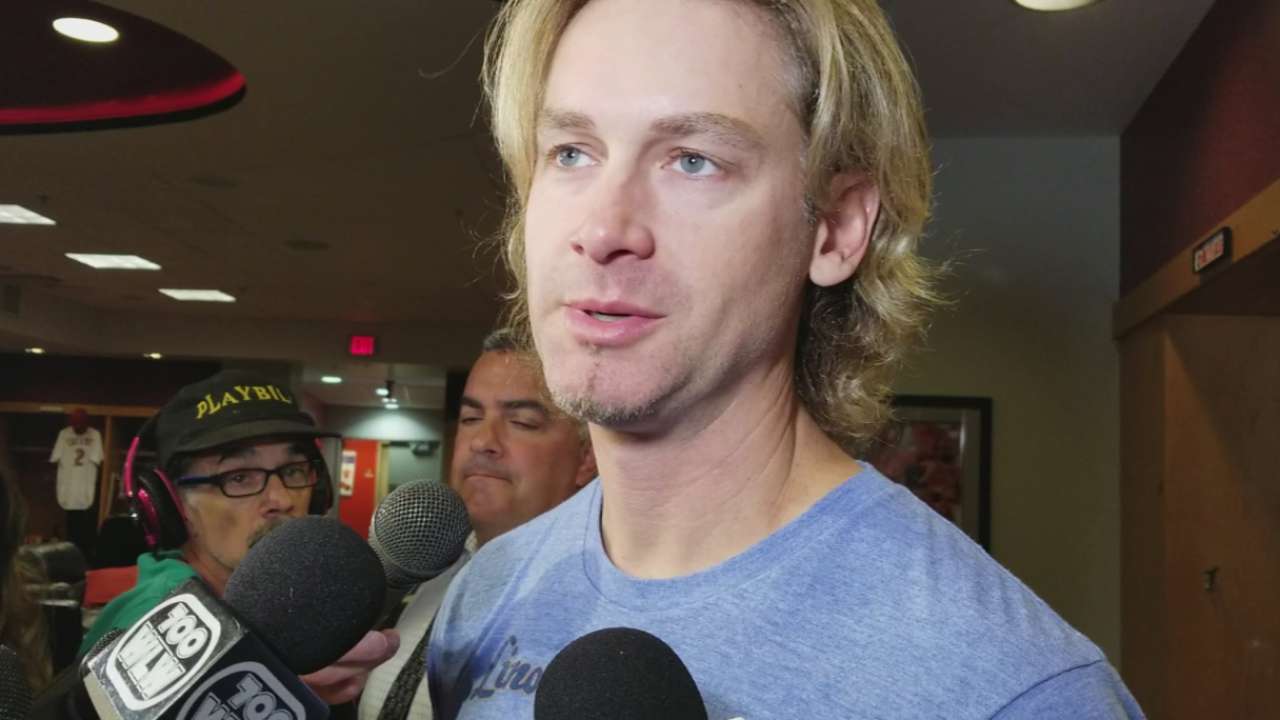 CINCINNATI -- Giving up home runs in large amounts has often been part-and-parcel of Reds pitcher Bronson Arroyo's body of work -- even when he was younger with an arm at 100 percent. But they're coming in bunches this season at a time when he's 40 years old with slower velocity and lesser stuff.
Arroyo gave up four solo homers and six earned runs over 5 1/3 innings during the Reds' 6-4 loss to the Rockies on Sunday. That gave him nine homers allowed over his last four starts.
In nine starts, Arroyo has a 3-4 record and 6.75 ERA. He realizes that even with manager Bryan Price firmly in his corner, he needs to be better or his feel-good comeback story might end.
"You can't continue to give up a run an inning and expect a big league ballclub to keep running you out there, time after time," said Arroyo, who allowed nine hits. "But I think in the position we're in now, we've got a lot of guys that are still hurt that are going to be back in about a month or month-and-a-half. That's going to be my window of opportunity to see if I can solidify myself as somebody who can definitely continue to be successful at a rate that's good enough to be a big league starter."
Injured starters Homer Bailey and Brandon Finnegan could be back in June or July, and Anthony DeSclafani might be back after the All-Star break.
Price has no plans to remove Arroyo from his rotation.
"Certainly, he's a veteran pitcher. He's a quality human being and he's a big part of the culture here in our clubhouse," Price said. "It's a challenging game. It's unforgiving. It doesn't even respect the best of people or the best of pitchers and players. I just have a lot of optimism with him because he knows how to pitch and he's been a winner."
Before his last two starts, the Reds had won five straight times when Arroyo pitched -- including a two-run, six-hit performance over six innings on May 11 at San Francisco.
On Sunday, Arroyo held Colorado scoreless the first two innings with three strikeouts. He was showing multiple arm angles and feeding hitters a diet of slow breaking balls. With the Reds leading 1-0 in the third inning, the Rockies caught up and it was pitcher Kyle Freeland who hurt him by hitting a double in a sacrifice bunt situation to set up the decisive inning.
"Even when you're aware, if it's well-located and the breaking ball has the teeth and the grab, it's still a really tough pitch to hit," Price said. "However, when you're conscientious of staying back and you're not concerned with an 88-89 mph fastball, then the mistakes tend to get exacerbated or exploited. I think that's what happened today."
According to Statcast™, 55 of Arroyo's 89 pitches were offspeed pitches in the low-to-mid 70s mph. His fastball averaged 84 mph.
"I had a sharp breaking ball today, early on. But I've got to find ways to get deeper in the game," Arroyo said. "In the past, I've had the ability to beat people in multiple ways. Right now, I feel I have a little bit fewer ways to beat people with different options. After I get through that lineup a few times, sometimes I might have to be showing the tricks in my bag a little too early. I don't know. I think the next two or three starts will probably tell you if I'm bouncing back and it's just going to be that up-and-down or if it's going to be really, really tough for me the rest of the year. I don't know."
Mark Sheldon has covered the Reds for MLB.com since 2006, and previously covered the Twins from 2001-05. Follow him on Twitter @m_sheldon and Facebook and listen to his podcast. This story was not subject to the approval of Major League Baseball or its clubs.