Arrieta shows improvement in escaping jams
Right-hander successfully thwarts threats to put together strong start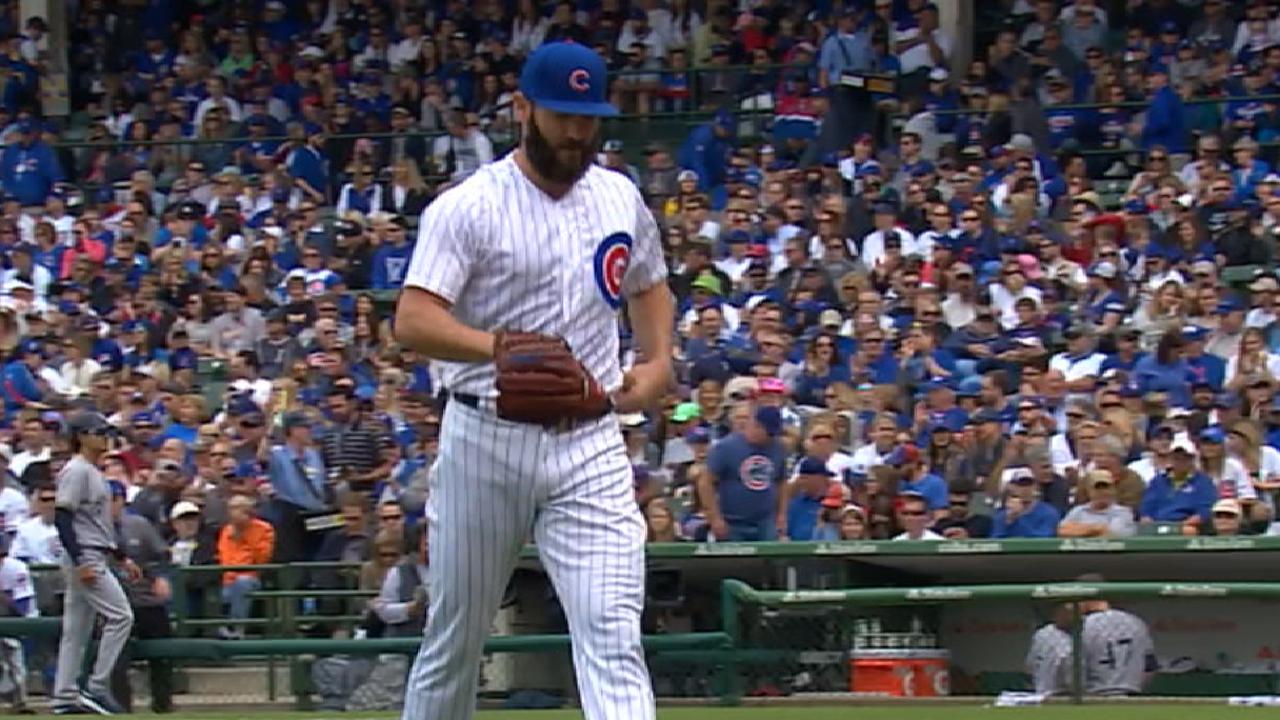 CHICAGO -- Jake Arrieta wasn't perfect, but when he couldn't afford any more mistakes, he delivered. Again and again and again and again.
Working around runners in scoring position in five different innings, Arrieta flustered the Brewers' bats in key moments to escape his Sunday start with only one unearned run allowed. The Cubs reaped the benefits, going on to win, 13-6, as Arrieta picked up his first win since May 3.
"It was a grind there for a while in a couple of the innings, but I was able to bear down and make a few good pitches," Arrieta said. "Just making pitches when I needed to was the key of the outing today."
Early on, it looked like it might be the same story for Arrieta again. The right-hander had worked on his mechanics following a stretch in which he allowed three or more earned runs over seven consecutive outings, and he seemed to be headed in the same direction.
After Ryan Braun made the first out of the fourth inning, Travis Shaw singled and Jett Bandy reached on a hit-by-pitch. The runners then moved into scoring position after Arrieta uncorked a wild pitch, and they nearly advanced again after another pitch in the dirt.
But Arrieta settled in. He struck Keon Broxton out with a nasty curveball to keep his shutout intact. The Cubs ended the half inning up 4-0.
"I would've liked to be a little more crisp with a couple of my off-speed pitches," Arrieta said. "But the times where I needed to make a pitch, I was able to limit some damage or get out of some innings quickly."
The fifth inning would be no easier. With a man on first, Arrieta tried to field a bunt from pitcher Chase Anderson, but he shifted his feet as if he were going to try to throw to second and was unable to snag the ball cleanly. He walked the next batter on four pitches to load the bases with no outs and the heart of the order coming up.
Once again, Arrieta took care of business. He forced Eric Thames to ground out, which allowed one run to score, but got Braun to pop out and Shaw to swing and miss at an outside changeup to finish off the inning. After he struck out, Shaw took his helmet and slammed it into the dirt, frustrated he wasn't able to cut into the lead.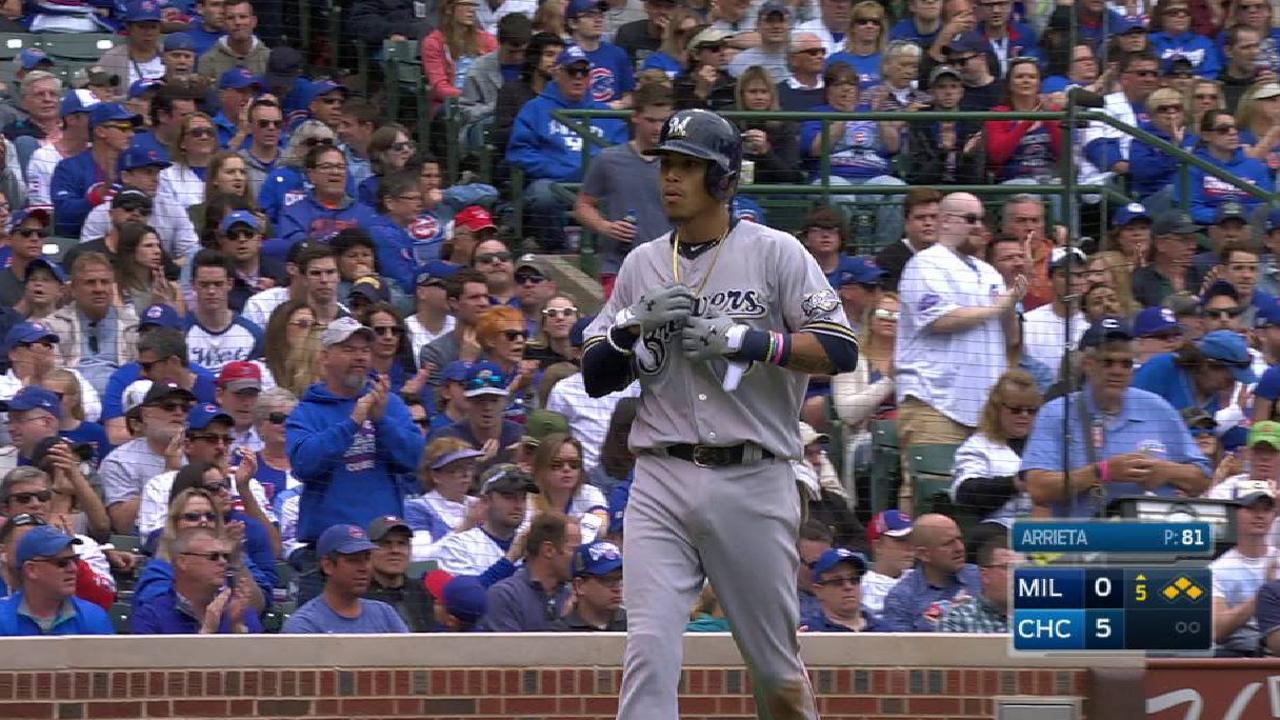 "Minimizing the damage in the fifth was huge," Arrieta said.
Arrieta finished with six innings, allowing five hits and one run on 111 pitches. His command was loose at times -- he had three wild pitches and hit one batter -- but he worked around it, doing his best to keep his mechanics constant and the ball down, something he said was a key to his outing.
And in the end, he had one final challenge to get through, not from the Brewers, mind you, but from his manager.
With Arrieta only throwing 85 pitches in each of his last three outings, Joe Maddon wanted to make sure his pitcher was properly stretched out. So despite Arrieta having already thrown close to 95 pitches, Maddon sent him back out to pitch in the sixth.
Did he pass?
"I thought he did good. I thought he had really good stuff in that last inning," Maddon said. "I was looking at the gun. Everything appeared to be normal and fine and well.
"So I thought he had a nice day. Really nice day."
Scott Chasen is a reporter for MLB.com based in Chicago. This story was not subject to the approval of Major League Baseball or its clubs.