Catching on: Norris keeps up backstops' trend
Homer continues hot stretch from Rays' catchers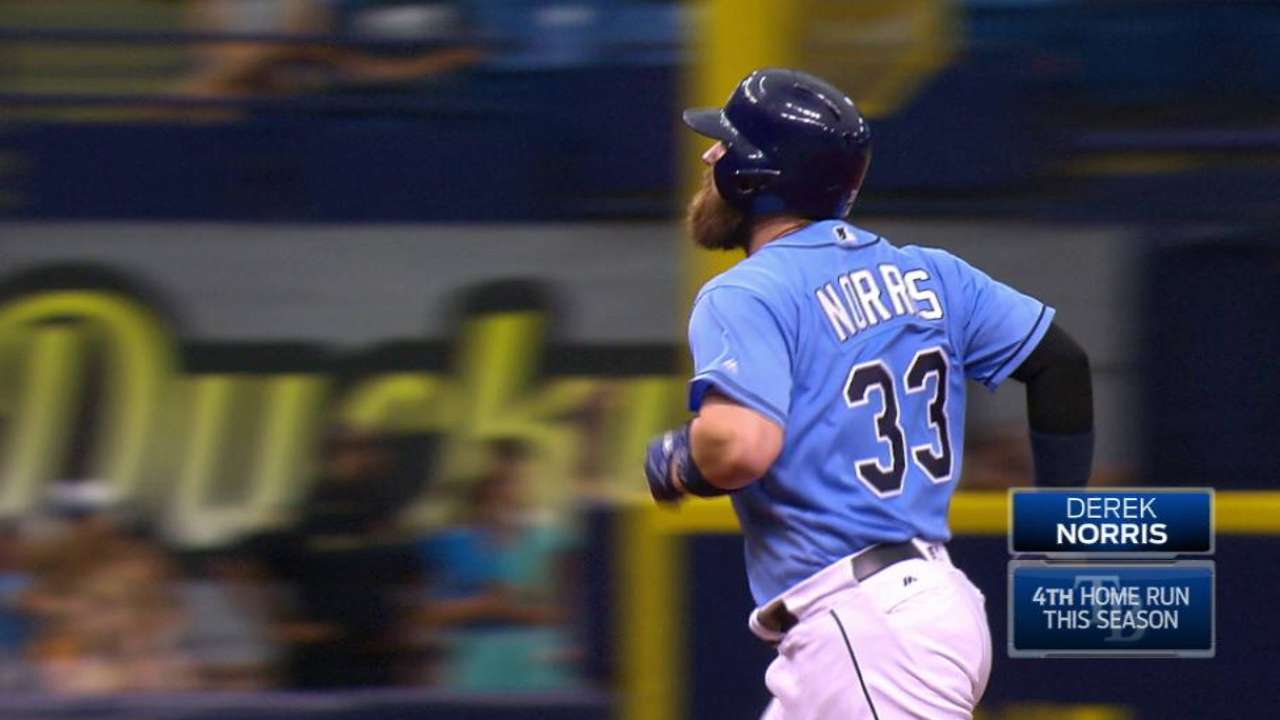 ST. PETERSBURG -- When the Rays turned to Derek Norris and Jesus Sucre to share time at catcher going into the regular season, they did so with the hope that the duo would serve as a defensive upgrade. But it's their offensive production of late that has provided some needed pop.
With a solo shot in the fifth inning of Tampa Bay's 3-2 loss to the Yankees on Sunday afternoon at Tropicana Field, Norris added to a recent hot stretch with the combined 26th RBI between him and Sucre -- tied for sixth most in the Majors by catchers.
"It's been really good," Rays manager Kevin Cash said.
Actually, their play is on pace to be a sizable leap forward from the numbers the Rays have seen out of their catchers during the past few seasons. From 2008-16, the team's revolving door of options ranked last in the big leagues with 512 RBIs altogether.
Since April 26, Norris is batting .304 with four homers and seven RBIs in 18 games. Sucre is batting .283 with 13 RBIs in 16 games. With their recent showing, plus the addition of Wilson Ramos -- once he recovers from October right ACL surgery -- the Rays seem to be on solid footing behind the plate for the foreseeable future.
"They've gotten a lot of big hits," Cash said. "[Sucre] seems like every time he comes up, there's a guy on base, and he's finding a way to pick him up. And then [Norris] has had some good at-bats here over the last couple weeks, too.
"It's nice to have the bottom of the lineup -- whether they're seven, eight, nine, wherever they're hitting -- those guys contributing to take some pressure off some of the guys in the middle."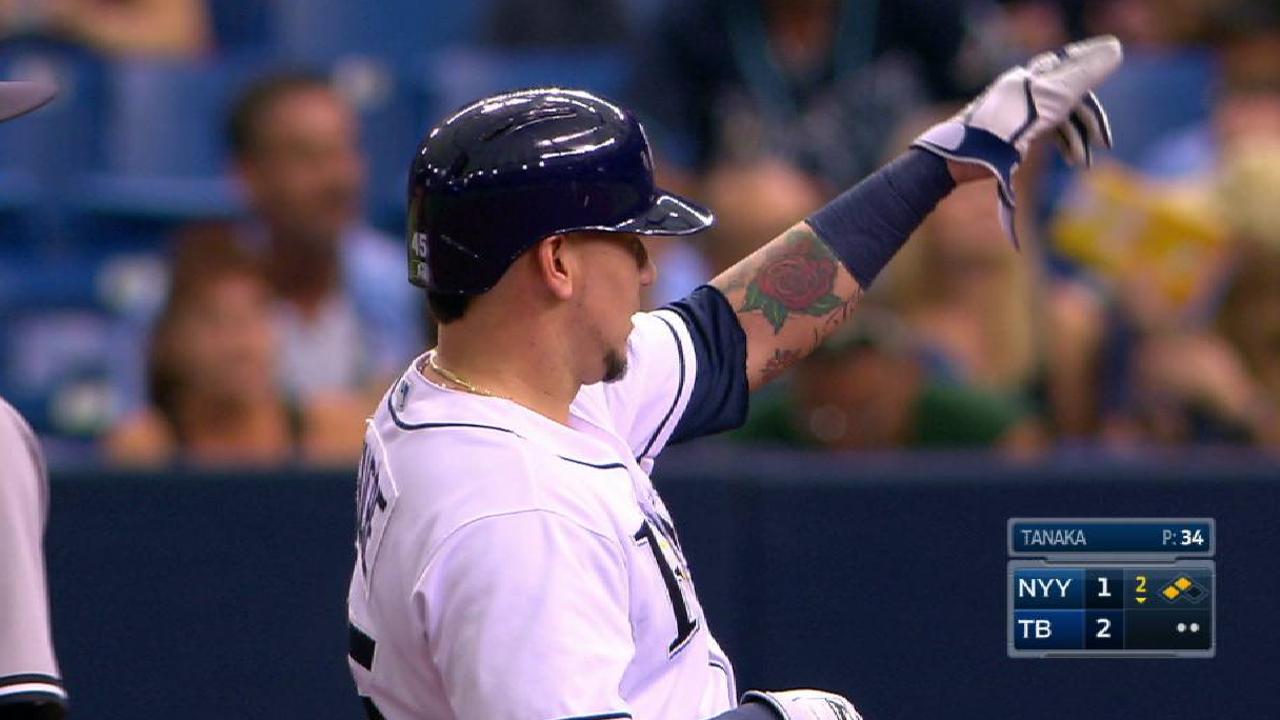 Their teammates have taken notice, too. Right-hander Chris Archer said a big bat like Norris' makes the Rays' offense "very comparable to the other lineups that we face," with a chance to lead to more success as a team.
Archer isn't alone in his assessment. Jake Odorizzi, who will get the start to open Tampa Bay's four-game set against the Angels on Monday, credits the all-around performance of Norris and Sucre with helping make things more comfortable as a whole.
"They've both been swinging the bat tremendously well, and they've been playing great defense, too," Odorizzi said. "It's nice to [know] whatever catcher we have behind the plate, they're going to be producing defensively and offensively. It's nice to have that aspect in our lineup."
However they assist, the Rays are happy to see it come to fruition. Now, it will be about maintaining it over the course of the season and, hopefully, casting past struggles aside.
"We've kind of been missing it for the past couple of years," Odorizzi said. "And now, seeing what it's like having it makes a world of difference."
Jeff Odom is a contributor to MLB.com based in St. Petersburg who covered the Rays on Sunday. This story was not subject to the approval of Major League Baseball or its clubs.