Peralta provides spark since return from DL
Veteran reaches base five times in first three games back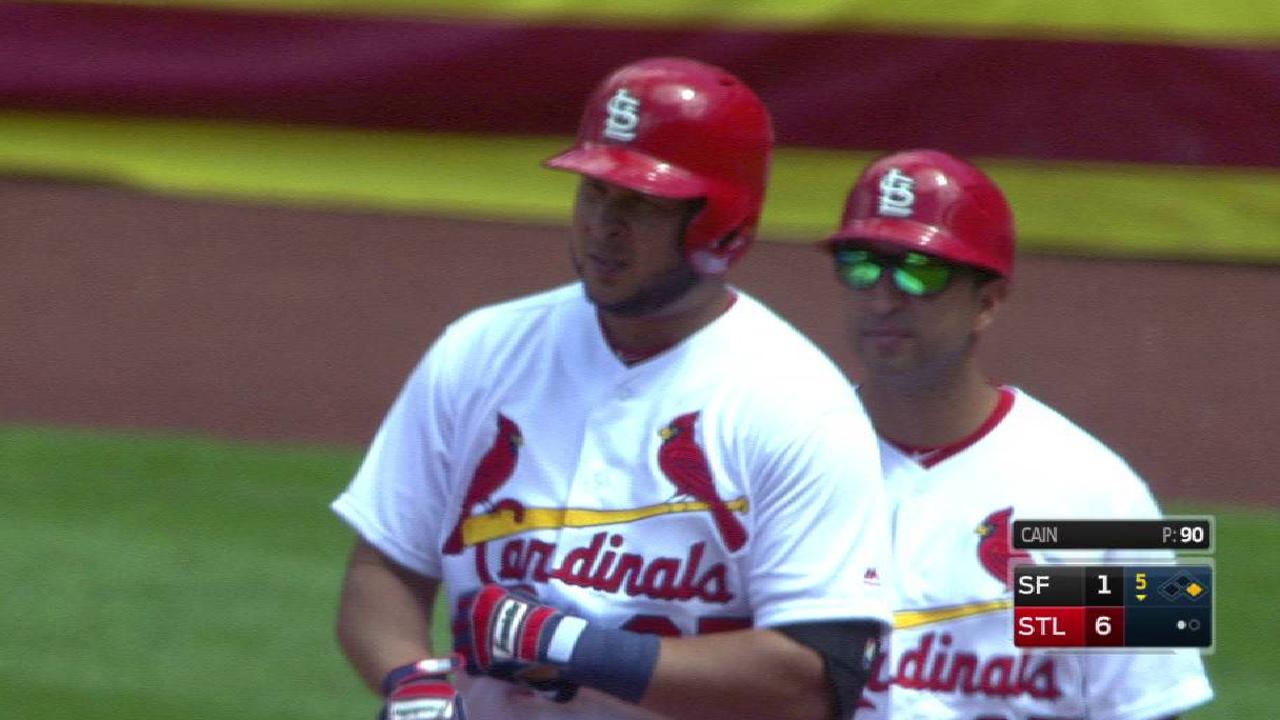 ST. LOUIS -- When Jhonny Peralta was put on the disabled list earlier this season, there were questions surrounding whether the 14-year veteran could contribute to the Cardinals going forward. Upon returning to St. Louis a month later, his performance on the field has certainly revealed reasons for optimism.
Peralta had two hits in his three at-bats in the team's 8-3 win over the Giants on Sunday, showing no signs of the illness that had plagued him in the beginning of the year.
Peralta was reinstated from the DL on Friday and pinch-hit in the weekend's first two games, collecting a hit in each game. On Sunday, he started at third base in place of Jedd Gyorko.
"We'll take every good player that we can, and Jhonny is a good player," manager Mike Matheny said. "We just had to give him some time to get his body right and get his swing right and he's in a good place."
Before being put on the DL on April 20 with a respiratory issue, Peralta had hits in just three of his first 25 at-bats. The medicine he was taking to deal with the illness, however, created more symptoms, which led to significant time off. He played in three rehab games with the Class A Advanced Palm Beach Club and then played three more games with Triple-A Memphis before returning.
"It's very different, my situation. For me, it's physical. I need to be ready. My body didn't feel right before, so I took my time," Peralta said of getting back to health. "Working in the Minor Leagues was what I needed, and after I felt ready in my body, I knew that I could come here and that's what I did."
All of his problems seem to have been resolved as Peralta has been reliable in his return, even though it's only been three games.
"You just watch his swings more, he's moving well, obviously taking a couple good at-bats already. But he's going to be something that we're going to see more in game-time action," Matheny said. "You can do all the drills you want, but it's kind of hard to tell how he's going to move once game time comes. He physically looks like he's in a better spot, which is a great sign."
His return to strong form seems to have come at just the right time with first baseman Matt Adams getting traded to the Braves on Saturday. The move leaves open an opportunity for Peralta to fill in at several infield positions moving forward.
Peralta, who's played both short and third for the Cardinals, will also be given the opportunity to get some pregame work at first base to see if that is a viable spot for him.
"I don't know how Matheny's going to deal with me, he never talked to me about it, but I need to be ready for whatever situation," Peralta said. "Whenever he needs me, I need to be ready."
Alaina Getzenberg is a reporter for MLB.com based in St. Louis. This story was not subject to the approval of Major League Baseball or its clubs.