Estrada rises to occasion, brings team along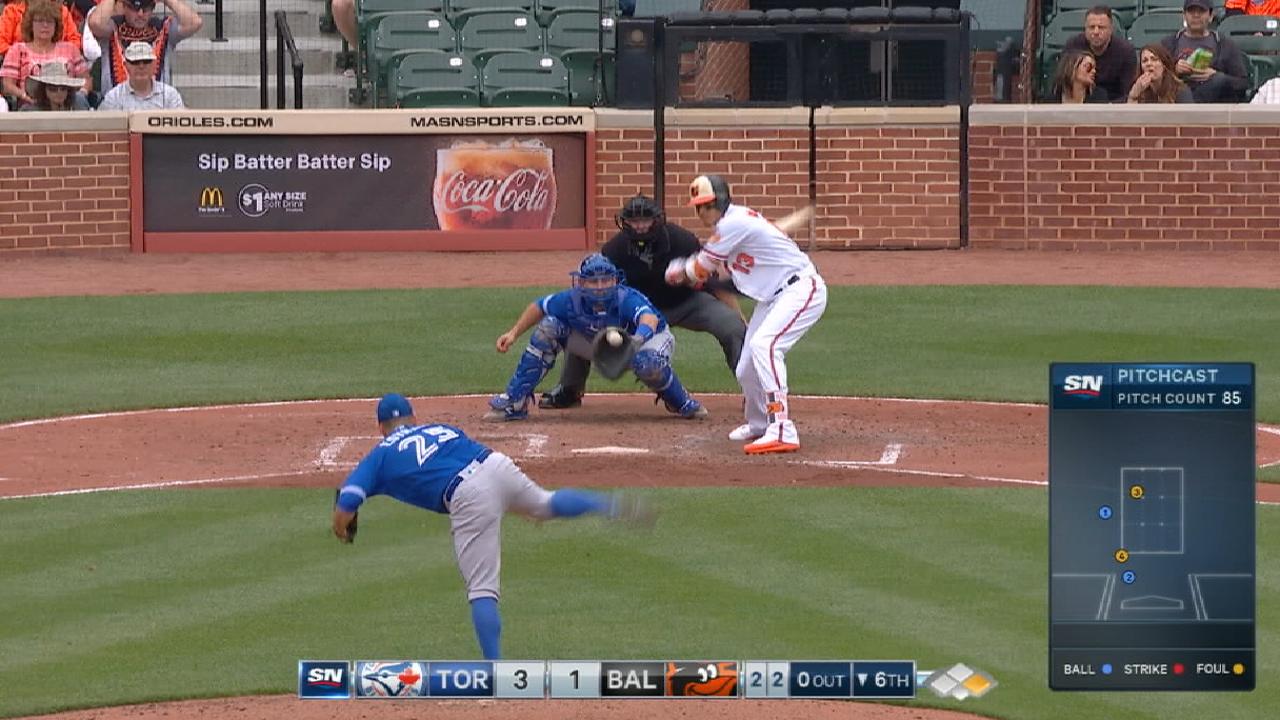 BALTIMORE -- On Twitter they call him ACEStrada, and based on how he pitched Sunday afternoon, it's easy to see why.
Marco Estrada enjoyed arguably his best start of the season by allowing one run over 7 2/3 innings in a 3-1 victory over the Orioles. Toronto's veteran righty matched his career high with 12 strikeouts, and more important, helped the Blue Jays avoid a three-game sweep at Camden Yards.
One of the responsibilities that comes with being the ace is rising to the occasion when things aren't going well. There are times when somebody has to turn the tides by putting the team on his back, and it should come as no surprise that Estrada has become that guy.
"He has been so good since he arrived here," Blue Jays manager John Gibbons said. "He's always pitched really well against this team, and this is maybe the toughest ballpark to pitch in. Especially a day game, when it's warm, the ball flies and they have a power-packed team. But I have seen Marco do that so many times, and the team needed it after a couple of tough ones. He has been known to do that, too."
Estrada's outing was even more impressive considering he was coming off a rough outing vs. the Braves that saw him allow five runs over six innings. He didn't need to watch video to know he was drifting forward too much in his delivery during that game, and decided to make a few tweaks to his mechanics with the help of pitching coach Pete Walker between starts.
The extra work paid off, allowing his changeup to return to form. It has long been his go-to pitch, but he went to it more than usual in the series finale, tossing it 53 times out of 115 pitches. Only three of his strikeouts came on that pitch, but it was crucial in setting up the fastball to finish off at-bats. With his changeup averaging 77 mph on Sunday, it made 90.3 mph seem almost overpowering.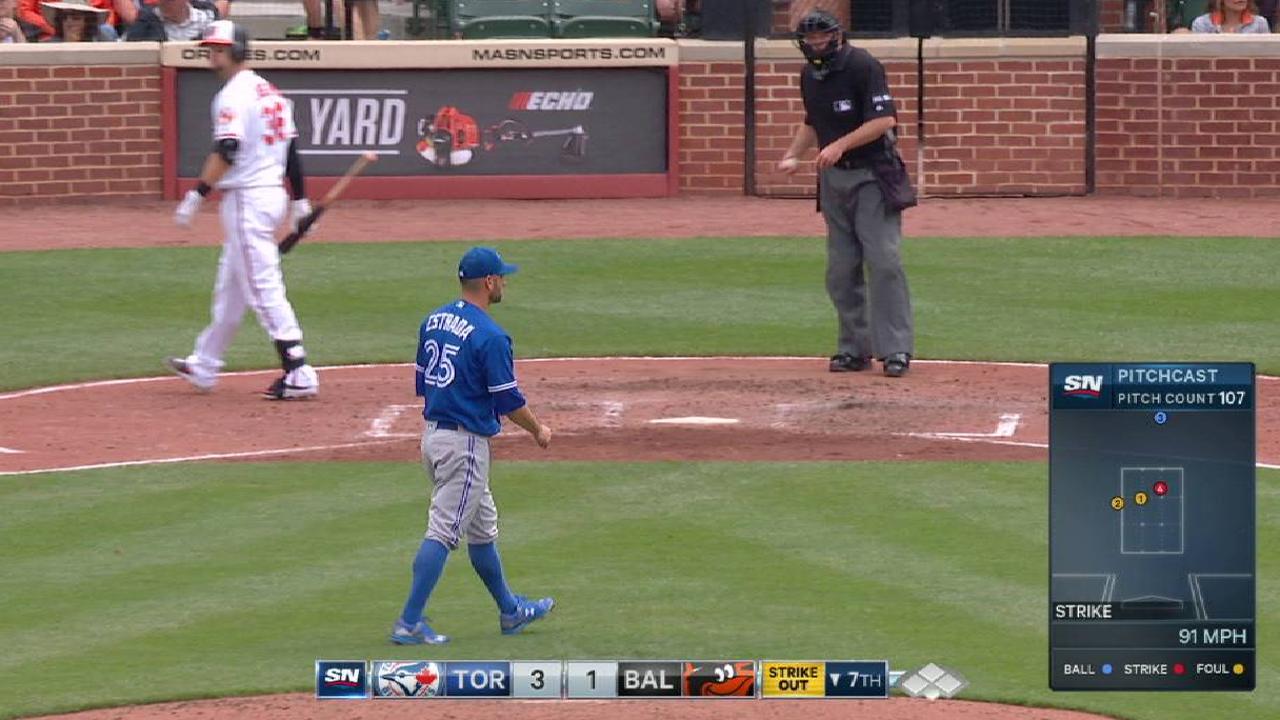 "I think 22 or 23 of his first 45 pitches were changeups, and it's not like nobody looks for it or sits on it," Orioles manager Buck Showalter said. "But he's got such good command of the fastball. ... He has great presentation on the changeup. You talk to hitters and they're thinking about it, they're sitting on it. You've got to box one out because you can't hit both of them."
Showalter should know; he's witnessed Estrada's dominance plenty of times. He has allowed just three earned runs over 20 2/3 innings vs. Baltimore this season, and is now 5-1 with a 2.79 ERA against the club in his career. It doesn't get much better than that, and the timing of his latest matchup could not have been better after Toronto followed up a five-game winning streak by losing five of six.
Estrada's success against Baltimore has been going on for a long time, even if he hasn't put much thought into it.
"I haven't really paid attention," Estrada said. "I know it's a really good lineup, and I just try to make pitches. If it goes well, it goes well. If it doesn't, it doesn't. I don't change anything. I try to do the same thing to everybody. My job is to try to go out there and throw nine innings and shut them out. I didn't do that, but it was a pretty good outing."
Gregor Chisholm has covered the Blue Jays for MLB.com since 2011. Follow him on Twitter @gregorMLB and Facebook, and listen to his podcast. This story was not subject to the approval of Major League Baseball or its clubs.