Nola's return a bright spot for struggling Phils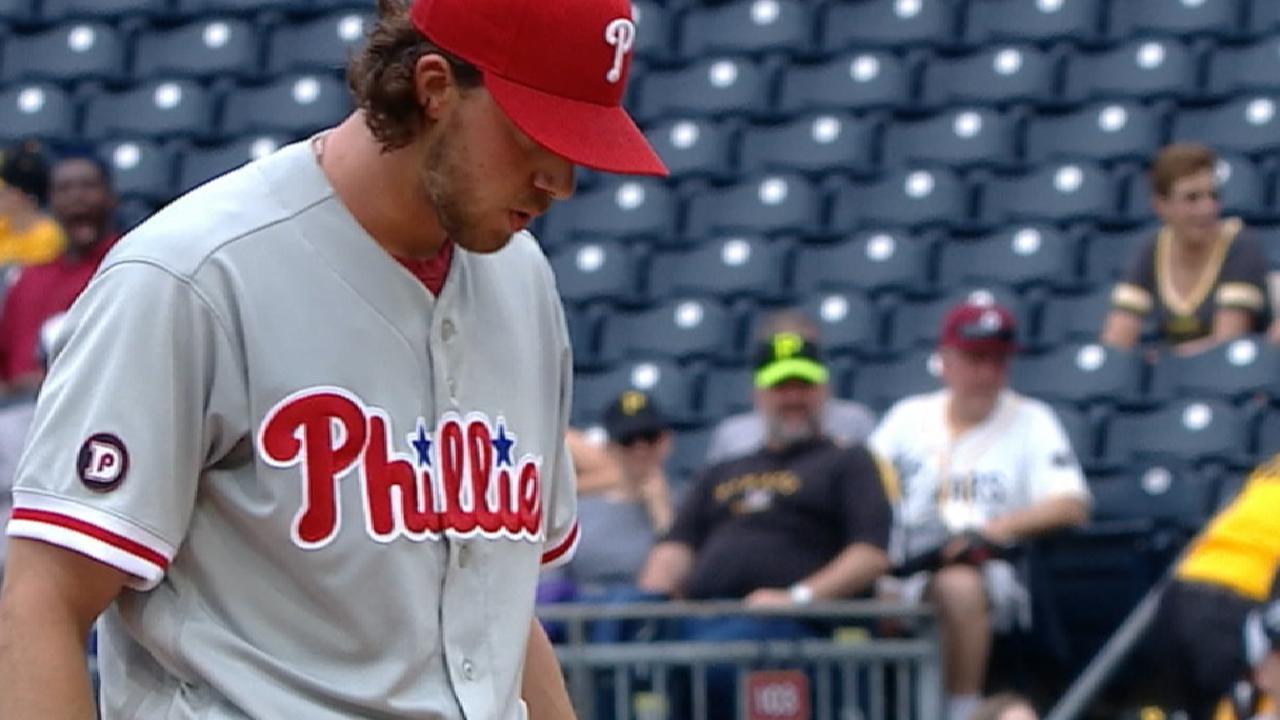 PITTSBURGH -- It has been a dark few weeks for the Phillies, so Pete Mackanin preferred to focus Sunday only on Aaron Nola.
Nola rejoined the Phillies' rotation in a 1-0 loss to the Pirates at PNC Park. Nola, who spent a month on the disabled list because of a strained lower back, hit David Freese with a pitch with the bases loaded in the sixth inning to score the game's only run, but his otherwise splendid performance is heartening for a team that has struggled terribly since late last month.
"What a breath of fresh air," Mackanin said. "He looked like his old self today."
Nola allowed four hits, one run and two walks in seven innings. He struck out five. It was the first time a Phillies starter threw more than six innings since May 6, when Vince Velasquez pitched seven innings. It was the first time Nola pitched seven innings since May 20, 2016, against the Braves.
"I was confident," Nola said. "My body felt good, back felt good. I felt like I didn't skip a beat."
"He was really good," Phillies shortstop Freddy Galvis said. "He was throwing really good pitches. His fastball command was good. He had a lot of movement on the ball, too. It's pretty good to see him healthy and back on track."
Nola, like the rest of the rotation, is trying to get his groove back. He missed much of the second half last season because of an elbow injury. He posted a 4.50 ERA in his first three starts this season before landing on the DL with the back injury.
"I feel like I still feel the same," Nola said. "The ball's coming out well still just like it did the first few starts."
Nola went 11-6 with a 3.12 ERA in 25 career starts through June 10 last season. He struggled in eight starts before the elbow injury.
Mackanin said on Sunday he saw the Nola that pitched well in that 25-start stretch.
"He kept everything down," Mackanin said. "He had a good curveball today. He located it very well. He located that fastball in and out and low in the strike zone. Changed speeds. Kept them off balance, and the results showed."
Pirates manager Clint Hurdle came away impressed.
"That young man pitched extremely well," Hurdle said. "The ball came out of his hand really good, that lower slot, there's some deception. He got up to 95, then to spin the ball and throw some changeups as well. He pitched all day long. Very impressive outing for him first time back off the DL."
Now if the Phillies can just get a few more of these starts, maybe they can pull out of a deep hole. They went 2-7 on their road trip through Washington, Texas and Pittsburgh. They have lost 17 of their last 21 games to fall to 15-26.
"That's the start of the climb out of the hole we dug ourselves into," Mackanin said. "We've just got to keep digging. With Jeremy Hellickson's performance (Friday) and Nola's performance today, I think we can count on Jerad Eickhoff to be the guy he was last year and Zach Eflin I think we can count on. Those guys in particular are at least going to keep us on the right track where we're in more games. Obviously we were in another game today. We just fell short."
Todd Zolecki has covered the Phillies since 2003, and for MLB.com since 2009. Follow him on Twitter and Facebook and listen to his podcast. This story was not subject to the approval of Major League Baseball or its clubs.