Thames' body still adapting to MLB grind
Slugger committed to adjusting training routine after exiting with leg cramp Sunday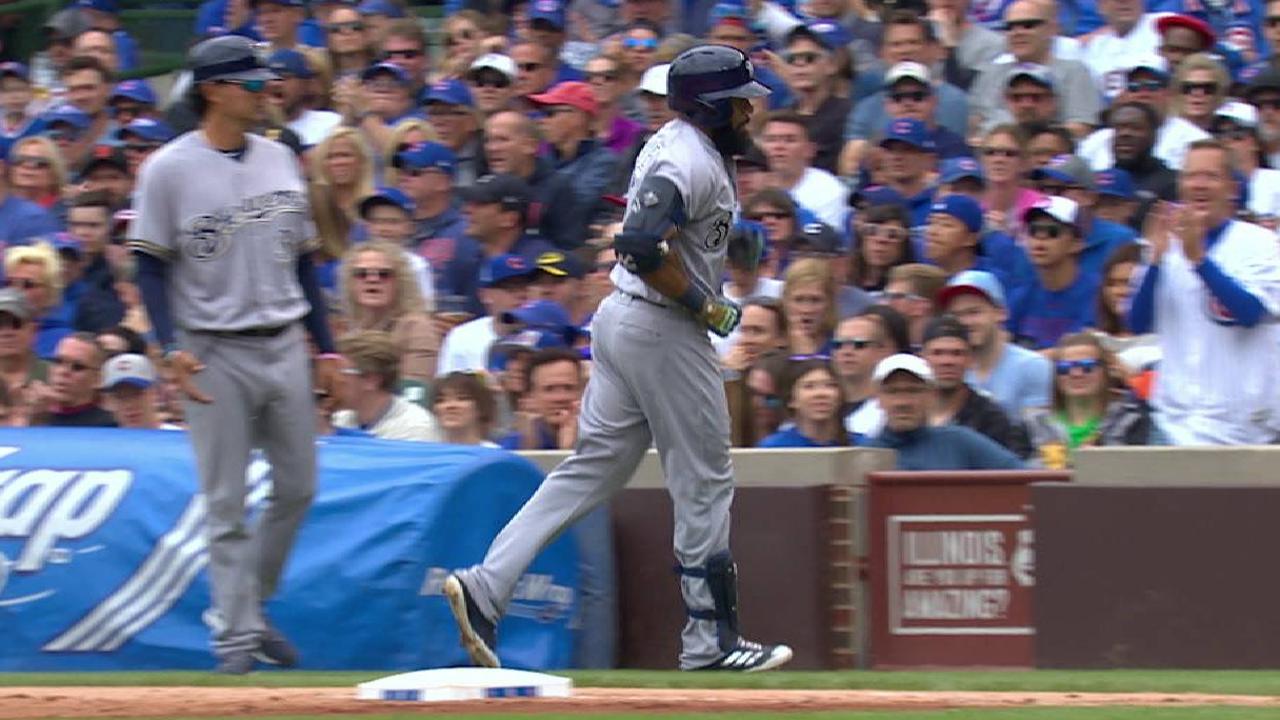 CHICAGO -- Eric Thames' amazing April has yielded to an "infuriating" May, marred by illness and persistent lower body soreness, the likes of which cost him the final four innings of Sunday's 13-6 loss to the Cubs at Wrigley Field.
Manager Craig Counsell removed Thames as a precaution after watching the slugger hobble down the baseline for a run-scoring groundout in the fifth inning. The Brewers cited cramping, and Thames, who also missed games on the Brewers' just-completed road trip with strep throat, was so frustrated that he struggled to put his thoughts into words.
"The whole body is just ...," he said, letting out a deep sigh. "I don't know what to say. I'm kind of blank. I'm still adjusting to all the schedule stuff, figuring out what works, what's going to tire me out. It will be all right."
Counsell said the Brewers and their athletic training staff would continue to work with Thames to find the right pre- and postgame routine. He stressed that Sunday's flare-up was not major; Thames, in fact, lobbied to continue playing in what was a 5-1 game.
"I think we've got to figure out, before and after the game, if there's anything we can improve so this can not happen quite as much," Counsell said. "We're still getting to know the player a little bit and how he feels. We've got 120 games left. Obviously, we have to try to improve on how he feels on a daily basis."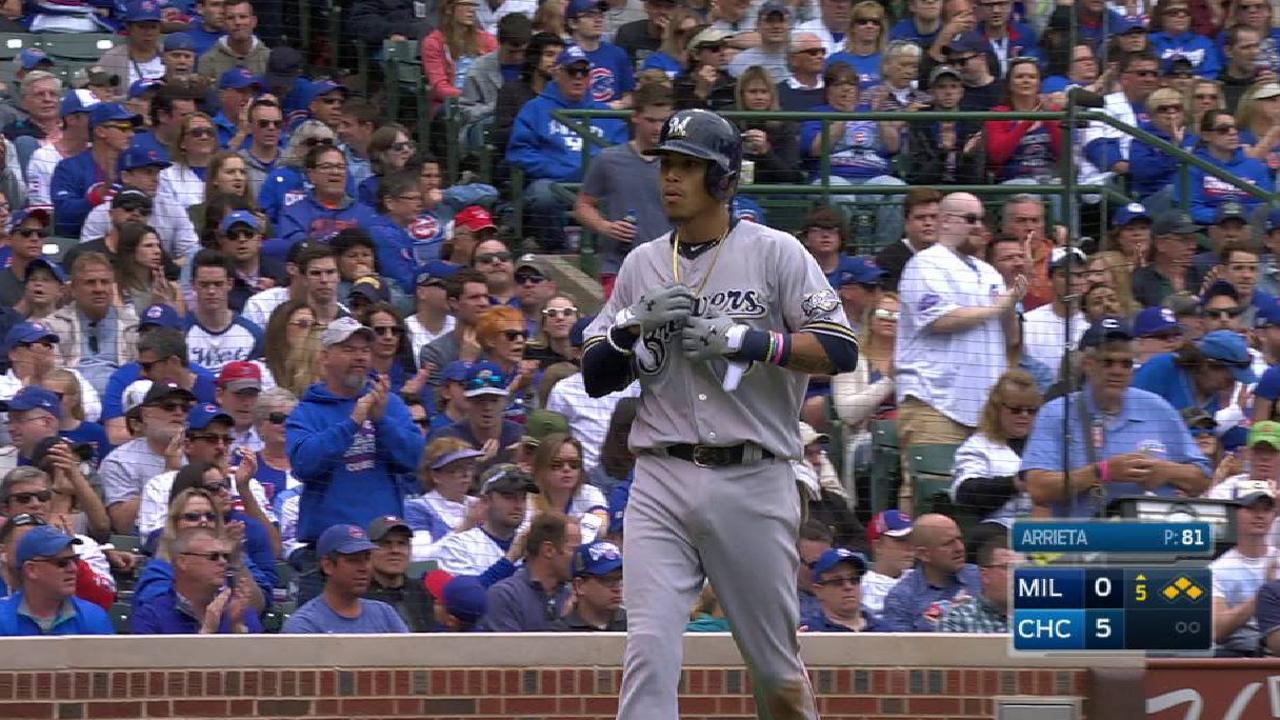 The Brewers knew that the Major League schedule would present challenges after Thames played the past three seasons in South Korea, where teams have more days off. Counsell spoke at the end of Spring Training about closely monitoring Thames' workload and using backup first baseman Jesus Aguilar when the team matched up against left-handed pitchers.
Then Thames went and hit everything opponents threw at him in April, forcing his way into everyday duty while setting Brewers April records with 11 home runs and 28 RBIs while hitting .345. The first outward sign of leg issues came April 26, when he exited a game against the Reds with a tight right hamstring.
Those issues have persisted into May. Including Sunday's 0-for-3 against the Cubs' Jake Arrieta, Thames is batting .240 (12-for-50) with two home runs and seven RBIs this month.
"My training routine is a lot different here than it was over there," he said. "I'm just infuriated with myself a little bit. It's my fault. I can control how I train and everything. … I just have to make more adjustments to my routine."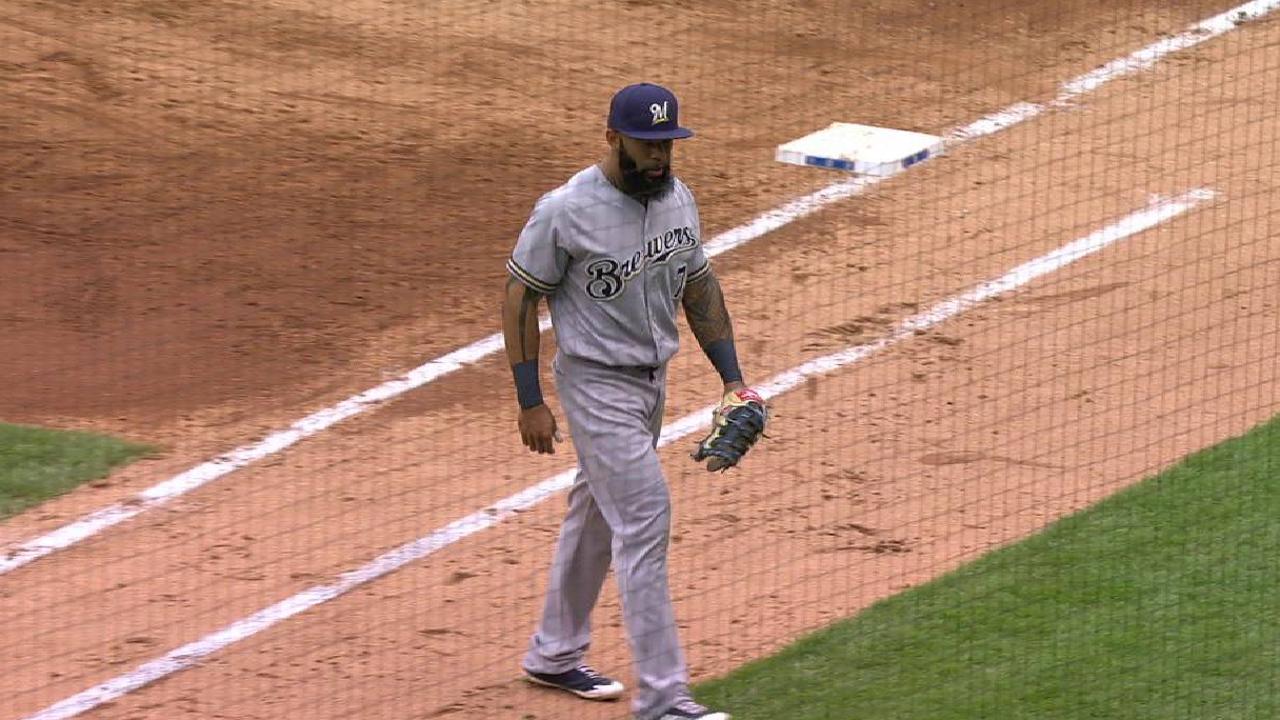 There's also the matter of opponents adjusting to Thames in the wake of his out-of-this-world April. Thames is attempting to adapt back, only his legs are holding him back, he said.
"My body isn't where it was," Thames said. "So a lot of the pitchers I'm getting to hit, I'm fouling off. I'm missing them. Then you have to keep battling."
Thames' exit came just as the Brewers got left fielder Ryan Braun back from a 10-day stint on the disabled list for arm and calf injuries.
"It's obviously going to be something we have to stay on top of all year for him to make sure he's able to adjust back here," Braun said. "We want to keep him in the lineup as much as possible, because we're obviously a better team with him in the lineup."
Adam McCalvy has covered the Brewers for MLB.com since 2001. Follow him on Twitter @AdamMcCalvy, like him on Facebook and listen to his podcast. This story was not subject to the approval of Major League Baseball or its clubs.