Judge's defense doesn't rest: 'Awesome play'
4-star catch in 6th preserves 1-run lead, ends up being difference
ST. PETERSBURG -- Aaron Judge's bat has made plenty of noise this season, but it was the rookie outfielder's defense that had people talking on Sunday afternoon after his game-saving catch robbed the Rays' Evan Longoria in the Yankees' 3-2 victory at Tropicana Field.
With the Yankees leading by that same score in the sixth inning, Judge raced into the right-center-field gap to run down Longoria's drive off reliever Chad Green -- snaring it with a full-extension dive onto the turf -- then relayed it back to the infield as Corey Dickerson was doubled off.
• Cast your Esurance All-Star ballot for Judge and other #ASGWorthy players
"I wasn't doing it on offense, so I was able to do it on defense and help out the team," said Judge, who struck out in all four of his at-bats Sunday. "I just read it good off the bat and tried my best to get there. When I looked up right before I caught it, I saw I might have a chance and dove for it."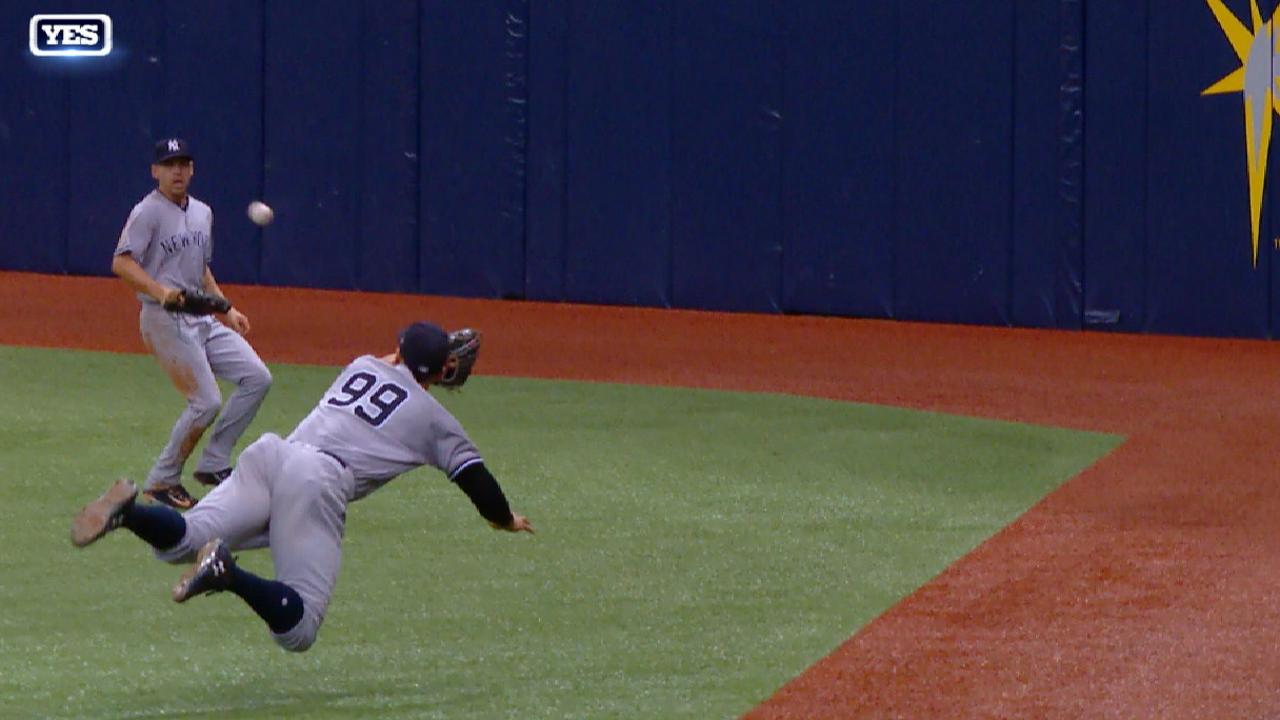 The Yankees weren't quite so understated in their praise for Judge, who also leads the Majors with 15 homers and paces the American League with 35 runs scored. From his vantage point in left field, Brett Gardner said that he did not expect Judge to come up with the play.
"I thought it was in the gap," Gardner said. "I thought it was an RBI double, and when he dives, the double can turn into a triple. That's the difference in the ballgame. That's a tie game, and Longoria is standing on second or third with no outs. ... Awesome play."
According to Statcast™, it was rated as a four-star catch and had a catch probability of 26 percent. Judge had to race 79 feet in 4.6 seconds. That catch probability of 26 percent was the lowest by any Yankees outfielder. Entering Sunday, the team's outfielders were 7-for-16 on four-star opportunities, and Judge is now 4-for-7 on such plays this season. His sprint speed on the play -- as measured by the amount of ground he covered in his fastest one-second window -- was 28.5 feet per second. To put that into context, Jacoby Ellsbury and Gardner -- two teammates known for their speed -- have topped out at 27.3 feet per second and 26.6 feet per second on outfield plays this season, while Billy Hamilton -- widely regarded as the fastest man in the game -- will top out at a little more than 30 feet/second while chasing a fly ball.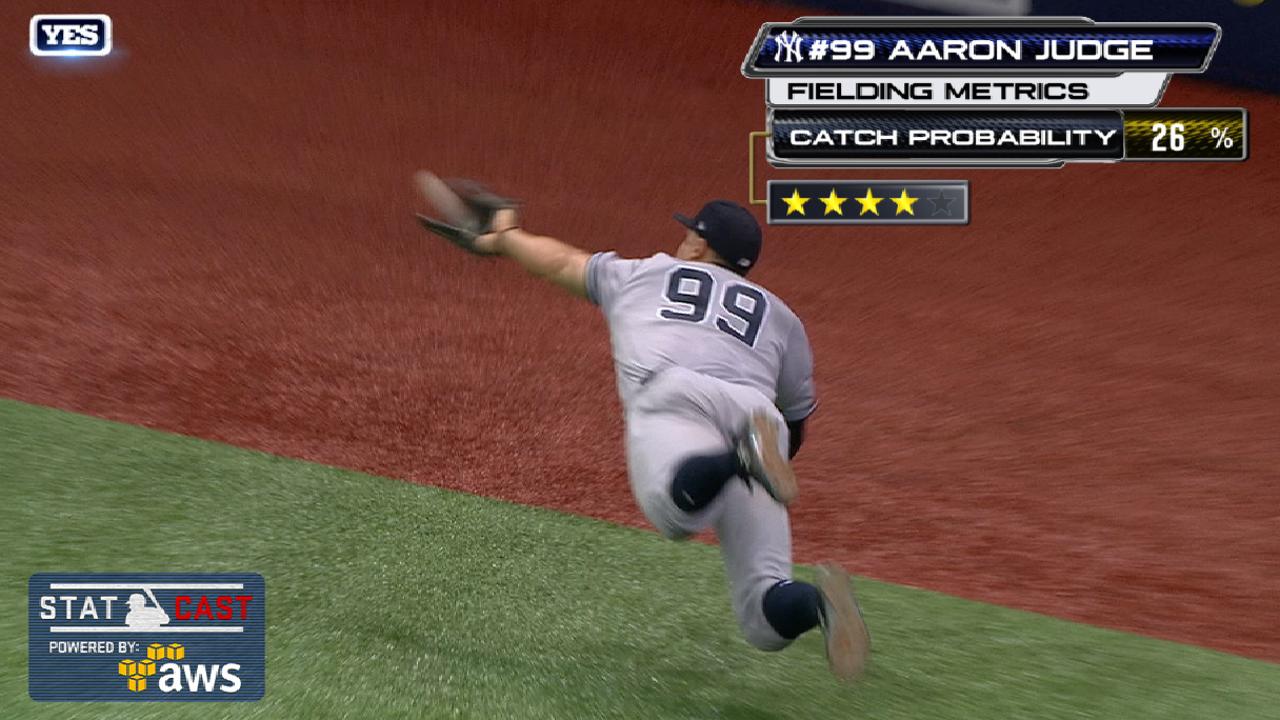 "I thought it was going to fall," Longoria said. "It just seemed like the last 10 or 15 feet, he covered a ton of ground, and, I mean, there's not much you can do other than tip your hat. It was a great play and ended up saving the game for them. … It was impressive, man. We'll be watching that one … for a while."
Judge has wowed the Yankees in the field several times this season, including tumbling into the right-field seats to make a grab at Fenway Park last month. CC Sabathia said he told teammate Chasen Shreve that he had a funny feeling Judge was about to do it again.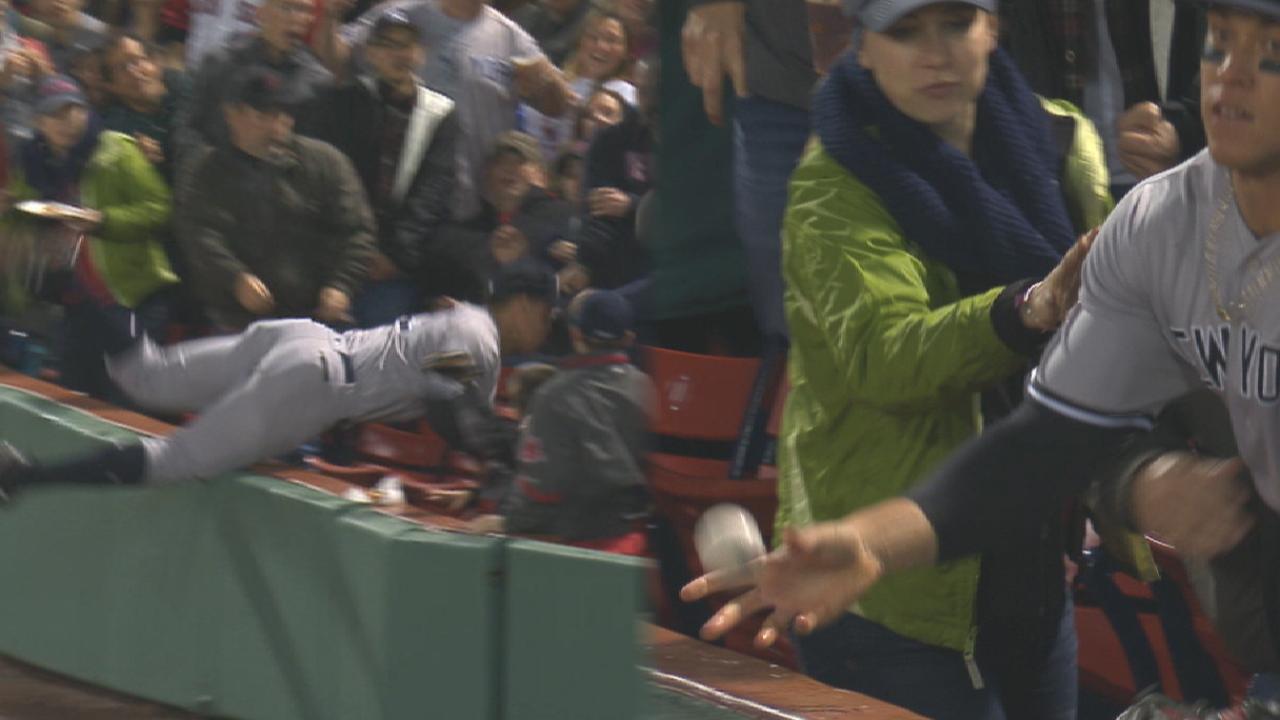 "It's weird -- I know that ball was in the gap, but when he hit it and Judge started running, I was like, 'Oh, he's going to catch that,' in my head," Sabathia said. "It's weird to think that, but he's a great player, a good outfielder. He covers a lot of ground. It felt like he had a chance. Obviously, it's one of the best catches of the year so far."
Judge said that he had some difficulty tracking the ball against The Trop's oatmeal-toned roof as it came in and out of the lights, but he was able to maintain his focus. He entered the day with six Defensive Runs Saved (DRS) according to Fangraphs.
"That's what I'm getting paid to do, to make plays like that. That's what I did," Judge said.
Judge said that he got a chance to watch the video shortly after the game's final out, and he was asked how he would rate his play.
"How would I grade it?" Judge said, with a grin. "Good catch."
Bryan Hoch has covered the Yankees for MLB.com since 2007. Follow him on Twitter @bryanhoch and on Facebook. This story was not subject to the approval of Major League Baseball or its clubs.