Crew prospect Supak flourishing in Class A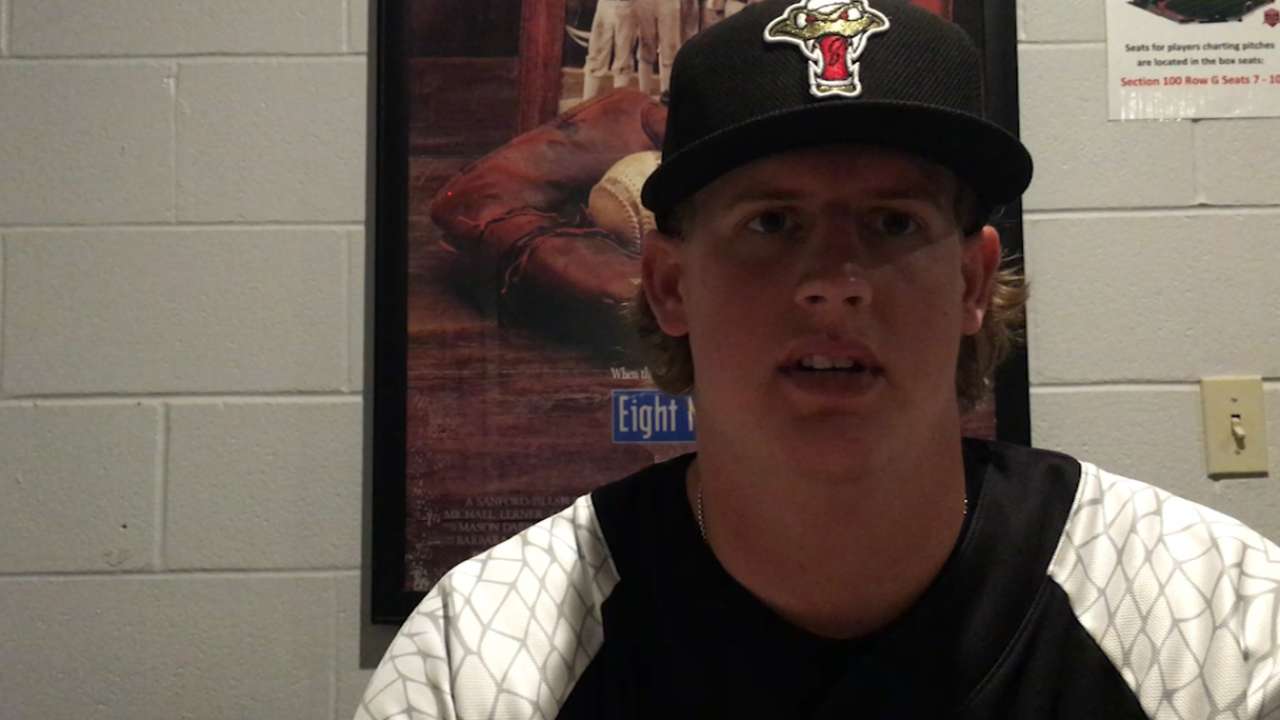 APPLETON, Wis. -- This past offseason, Brewers pitching prospect Trey Supak drew inspiration from an unlikely source: NFL Hall of Fame running back Emmitt Smith.
Smith once said, "All men are created equal. Some just work harder in preseason." Supak is using that quote to drive his dream of making the big leagues.
"That's kind of my goal -- just to keep on getting better each offseason, learning from my mistakes here and just keep on growing in the system," Supak said of his offseason preparation.
Supak's hard work appears to be paying off in the regular season.
Supak, a right-handed pitcher for the Class A Wisconsin Timber Rattlers who is Milwaukee's 29th-ranked prospect, set personal strikeout records in three consecutive games, and he has lowered his ERA to 2.00 over 36 innings. He credits his successful start to the work he did during his second Spring Training with the Brewers.
"I just came in healthier, and last year I came here not having an idea of what these hitters are like and what this league is about," Supak said. "Just this offseason, I've been working with the fastball command in and out and locating offspeed pretty well."
The 20-year-old was drafted 73rd overall by Pittsburgh in 2014 and was acquired by Milwaukee -- along with center fielder Keon Broxton -- in a trade for first baseman Jason Rogers in '15.
Congratulations to @Team_Harrison3 & @treysupak9. They are the Rattlers Player & Pitcher of the Month for April: https://t.co/21HkrvPyvi pic.twitter.com/Wrvl4TIlEn

— Timber Rattlers (@TimberRattlers) May 5, 2017
Since his time at La Grange (Texas) High School, Supak has worked on perfecting a repertoire of three pitches: a low-90s fastball, a high-spinning above-average curveball and a fading changeup. He was given an overall scouting grade of 45 by MLBPipeline.com, scoring highest for his fastball and curveball.
Timber Rattlers manager Matt Erickson has not only seen improvement in Supak's command and location this season, but also the sequencing of his pitches.
"The pitch sequencing of how to set up hitters has been better through his discussion with Steve Cline, our pitching coach, and our catchers," Erickson said. "I think all of that knowledge is helping him execute the pitches he already had a bit more effectively this year."
The 6-foot-5, 235-pound right-hander leads the Timber Rattlers with 47 strikeouts and is holding right-handed hitters to a .096 average. Last season, Supak suffered biceps tendinitis after Spring Training and was assigned to the Rookie-level Helena Brewers for a month, where he posted a 1.29 ERA over 14 innings. He joined the Timber Rattlers in mid-July, finishing the season with a 3.86 ERA over 11 games. Supak racked up 24 strikeouts in six starts, a total he has nearly doubled in his six starts already this season.
Before signing with the Pirates in 2014, Supak was committed to the University of Houston, the school his uncle, Jody Supak, played for from 1983-87 and earned All-American honors at. Supak's father, Tom Supak, played for University of Texas-Pan American in 1980.
"My dad's side of the family, we all live in La Grange, and we hang out there all the time," Supak said.
Although baseball runs in Supak's family lineage, he wasn't a perfectly polished player right off the bat, Erickson said.
"He came here with not so much feel for holding down the running game. He was slow to the plate and didn't field his position very well," Erickson said of Supak. "This year, you could tell in Spring Training right off the bat, he made those things a priority to become a complete pitcher."
So did Smith's inspirational quote pay off for Supak? Erickson seems to think so.
"Not only is he getting the strikeout numbers with his big arm, but he's also holding the runners well when needed, fielding his position a little more athletic," Erickson said. "You can see his overall presence in his whole demeanor is a little more confident."
Carson Mason is a reporter for MLB.com based in Milwaukee. This story was not subject to the approval of Major League Baseball or its clubs.