Pirates still seek clarity on Kang's situation
GM says club is working to gather the facts after court ruling
PITTSBURGH -- With a quarter of the season behind them, the Pirates are still without third baseman Jung Ho Kang, who remains in his native South Korea awaiting a work visa.
On Thursday, Kang lost his appeal of a suspended eight-month jail sentence following his third DUI charge since 2009. Pirates president Frank Coonelly said it was too soon to comment on the impact that ruling will have on Kang's chances of playing for the Pirates this season. General manager Neal Huntington echoed Coonelly's statement, saying Sunday the Bucs are still looking for clarity.
"All the speculation in the world is meaningless," Huntington said. "Right now, we're working to gather the facts and how this does impact the process."
One thing that is clear: The longer Kang is away, the longer it will take for him to get back on the field when -- or if -- he does reach the United States.
"It's one thing for him to continue to work out and continue to do everything he can do outside of baseball," Huntington said. "But there's a reason we have Major League Spring Training. His Spring Training may need to be a little bit longer once he does get going."
Kang is on the restricted list, not accumulating salary or service time. Kang was slated to earn $2.75 million this season as part of his four-year, $11 million deal.
The Pirates are also not responsible for outfielder Starling Marte's $5 million salary while he serves his 80-game suspension following a positive test for the performance-enhancing substance Nandrolone. The Bucs also freed themselves from a majority of reliever Jared Hughes' $2.825 million salary by releasing him at the end of Spring Training.
Huntington said the Pirates have not yet found the right opportunity to reinvest the payroll they shed back into the Major League club but will "gladly" do so when they can.
"As we get closer to the [Trade Deadline], that is the intent, to utilize the dollars that have been created," Huntington said. "That money's sitting there, waiting to be used at the appropriate time when we get the right situation."
Much of the speculation surrounding the struggling Pirates has focused on players they could trade, not acquire. How much will their record affect their strategy?
"We'll obviously measure where we are as we get closer to July," Huntington said. "But as we sit here now, our intent is to do what we've done each of the last six years, and that's look to add to this club to put ourselves in a position to continue to play meaningful baseball in September and, for the fourth time (since 1993), playoff baseball in October."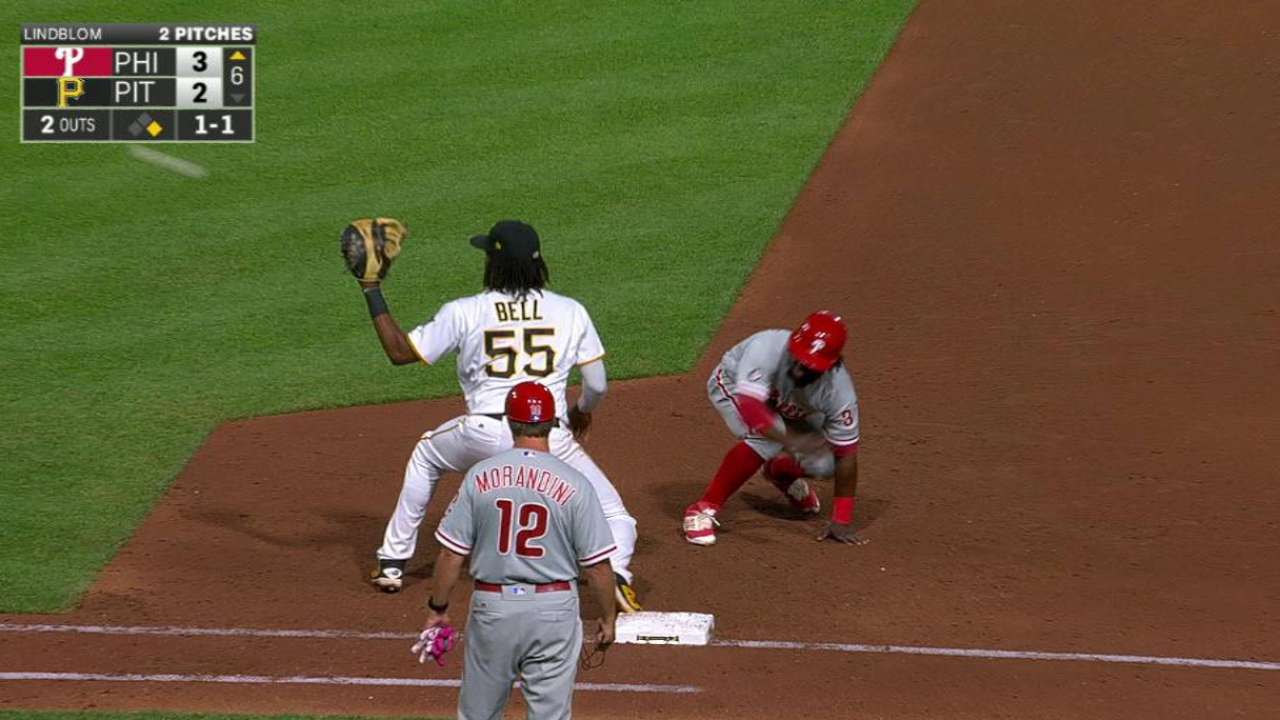 Trainer's room
• Right fielder Gregory Polanco (strained left hamstring) hit balls off of a tee and played catch Saturday. If he responds well to Sunday's workout, Polanco is expected to take batting practice on the field Monday in Atlanta. He is eligible to return Thursday.
• Right-hander Josh Lindblom said the left-side discomfort that sent him to the disabled list on Saturday could be related to his transition to the bullpen or his workload. He will take a few days off before playing catch to see how he feels.
"A little bit of discomfort, tightness in the left side," Lindblom said. "Hopefully it'll clear up and it'll be OK."
• Right-hander Mitch Keller, the Pirates' No. 2 prospect, was removed from his last start for Class A Advanced Bradenton due to back tightness. Keller is feeling better and playing catch, Huntington said, and the injury "should be a short-term thing."
Adam Berry has covered the Pirates for MLB.com since 2015. Follow him on Twitter and Facebook, read his blog and listen to his podcast. This story was not subject to the approval of Major League Baseball or its clubs.