Sanchez OK after taking foul tip off mask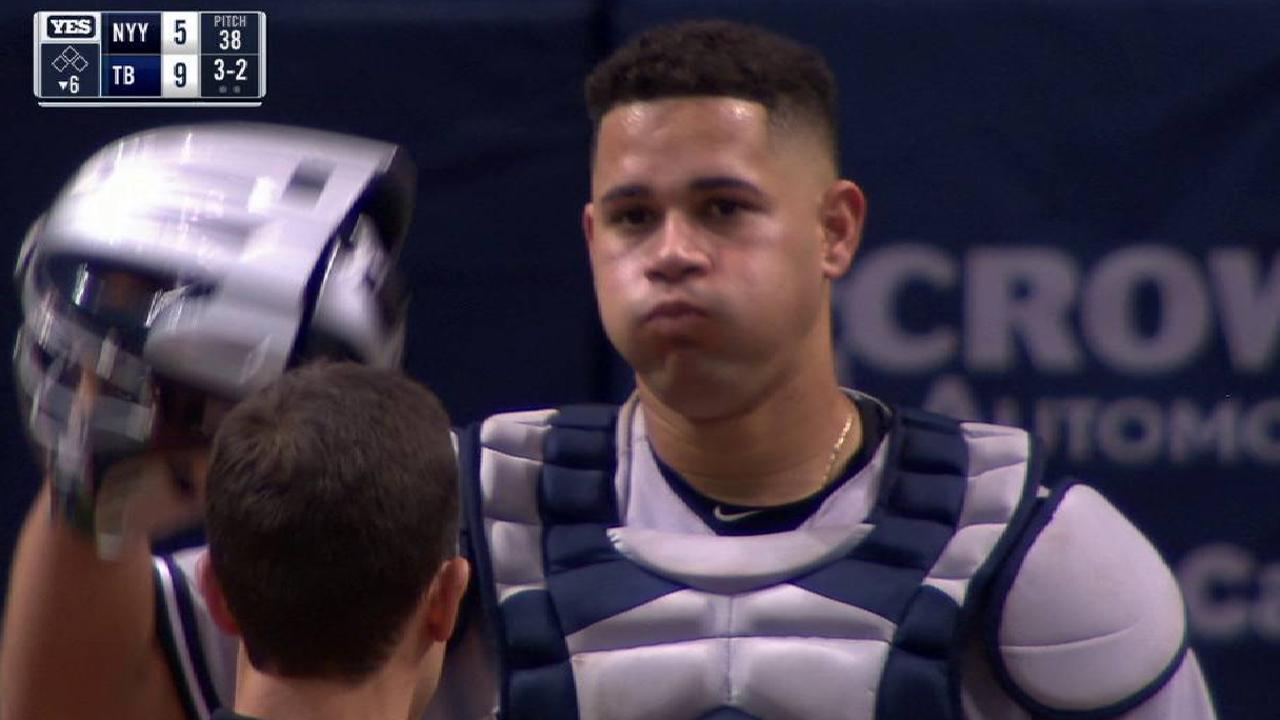 ST. PETERSBURG -- Gary Sanchez sustained a bruised right jaw, but he said that he felt "fine" a day after having his catcher's mask rattled in Saturday's 9-5 loss to the Rays at Tropicana Field.
Sanchez was clipped by Daniel Robertson's foul tip in the sixth inning. Bench coach Rob Thomson and an athletic trainer attended to Sanchez, who needed a few moments to gather himself before continuing the game.
"Yeah, you worry about that," Yankees manager Joe Girardi said on Sunday. "I wasn't really worried so much about a concussion, but his jaw was really sore. He says he's OK. We'll continue to watch him."
Sanchez's bat is heating up after he missed most of the season's first month with a right biceps injury. He hit his fourth homer in Saturday's loss, and he entered play on Sunday batting .370/.473/.587 (17-for-46) since returning from the disabled list on May 5.
Girardi said that foul tips and potential concussions are much more of a concern now than they were during his own playing career.
"I think we're more aware of concussions, so when a guy does stay in, you feel pretty good about how he feels," Girardi said. "But every time a guy gets hit now, I think we're more concerned and we pay more attention to it."
Help en route
Right-hander Bryan Mitchell has joined the Yankees from Triple-A Scranton/Wilkes-Barre for Sunday's series finale, assisting a bullpen that has been taxed over the past week. Right-hander Giovanny Gallegos was optioned to Triple-A.
Girardi said that there have been "mixed reports" on Mitchell, who is 0-1 with a 4.00 ERA in three Triple-A starts. Mitchell is 1-1 with a 6.35 ERA in nine big league relief appearances this year, spanning 11 1/3 innings.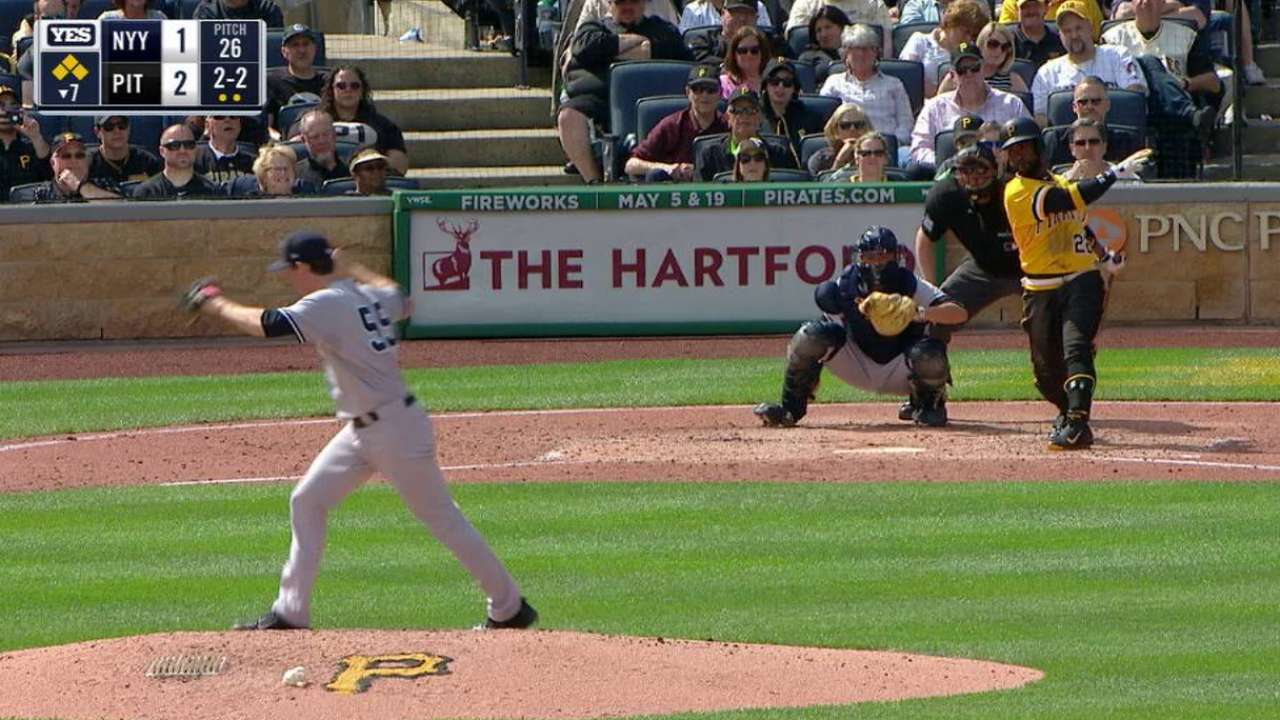 "We're trying to get his stuff consistent," Girardi said. "He had that year layoff that really hurt him, but he has been pitching better of late, and he's a guy that can give you nearly 70 pitches. In a bullpen that's fairly taxed, that's important, so we need him to step up for us."
Free of charge
Mild-mannered slugger Aaron Judge shrugged and trotted to first base after being plunked by the Rays' Matt Andriese in the sixth inning on Saturday, prompting Andriese's ejection. Judge said that he couldn't envision a scenario where he'd ever take a step toward a pitcher.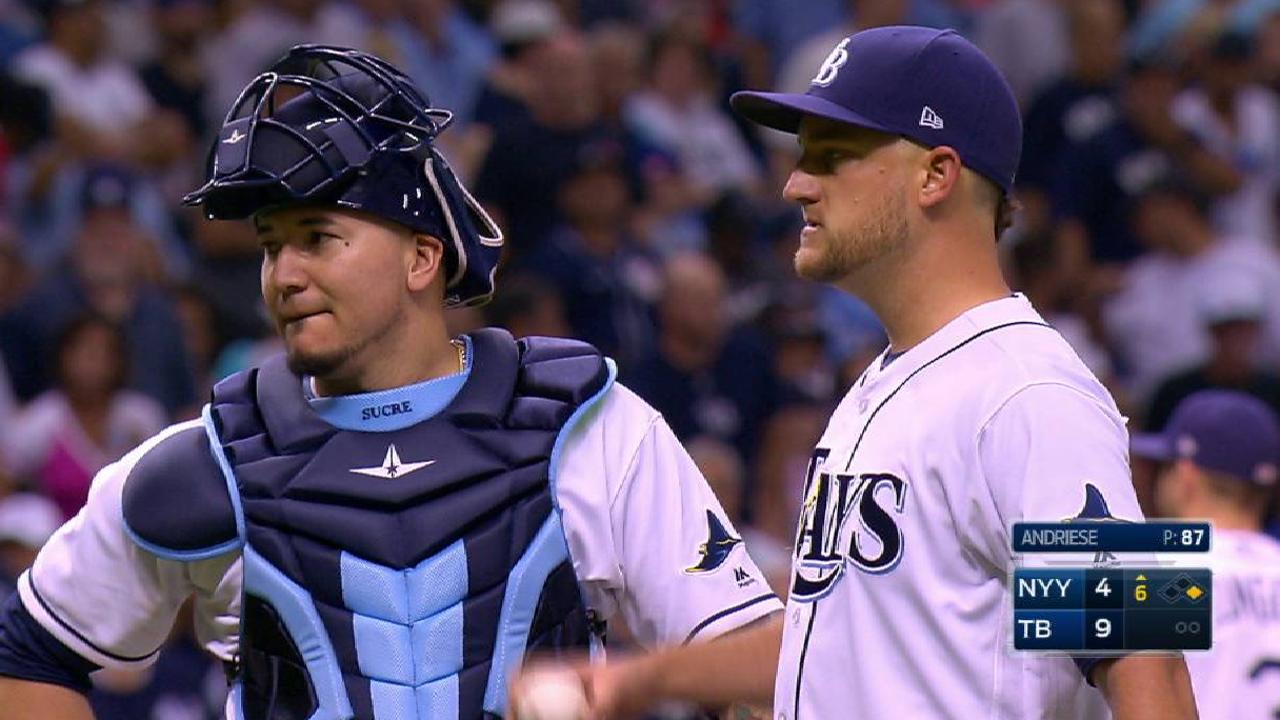 "Not really. I don't think I can get to that point, to be honest," Judge said. "I never have. But I've protected other players before."
Girardi said that he wasn't surprised by Judge's restraint, but he joked that Judge should have feinted toward the mound, as former big leaguer Tony Batista once did in Japan.
Injury report
Tyler Austin (left ankle fracture) played in his first Minor League rehab game on Saturday for Double-A Trenton, going 1-for-3 with a double and a walk. Greg Bird (right ankle bruise) is expected to begin baseball activities at Yankee Stadium on Monday. Aroldis Chapman (left rotator cuff inflammation) will be evaluated by a doctor on Monday in New York, with resumption of a throwing program in his near future.
Bryan Hoch has covered the Yankees for MLB.com since 2007. Follow him on Twitter @bryanhoch and on Facebook. This story was not subject to the approval of Major League Baseball or its clubs.