Rockies ride four homers to win over Reds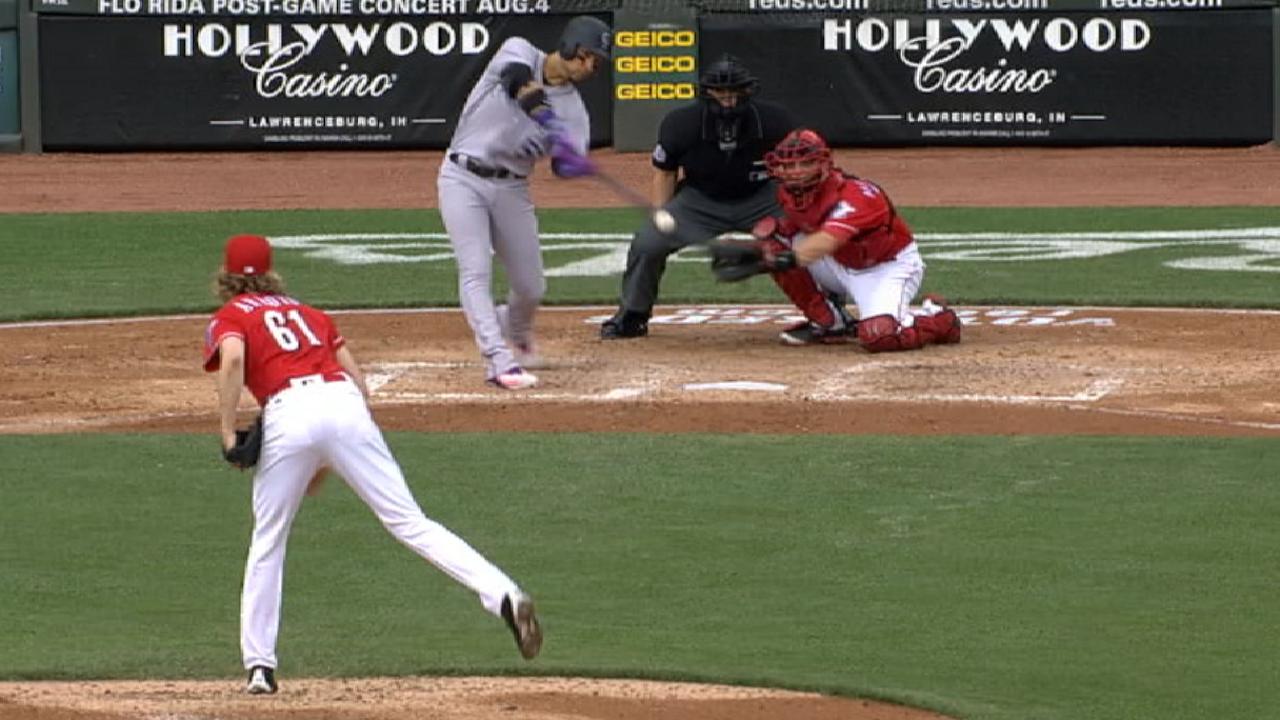 CINCINNATI -- The Rockies' bullpen returned to form Sunday at Great American Ball Park, holding off the Reds and helping secure a 6-4 win for Colorado, which took two of three games away from home for its fourth straight road series win.
"This was a good one," Rockies manager Bud Black said. "The Reds have been playing good baseball from Opening Day until now. They had a little bit of a rough patch. It was a good series. They kept putting pressure on us. We kept putting pressure on them. It was a good win."
Cincinnati held a 1-0 advantage after one inning, but a sacrifice fly from Charlie Blackmon and an RBI single from DJ LeMahieu -- who went 4-for-5 on the day -- plated a pair of runs in the Rockies' third for the lead.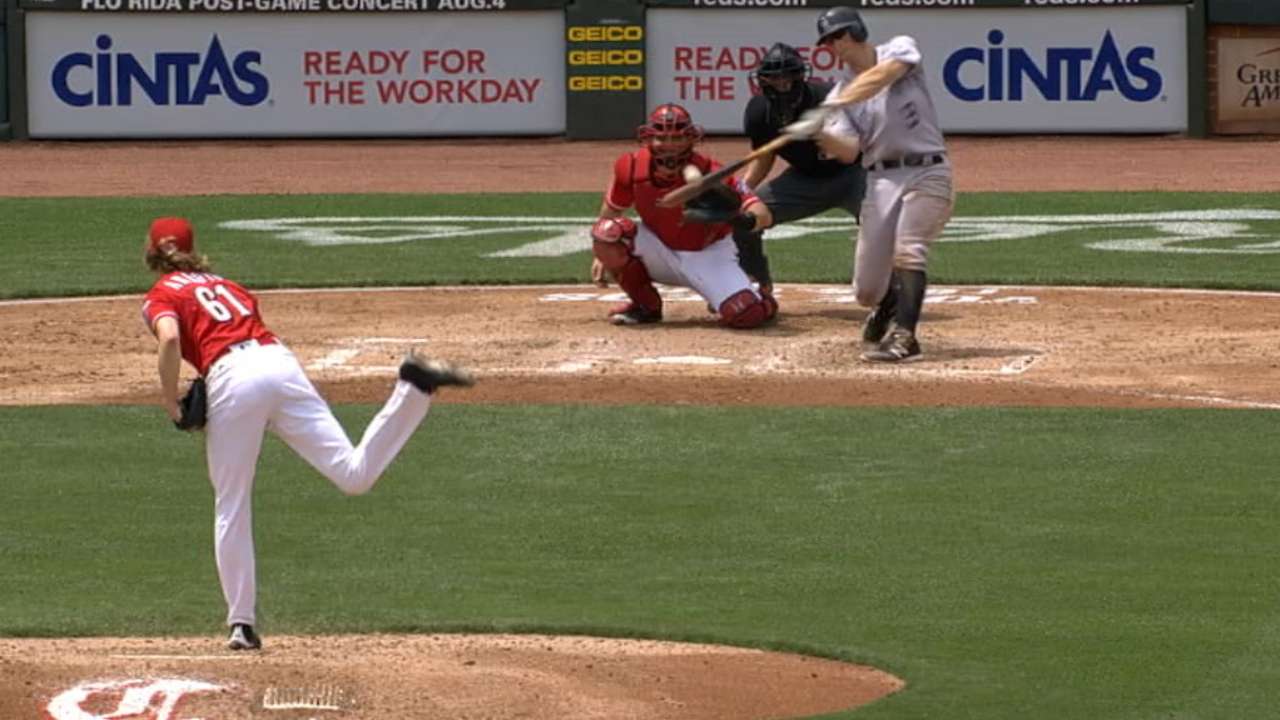 • Cast your Esurance All-Star ballot for LeMahieu, Votto and other #ASGWorthy players
Carlos Gonzalez opened the fourth with a home run off of starter Bronson Arroyo for a 3-1 lead. It was Gonzalez's 200th home run as a Rockie and his first in 77 at-bats. Gonzalez went 1-for-2 against Arroyo on the day, improving his career average against the righty to .526 (10-for-19).
Arroyo gave up two more solo home runs in the fifth to pitcher Kyle Freeland and LeMahieu, and another to Pat Valaika to lead off the sixth. The four home runs given up by Arroyo were his most allowed in a game since surrendering five against the Pirates on Sept. 28, 2013.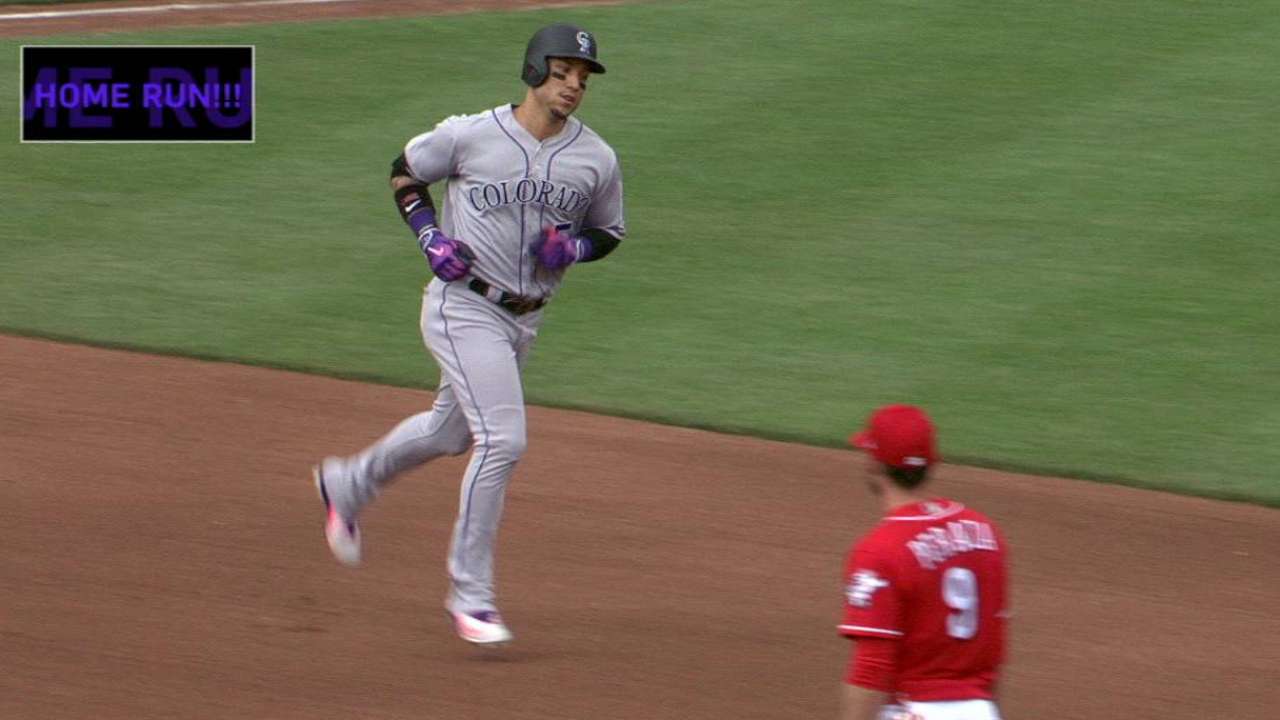 "The starting pitching the last one and a half times through hasn't been pitching deep in the games," Reds manager Bryan Price said. "That's why he was back out there in the sixth, was hoping to pick up another three outs for us and limit what we had to do with Robert Stephenson and Blake Wood today. And it just wasn't happening."
Valaika's home run gave the Rockies a 6-1 lead, but the Reds trimmed the deficit to 6-4 in the bottom of the inning thanks to a pair of homers from Joey Votto and Scott Schebler off Freeland, who picked up the win after allowing five hits and three earned runs over 5 2/3 innings.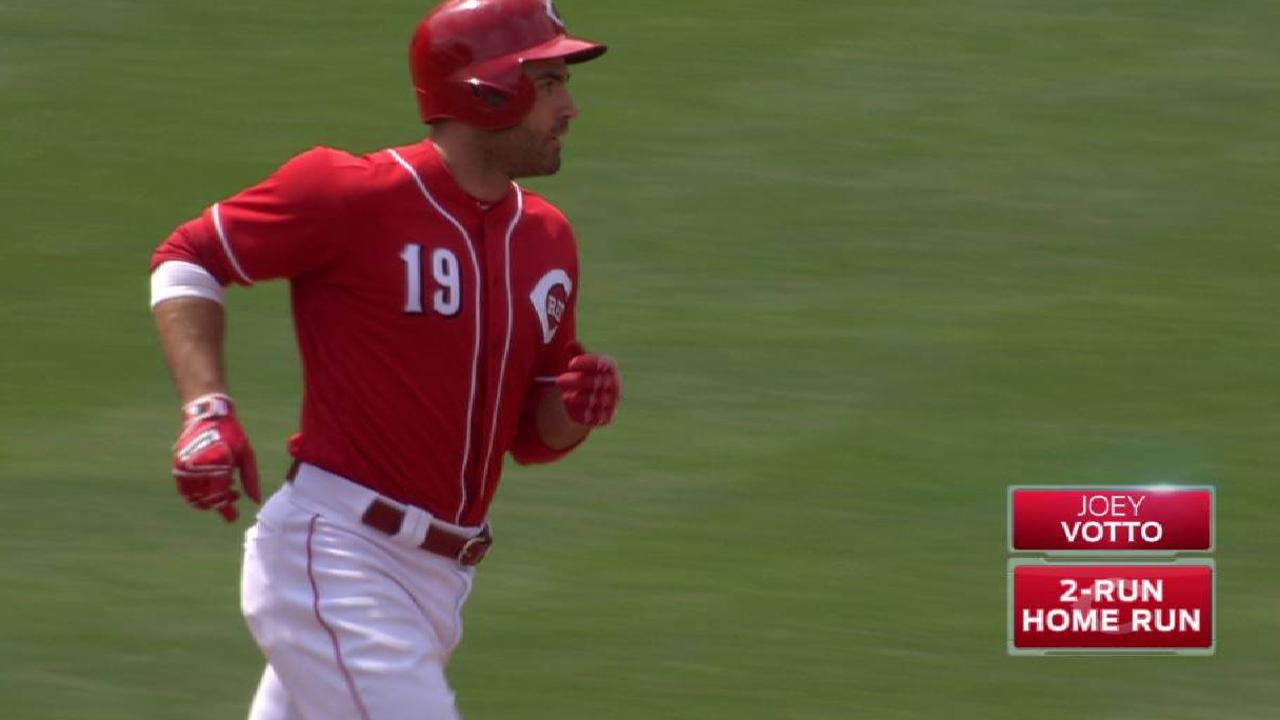 "They showed pride in their lineup," Freeland said. "They never backed down when we had a solid lead, going into the sixth."
In the first two games of the series, the Rockies' bullpen allowed 11 runs in six innings of work. But when called upon Sunday, the trio of Chris Rusin, Adam Ottavino and Greg Holland closed the door on the Reds' comeback attempt, combining for six strikeouts over the game's final 3 1/3 innings.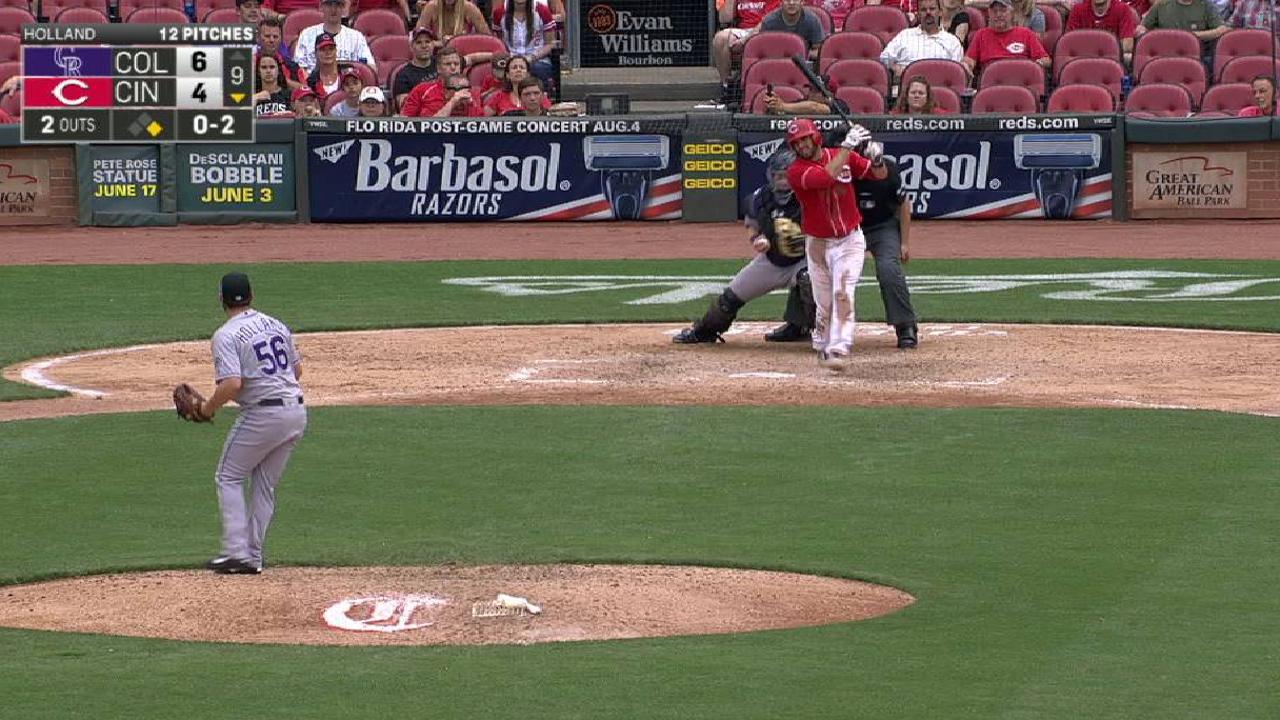 "Early on in the year, our offense wasn't that great and our pitching staff was awesome," Schebler said. "It's just we're at different points right now. We're kind of just getting behind and coming from behind, and that can be really tough and strenuous on an offense. We can only come through so many times. I fully expect the pitching staff to get back on track, and we'll be ready when they do."
MOMENTS THAT MATTERED
Freeland flashes power: The Rockies' starter came into the game with just two hits in 13 career at-bats, but he paced the Colorado offense on Sunday. In the third inning, after he was unable to get down a bunt earlier in the at-bat, Freeland smoked a pitch over the head of Reds left fielder Adam Duvall and off the wall for his first career double. The hit helped jump-start an inning that saw the Rockies take a 2-1 lead. The next time Freeland stepped to the plate, he hit a homer off an 0-1 breaking ball from Arroyo to lead off the fifth -- his first career home run -- to give the Rockies a 4-1 advantage.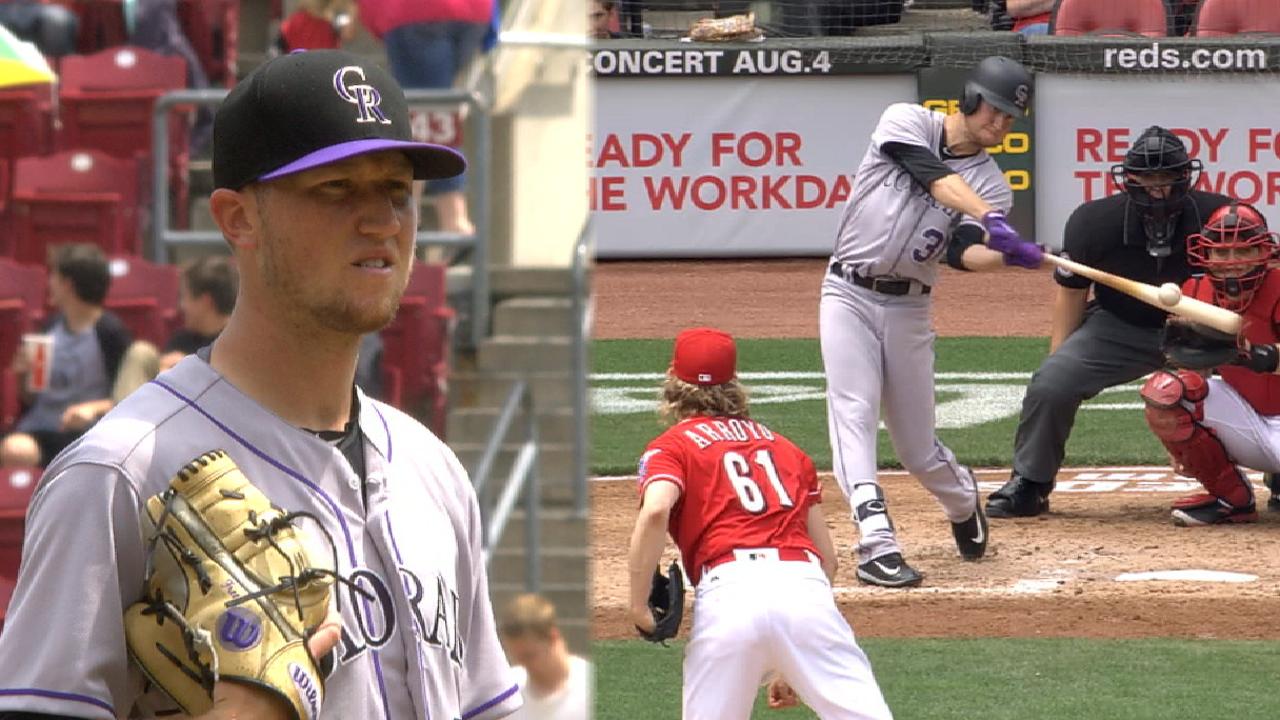 Reds battle back, again: After falling behind 6-1 in the top of the sixth, Cincinnati made up most of the margin in the bottom of the inning behind home runs from Votto and Schebler and chased Freeland from the game. According to Statcast™, Schebler's home run had an exit velocity of 110.8 mph -- his hardest hit ball this season and the hardest hit homer of his career. Heading into the frame, Freeland had given up two home runs in 51 innings of work in 2017. It only took two-thirds of an inning to match that total in the sixth.
• The Rally Bird visits the Reds' broadcast booth in the sixth inning
QUOTABLE
"Trust me, I remember the eighth-inning at-bat more. Nobody's harder on me than me. I've just got to come back out and compete tomorrow." -- Schebler, on whether he'll remember his home run or his eighth-inning at-bat, where he struck out with two men on and one out in a 6-4 game, more
"I think he's going to come out of it fine. We'll ice it on the plane. It was a pretty square blow to the eye. He hung in there. As the game went on [assistant trainer] Scott Gehret became [boxing trainer] Ferdie Pacheco. He didn't have to get to the point where he had to cut it, bandage it, a little Vaseline. He looked like a prize fighter." -- Black, on third baseman Nolan Arenado taking a ball off the face on a chopper by Billy Hamilton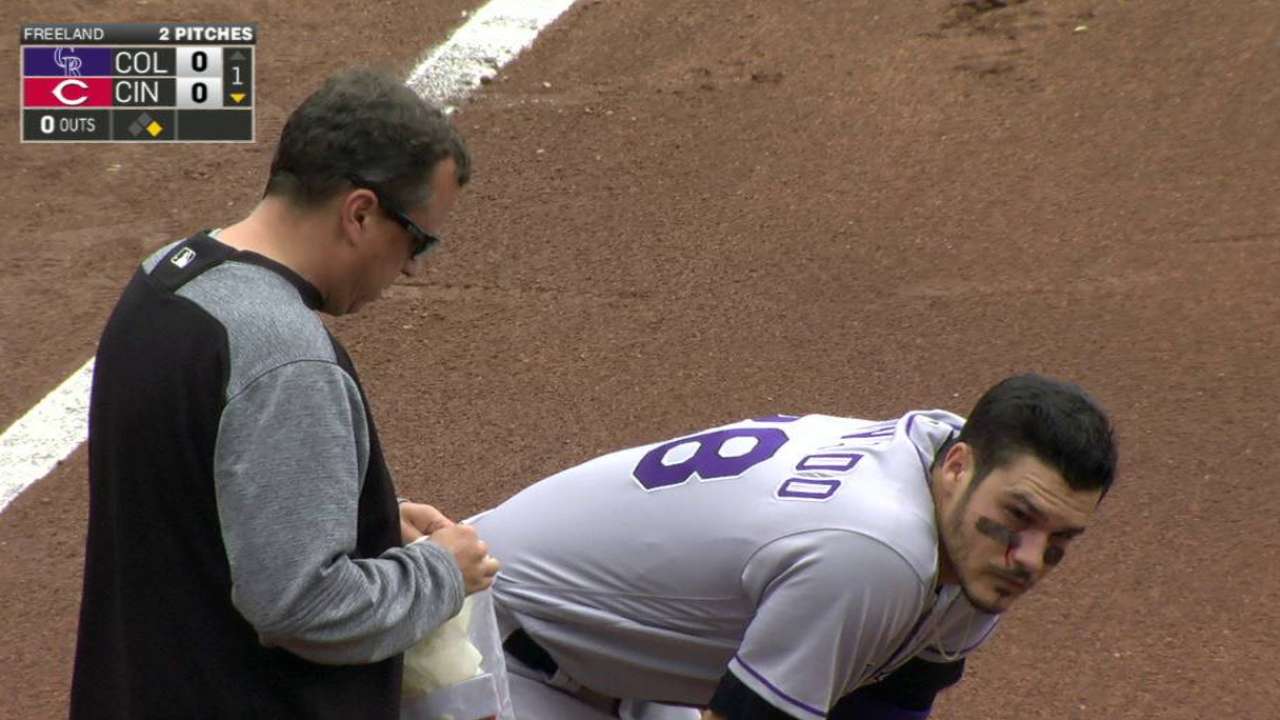 UPON FURTHER REVIEW
Reds shortstop Jose Peraza led off the bottom of the sixth by lifting a pitch high and deep to right-center. The ball bounced off the top of the outfield wall and was ruled a live ball. Peraza made it to third safely, but after a crew-chief review, the call was confirmed and Peraza remained at third base.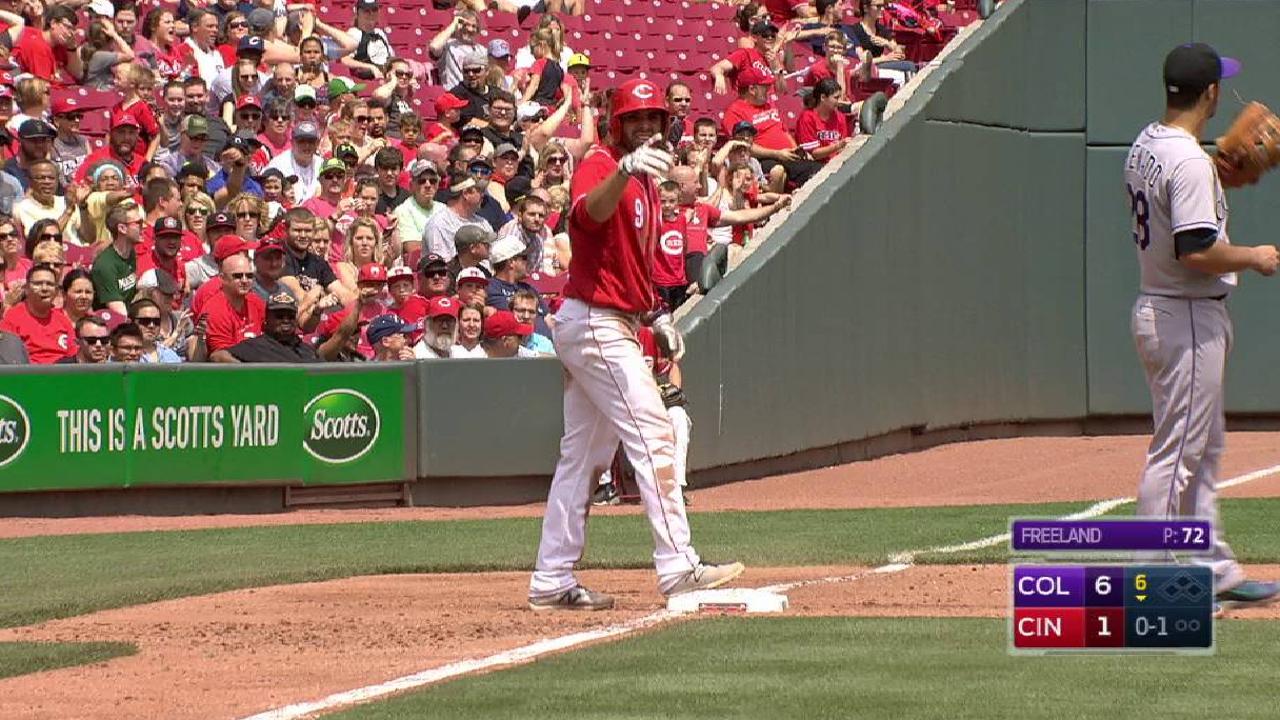 WHAT'S NEXT
Rockies: The Rockies head to Philadelphia for the first of a four-game series with the Phillies in a 5:05 p.m. MT game Monday. The Rockies are expected to call up right-hander Jeff Hoffman to start Monday's game. Hoffman, 24, is 1-0 with 5.40 ERA with Colorado this season.
Reds: Scott Feldman (2-4, 4.29 ERA) will start for Cincinnati on Monday as the Reds host the Indians at Great American Ball Park for the first game of a two-game series at 7:10 p.m. ET. Feldman has started against Cleveland six times in his career, and he has a 2-3 record and a 2.72 ERA in those games.
Watch every out-of-market regular-season game live on MLB.TV.
Jeremy Vernon is a reporter for MLB.com based in Cincinnati.

John Fay is a contributor to MLB.com based in Cincinnati and covered the Rockies on Sunday.

This story was not subject to the approval of Major League Baseball or its clubs.