Pelfrey gets plenty of support in first victory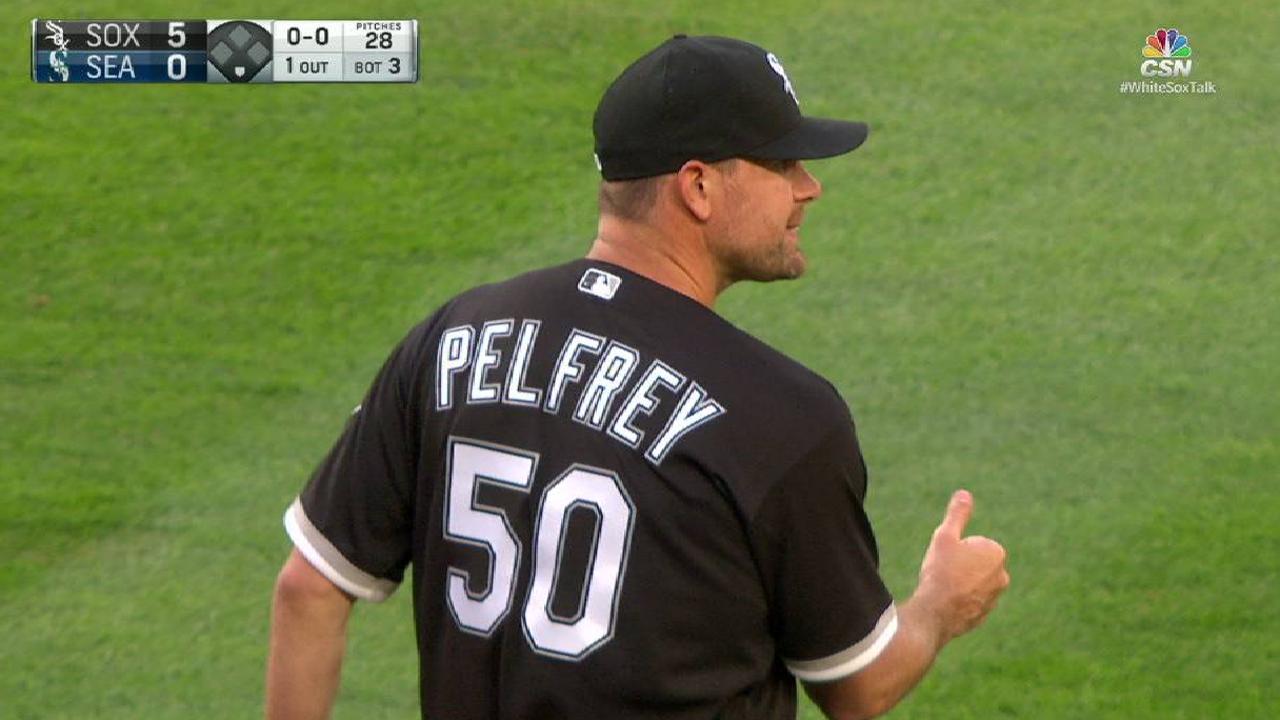 SEATTLE -- As his White Sox teammates kept posting runs on the Safeco Field scoreboard, Mike Pelfrey kept posting zeros.
The 33-year-old right-hander had his best outing of the season, opening with five shutout frames before surrendering a run in the sixth in a gem of a performance in Chicago's 16-1 victory over the Mariners on Saturday night.
It was a big night for a pitcher who hadn't posted a win this season before Saturday.
But Pelfrey admitted it was easier taking the mound after the White Sox scored four runs in the top of the first.
"Overall, I'm pretty pleased with the way it went," Pelfrey said. "It's always nice to take the mound and have a four-run lead right at the beginning."
He finished the night pitching six innings, allowing the one run on four hits with three strikeouts. And on an offensive breakout night like this one, it kind of got second billing.
But it definitely got noticed.
"I'll be honest, his last outing, as much as it didn't turn out as well," White Sox manager Rick Renteria said. "He gave up (four) runs, and we didn't score very many runs, obviously. But he's been getting better, I think. Today, he was pretty solid."
And no walks. It was the first time Pelfrey hadn't given up a walk in a start of six innings or more since May 23 last year -- almost a full calendar year.
Prior to Saturday night, walks had been an issue for the right-hander with 10 walks in 23 2/3 innings.
"Whenever you get a lot of runs, you just keep trying to attack it and eliminate free passes," Pelfrey said. "The last couple starts have been better, but there's always the one inning that bites me and things kind of go south from there.
"I just tried to keep attacking with the lead we had and get guys out as fast as I can. I think I did a good job of it."
After being waived by Detroit on April 3, the White Sox signed Pelfrey to a Minor League contract on April 8 and called him up when James Shields was placed on the disabled list with a strained right lat.
Pelfrey had struggled since, only getting through five complete innings once this season. He entered Saturday night's contest 0-4 with a 5.70 ERA.
But after six solid innings against Seattle, he turned back the clock. Maybe to his Wichita State days.
The solid outing by Pelfrey even raised the question of what he could do from here. Shields is pressing Renteria to return from his strained lat, but if Pelfrey can repeat this form, it could take away some urgency for Shields to return.
Rob Shore is a contributor for MLB.com based in Seattle. This story was not subject to the approval of Major League Baseball or its clubs.