Statcast of the Day: Arroyo delivers in extras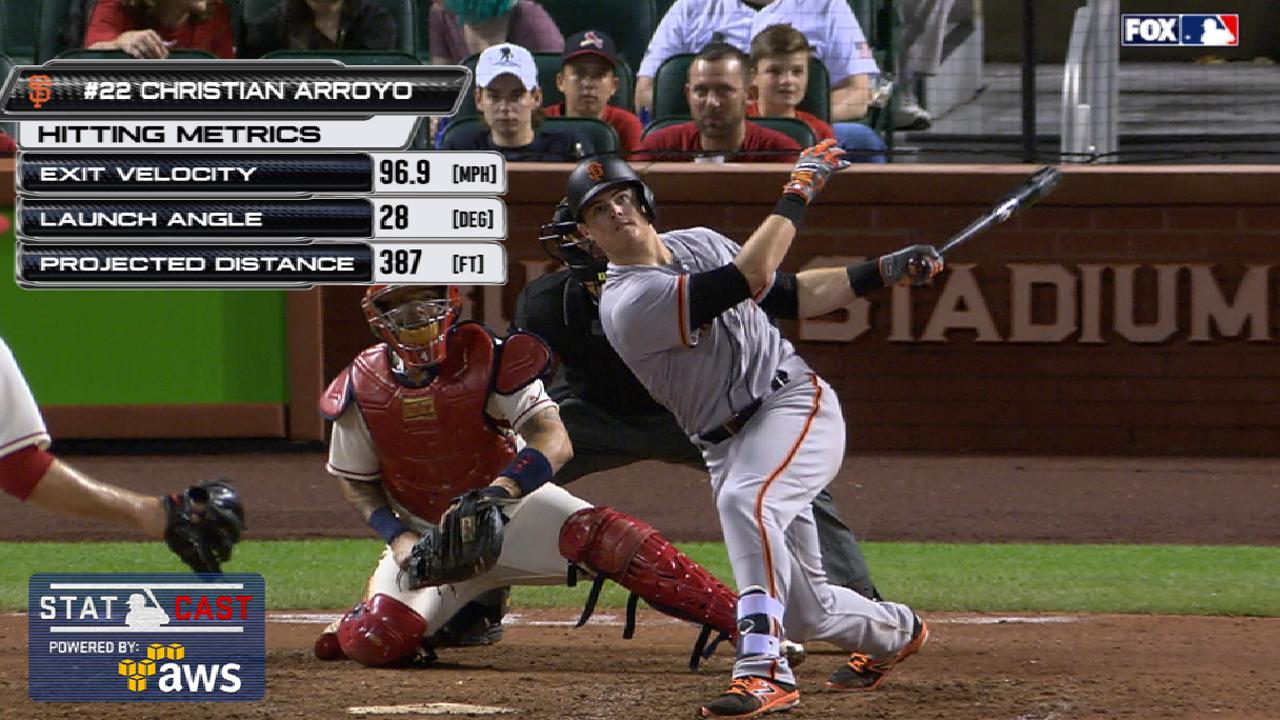 Giants No. 2 prospect Christian Arroyo added another memorable moment to his young career Saturday night at Busch Stadium, breaking a scoreless tie against the Cardinals in the 13th inning with a two-run double in San Francisco's 3-1 victory.
Not only did the 21-year-old third baseman come through in a clutch situation, he did it against a pitch that has proven challenging for him early in his big league career. Arroyo smashed an 83.6 mph changeup from Cardinals reliever Kevin Siegrist off the wall in left-center to put the Giants ahead.
It was Arroyo's first career extra-base hit on a changeup, and prior to the 387-foot drive, he hadn't hit a changeup more than 319 feet, on a flyout to left-center against the Reds on May 5.
"Obviously in a 3-2 count, technically it's a fastball count with one out, but this is also the big leagues," Arroyo said. "Guys throw any pitch in any count. For me, I was trying to make sure I was on the fastball while also being able to protect other pitches or other spots on the plate. I saw some really good pitches from Siegrist on the inside corner. He's got good stuff."
Entering the game, Arroyo's average exit velocity, per Statcast™, against changeups was 86.9 mph, and none of the five batted balls he had hit this season that were categorized as barrels or solid contact had come on changeups.
The 13th-inning double left Arroyo's bat with an exit velocity of 96.9 mph, and came on the 12th pitch of the at-bat. Prior to that, Arroyo had fouled off seven pitches -- six were four-seam fastballs from Siegrist, and one was a changeup.
"[Yadier Molina] is behind the plate. Calls a great game," Arroyo said. "He can kind of watch a hitter, kind of knows what his swing is and how to really manipulate his swing into doing whatever he wants to do. For me, I just tried to get away from what I was doing and try to just shorten up, and go into battle mode, really."
Arroyo's double was the second-hardest-hit ball against Siegrist's changeup this season -- the Blue Jays' Steve Pearce hit a ball with an exit velocity of 99.6 mph that resulted in a flyout to center against a Siegrist changeup April 27.
"What a great at-bat the young kid had," Giants manager Bruce Bochy said. "He really spoiled some pitches. Looked very determined. It was similar to an at-bat he had in New York, but this one was longer."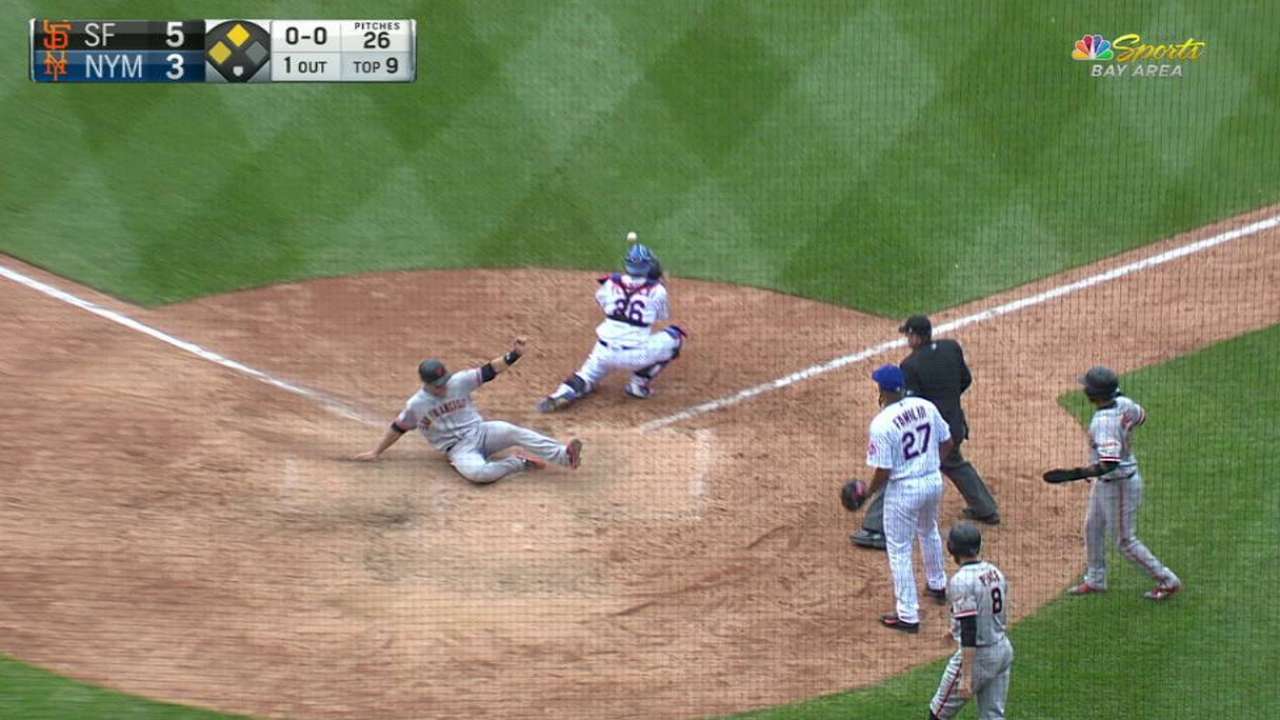 That at-bat in New York that Bochy was referring to was a bases-clearing double Arroyo hit off Mets closer Jeurys Familia in the ninth inning May 10, resulting in a 6-5 comeback win for the Giants.
"The at-bat in New York was a big at-bat, kind of the same scenario, bases juiced like that facing Familia," Arroyo said. "This one, going into extra innings, we had that 17-inning game against the Reds a week ago. That stuff wears on you. It's just nice to come out with a 'W,' and not prolong the game and have to use more bullpen guys."
Manny Randhawa is a reporter for MLB.com. Follow him on Twitter at @MannyOnMLB. This story was not subject to the approval of Major League Baseball or its clubs.