Prospects impress at Atlanta PDP event
2018 Draft class on display to kick off summer showcase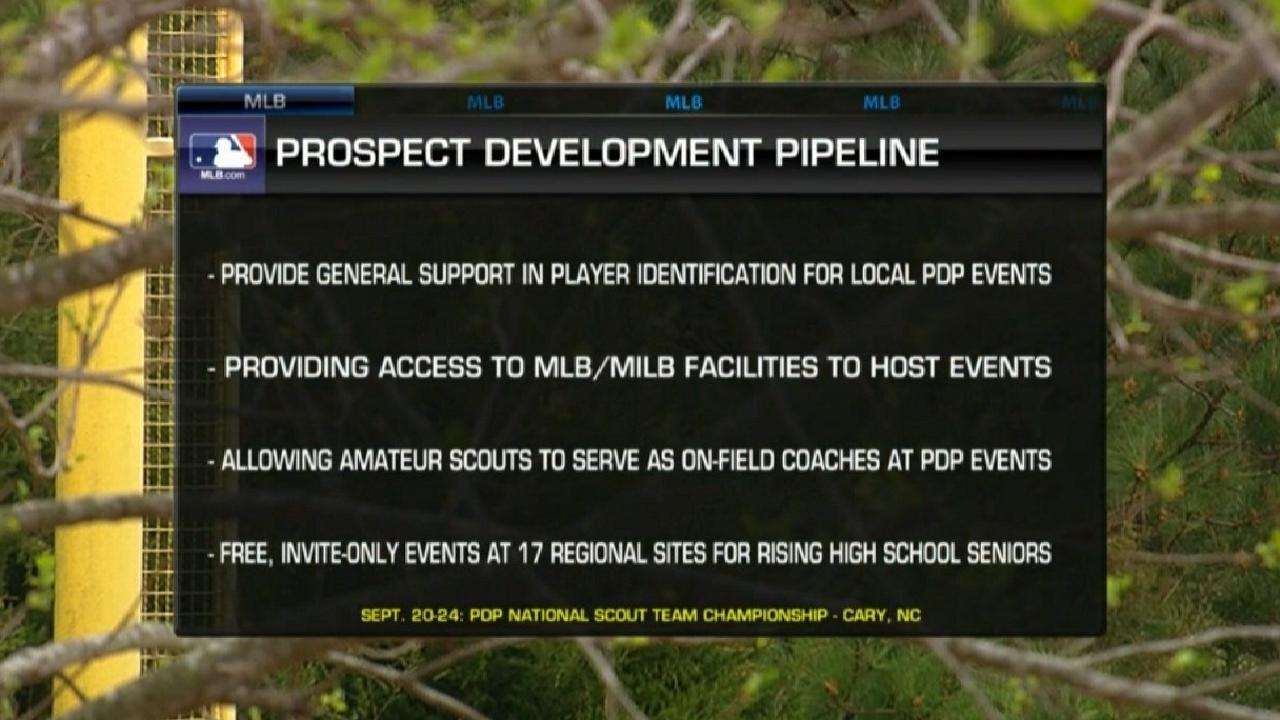 ATLANTA -- The southeastern region is deeply enriched with top athletes in various sports, and it was clear that baseball is no different as elite high school prospects flocked to Georgia Gwinnett College to take part in the Prospect Development Pipeline event on Saturday afternoon. The PDP, a joint venture between Major League Baseball and USA Baseball, provides top-level instruction and generates exposure for up-and-coming players free of charge.
Players included some of the top names in the 2018 Draft class. In attendance were Georgia natives Kumar Rocker (North Oconee HS), Ethan Hankins (Forsyth Central HS), Will Banfield (Brookwood HS), Luke Bartnicki (Walton HS) and Parker Meadows (Grayson HS), among others.
Unfortunately, rain and thunderstorms shortened the event as several prospects didn't get a chance to finish batting practice or participate in live fielding. Still, the top prospects stood out in front of the scouts, parents and media.
Bartnicki showed his ability as a left-handed pitcher. He has a good feel for his command and location. He participated in the agility and lateral drills as well as throwing a bullpen session, and scouts seemed satisfied with his performance.
"They said I need to work on off-speed (pitches), but they also said I got the speed and the mentality to work on it and holding off runners a little bit," Bartnicki said.
Banfield was another prospect that impressed. He didn't participate in the 60-yard dash, but he showed impressive skills in the catcher drills, tasked to making throws down to second base and working on his framing and release. The Brookwood prospect is considered by most scouts to be a top-10 talent in 2018, and his performance further justified that standing.
"I am blessed to be here and blessed to get the invite," Banfield said. "I am glad to get the invite and try to showcase my ability for them. We are just staying humble as I got a lot of work to do. We know there is potential and we are excited for it."
With more than a dozen scouts in attendance, here are some highlights from the event:
Randon Jernigan (Glynn Academy HS)
Jernigan had one of the fastest times in the 60-yard dash, running 6.32 seconds and blazing through the competition.
Scouts were wowed by his performance. "When you see 6.33, your eyes perk up," one said. "You don't really expect to see that."
His parents, Christa and Randy Jernigan, weren't too surprised. They said most of his speed comes from his training exercises as a dual athlete in football and baseball.
"He is doing something every day," Randy said. "He is either on the football field or the baseball field running and catching. He is lucky, as his grandparents and I can both run."
Cabera Weaver (South Gwinnett HS)
Weaver impressed during the short session of outfield work before weather halted play. He has a good arm and the strength to stick as a center fielder type. He also had some nice speed in the 60-yard dash as well with a 6.43 second run in front of scouts.
Carter Raffield (Bleckley County HS)
Raffield showed off his talents during individual drills. Some, like the broad jump and agility drills, allowed for him to work on more power through his bottom half. It was an area he wanted to work on in front of scouts.
"It helped me try to be more explosive on the mound and going towards the plate a little more as well," Rattfield said. "I wanted to show him how I could locate, and my speed as well."
Several other workouts will be held around the country throughout the summer, as listed below, before culminating on Sept. 20-24 with the PDP National Scout Team Championship in Cary, N.C.
Salt River, Ariz., May 30
Kansas City, June 4
St. Petersburg, June 5
Denver, June 6
Cincinnati, June 20
Oxford, Ala., June 20
Houston, June 21
Pawtucket, R.I., June 22
Seattle, June 23
Cary, N.C., June 25
Oakland, June 25