Pudge visits Comerica, talks Cooperstown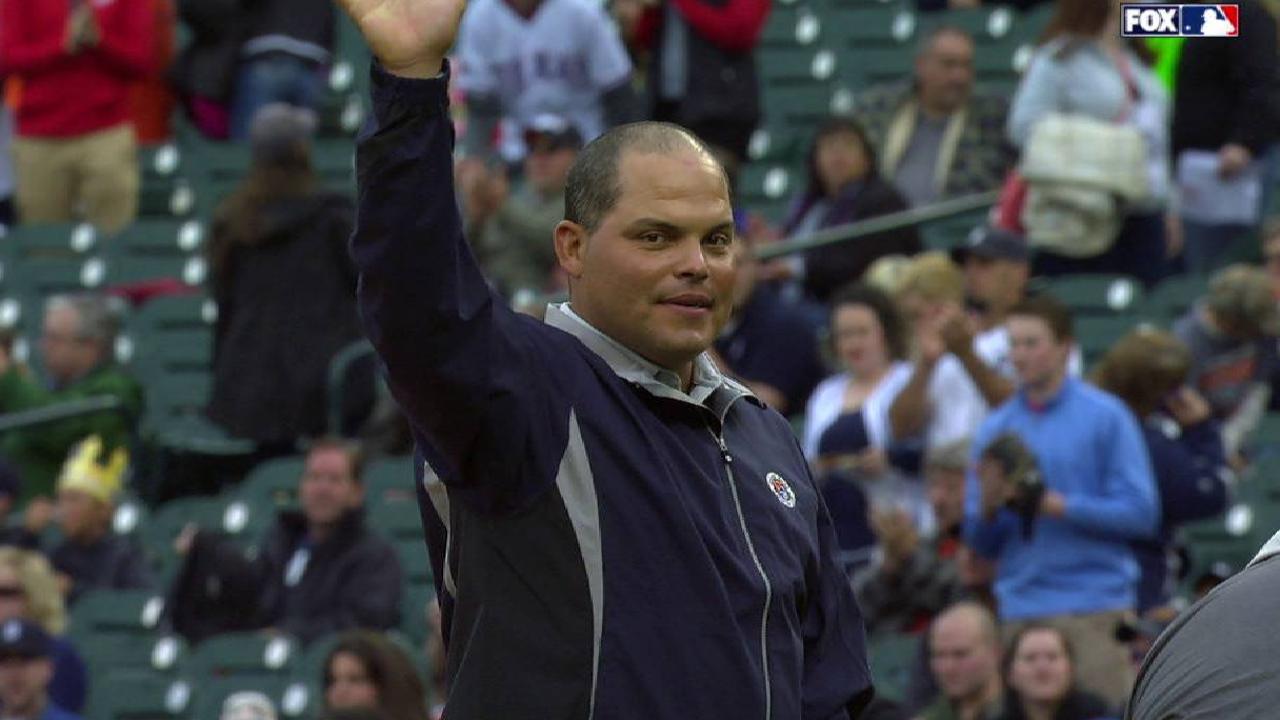 DETROIT -- After a couple rounds of golf in Bloomfield Hills, Mich., the past two days, Ivan "Pudge" Rodriguez came to Comerica Park as a Tiger Alumni Saturday guest, reflecting on his time in Detroit and looking ahead to his enshrinement in Cooperstown.
Rodriguez, a first-ballot Hall of Famer after 21 seasons, was on-hand for a game between the Tigers and Rangers, the two teams with which he spent most of his career. He debuted with Texas in 1991, and spent his first 12 years there (as well as part of the 2009 season), made 10 consecutive All-Star teams and won the 1999 American League MVP Award.
In the 2003 offseason, after winning a World Series with the Marlins, Rodriguez signed a deal with Detroit, moving from a World Champion team to one that had just lost 119 games.
"I think everything started from [general manager] Dave Dombrowski and [team owner Mike] Mr. Ilitch," Rodriguez said. "They both talked to me, they both sat down with me and they both promised me that they wanted to put a good team together. That they wanted me to come here, and be the face of the ball club, and just build the team around me."
In 2006, Rodriguez was a big part of Detroit's World Series run. He said Magglio Ordonez's game-winning home run in the American League Championship Series was his favorite Tigers memory.
Despite leaving Detroit at the trade deadline in 2008, Rodriguez's impact with the team is still felt now -- particularly through Tigers ace Justin Verlander.
"Verlander is one of those pitchers that you can tell right away that he's gonna be good," Rodriguez said. "When I caught him the first time, he wasn't scared. He wasn't afraid of anybody."
Rodriguez, a 34-year-old vet in '06 during Verlander's AL Rookie of the Year campaign, said he worked with the 23-year-old righty to be calm on the mound and harness his powerful fastball.
There were other youngsters on the pitching staff, such as 23-year-old Jeremy Bonderman and 21-year-olds Andrew Miller and Joel Zumaya, who benefitted from Rodriguez's experience and expertise.
"They all had the ability to pitch," Rodriguez said. "But with me behind the plate, the way that I call and study with them, I helped them out."
Rodriguez has just more than two months left to study his Hall of Fame speech in preparation for his July 30 induction. He said his speech, which he'll read partially in Spanish and partially in English, took a few months to write.
As his celebration in Cooperstown nears, Rodriguez admitted the anticipation is building. He'll enter the Hall as a Ranger, the second behind Nolan Ryan, and he's excited to receive such an honor.
"It's a moment that I'm gonna have goose bumps," Rodriguez said. "I'm gonna be nervous, of course. But that's part of receiving an award like that. That's big."
Jordan Horrobin is a reporter for MLB.com based in Detroit. This story was not subject to the approval of Major League Baseball or its clubs.