Roberts backs decision to swing with 3-0 count
Mattingly took issue with Seager's cut in 7th inning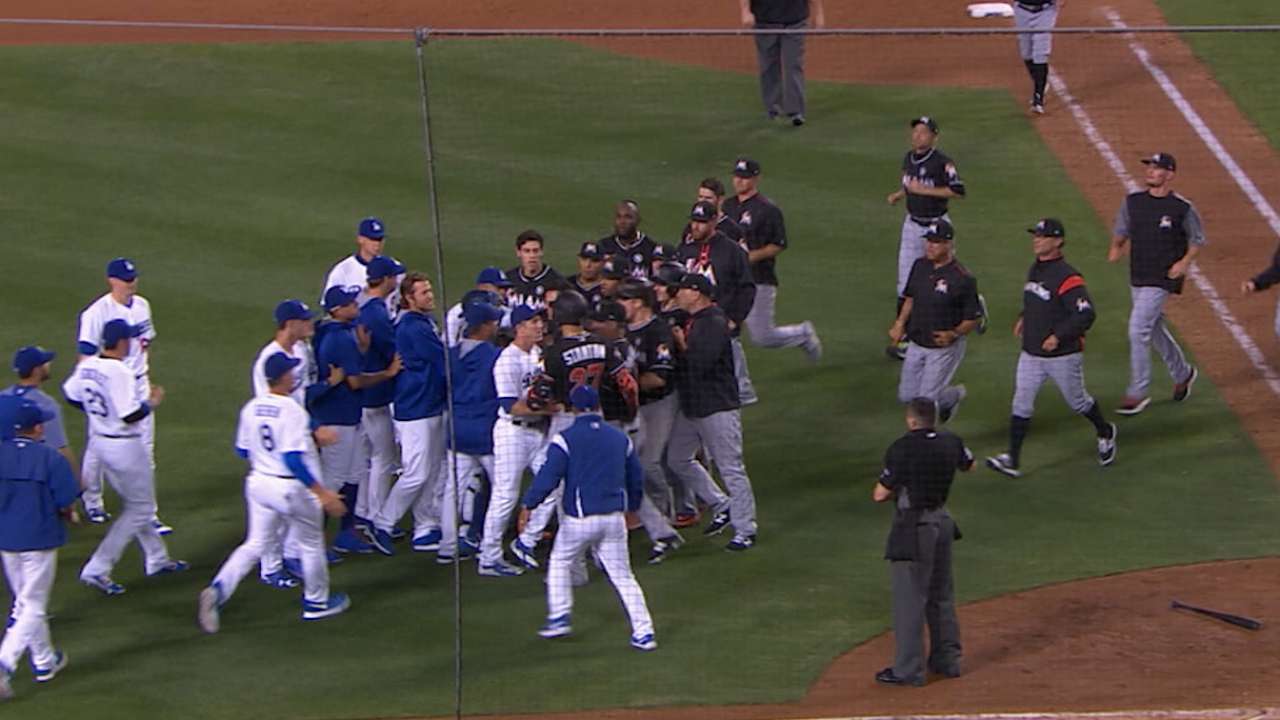 LOS ANGELES -- One of baseball's unwritten rules -- at least in the eyes of Marlins manager Don Mattingly -- became an unlikely talking point after Friday night's 7-2 Dodgers win at Dodger Stadium, which featured a benches-clearing skirmish in the ninth inning.
Tempers flared on the field after Dodgers pitcher Ross Stripling threw behind Marlins star Giancarlo Stanton. Miami reliever A.J. Ramos had drilled Brett Eibner after Cody Bellinger hit a home run in the previous frame.
But it was another event that drew criticism from Mattingly. Dodgers shortstop Corey Seager, whom Mattingly managed during his final season with Los Angeles in 2015, swung on a 3-0 count with his team up 5-0 in the seventh inning. He eventually walked, but the decision rubbed Mattingly the wrong way.
"They can say it however they want it," Mattingly said Friday night. "But when you swing 3-0, up 5-0, you can put it however you want it."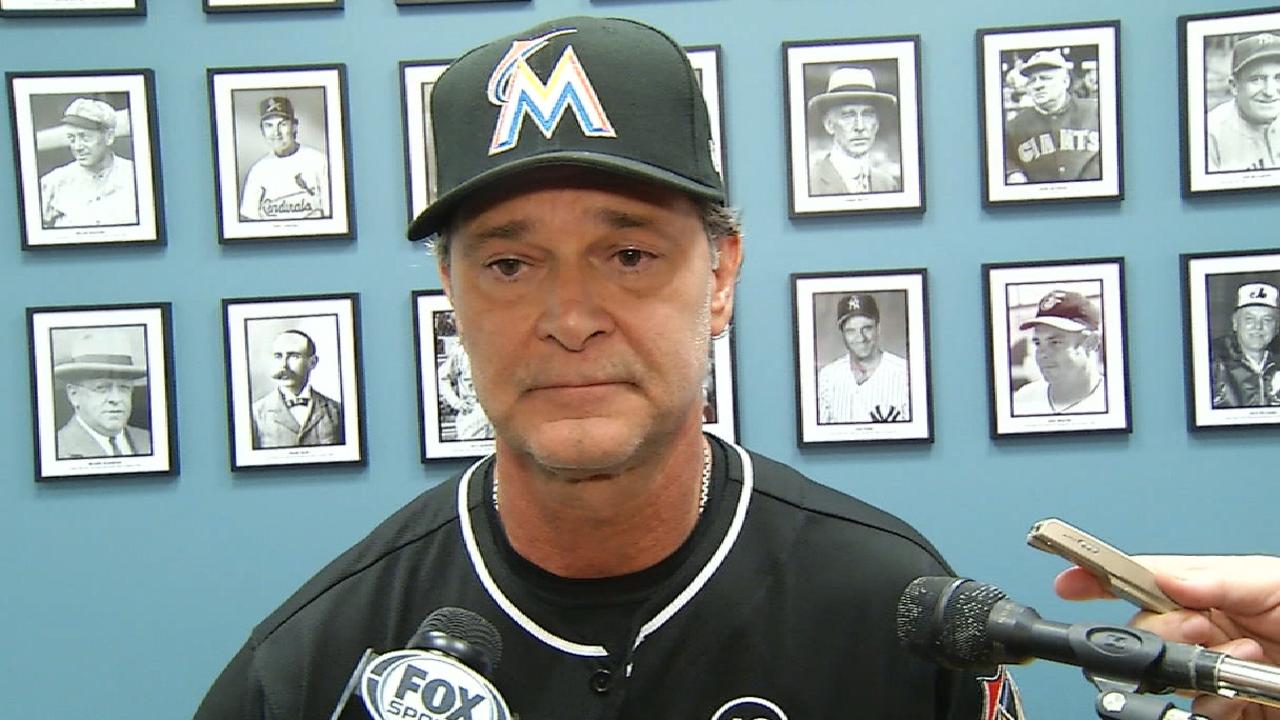 Dodgers manager Dave Roberts responded on Saturday and took responsibility for the call to not simply take the pitch.
"For Corey to swing on 3-0 was my decision. I had no idea that [Mattingly] took offense to it," Roberts said. "If the tables were turned, I'd have no problem with those guys swinging 3-0 in the seventh inning. … There is a point where everyone interprets unwritten rules a different way."
Asked if this particular unwritten rule was antiquated, Roberts hesitated before making his stance on the situation clear.
"I don't want to go there, but in my opinion, yeah," he said.
Even after taking a night to sleep on it, Mattingly reiterated his position Saturday.
"You have Kenley Jansen out there," Mattingly said. "I'd like to see how many five-run leads they've blown in the last year, in the eighth and the ninth."
Roberts, however, pointed out that Jansen had an extended four-out outing on Thursday, and he didn't want to use him again with no rest. In this case, insurance runs were more valuable than usual.
Even if that wasn't the case, it seems Roberts won't alter his aggressive strategy going forward.
"I encourage our guys to continue to play," Roberts said. "[Seager] earned an opportunity to get into a hitter's count, and so to concede that at that point in time with respect to the score, I didn't feel it was appropriate. … The way we feel in our clubhouse, I felt it was fine for Corey to swing on 3-0."
Will Laws is a contributor to MLB.com based in Los Angeles. This story was not subject to the approval of Major League Baseball or its clubs.