Ruiz hits 1st HR off Scherzer in front of dad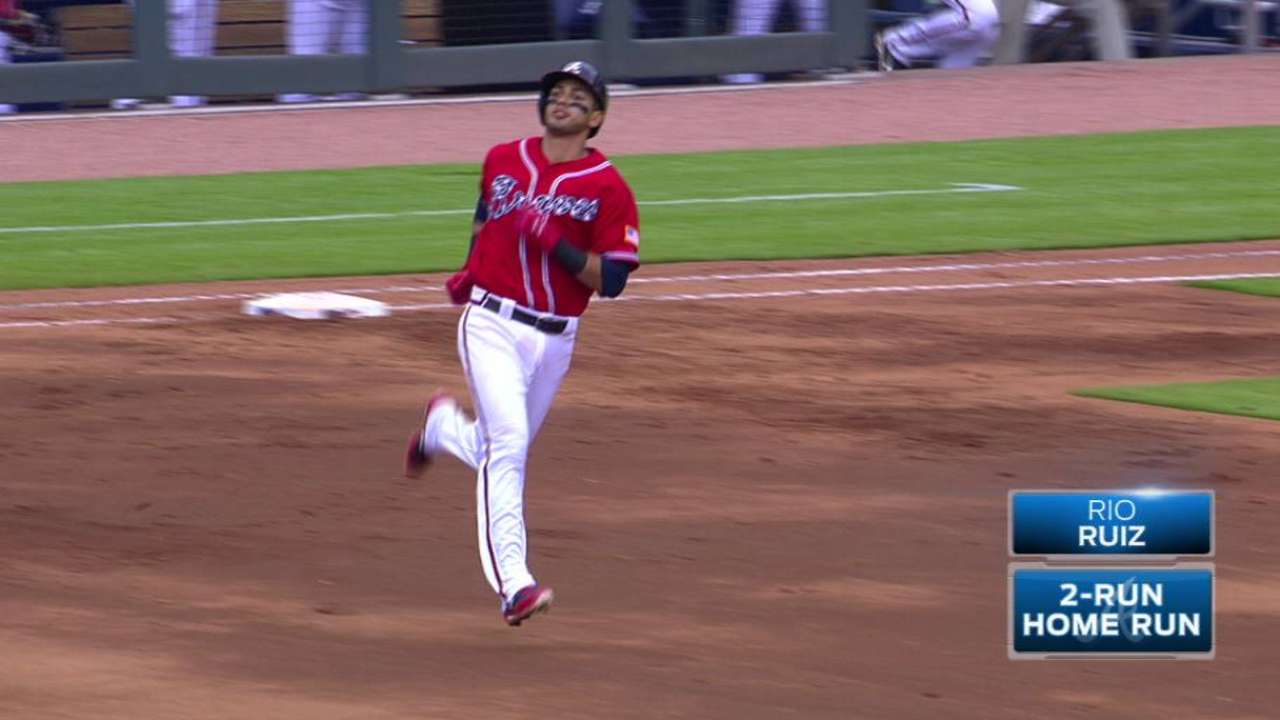 ATLANTA -- Rio Ruiz will forever have the honor of proudly saying he hit his first career home run off Max Scherzer. And whenever the Braves' third baseman discusses this thrill over the remainder of his lifetime, he will almost certainly mention this cherished moment occurred with his father present.
Rudy Ruiz flew from California on Friday to see his son play in a Major League game for the first time. Rio did his part when he hit a two-run homer off Scherzer during the second inning of Saturday's 5-2 win over the Nationals at SunTrust Park.
"I'm really nervous right now," the ecstatic father said after the game. "I didn't expect him to get Player of the Game and all of that. My phone just blew up like crazy after the home run. To see it on this stage is beyond words. There are no words for how I feel."
Promoted from Triple-A Gwinnett on Thursday to fill the roster spot vacated when Freddie Freeman fractured his left wrist, Ruiz turned on Scherzer's 92-mph fastball and anxiously watched as it sneaked just over the top of the right-field wall. Per Statcast™, the ball traveled 372 feet with a 105.9-mph exit velocity -- the eighth-highest exit velo on a home run hit by a Braves player this year.
"I didn't actually think it had enough juice to get out," Ruiz said. "I knew it was going over [Bryce] Harper's head, and I was just hoping it was going to kick off the wall far enough for Dansby [Swanson] to score. When I looked up, it was out. So that was pretty cool."
First career big-league home run and a big hug from Dad after the game.

What a night for @ruiz_rio and his family! pic.twitter.com/oV8z2ZoAz4

— Atlanta Braves (@Braves) May 21, 2017
But Ruiz repeatedly said he never really thought about the significance of the fact he can boast that his first home run was hit off Scherzer, a two-time Cy Young Award winner.
"I guess until you brought it up, it didn't hit me," Ruiz said. "So, yeah, that's even more special."
Rudy was present to see his son make his unique Major League debut last year. Rio was announced as a pinch-hitter on Sept. 18 against the Nationals. But a rain delay began before the plate appearance, and the game never resumed.
Unfortunately for the Ruiz family, as it waited through the long delay with the hope of seeing Rio actually get that first plate appearance, members missed their flight back to California.
This trip has certainly unfolded differently for Rudy, who arrived in Atlanta in time to see Rio strike out during Friday night's win over the Nationals. That marked the first time he had seen his son play in a big league game.
"What my whole family went through and how long they waited for me to potentially get an at-bat last year, I owe them everything," Rio said. "I owe them the world. I was just thankful a family member was able to be here and see all of that."
Mark Bowman has covered the Braves for MLB.com since 2001. This story was not subject to the approval of Major League Baseball or its clubs.