Weaver's decline tough to witness
Pitcher is a three-time All-Star, Cy Young runner-up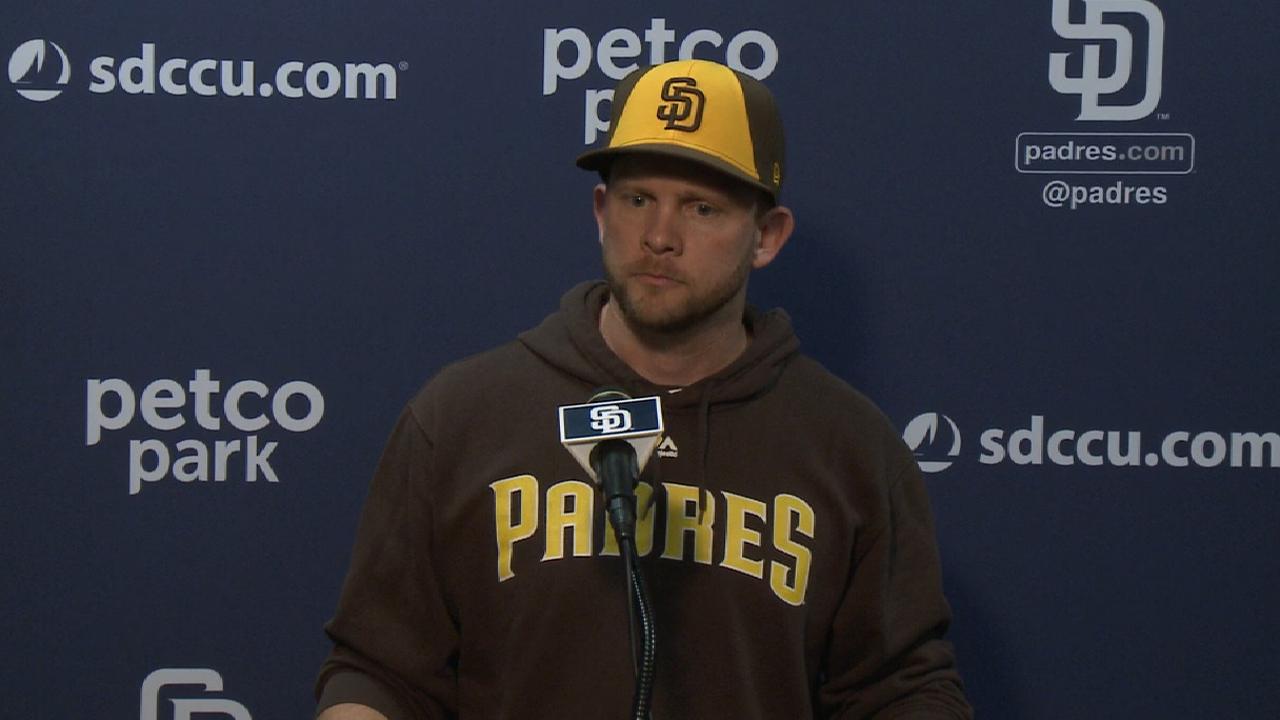 Bill Center, longtime sportswriter for U-T San Diego, is an employee of the Padres.
I understand the booing Friday night.
Right-hander Jered Weaver has been terrible as a Padre. And Friday night marked the zenith of his decline. Weaver couldn't get out of the first. It was the shortest, non-injury-related outing of an outstanding, 331-start career.
I get it. The fans were upset. I understand.
I get it. But I don't like it. I don't like anything that happened Friday night. I don't like the way this is apparently ending for a 34-year-old veteran who was a three-time American League All-Star and finished second once and third once in the voting for the American League Cy Young Award.
In 11 seasons with the Angels, Weaver had a 150-93 record with a 3.55 ERA. Excellent numbers.
But like too many athletes, Weaver likely stuck around too long. He's not the first athlete to not go out on top -- to eventually be forced out rather than going out on his own terms.
The signs were there in 2016. Weaver was 12-12 with a 5.06 ERA in his final season with the Angels. He gave up 37 homers in 178 innings. He still battled every time he took the mound, but the pendulum was swinging. The Angels, the only team he knew, elected not to have him return.
The Padres, needing starting pitching, decided to give Weaver another shot. And Weaver accepted the $3 million offer. The result has not been what anyone expected.
Friday night's disaster was just the latest debacle. Weaver gave up seven runs on five hits -- including homers by Jake Lamb and Brandon Drury -- and two walks before he could get a third out. He walked off the mound to a chorus of boos and into a very uncertain future.
The two homers allowed by Weaver raised his total for the season to 16, which is tied for the most in the Major Leagues. His earned run average shot up from a bad 6.05 to an unsustainable 7.44 for the season.
In 42 1/3 innings this season, Weaver has allowed 41 runs (35 earned) on 51 hits. In two losses to Arizona, Weaver has allowed 12 runs on 11 hits (including five homers) in 6 1/3 innings.
Because of this season, Weaver's career earned run average for 2,067 1/3 career innings has climbed from 3.55 to 3.63.
I have no idea what happens next, nor when it might happen. Weaver vows to fight on. He's a competitor. That's the way he's wired. And I really admire that trait.
And while we're on this subject, let me stomp out those "he's not trying" charges being made on Twitter. The Weaver I've met is a good guy, a standup guy. After every bad outing, he's stood in front of his cubicle to face the music. And he is extremely competitive, which might be why he hasn't already stepped away.
But Weaver has made nine starts this season, and the Padres are 0-9 in those games. This can't go on. Weaver, good guy but struggling pitcher, knows it better than anyone.
After Friday night's game, Weaver said it was the first time in his career that he had been booed off the mound.
Friday night was tough to watch all around. I felt for Weaver. I felt for the Padres and his teammates who love this guy. I felt for the beleaguered fans. I felt for the people facing tough decisions in the days ahead.
Friday night was a painful experience.
Worth noting
• The on-base streaks for both Wil Myers (0-for-3) and Hunter Renfroe (0-for-4) ended Friday night. Myers had reached base in 18 straight games going into the series opener against the D-backs. It was the second-longest on-base streak of his career. Renfroe's streak for reaching base had been a career-long nine straight games.
• Shortstop Luis Sardinas pitched the ninth inning Friday, marking the second time the Padres have used a position player to pitch the end of a game. Ironically, both were shortstops -- Erick Aybar (April 18) and Sardinas -- and both pitched against the D-backs. It was the second time Sardinas appeared as a pitcher in a Major League game. He allowed a hit but no runs in the ninth.
• Center fielder Manuel Margot got his first Major League assist Friday night, throwing out Chris Owings at the plate in the second inning. Margot led the Pacific Coast League in outfield assists in 2016. Fellow rookie Padres outfielder Renfroe has four assists, the most by a National League rookie outfielder this season.
• Third baseman Ryan Schimpf reached base three times Friday with two walks and a ninth-inning RBI single. It was the first time he reached base in a game since May 8 and only the fourth time this season.