Rehabbing calf, Hunter's arm looks good
Rays reliever throws another bullpen session, moves closer to return from strain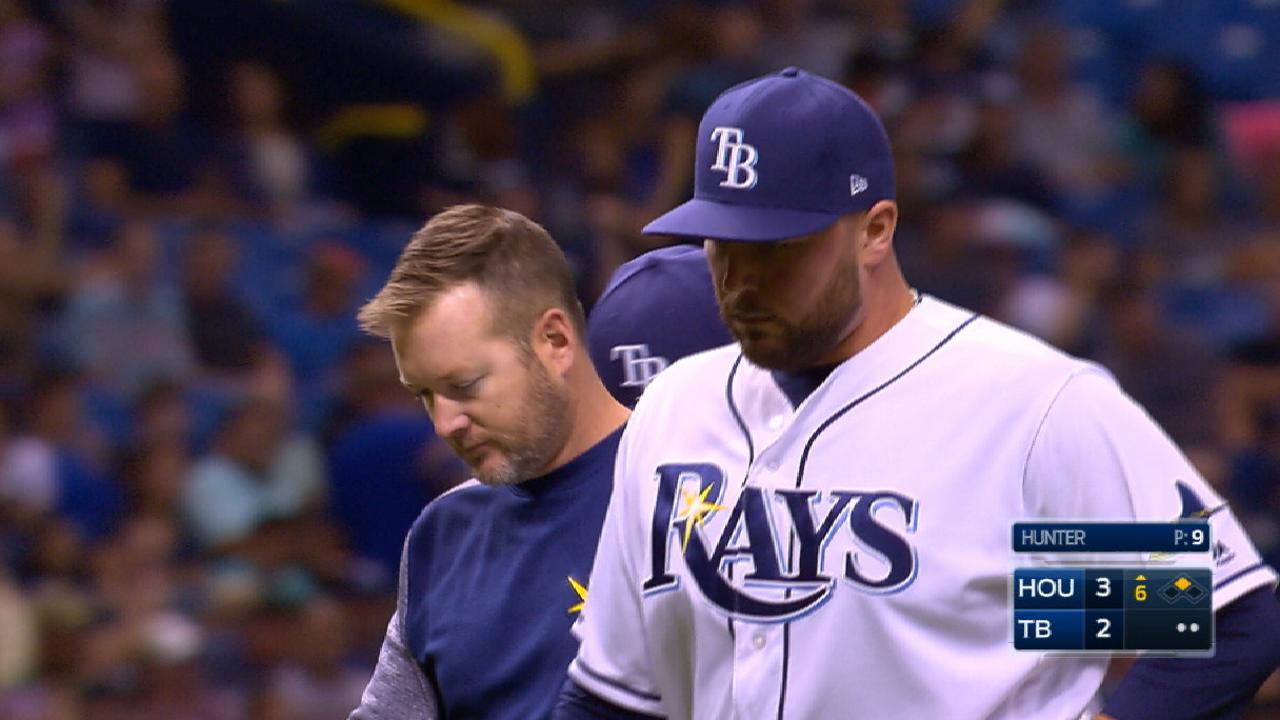 ST. PETERSBURG -- Rays right-handed reliever Tommy Hunter threw a bullpen session early Saturday afternoon, but manager Kevin Cash said there's no timetable for when he will return from his right calf strain.
Hunter threw over 25 pitches to injured shortstop Matt Duffy and infielder/outfielder Michael Martinez during the session. The reliever, who is in his first year with the Rays, impressed before landing on the 10-day disabled list, posting a 1.08 ERA and a 0.96 WHIP in his first 10 appearances.
"He looked really good," Cash said. "Obviously it's a non-throwing issue, so we anticipated that his arm has been kept in shape well. And you can tell he had some life on his pitches. We just have to patient and see when we can get him running and covering off the mound and backing up bases and things that you wouldn't think mattered too much, but they matter a lot."
Cash said Hunter will continue to throw bullpen sessions to keep his arm ready, but until he's able to move comfortably, he'll remain on the DL.
"[The bullpen session] is just maintenance to make sure he's ready to go," Cash said. "He's got to be ready to run, and he's not quite doing that yet. We've got to get him to where he can jog or half-sprint."
Duffy nears rehab assignment
Duffy plans to resume running as he continues to recover from surgery on his left Achilles.
The shortstop has been fielding ground balls and taking batting practice, but the concern remains his movement, and he's doing exercises in an attempt to regain full flexibility and range of motion.
"I think it's less about strength and more about getting used to getting out of the box, getting back that springiness," Duffy said. "You've got to be able to bounce around. If I can't do that ..."
Duffy expects to deal with potential soreness all season, but he said once he's able to sprint, he would be ready to rejoin the Rays.
"It's going to be a challenge all year," Duffy said. "But if I could sprint and feel fine for ground balls in a game, I'd be ready to go. ... I've got to be able to do this for months."
Cash said the Rays would like to get Duffy in rehab games around the middle of next week. Duffy added that if he can't play in rehab games by the end of the week, he would consider it a setback.
Corey Long is a contributor to MLB.com based in St. Petersburg. This story was not subject to the approval of Major League Baseball or its clubs.