Starlin 'really lucky' after collision with Judge
Castro avoids injury despite running into 6-foot-7, 282-pound slugger chasing popup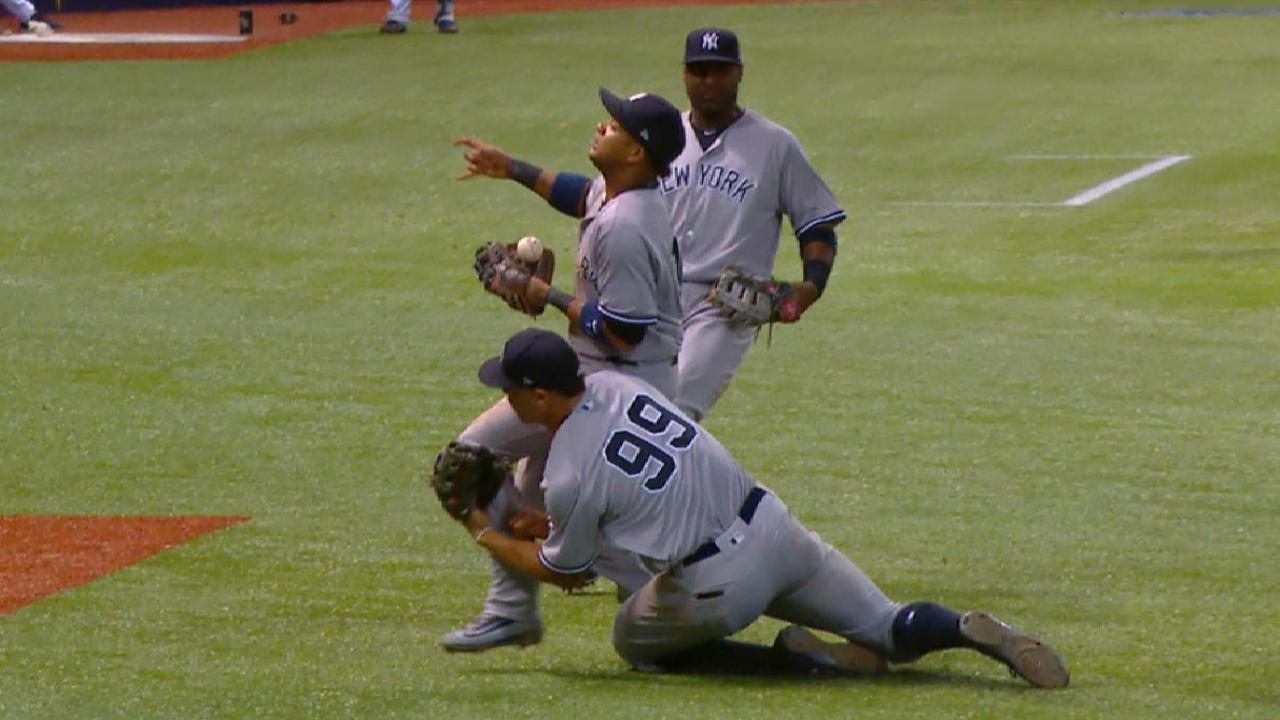 ST. PETERSBURG -- Starlin Castro said that he was fortunate to walk away from a "really scary" collision with Aaron Judge in the Yankees' 5-4 loss to the Rays on Friday evening, having braced for far worse when the teammates converged on a Daniel Robertson popup in the eighth inning.
Castro and Judge spilled to the turf near the bullpen mounds in right field as the ball landed foul. Both players completed the game, and Judge said that he had no physical issues after the catch, while Castro said that he sustained little more than a large rug burn near his left elbow.
"I thought it was going to be worse than that, but he didn't hit me really hard when he hit me," Castro said. "I felt more when I hit the ground. I think if he got all of me, I think I'm going to be in the hospital today."
Judge said that his head and right shoulder slammed into Castro's left hip, causing him to juggle the ball. Neither player called for the ball.
"It's a tough play in a dome," Judge said of Tropicana Field. "Both of us can't really take our eyes off the ball so we're running for it. No one really called it; we were just trying to make a play and collided into each other."
Yankees manager Joe Girardi missed Friday's game to attend the high school graduation of his oldest daughter, Serena, and he said on Saturday afternoon that he hadn't been updated about the collision by anyone in the clubhouse.
"Maybe they didn't want to because I'd worry too much," Girardi said. "Judge running into anyone -- a wall, I'd worry about the wall."
Judge said that he couldn't equate the 6-foot-2, 230-pound Castro with the players he dodged as a college-recruited wide receiver at Linden (Calif.) High School.
"I've gotten hit harder in football. I think I'll be good," Judge said.
That may be so, but not surprisingly, Castro said that he couldn't remember making contact with anyone like the 6-foot-7, 282-pound Judge.
"Not even close," he said. "I feel really lucky. Thank God nothing worse happened."
Bombers bits
Infielder-outfielder Tyler Austin was set to begin a Minor League rehabilitation assignment on Saturday with Double-A Trenton. Austin has yet to play this season due to a fractured left ankle sustained while taking batting practice early in Spring Training. He had a game rained out on Friday with Class A Advanced Tampa.
Bryan Hoch has covered the Yankees for MLB.com since 2007. Follow him on Twitter @bryanhoch and on Facebook. This story was not subject to the approval of Major League Baseball or its clubs.