Bucs get behind Nova to take down Phillies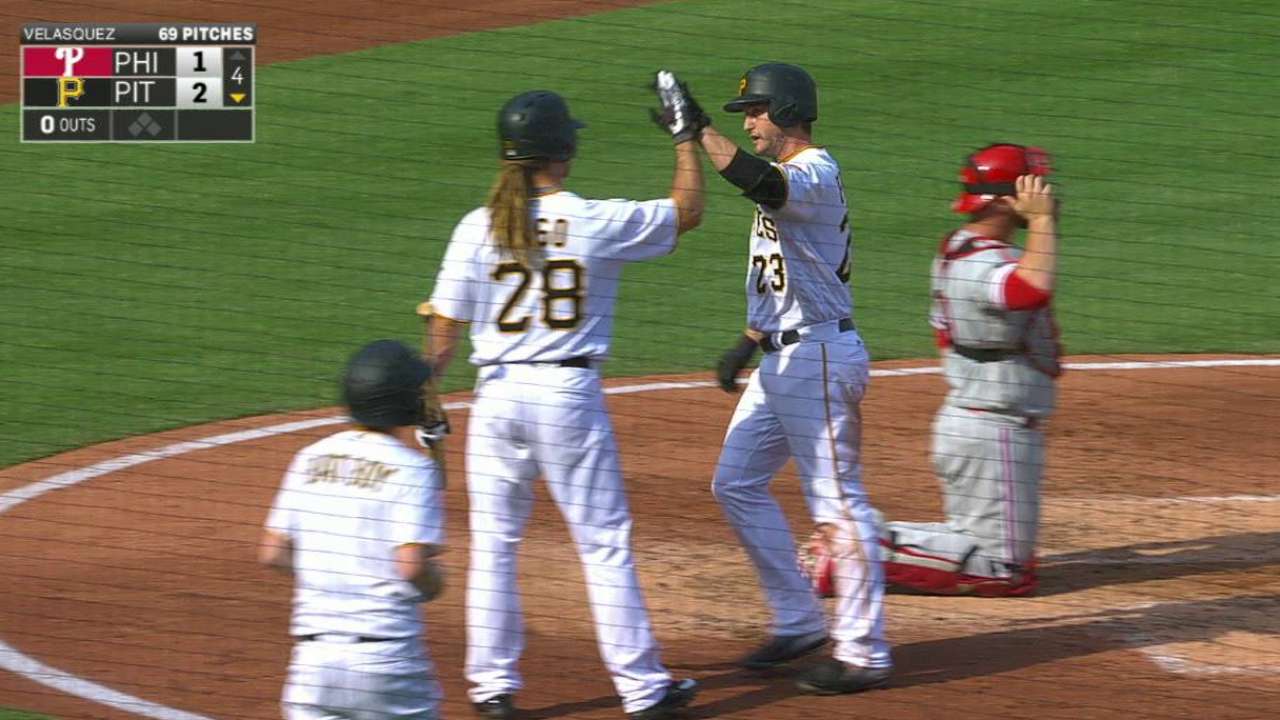 PITTSBURGH -- Ivan Nova turned in another lengthy start, David Freese tucked a go-ahead home run inside the left-field foul pole and Adam Frazier continued to sizzle atop the order, leading the Pirates to a 6-3 win over the Phillies on Saturday at PNC Park.
Nova held Philadelphia to three runs in 7 1/3 innings, recording 14 outs on the ground, and the Bucs' bats -- and some slick infield work, particularly by Freese and shortstop Jordy Mercer -- helped the right-hander pick up his first win since his shutout in Miami on April 29.
"It was a good game. Nova just keeps doing what he does," Freese said. "We love when he pitches. He pumps strikes. We put up some runs for him today and played some good defense."
• Frazier's bat draws high praise from Pirates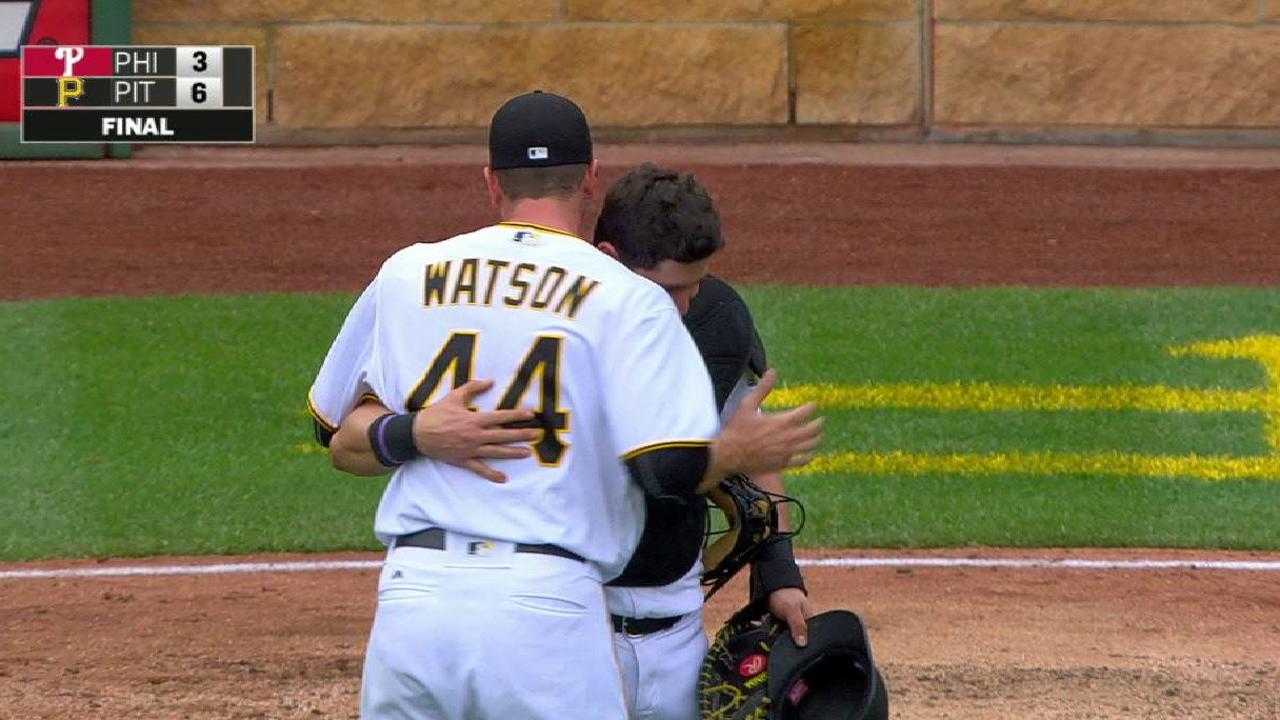 Freese, who had been 1-for-18 with seven strikeouts since coming off the disabled list on May 12, went 2-for-3 with a leadoff homer in the fourth inning against Phillies starter Vince Velasquez. Freese also walked and added a highlight-reel diving stop at third base to end the eighth inning.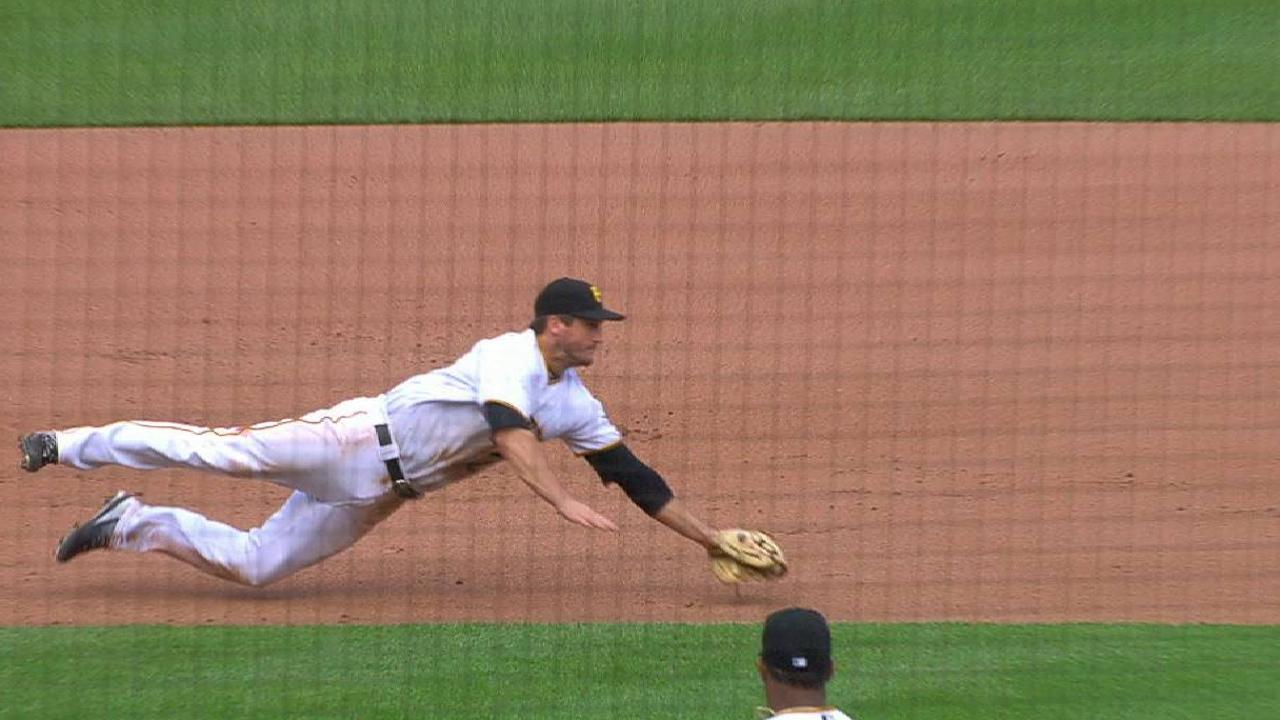 "He made things happen on both sides of the ball," Pirates manager Clint Hurdle said. "He was in a really good place before he got dinged up and had to spend some time out. I believe he'll get back there and he'll be a big contributor in the middle of our lineup."
• Cast your Esurance All-Star ballot for #ASGWorthy players
The Pirates chased Velasquez, who gave up five runs on seven hits and two walks, from the game with a four-run sixth inning. Freese walked and John Jaso singled, and both advanced into scoring position on a throwing error by catcher Cameron Rupp. Francisco Cervelli singled home both runners, and Frazier -- now batting .358 on the year -- added a two-run single through the left side.
"I'm just clueless right now," Velasquez said. "I'm just running around like a chicken without a head."
• Velasquez feels 'clueless' after loss to Bucs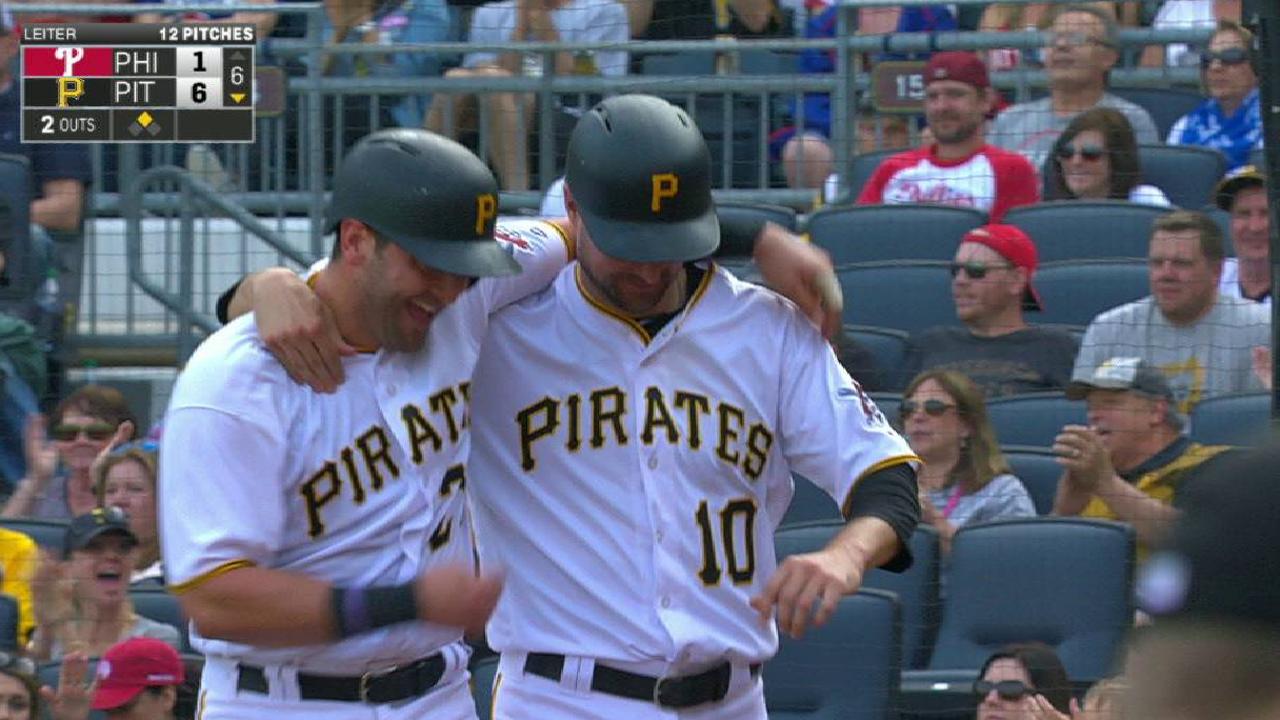 While Velasquez finished short of the seventh inning for the sixth time in eight starts, Nova breezed into the eighth inning on 90 pitches. The veteran right-hander has pitched at least six innings in each of his nine starts this season, and he has gone without a walk in six of those outings.
"He pounds the zone. It's effortless. I don't think he broke a sweat today," Rupp said of Nova. "He says, 'Here. Hit it.' He has four walks on the year. That's pretty good. He throws efficiently. He's a ground-ball pitcher. He knows what he does.'"
MOMENTS THAT MATTERED
Two-out rally: With the Phillies holding a 1-0 lead, Velasquez had a chance to get out of the third inning with little trouble, retiring the first two hitters he faced on 10 pitches. But he fell behind Frazier and gave up a single, then he fell behind and walked Josh Harrison. Andrew McCutchen took a changeup for ball one then lashed a 95.1-mph fastball into right field for a game-tying RBI single. The two-out rally not only tied the game, it taxed Velasquez's pitch count, which stood at 62 after only three innings.
"That's a sweet swing, hitting the ball the other way," Hurdle said of McCutchen's single. "We connected the dots much better on the offensive side of the ball."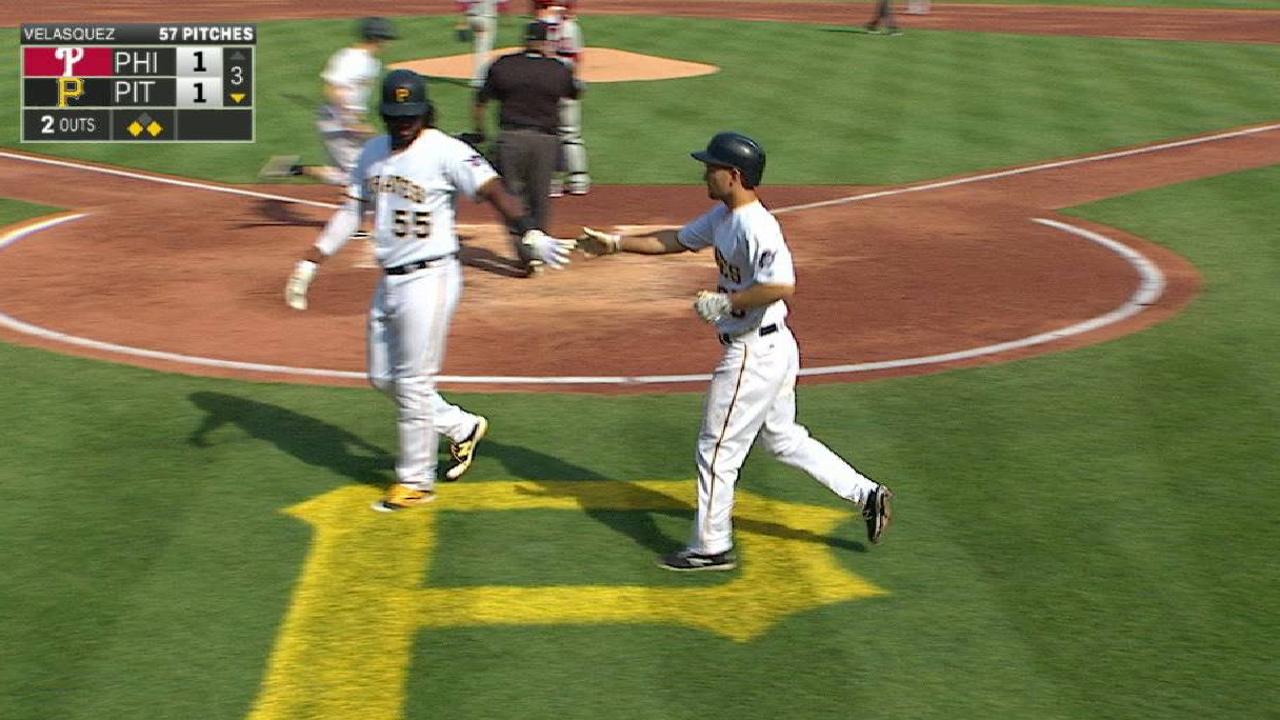 Bucs stop here: The game could have gotten away from Nova immediately. Cesar Hernandez led off the game with a single to left and Freddy Galvis doubled to right, putting two runners in scoring position with nobody out in the first inning. But Nova retired the next three batters, with one run scoring on Aaron Altherr's groundout, and turned a potentially messy situation into a 15-pitch inning.
"After that, I just made pitches," Nova said. "Nothing different than when I started. Just keep making pitches."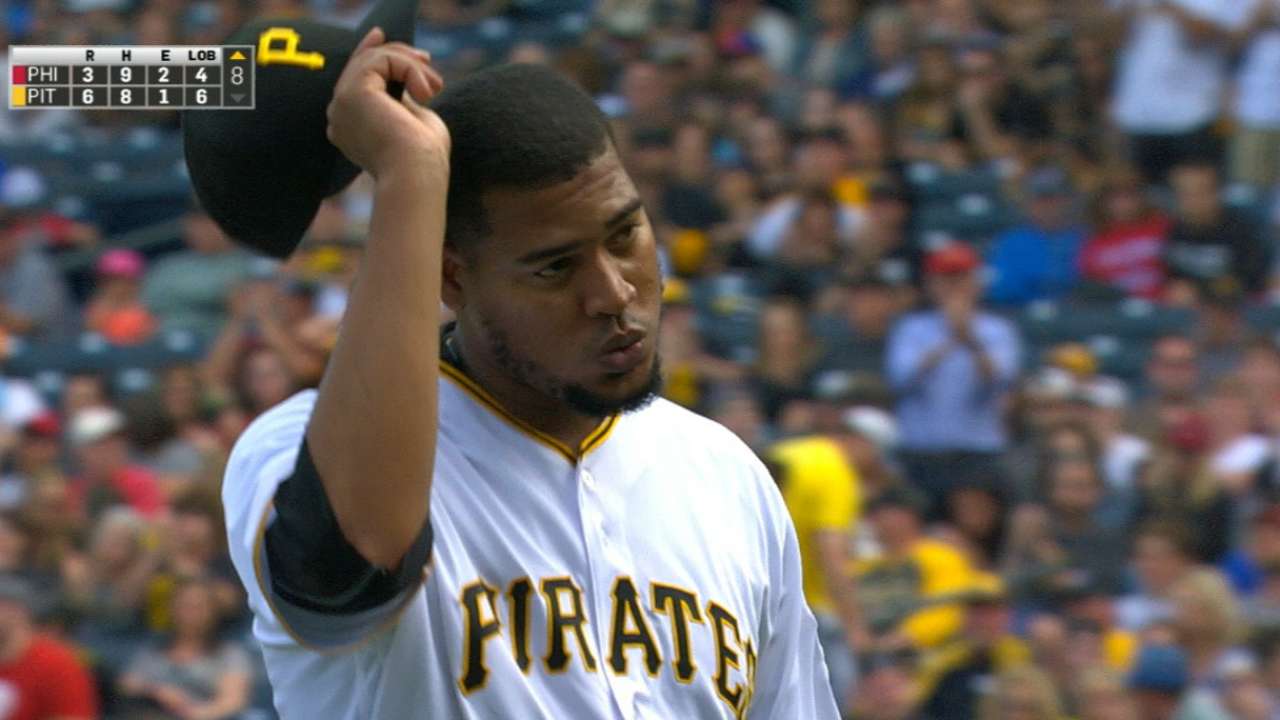 QUOTABLE
"The young guys are keeping us afloat a little bit, but that's a good thing. They're studs. They're real mature. It's nice when you can talk to them every now and then and learn from them. Just because they're young doesn't mean you can't learn something from them. The way they take ABs, it's admirable." -- Freese, on young hitters like Frazier leading the Pirates' lineup
SOUND SMART WITH YOUR FRIENDS
According to Statcast™, Freese's fourth home run of the season -- with a 92.7 mph exit velocity and 26-degree launch angle -- had only a 20 percent hit probability. But the ball carried a projected 344 feet and landed just over the fence and just inside the foul pole.
UPON FURTHER REVIEW
With two outs in the eighth inning, Harrison hit a grounder to Galvis. Looking for the inning-ending forceout at second base, Galvis made a quick throw to Hernandez. Frazier was initially ruled out at second base on the play, but Hurdle issued a challenge. After one minute and 26 seconds, the call was overturned and Frazier was ruled safe. That left the bases loaded for McCutchen, who struck out.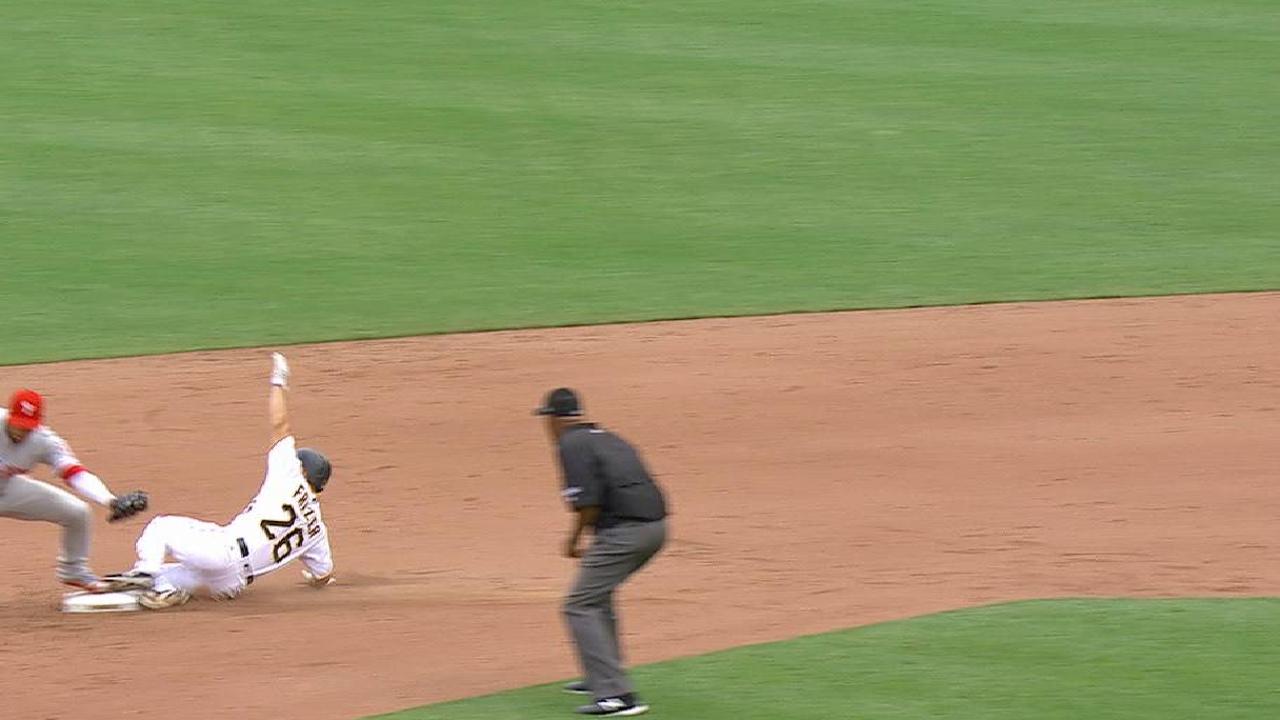 WHAT'S NEXT
Phillies: Phillies right-hander Aaron Nola (2-0, 4.50 ERA) rejoins the rotation in Sunday's 1:35 p.m. ET series finale against the Pirates at PNC Park. Nola has not pitched since April 20 because of a strained lower back.
Pirates: Right-hander Chad Kuhl (1-4, 6.69 ERA) will try to get back on track as he starts the finale for Pittsburgh. A Delaware native who grew up going to Phillies games, Kuhl is 0-3 with a 10.70 ERA over his last five starts. Kuhl pitched well in Philadelphia last September, holding the Phils to two runs in six innings.
Watch every out-of-market regular-season game live on MLB.TV.
Adam Berry has covered the Pirates for MLB.com since 2015. Follow him on Twitter and Facebook, read his blog and listen to his podcast.

Todd Zolecki has covered the Phillies since 2003, and for MLB.com since 2009. Follow him on Twitter and Facebook and listen to his podcast.

This story was not subject to the approval of Major League Baseball or its clubs.